For almost a year now, Brandon and I have performed a particular ritual at the start of each new season. It's going to make some of you want to roll your eyes and gag – and really, be my guest; I gag a little just typing this – but I want to tell you about it anyway, because it's kind of dreamy. You might even want to join in. Basically, the ritual goes like this: one night, when the season is just beginning, we climb into bed, prop ourselves up on pillows, and I read to him from Edna Lewis's The Taste of Country Cooking.
Now, I know what you're thinking: You read aloud to him? From a cookbook? Oh, PLEASE. But before you lean back in your chair and aim that letter opener at your eye, I hope you'll hear me out. There's been a lot of talk about Edna Lewis lately – the second anniversary of her death is this week, and Gourmet made her the centerpiece of their January issue – and rightfully so. The granddaughter of a freed slave, Miss Lewis grew up in a small farming community in Virginia and went on to become what some have called the South's answer to Julia Child. The lady was a national treasure. The Taste of Country Cooking, her second book, was published in 1976, wrapped a yellow and brown cover with an endearing shot of Miss Lewis on the front, standing in a field of sunflowers, wearing a pinky-white dress and gazing into a bowl of tomatoes. Organized by season, the book is filled with reminiscences on her childhood and the food her family grew, cooked, and ate. In the summer, Brandon and I read from the summer section; in the winter, we read from the winter one. The same goes for spring and fall. It's like a lullaby in printed form. I don't know about you, but I think someone would have to be pretty heartless to not feel pleasantly dopey after a passage like this:
One usually thinks of lamb as a spring dish but no one had the heart to kill a lamb. The lambs were sold at the proper time and the sheep would be culled – some sold and a few butchered. My mother would usually buy the head and the forequarter of the mutton, which she cooked by braising or boiling and served with the first asparagus that appeared in along the fence row, grown from seed the birds dropped. There were the unforgettable English peas, first-of-the-season garden crop cooked and served in heavy cream along with sautéed first-of-the-season chicken. As the new calves came, we would have an abundance of milk and butter, as well as buttermilk, rich with flecks of butter. Rich milk was used in the making of gravies, blanc mange, custards, creamed minced ham, buttermilk biscuits, and batter breads, as well as sour-milk pancakes. And we would gather wild honey from the hollow of oak trees to go with the hot biscuits and pick wild strawberries to go with the heavy cream. (Spring, p. 4-5)
Of course, I should also warn you: bring some cookies or cake or something into bed with you. You're going to need them. That, and some cheese, and olives, and salami, and last night's leftover spaghetti, and a pint of ice cream, and the salted peanuts in that baggie on the counter, and a beer.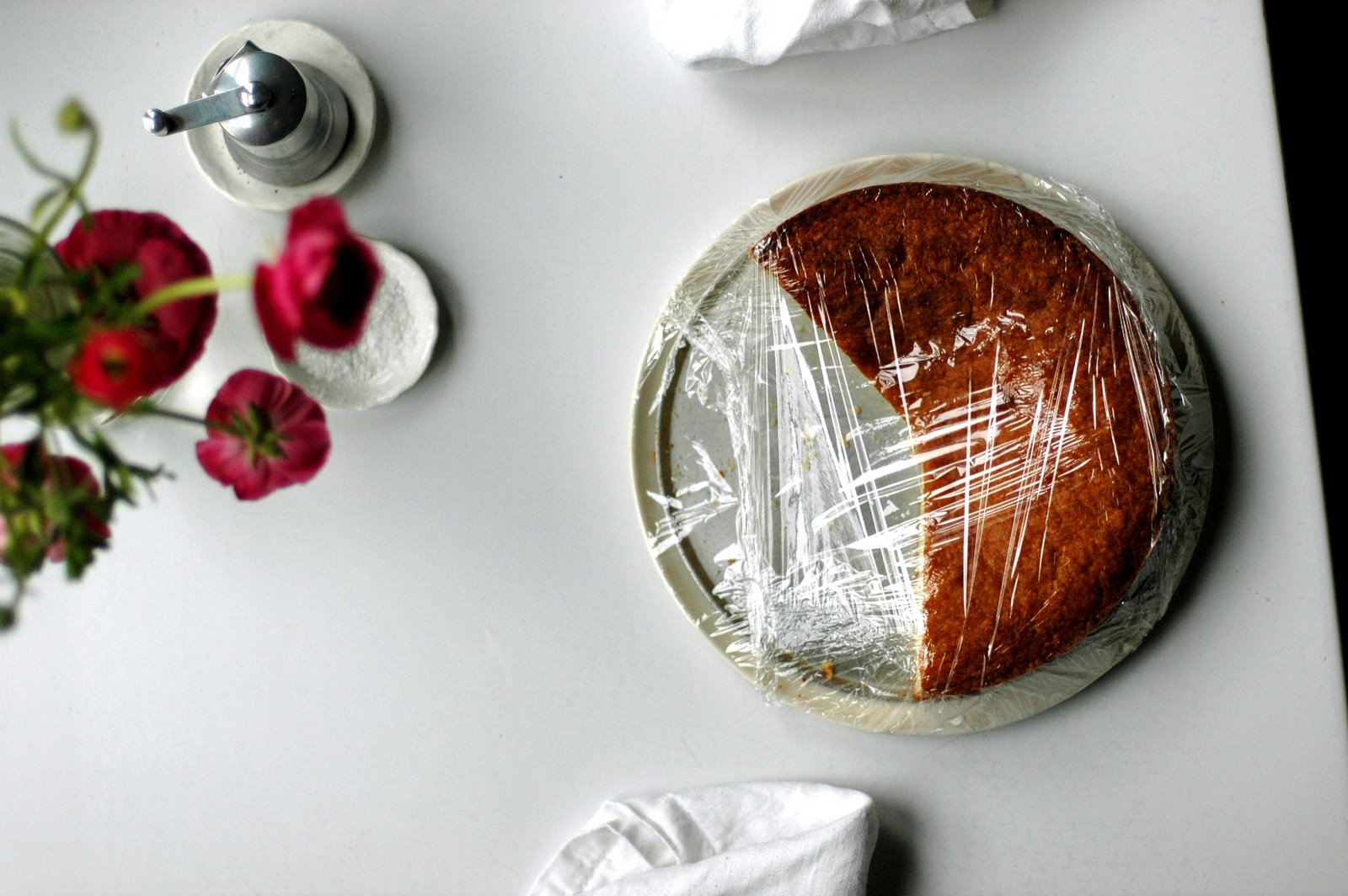 Ever since I got my copy of the book, I've had my eye on one recipe in particular. It's from the summer section, and it's called "Busy-Day Cake or Sweet Bread." If that name alone doesn't win you over, I don't know what will. Maybe Miss Lewis's description? Let's see:
Busy-day cake was never iced, it was always cut into squares and served warm, often with fresh fruit or berries left over from canning. The delicious flavor of fresh-cooked fruit with the plain cake was just to our taste and it was also refreshing with newly churned, chilled buttermilk or cold morning's milk. (p. 86)
I must have read, and reread, those words at least a half dozen times. But for reasons I cannot fathom, it wasn't until yesterday that I finally made the cake. And all I can say about that is: DO NOT MAKE THE SAME MISTAKE. Hop to it.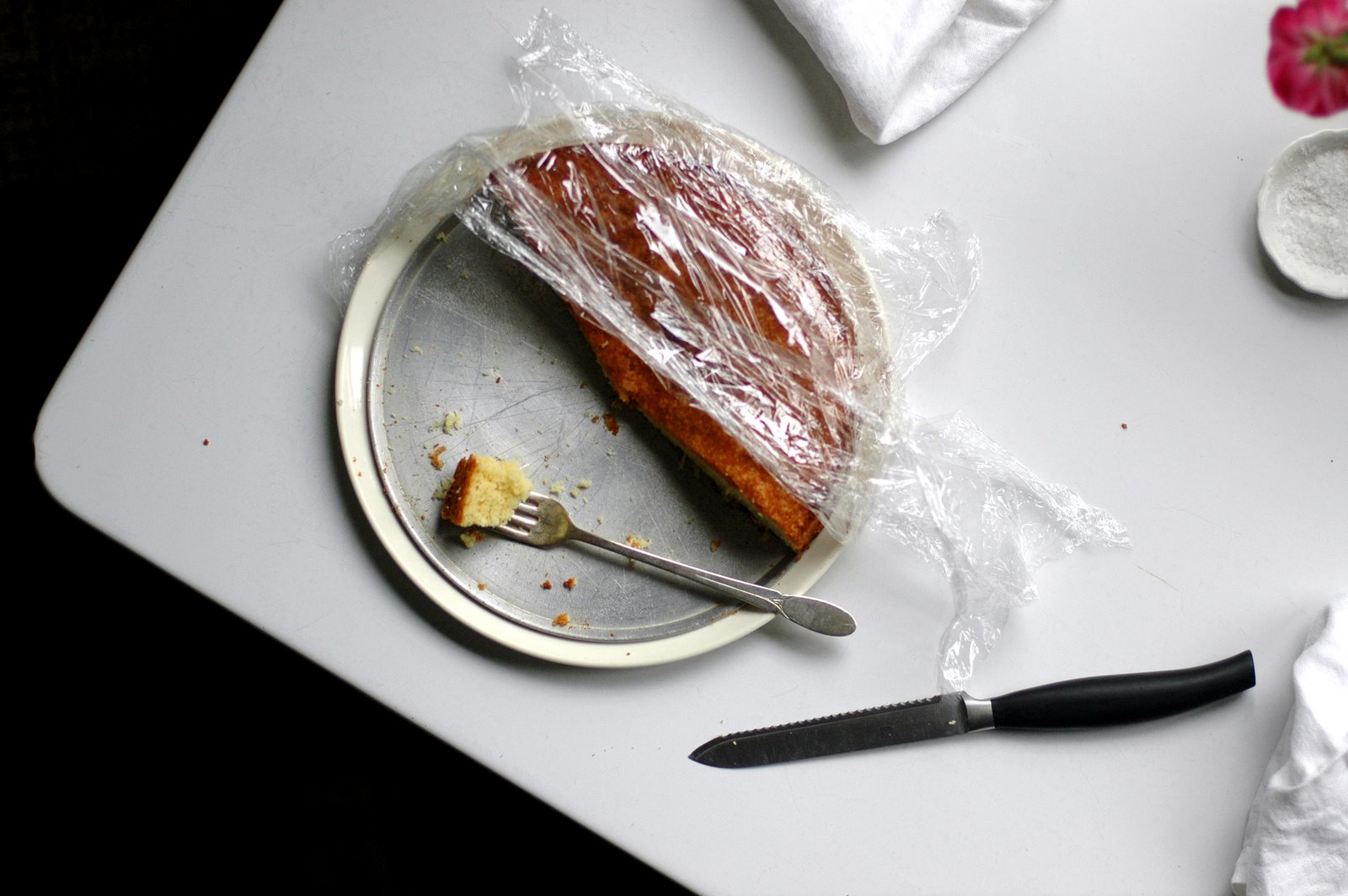 The busy-day cake is exactly what you might imagine, only even better. It's a simple, quick-to-make white cake composed of the usual suspects: butter, sugar, egg, flour. But it bakes up into something uncommonly fragrant, moist and nubbly-crumbed. When Miss Lewis called it "sweet bread," she was onto something. More than a cake, really, it reminds me of cornbread: dense, chewy, and only moderately sweet; the kind of thing you want to keep nibbling long after you're full. I baked it yesterday afternoon, just in time to spoil our dinner, and as of this writing – a scant 25 hours later – we've already eaten over half of it. Miss Lewis, I think, would be very pleased. I'm usually a chocolate-cake-and-banana-bread kind of girl, but now, I don't know. I already feel another busy-day cake coming on.
Edna Lewis's Busy-Day Cake
Adapted from The Taste of Country Cooking
For this cake, Miss Lewis called for 4 teaspoons of a particular single-acting baking powder called Royal Baking Powder. It is no longer being made, so I used my standard baking powder, Rumford brand, which is double-acting. (Most commercial baking powders today are.) Because I was using the double-acting type, I should have used less than Miss Lewis indicated, but, uh, I didn't think to. (See here for information about ingredient substitutions like these.) As a result, my cake collapsed(!) in the center – as cakes with too much leavening can do – and had an especially coarse texture. I happen to love it, though, so to tell you the truth, next time, I might not change a thing. I don't mind a cake with a crater in the middle; it's rustic! But if you want the cake as Miss Lewis intended it, decrease the amount of baking powder to about 2 ½ teaspoons. Or make your own homemade single-acting baking powder. It's very simple: mix / sift together 2 parts cream of tartar and 1 part baking soda. Ta da, it's ready. You'll use 4 teaspoons of this mixture, as Miss Lewis calls for. Any extra can be kept for weeks, or even months.
Also, the original version of this recipe calls for the batter to be mixed by hand with a wooden spoon. But since I'm a little lazy, I used my stand mixer. (Come to think of it, I don't believe I've ever creamed butter without a machine. I hope Miss Lewis will forgive me.) You could also use a hand-held mixer, or, if you're a better woman than I, you could do it by hand. I imagine you might end up with an especially nice texture that way.
1 stick (8 Tbsp.) unsalted butter, at room temperature
1 1/3 cups granulated sugar
3 large eggs
2 tsp. vanilla extract
2 cups unbleached all-purpose flour
2 ½ – 4 tsp. baking powder (see headnote, above)
¼ tsp. salt
1 good pinch freshly grated nutmeg, or more
½ cup whole milk, at room temperature
Preheat the oven to 375°F. Grease a 9" springform pan with butter or cooking spray. (Miss Lewis used a 10" x 10" pan, but I don't have one. A 9" springform pan has a similar capacity.)
In the bowl of a stand mixer, blend the butter and the sugar until light and fluffy. One by one, add the eggs, beating well after each addition. Add the vanilla extract, and beat to blend.
In a medium bowl, whisk together the flour, baking powder, salt, and nutmeg.
Add about ¼ of the flour mixture to the butter mixture, and beat on low speed to incorporate. Add 1/3 of the milk, and beat again. Add the remaining flour mixture in three more doses, alternating each time with a bit of milk, and beating to just combine. Do not overmix. Using a rubber spatula, scrape down the sides of the bowl and stir to incorporate any flour not yet absorbed.
Scrape the batter into the prepared pan, spreading it evenly across the top. Bake for 30 to 35 minutes, or until a toothpick inserted in the center comes out clean. This cake has a tendency to brown quickly on top, so after about 20 minutes, you might want to peek into the oven and tent the cake with aluminum foil if necessary.
Serve warm.
Note: This cake is pretty wonderful plain, although it's also good with crème fraîche, and I'll bet it would be lovely with some warm, crushed berries.