I love the idea of a last hurrah. I know it's really just a fancy way of saying that something is about to end, but it sounds so much better than that. Really, think about it: last hurrah! I mean, if something's got to end, it might as well go out like that, with a loud, rousing cheer. I like the idea of a big blow-out, a big to-do, a triumphant one-last-time before something is through. Most of the time, when we celebrate something, it's a beginning – like a baby shower, or New Year's Eve – or a milestone, like a birthday. I think endings deserve a little attention too, or some of them, anyway.
I've been thinking a lot about this lately, and mainly because of tomatoes. I've been eating them almost daily for a couple of months now, and though it scares me to say it out loud, I know the end is near. Today is September 10th, and that means, what, maybe three more weeks before they're gone: the good ones, the plump ones, the local ones, the real ones. You could almost smell the fear at the farmers' market yesterday morning, with each person jostling for just the right tomato, the one whose memory will warm them through the winter. The end is nigh, and we all know it.
But I have to admit, I'm kind of ready. The tomatoes have been good this year. They've been plentiful, fat and full of sweet, jellied seeds. I ate a Caprese salad for lunch nearly every day in July, and for half of August too. I know it's sacrilege to say this, and you're probably going to line up to stone me right now, but I'm almost kind of tired of tomatoes. I keep buying them and eating them, but it's mainly by reflex, not because I really need another. I keep buying them because they're summer itself, summer on a stem, and when they're gone, I won't taste them again for a whole year. I keep buying them in the hopes that when winter comes, I might not miss them so much. It's the last hurrah for tomatoes, and I'm going to make sure it's extra loud.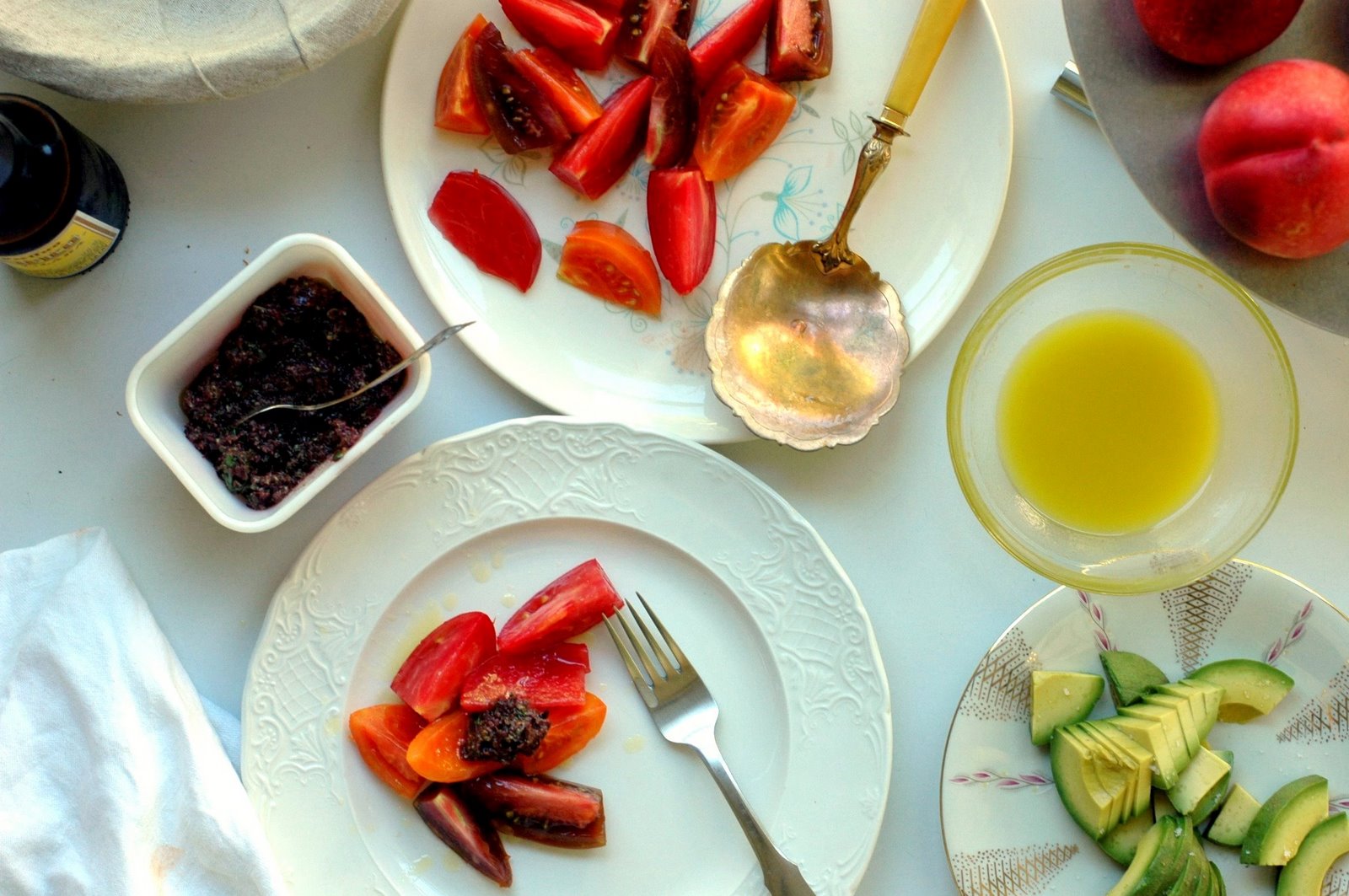 Which brings me to what we'll be eating around here this week, a sweet little dish called tomates tapenade. It's a simple combination – just sliced fresh tomatoes with oil and vinegar, with a spoonful of tapenade on top – but I hadn't thought of it until this past Friday, when my friend Austin (Hi, Austin! You blushing?) and I met for an after-work unwind at Cafe Presse, little sister to Le Pichet, one of my favorite spots in town. We sat down at the bar and ordered glasses of rosé – is there anything better to drink right now? – along with two salads and an order of fries. The Bibb lettuce with hazelnut vinaigrette was only so-so, and the fries were okay – though they were nicely browned, which usually bodes well – but the tomates tapenade, oh yes, the tomates, they were something else entirely.
It was nothing much to look at, really: just four slices from a big, ripe, ruby beefsteak, drizzled with a mild vinaigrette and capped with a quenelle of briny tapenade. We divided them between our bread plates, smearing a little of the earthy olive mash onto each slice, and then, between breaths – we had a lot to catch up on – we lifted them, sloppy, drippy, devil-may-care, into our mouths. I didn't make a fuss about them at the time – like I said, we had a lot to catch up on – but they got under my skin, and second to plain old olive oil and salt, I can hardly think of a better way to hoist up the humble tomato. Later that night, when I came home, I dug out an old tapenade recipe from my accordion file, and yesterday, well, you know what we had for lunch.
I hope you do too, and soon. And while you're at it, pick up an avocado. It's good with the tapenade too. Don't forget that. Or this: that once all the tomato slices are gone, you should use a hunk of bread to mop up the late-summer "soup" that's left on the plate, the delicious slurry of tomato juice, dressing, and olive bits. It's the best part.
It'll be a very good last hurrah, I think. For at least a few more days.
Tomates Tapenade
This tapenade recipe is adapted from Simple to Spectacular, which, if you haven't yet seen it, is a book with a very nifty premise. It's worth checking out. Of course, you're welcome to use any tapenade you want, really. If you've got a favorite recipe, have at it. You could even buy you tapenade ready-made, if you like. It doesn't much matter. This dish is essentially a formula, so fill in the variables as you choose. The most important thing is that you like the flavor of the tapenade on its own, toute seule, and that the tomatoes you pair it with are plump, ripe, and totally delicious.
For the tapenade:
4 ounces pitted Niçoise olives (about 1 cup)
1 Tbsp. capers, rinsed to remove excess brine and drained
1 tsp. sherry vinegar
2 Tbsp. olive oil
8 large basil leaves
Salt, to taste
For the vinaigrette:
3 Tbsp. olive oil
1 Tbsp. white wine or champagne vinegar
¼ tsp. salt
Ripe tomatoes, preferably heirloom
Crusty bread, for serving
First, make the tapenade. Combine the olives, capers, vinegar, olive oil, basil leaves, and 1 tablespoon water in a blender or small food processor. Process to puree, but don't let the mixture get too fine. You want a little texture, some tiny nubs of olive or basil here and there. Taste, and salt if needed. (I usually think it's salty enough as is.) Set aside.
To prepare the vinaigrette, whisk the oil, vinegar, and salt together in a small bowl. Set aside.
Cut the tomatoes however you like, into wedges or slices. Arrange on a platter.
Serve the tomatoes with bowls of tapenade and vinaigrette on the side, so that each eater can dress them to their liking. (I take mine with a moderate drizzle of vinaigrette and a good-size dollop of tapenade.) Be sure to keep a hunk of bread on hand to mop up the juices on the plate. That's very important.
Note: This recipe has no real "yield," but amounts of tapenade and vinaigrette are enough for about four servings.