Alright, world. Today I have just three words for you, and I hope you'll remember them, because it's important. They are brown, and buttered, and corn. They're what you'll be having for dinner tonight, if you know what's good for you. I certainly hope you do.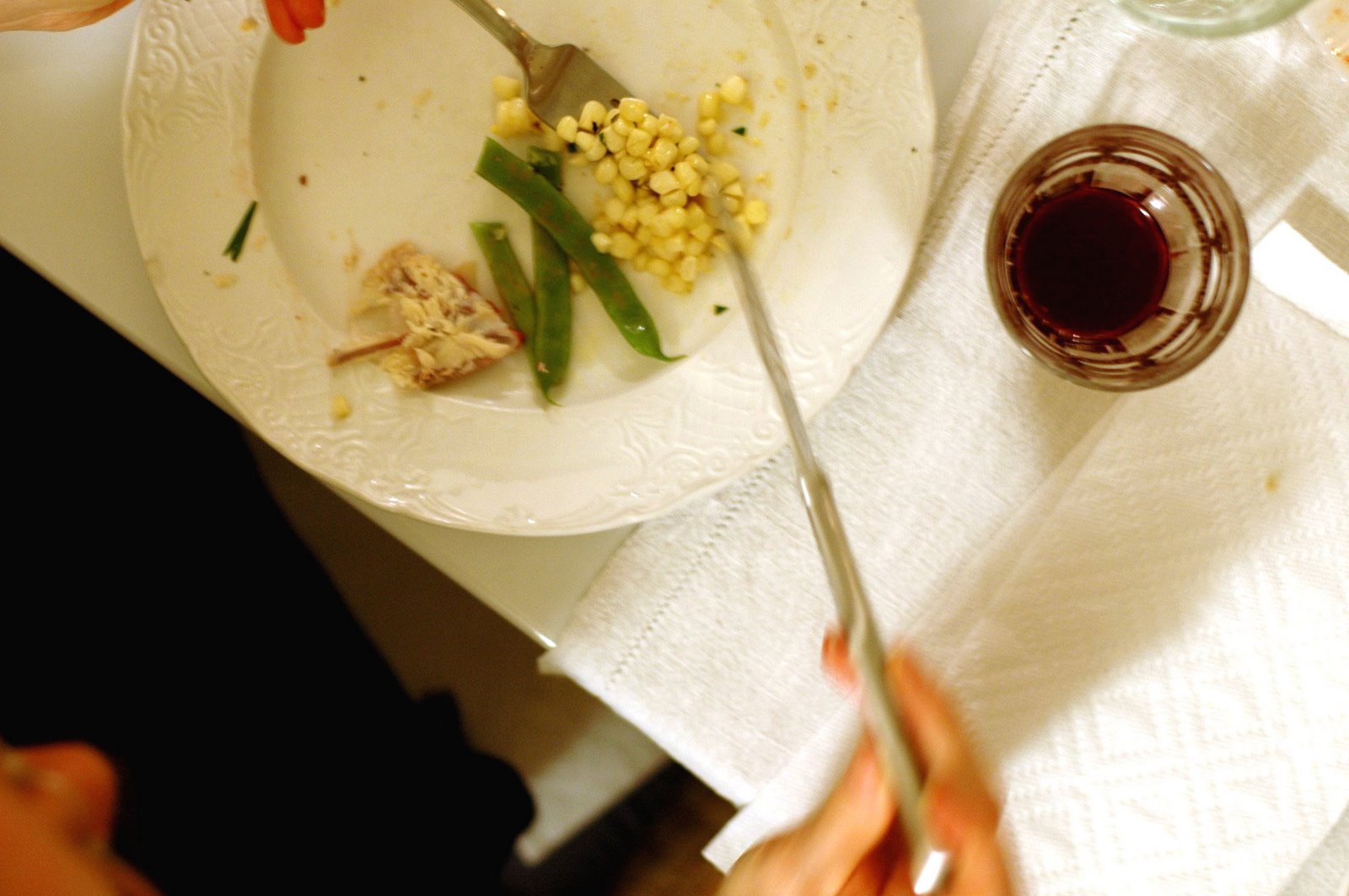 Of course, now that I've said that, I should admit that I won't be having any, I fear, but you shouldn't let that stop you. It's just that I've got some sort of stomach bug, the kind that feels best when I'm either a) in the bathtub, b) in the fetal position, or c) chewing Pepto Bismol tablets. But I couldn't let that stop me from limping out here to tell you about this truly lovely stuff. That's how good it is. I got out of bed today just to tell you about it, and that's really saying something.
I made this corn on Saturday night for our birthday dinner party – I seems that I forgot to mention it, but Brandon's birthday was a week ago today, and mine was last Friday – and between six of us, we made quick work of a double batch. We also roasted a chicken, tossed some Romano beans with lemon and olive oil, and ate an entire plum crumble with vanilla ice cream. My mother flew out for the occasion and, I should add, did a bang-up job of browning a saucepan full of butter without ever putting down her champagne glass. One of us even wound up drinking red wine straight from the bottle, but I won't say who. I will just say this: that you really should try that brown buttered corn.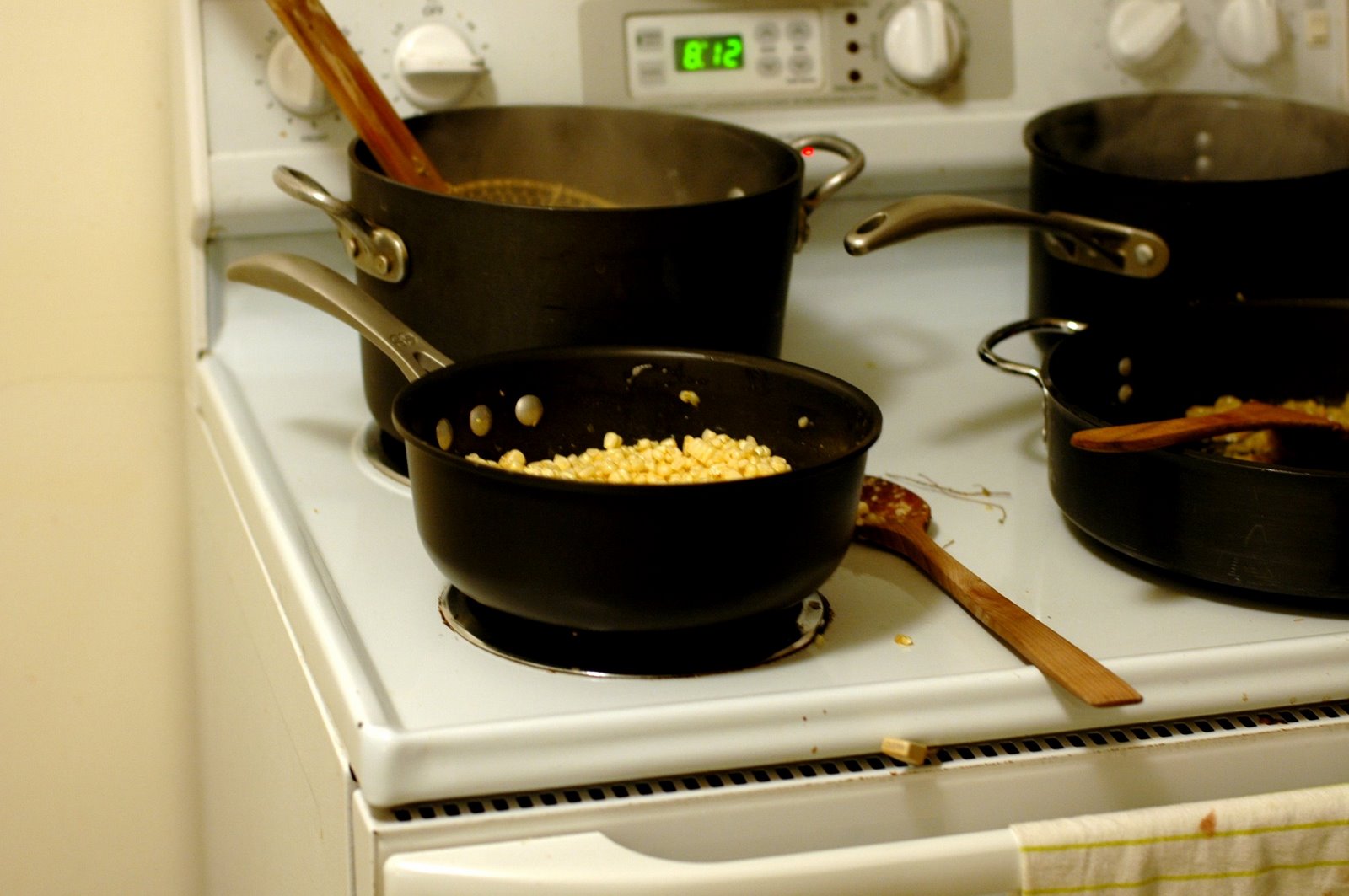 The recipe, which is as simple as can possibly be, comes from the New York Times, from an article by Melissa Clark that ran a couple of weeks ago, on September 5th. As soon as I saw it, I printed it out and plunked it on the countertop, and boy oh boy, am I ever glad I did. All it takes is a few ears of corn, shucked and kernels cut free, and a half stick of butter, some herbs, and some salt. You toss the butter into a saucepan and let it simmer until it darkens to a deep golden hue and smells like those toasted nuts that they sell out of steel drums on the sidewalk in Paris. Then you add the corn and the salt and stir it around a bit, and five minutes later, you've got a stunner of a side dish, the sweetness of corn cloaked in dark, nutty butter and brightened with palm's worth of parsley. It's nobody's diet fare, sure, but corn season is almost over, and do you really think, come mid-winter, that you'll regret having spent these last moments of summer in a sea of caramelly butter? I don't think so. It's a real lip-licker of a last hurrah.
In fact, as soon as I work my way back up from toast, I'm going straight to the market for some more corn.
Brown Buttered Corn
Adapted from The New York Times
This recipe doubles beautifully. We had six people for dinner, and a double batch was just right.
3 ears corn, shucked
4 Tbsp. unsalted butter
4 sprigs thyme, preferably lemon thyme
Kosher salt
Finely chopped Italian parsley, for serving
Stand one ear of corn vertically on a cutting board or inside a large, shallow wooden bowl. (Using a bowl helps to keep kernels from darting all over the countertop, and using a wooden bowl – such as a salad bowl – is much better for your knife than a metal one.) Using a sawing motion, run a large knife down the ear, between the cob and kernels, to remove the kernels. Using the back of the knife, scrape the bare cob to release the corn's juices. Repeat with remaining ears of corn. Set kernels and their juices aside.
In a medium saucepan, melt the butter over medium heat. Add the thyme sprigs, and cook, stirring frequently, until the butter turns a deep shade of amber and smells nutty. Add the corn kernels, their juices, and a large pinch of salt, and stir well. Cover the pot, reduce the heat to medium-low, and cook until the corn is tender, about 5 minutes.
Remove and discard the thyme sprigs, and season to taste with salt. Serve hot, with a smattering of chopped parsley.
Yield: 4 servings