Month:
September 2007
I don't know if it's good to admit this sort of thing, but until three days ago, I had never made tomato sauce. Oh, I've eaten plenty of it, of course – with garlic, with basil, with capers; on gnocchi, on pizza, on pappardelle; really, that part is easy – but until Friday, I had never made one. No marinara, no Amatriciana, no nothing.
This is not the kind of information, I know, that one should offer freely in some circles. It doesn't exactly build credibility, especially when matters of the oven and stove are supposed to be my bread and butter. But friends, because I like you a lot, and because I don't want to lie, here I am, doing it anyway. Because I don't want you to make the same mistake. Because I want to give you the recipe. Because I want to tell you about the guy who got the ball finally, blessedly, rolling.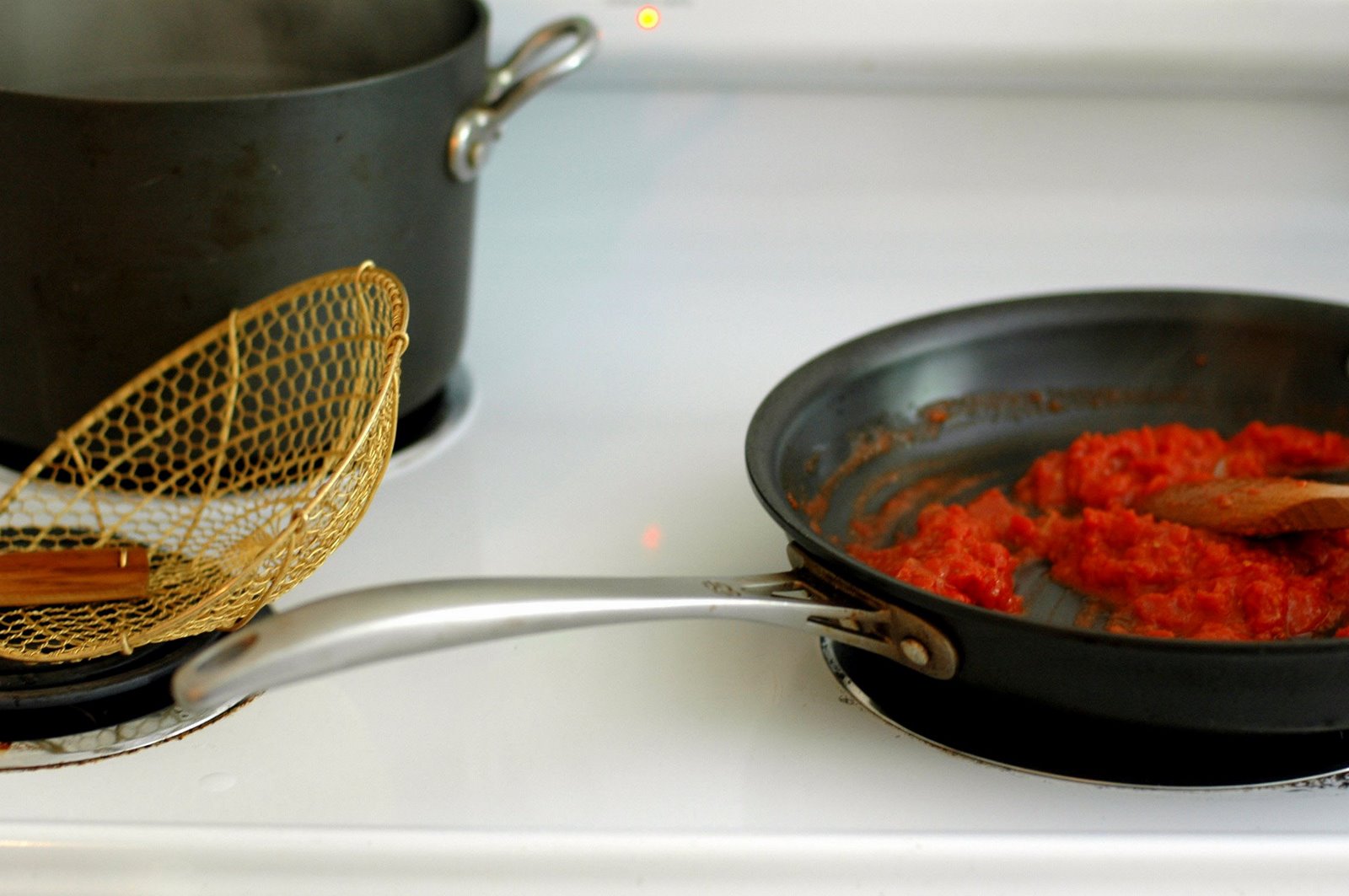 Some of you may have heard of this guy. His name is Adam. You may know him better, actually, as the Amateur Gourmet. Adam and I met a couple of years ago, on a blustery winter afternoon in New York, where he lives. He's a very hard guy not to like, no matter how bad the weather. He's all smiles and smart jokes, easygoing and inquisitive. So when he came to Seattle last winter with his boyfriend Craig – who, in case you were wondering, is utterly charming and funny and eminently worthy – Brandon and I cooked them a New Year's lunch of pan-seared chicken and yogurt cake. I overbaked the cake a little, and it was kind of dry and sad, but they didn't say a peep, and though I liked them plenty already, I liked them even more after that.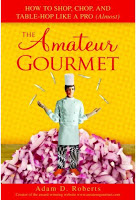 Well, a couple of months ago, Adam came back to Seattle to visit Craig, who was shooting a movie in town this summer, and he called to ask, quite out of the blue, if I might like to go for a horseback ride. (He always has a surprise up his sleeve; don't say I didn't warn you.) I said yes, and so it was that on a hot July day, on a trail on the side of Tiger Mountain, astride our steeds Chick and Friday Night Girl, Adam told me about his book The Amateur Gourmet: How to Shop, Chop, and Table-Hop like a Pro (Almost), thereby setting into motion a chain of events that would lead, only a little circuitously, to a tomato sauce that I believe, oh my, may be the most perfect one ever invented.
(Adam, I owe you one.)
If you haven't yet seen Adam's book, I sincerely suggest that you make it your business to do so immediately. And I don't just say that because I like the guy. His book, part-memoir and part-how-to, is pure pleasure, a sweet, fresh, effortless story whose pages almost turn themselves. Food lovers can be a tough, know-it-all crowd, but Adam makes being a beginner – at cooking, at dining out, at learning about food – feel inspiring and appealing and, once and for all, okay. I'm not usually the type to laugh aloud while reading, or even, really, to break a smile – I'm focused, people, focused – but Adam got a good half-dozen grins out of me. (To wit, page 152: "Dining by myself . . . is a scary prospect. It's not a coincidence, perhaps, that 'dining alone' sounds so much like 'dying alone.' For many, the fear of dining alone is the same fear that causes them to marry the wrong person, to maintain destructive friendships, and to participate in group suicide.") He also got me to make tomato sauce, and for that I will be eternally grateful.
It only took a dozen pages. (I'm very susceptible to suggestion.) His first chapter, titled "Start with Spaghetti," tells the funny, bittersweet story of a meal his mother once cooked for his father, a plate of spaghetti with homemade tomato sauce that went terribly awry. As chance would have it, some twenty-odd years and many TV dinners later, it would be a tomato sauce, made alone in his apartment kitchen, that would send Adam head over heels in love with cooking. I read this late one night, and it sounded so lovely and so right, and though half-asleep in my pink striped pajama pants, I thought, Tomato sauce! TOMATO SAUCE, Molly! How can you have toddled along all this time – writing this silly so-called food blog, marrying a man who lives and breathes for pizza, writing a cookbook, for crying out loud – if you've never made tomato sauce? It was an important night.
Needless to say, I got right on it. Though Adam offers a recipe in his book – a sure winner, in fact, Mario Batali's from The Babbo Cookbook – I remembered hearing very persuasive things about a tomato sauce with onion and butter by Marcella Hazan, the venerable Italian cookbook author whose sturdy, no-nonsense, nonna-like tone always puts me right at ease. (And, as I soon discovered, Adam himself deemed her sauce "brilliant." I trusted, then, he wouldn't mind if saved Mario's for later.) So Friday night, I pulled out a can of San Marzano tomatoes, an onion, and our stash of butter, and I made tomato sauce. Having now done so, I strongly advise you to do the same – only preferably even sooner than Friday.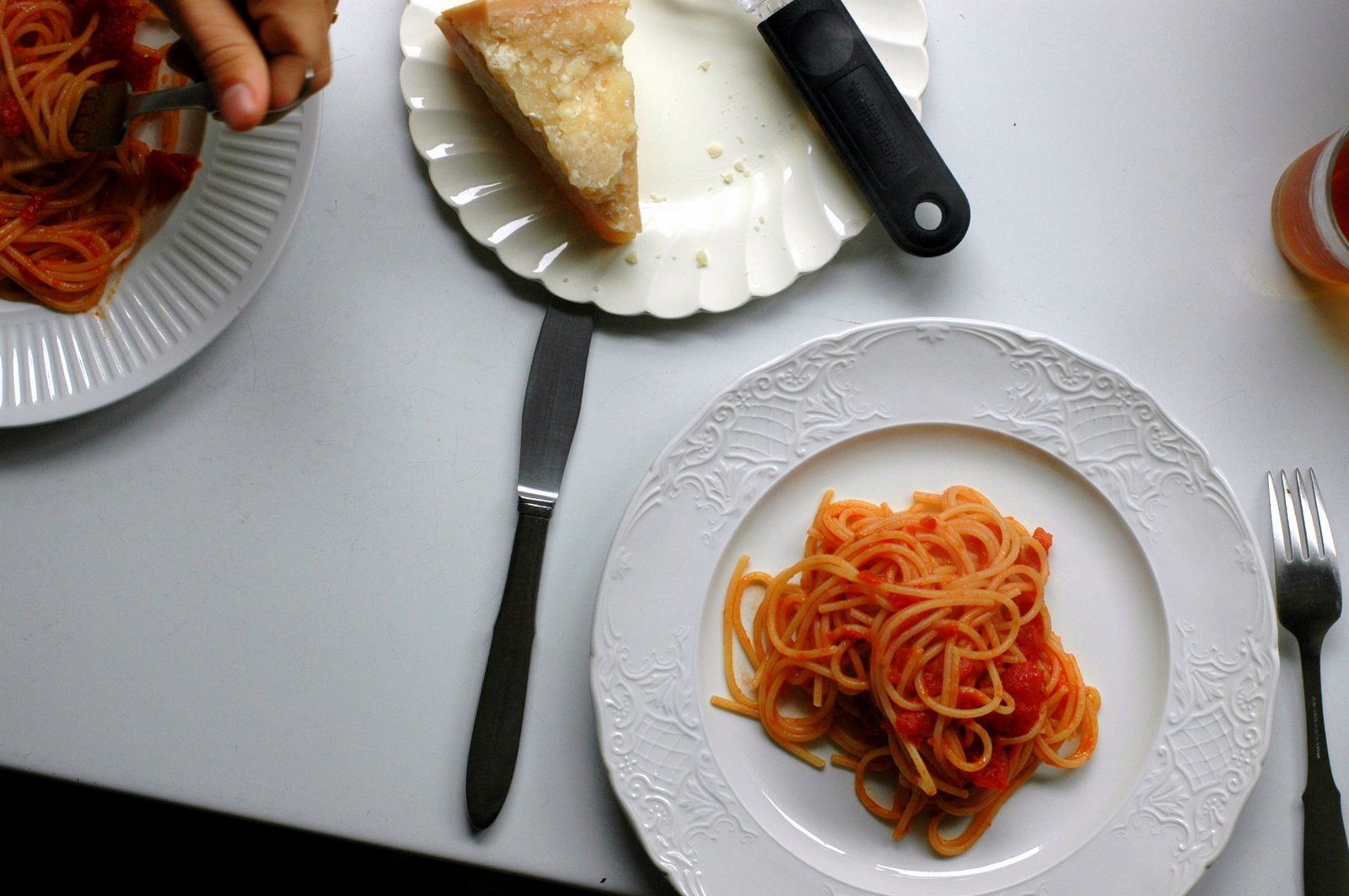 Tomato sauce made with the usual suspects – olive oil and garlic, generally – is a very worthy classic. But with a little (or a lot of) butter, it's another thing entirely. It tastes pure: rich, round, and deeply reassuring, like tomato sauce is supposed to taste. The first words that spring to mind, actually, are va-va-voom, which are hardly words at all, really, and are probably better suited to a young Sophia Loren, but still, I mean it: this is a show-stopping, voluptuous sauce. The butter bolsters the sweetness of the tomatoes and rounds off their acidic edges, while the onion – which is halved, simmered slowly in the sauce, and then discarded – lends just a subtle, savory backdrop. Brandon and I ate it on spaghetti, along with a good grating of Parmigiano, and we scraped our plates as though starved. (Which, come to think of it, I guess we were, given the dearth of homemade tomato sauce around here.) Brandon even let loose a few wows, which I heartily seconded.
Adam, the next time you're in town, please stop by. I'll have a pot of tomato sauce on the stove.
Tomato Sauce with Onion and Butter
Adapted from Essentials of Classic Italian Cooking, by Marcella Hazan*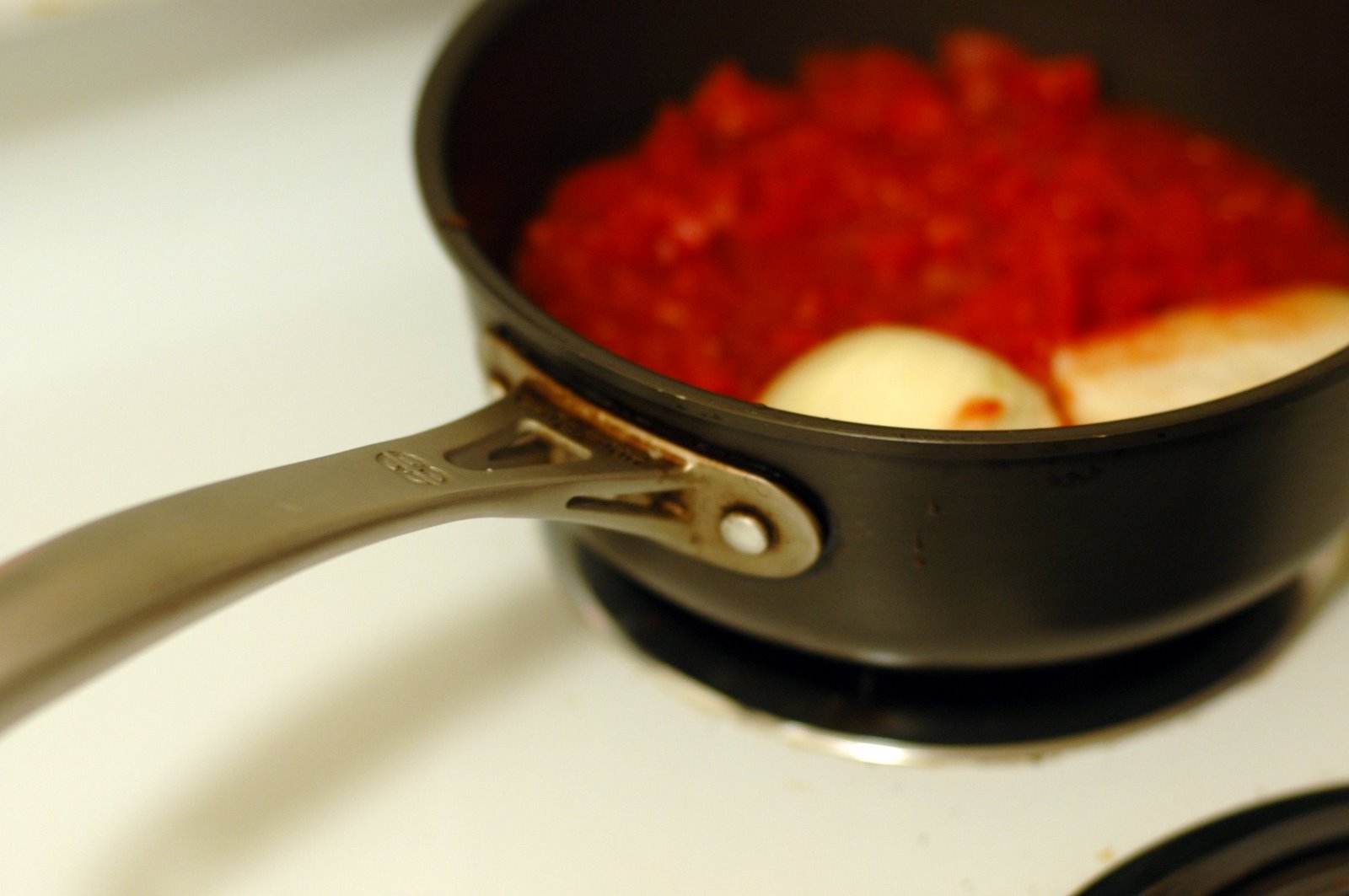 Hazan calls for imported Italian plum tomatoes, such as San Marzano, but mine were domestically grown, and the sauce still tasted like Italy to me. The key is that the tomatoes taste good, dense and full of flavor, whatever type you use.
2 cups whole, peeled, canned plum tomatoes, chopped, with their juices (about one 28-oz. can)
5 Tbsp. unsalted butter
1 medium yellow onion, peeled and cut in half
Salt, to taste
Combine the tomatoes, their juices, the butter, and the onion halves in a medium saucepan. Add a pinch or two of salt. Place over medium heat and bring to a simmer. Cook, uncovered, at a very slow but steady simmer, adjusting the heat as necessary, for about 45 minutes, or until droplets of fat float free from the tomato. Stir occasionally, mashing any large pieces of tomato with the back of a wooden spoon. Taste and salt as needed.
Discard the onion before tossing the sauce with pasta.
Yield: Enough sauce for about 1 pound of pasta, or 4 servings
* With cheers and kisses to Ms. Luisa Weiss, the esteemed Wednesday Chef, who bought us this book as a wedding present and wisely suggested that we make this sauce.