When you care about food, and when you're marrying someone who also cares about food, and when you met this someone because of a particular food, and when both of you spend your days – or the better part of them, anyway – cooking, scheming, and daydreaming about food, well, let's just say this: there's a lot of pressure to feed people well at your wedding. Which, quite honestly, is no easy feat.
In most circles, the word "wedding" isn't exactly synonymous with "delicious." Usually, it's just the opposite. Many venues equipped to host weddings – hotels, gardens, museums, and so on – require that you use their (often iffy) in-house caterer, or at least limit your choice to a few companies. That's part of the reason why Brandon and I felt so picky about our wedding site. We didn't want to choose a caterer – and, by extension, the food we would eat on our wedding day – just because some stodgy administrator told us to. In fact, the more we looked around, the more we more we found ourselves thinking about the caterer, not just the site where we'd be eating said caterer's food. In the end, when we chose Bellingham, we chose it not only because it was pretty and on the water and blah blah blah, but also because of Ciaò Thyme. We even changed our wedding date – from July 28 to July 29 – to match their availability. We meant business. We just knew they were right.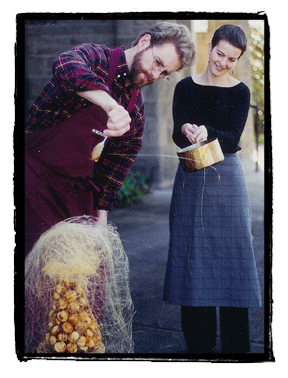 I mean, I don't know about you, but my kind of caterer is the type that claps his hands and gets giddy when you ask him to make fingerling potato chips. I like the kind who, when you tell him – somewhat sheepishly, almost apologizing – that you want deviled eggs during the cocktail hour, grins, rubs his hands together, and starts gushing excitedly about crème fraîche and herbed aioli and capers and caviar and the little, tiny chicken eggs he can get from a farmer nearby. I also like the kind of caterer who calls to ask whether you'd like the mirepoix for your farro salad kept crunchy, or more caramelized. It's also quite terrific when he calls to tell you, giddily, that he's been out meeting with his usual farmers, and that your beets have just been picked, and that your potatoes are being harvested on Lummi Island right this minute, and that, you know, he's been thinking about the blue cheese for the beets, and if it's alright, he's feeling kind of excited about a particular Spanish type, rather than one from Oregon. I also like the kind of caterer who dances with you at your wedding, and who hugs you and kisses you and your new husband on the cheeks. I really like that kind. Which, luckily, is just what we got.
I can't say enough about Ciaò Thyme. It's owned and run by Jessica and Mataio Gillis, she being the coordinator and keeper of all details, he being the chef and chief forager. They call their operation a "restaurant without walls," featuring local produce and doing all cooking on-site. Because they deal only in seasonal foods and every menu they make is different, they don't do tastings, so until our rehearsal dinner – which they prepared, along with the wedding – we hadn't tasted a crumb of their food. But given what we'd heard from our friend Ashley, who tipped us off to them in the first place, not to mention all the promising meetings and phone calls, I have to say, we weren't worried in the least. In fact, it kind of made it more fun.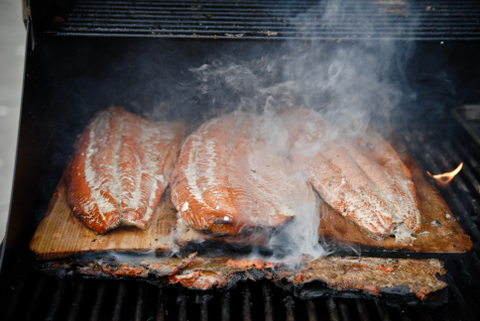 Our rehearsal dinner was held at Hovander Homestead Park in Ferndale, about 15 minutes north of Bellingham. We reserved a clearing between a big, red barn and the Nooksack River, with a dozen picnic tables. Brandon's dad strung tiny globe lights around the two white tents we rented, and Jessica and Mataio covered the tables with ivory cloths and kraft paper runners, kraft-colored napkins and Bambu veneerware. Each table was topped with a bundle of flowers in a Mason jar – blue cornflowers, nigella, lavender, and thistle – and a carafe of fresh raspberry lemonade, and three jars of our pickles: finger-size carrots with garlic and thyme, grapes with cinnamon and mustard seed, and cornichons with pearl onions. (Okay, yeah, we didn't make the cornichons, but we did hunt down our favorite brand, Roland, and repackage them into half-pint jars. That's got to count for something.)
We were aiming for an upscale picnic of sorts, the kind of thing where the bride can wear jeans and a messy ponytail and her favorite yellow flats, and where the buffet is spread with all sorts of summery things in their finest incarnation. The kind of thing that goes nicely with a bottle of hefeweizen and a game of Frisbee. The kind of thing, let's say, where my uncle Arnold can sport a ponytail and my niece Mia can sleep in her stroller, parked under a tree.
So this is what we ate:
Pulled chicken served with salted rosemary buns from
Breadfarm
, red leaf lettuce, Dijon mustard, basil pesto, tapenade, and sun-dried tomato pesto (and Brandon's red onion pickles, a big jar full)
A platter of roasted vegetables, including Roma tomatoes, eggplant, zucchini, yellow squash, peppers, shallots, shiitake mushrooms, and cherry tomatoes still on the vine
Sliced tomatoes, basil, and fresh buffalo-milk mozzarella
Fingerling potato salad with sweet marinated onions, haricots verts, and whole grain mustard vinaigrette
Fresh berry tartlets with honey mascarpone
and oatmeal-chocolate chip cookies with coconut
Now, you know I'm not much of an exaggerator – not compared to my new husband, anyway – but I don't think I've ever eaten a sweeter, juicier piece of chicken. My aunt Tina, too, swooned into her roasted Roma tomato. And my brother David told me later that he nearly ate two sandwiches, just so he could have another roll. They were tender, like brioche, with shiny brown tops and flecks of fresh rosemary. Mataio told me that night, as he nestled a gooseberry into the top of a tartlet, that he worked closely with Breadfarm to get the buns just right, size and texture and taste. (You know you're working with the right people when you want to plunk down by their set-up table and hang out all night, rather than mingle with your guests. Nothing against our guests, of course, but you know.)
And though this is getting a little bit long here – pause if you need to, of course, and grab a sandwich or something – I want to tell you about about our wedding menu too. It just made us so proud.
Before the ceremony, at the park: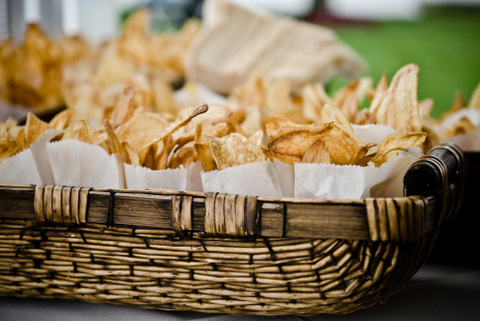 Housemade fingerling potato chips with rosemary lemonade
During cocktail hour, as passed hors d'oeuvres –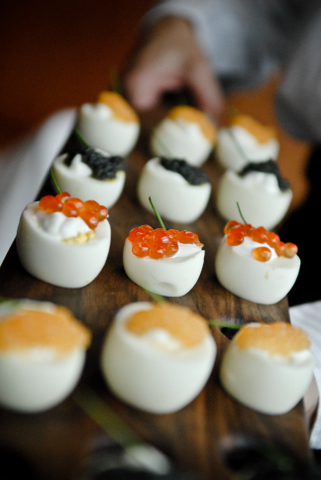 Deviled eggs two ways, with crème fraîche and domestic caviar and a chive garnish,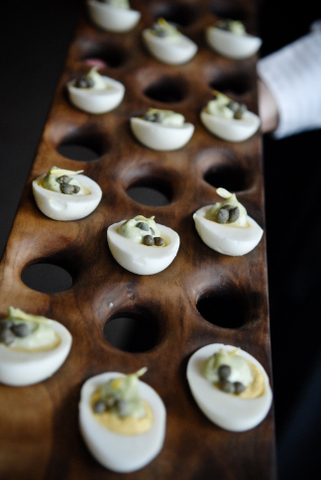 and with herbed aioli and capers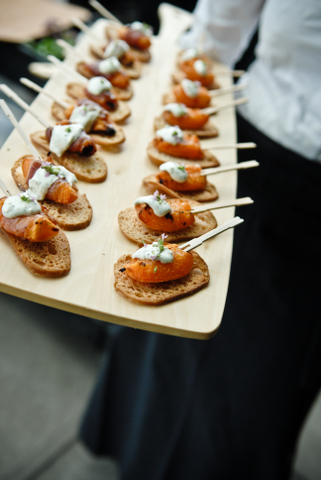 Quartered apricots wrapped in prosciutto and grilled, served on thin toasts with herbed chevre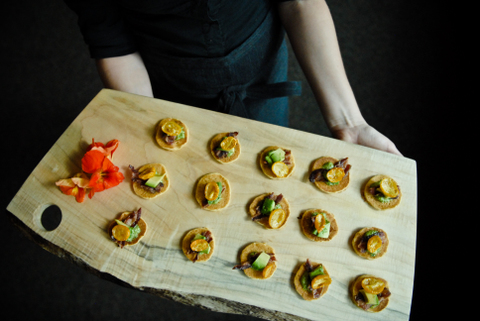 Little corn cakes with basil aioli, bacon, avocado, and roasted grape tomatoes
And sweet butter on toasts with assorted thinly sliced radishes and salt
The buffet dinner –
Alderwood-smoked sockeye salmon with nectarine-serrano salsa or fresh herbs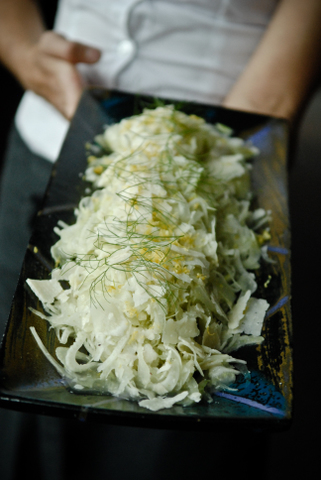 Thinly sliced fennel with shaved Parmigiano-Reggiano, tossed with lemon, olive oil, and sea salt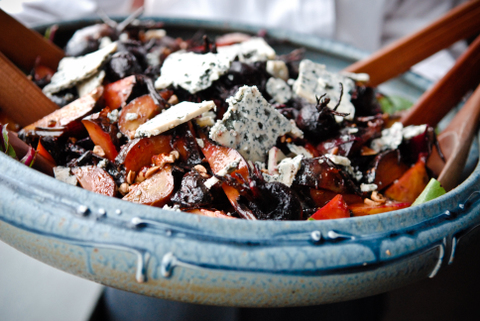 Baby roasted beets with roasted shallot-blue cheese vinaigrette and crushed local hazelnuts
Blanched green beans with olive oil and salt
Farro salad with caramelized onions, carrots, and celery, with feta and a red-wine vinaigrette
and for dessert –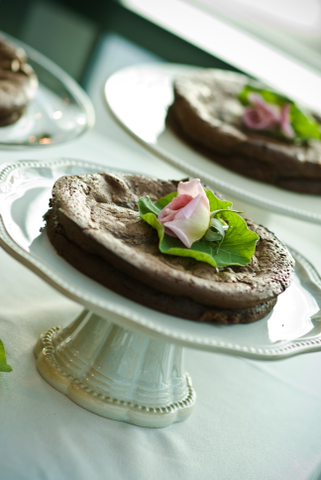 My "winning hearts and minds" cake – 20 of them, transported in pizza boxes from our freezer to Bellingham by Ashley and Chris – with unsweetened whipped cream and a choice of three flavors from Mallard Ice Cream: chocolate malt, super vanilla, or raspberry sorbet.
We served the same wines and beers at both events, selected with the help of our friend Renee Erickson of Boat Street Café. They were 2006 Domaine du Salvard Cheverny, 2005 Domaine Joel Rochette Régnié Cuvée des Braves Vieille Vignes, Dogfish Head Raison d'Être, and Hacker-Pschorr Weisse. We were spoiled, for sure.
And so we feasted. Brandon, my budding fish-eater(!), ate his largest piece of salmon to date. My eyes nearly popped clean out of my head. Our friend Sam declared himself "destroyed" by the fennel salad, and two friends have called me to beg for the farro recipe. One reports, too, that she has already tried to replicate the beets at home, with blue cheese and hazelnuts. (Mataio, are you reading this?)
I don't know when I've ever felt more proud – of the two of us, of the people around us, of what we come from, of what we love. I also don't know when I've ever felt more sorry for not eating enough deviled eggs. I'm telling you – and I learned the hard way, people – don't let socializing get between you and your deviled eggs. Just feast. That's all I'm saying. And then take the dance floor with your new husband, preferably to Ella Fitzgerald singing Cole Porter's "Night and Day," and when he dips you at the very end, when the horns are blaring, close your eyes tight and thank heavens – but heavens! – that the planning is through, and the beer is cold, and you can dance, dance, dance.
Thank you to the Ciaò Thyme and their website for the first photo posted above, and to Michèle Waite for all the others featured here. (And on her blog!) She's the most fun, most wildly talented wedding photographer we could have ever hoped to find. And yes, she found that red velvet couch on the beach. Bellingham, I love you.