Month:
August 2007
Well. After all the baby beets and fancy farro and salmon straight from the boat, I think you'll be somehow pleased to know that our diet for the next ten days consisted of a lot of French fries, and beer, and Frosted Mini Wheats. I should also mention the Newman's Own Arrowroot Alphabet Cookies, and the one night that we ate salt-and-vinegar potato chips, cornichons, and an oatmeal cookie for dinner, in our rental car, waiting for a ferry.
After all the hullabaloo, it was really kind of nice.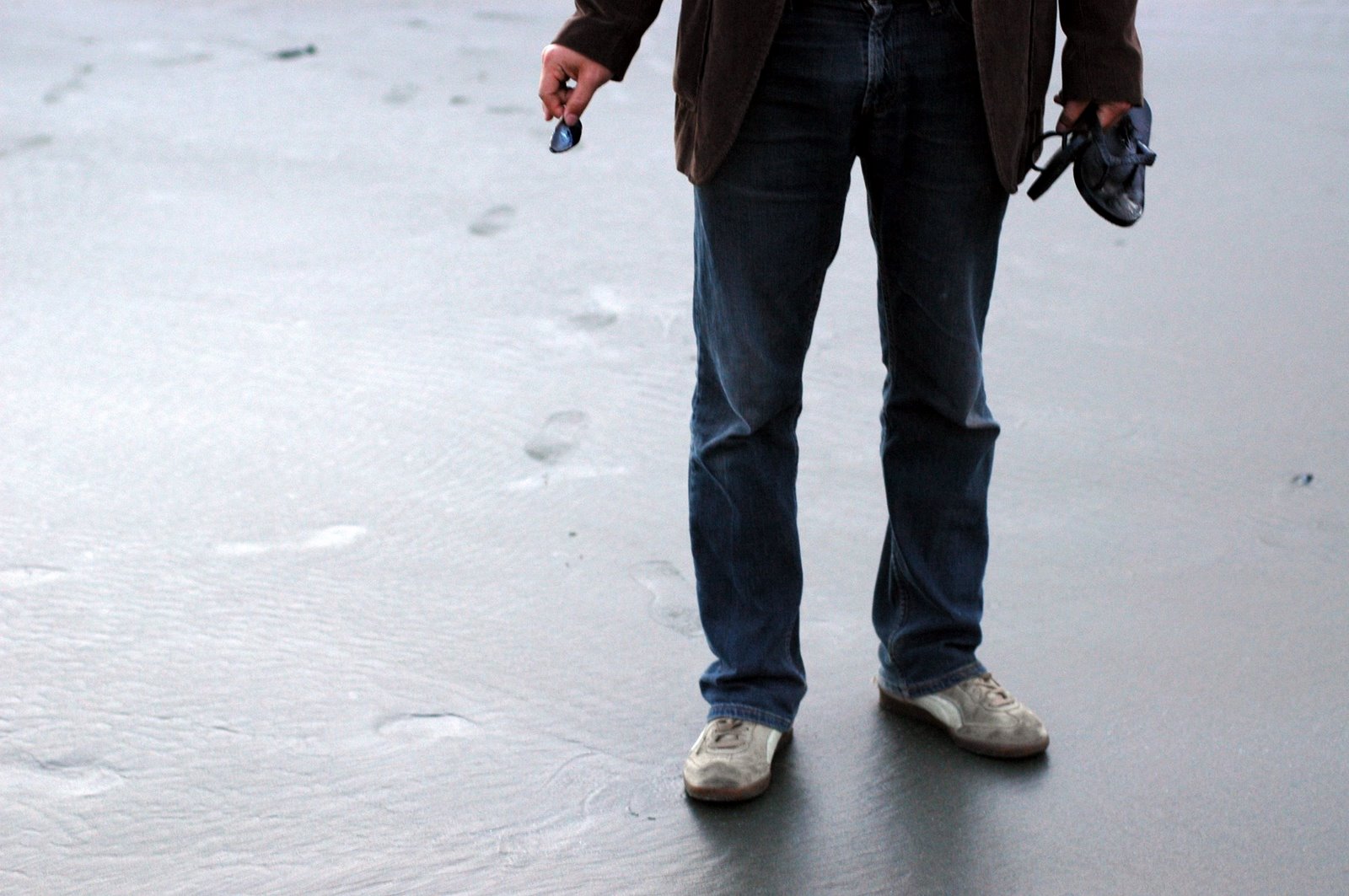 It's hard, let me tell you, to plan a honeymoon. I mean, planning a wedding is hard, but planning a honeymoon is not much easier. Not for us, anyway. We felt as though we had so many options, and so many places we wanted to go, but none of them felt quite right. A honeymoon, so it goes, is supposed to be some sort of exotic, romantic, sun-drenched escape with bottomless piña coladas, the proverbial trip of a lifetime. It's an exciting proposition to go away like that, with no obligations or agendas. It's also pretty daunting. We didn't want to waste our chance, or blow it on something only so-so. For a while there, we felt sort of paralyzed. One night – on the way to look at proofs of our wedding invitations, no less – we even fought about it. I'm not proud to say it, but I actually cried. Honeymoons are not for the faint of heart. Don't say I didn't warn you.
We wanted a road-trippy kind of honeymoon, but one without too much driving, and we wanted to be outside, and we wanted to walk a lot, and we wanted it to be pretty. First, we thought about Scotland, but being the land of haggis, it wasn't the best idea, food-wise. Then we thought about New Zealand, but it would be winter there. We thought about Italy or parts of France, but they would be packed with tourists. Then I saw an article in Saveur – it was last September's issue, I think – about Vancouver Island, a long strip of land off the coast of British Columbia. Apparently, we could find mushroom foragers there, and a farmhouse bed-and-breakfast, and even water buffalo. Needless to say, we were smitten. It felt a little silly to honeymoon so close to home, but it sounded just right. Plus, it might be nearby, but neither of us had been there, and anyway, it's hard to think of a better place to be in August than the Pacific Northwest. So we made our reservations, and on July 31, two days after the wedding – just enough time, you know, for doing our laundry – we boarded the Victoria Clipper, and away we went.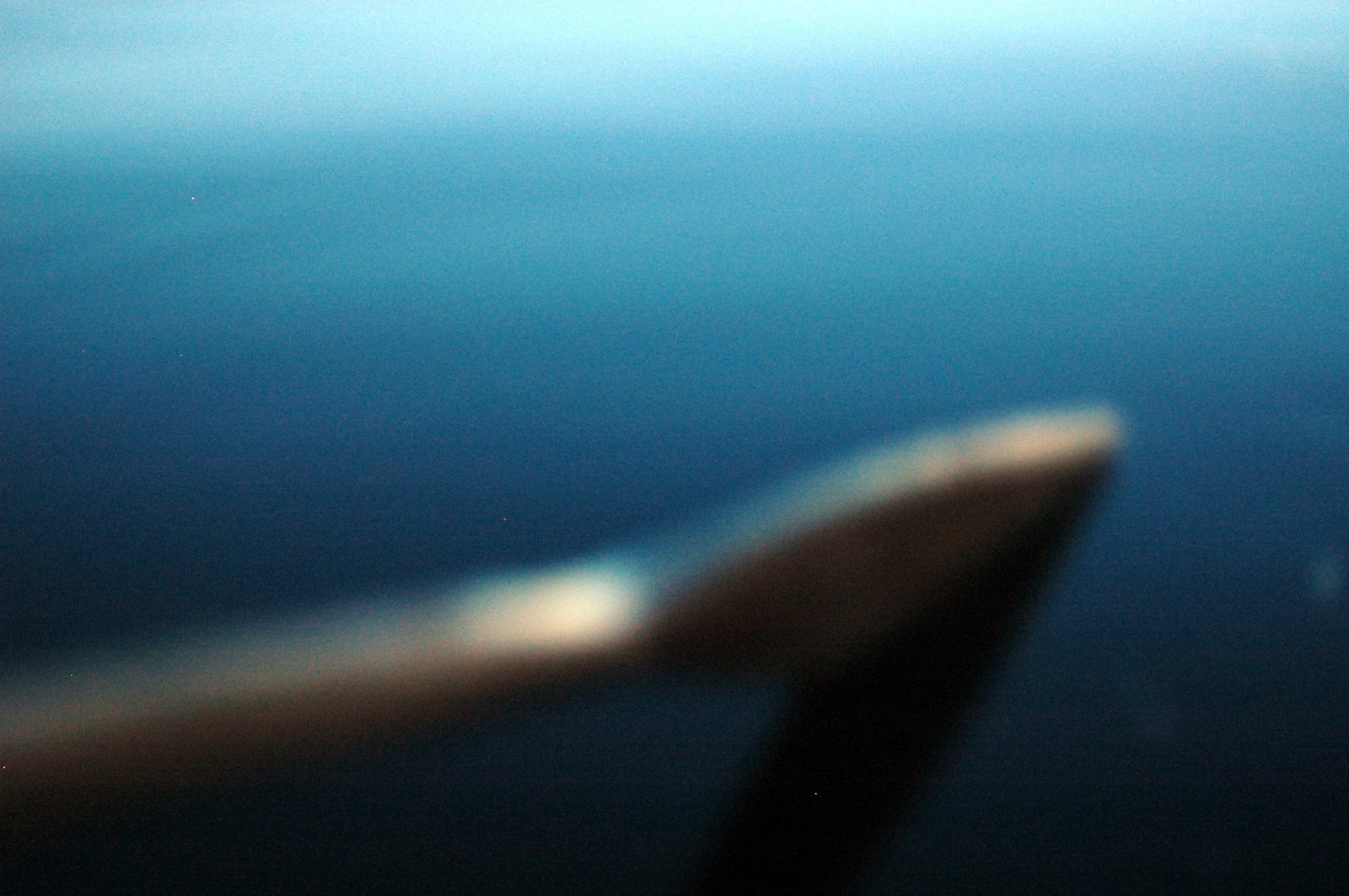 I understand now why people go on honeymoons. For one, you're exhausted. Second, you're really exhausted. And third, it's hard to do all that planning, and put in all that work, and party so happily with all the people you love, and then have it just – ta daaa! – be over. It's really sort of traumatic. Nobody warns you about that part. They just cheer and wave goodbye. I guess some newlyweds feel nothing but happy, but we felt a lot of things. We felt relieved, and of course ecstatic, and triumphant, and newly wed. But we also felt weepy and out of sorts, with no idea what to do next. That's why, we learned, there are honeymoons. We needed ten days to nap, to read, to play cards, to pet water buffalo, eat fries, and get used to ourselves again, just us two.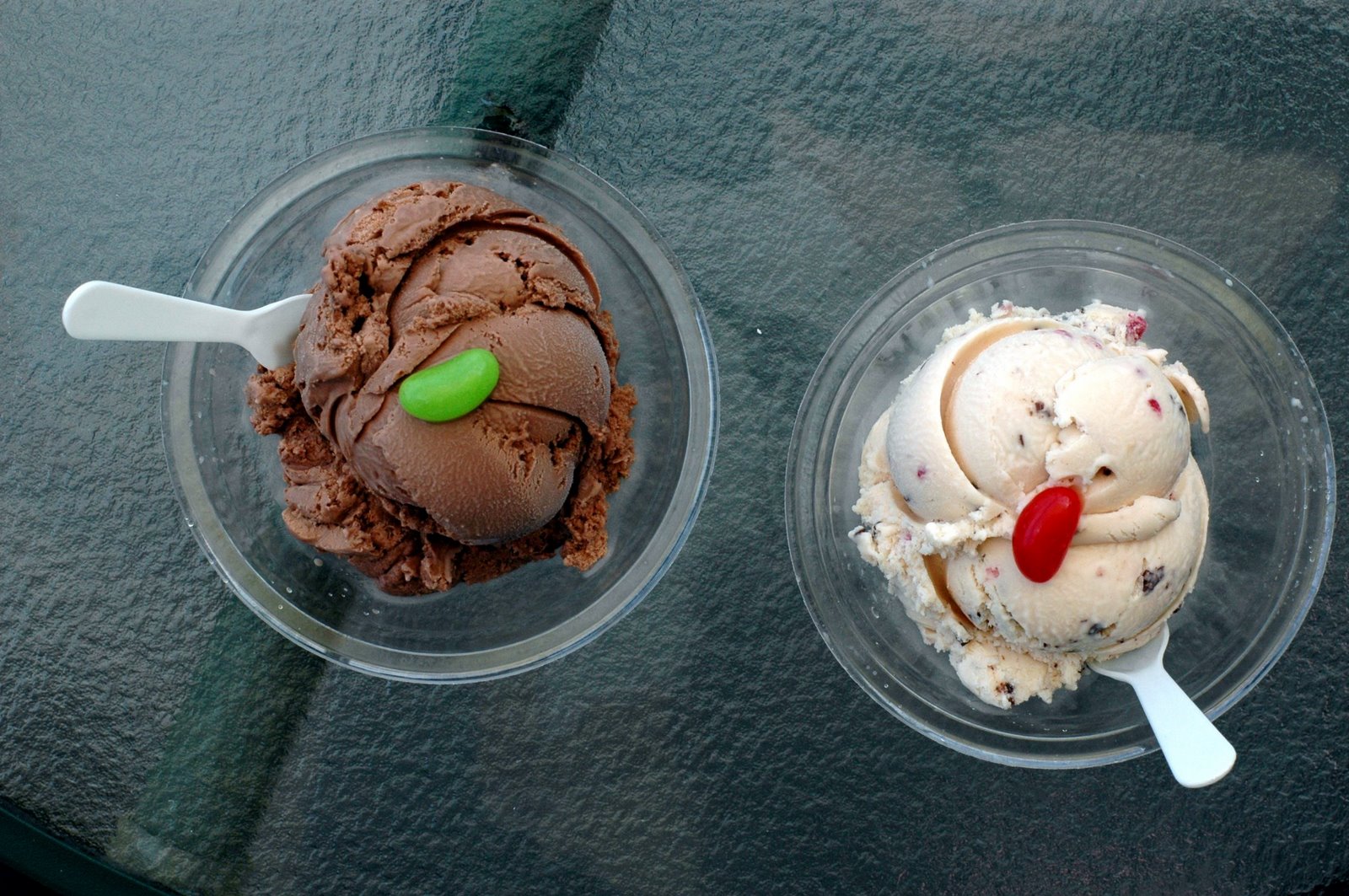 We started in Victoria. It's a pretty little city, the provincial capital, on the southern tip of the island. We arrived to sunshine and rolled our suitcases along the harbor to Swan's Hotel, our stop for the night. Our room had tall ceilings and exposed wooden beams, and I'm sure we would have really enjoyed it, had we not fallen asleep right after dinner. I blame that on the beer at Spinnakers, a pub just cross the Johnson Street Bridge. Their beer was stunningly good. We shared samplers of six different kinds – they were small glasses, I assure you – and by the last sip, we had quite a crush on British Columbia. I like to think that Washington and Oregon make wonderful beers, but these were stunners, every one. The food wasn't so nice, not unless you like your fries with a lump of pink aioli, but the beer warrants a return trip.
But the next day, we picked up our rental car and drove 30 minutes north, to a town called Brentwood Bay, where we had booked a night at the Boathouse.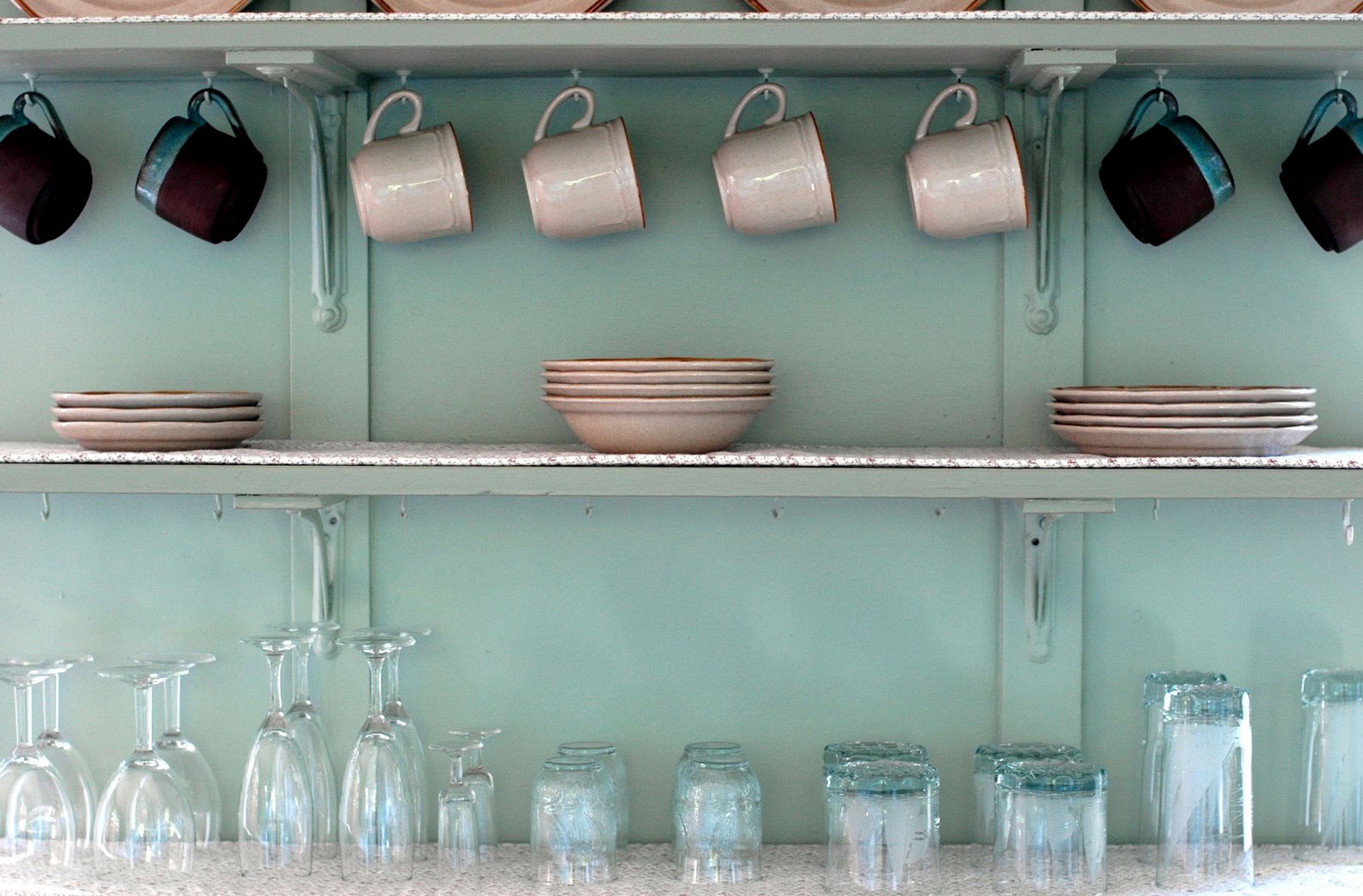 To get there, you drive through a residential neighborhood to a particular house, and you park in the driveway. Then you knock on the front door, and Harvey and Jean, the couple who live there, help you carry your bags down the hill behind the house, 89 wooden steps in all, to a one-room house on the water. It's painted red, with a dartboard hung on the deck, a queen bed and a table for two, a tiny kitchen, and a sitting room the size of a closet, with two armchairs and big windows that tilt open to the bay. On the counter is a plate of homemade cookies from Jean, and the small refrigerator holds a pitcher of milk, to go with your coffee or tea.
The bathhouse is next door, about 10 steps up the hill, and the rowboat is right out front, at the end of the dock. If you're lucky, you'll see a few seals through the binoculars on the ottoman, and maybe some giant purple jellyfish under the house, and then, later, your husband will row – row! – you to dinner at the restaurant across the cove, and your heart will burst, core to cockles, clean out of your chest.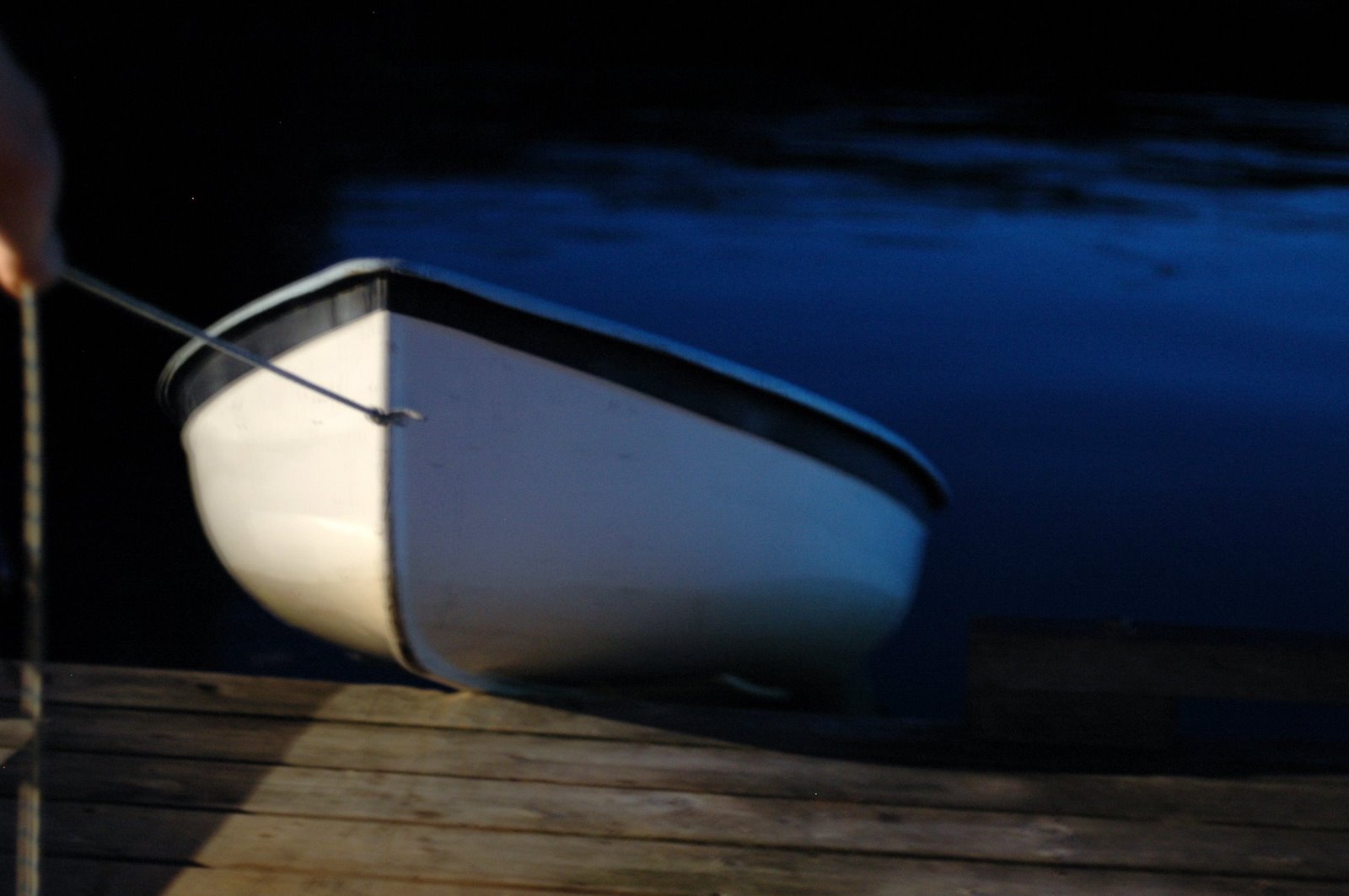 Never mind that said dinner isn't particularly good. (Shrimp + andouille + canned tomato sauce does not equal jambalaya, in case you ever wondered. Blessed be the convenience store nearby that sells Frosted Mini Wheats, a sturdy stomach filler in such emergencies.) When you've been rowed to dinner, such things can be excused.
We would have stayed longer, but the Boathouse was booked, so we headed to our next stop, in the Cowichan Valley, the agricultural heart of the island. We had reserved two nights at Fairburn Farm, the idyllic bed-and-breakfast profiled in Saveur, not far from the town of Cowichan Bay. It was at the end of a long, unpaved road, a white-and-red farmhouse with three guest rooms, a wood-burning brick oven, thirty-odd water buffalo, goats, sheep, chickens, a mutt named AJ, a wraparound porch, and a gray-haired farmer who rips around on a dirt bike. We were met at the door by Mara Jernigan, a professional chef, cooking teacher, and leading voice for the Slow Food movement in Canada, who also doubles as the keeper of the guesthouse. She was the reason we came.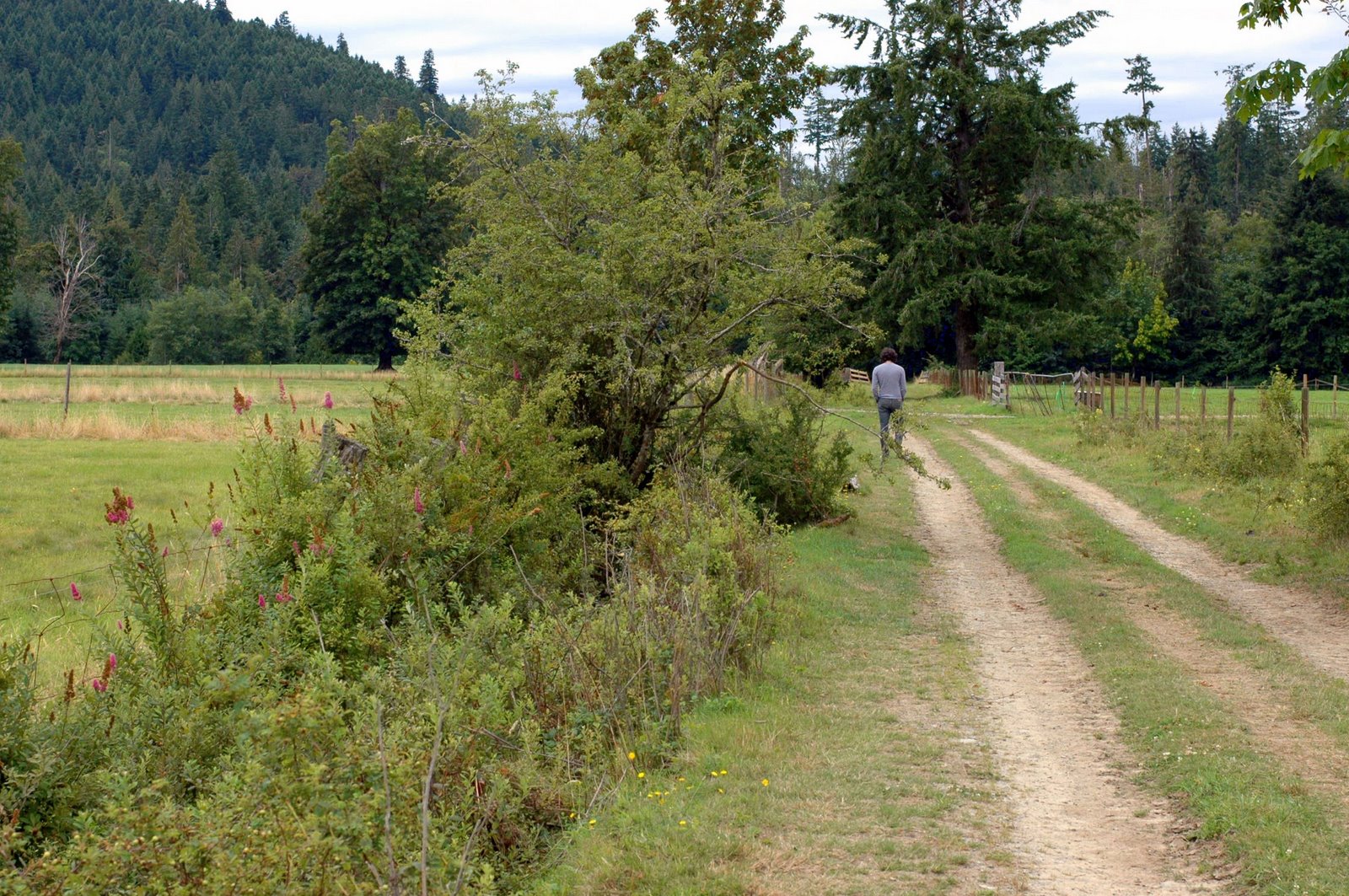 Each morning, we woke to eat breakfast on the porch. It started with a spread of homemade granola, yogurt, fresh blueberry compote, and a pitcher of juice on the sideboard. Then Mara made a second course, hot this time: a frittata, say, made with farm eggs, their yolks like liquid goldenrod, or thin, crepe-like pancakes with a length of turkey sausage.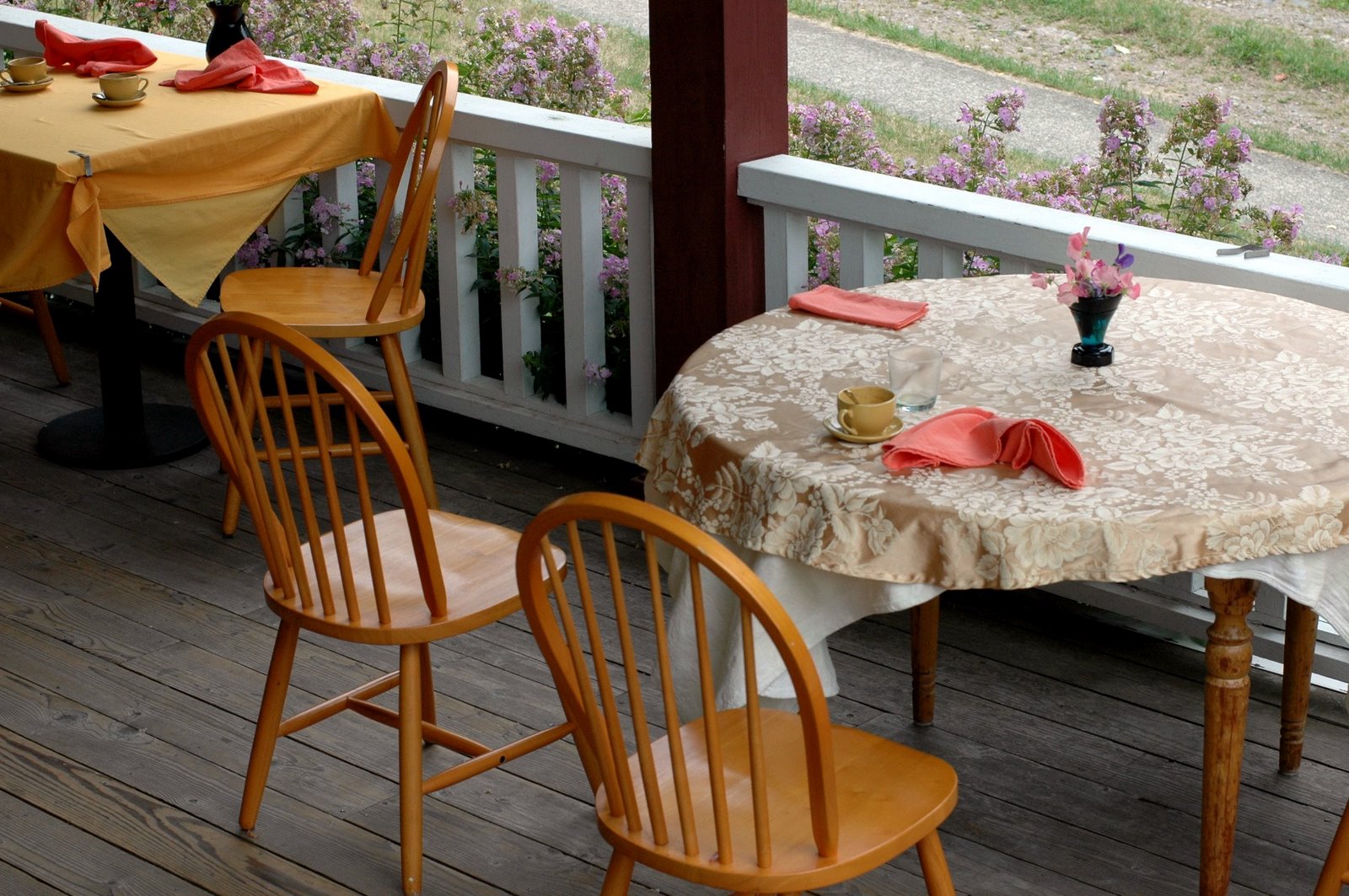 At night, Mara was in the kitchen again, cooking four- or seven-course meals for her guests on the porch. For us, she served heirloom tomatoes with buffalo mozzarella made nearby from the farm's own milk, doused with balsamic vinegar from Venturi-Schulze Vineyard, just down the road. (It's an amazing vinegar, by the way, totally worth the price and shipping.) Then she served a corn-leek soup topped with a single zucchini blossom. It tasted pure corn milk, what you get when you give the cob a good scraping, sweet and slushy and delicious. Then came a choice of lamb, again from the farm's own stock, or sablefish poached in miso from Denman Island, and finally a light, buttery cake layered with mascarpone and fresh berries. Then the stars come out over the mountain up ahead, and we drank mugs of the house mint "tea," fresh mint leaves steeped in boiling water. Then we slept, until we did it all over again.
The best part, though, was when AJ came zipping up the yard on his short, unlikely legs, chasing the buffalo from their pastures to the barn for milking.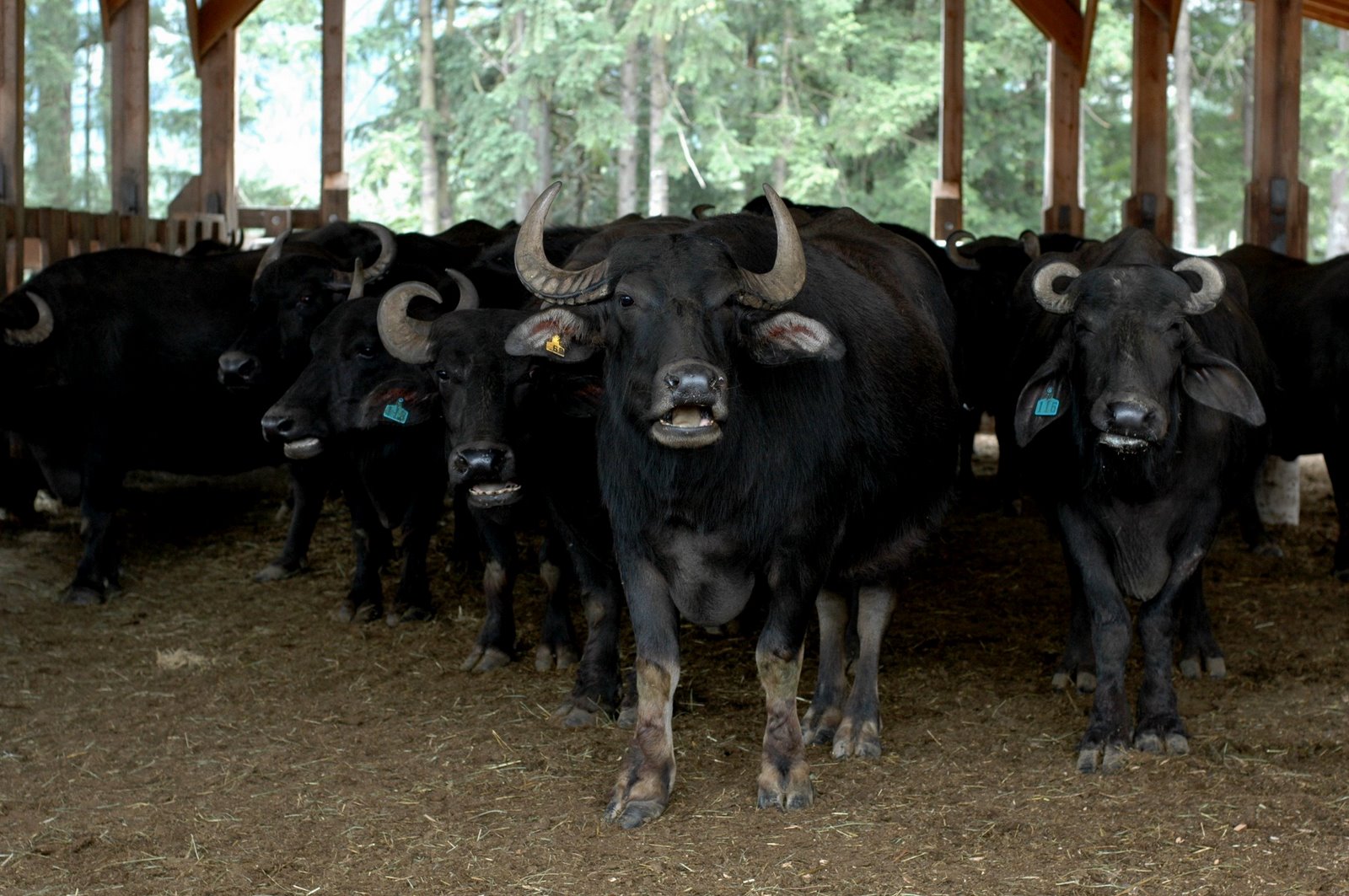 Water buffalo are like big dogs, friendly and affectionate. They're enormous, really, so you have to be careful when they nuzzle you, lest they knock you over or skewer you with their horns. If there happens to be a calf running around, hold out your hand, and he'll lick it. Certain types of water buffalo, we learned, have purple tongues, the color of dried lavender.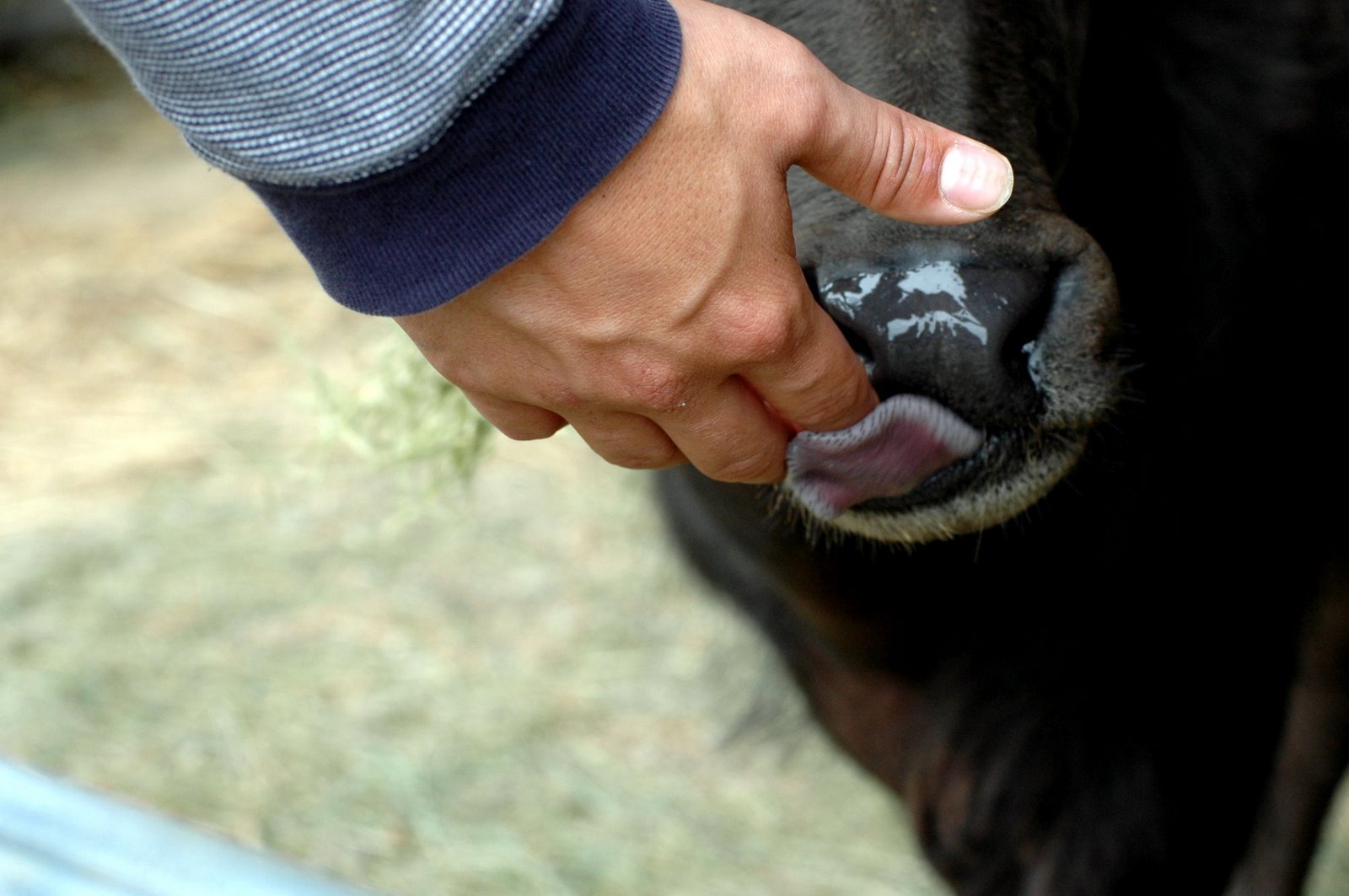 But then, of course, it was time to leave. We had a reservation in Tofino, a little to the north and then three hours west, straight across the waistline of the island, on the coast. For fortifications, we stopped by Hilary's Cheese in Cowichan Bay, the shop-slash-deli of a local cheesemaker, as well as True Grain Bread, next door, for a baguette.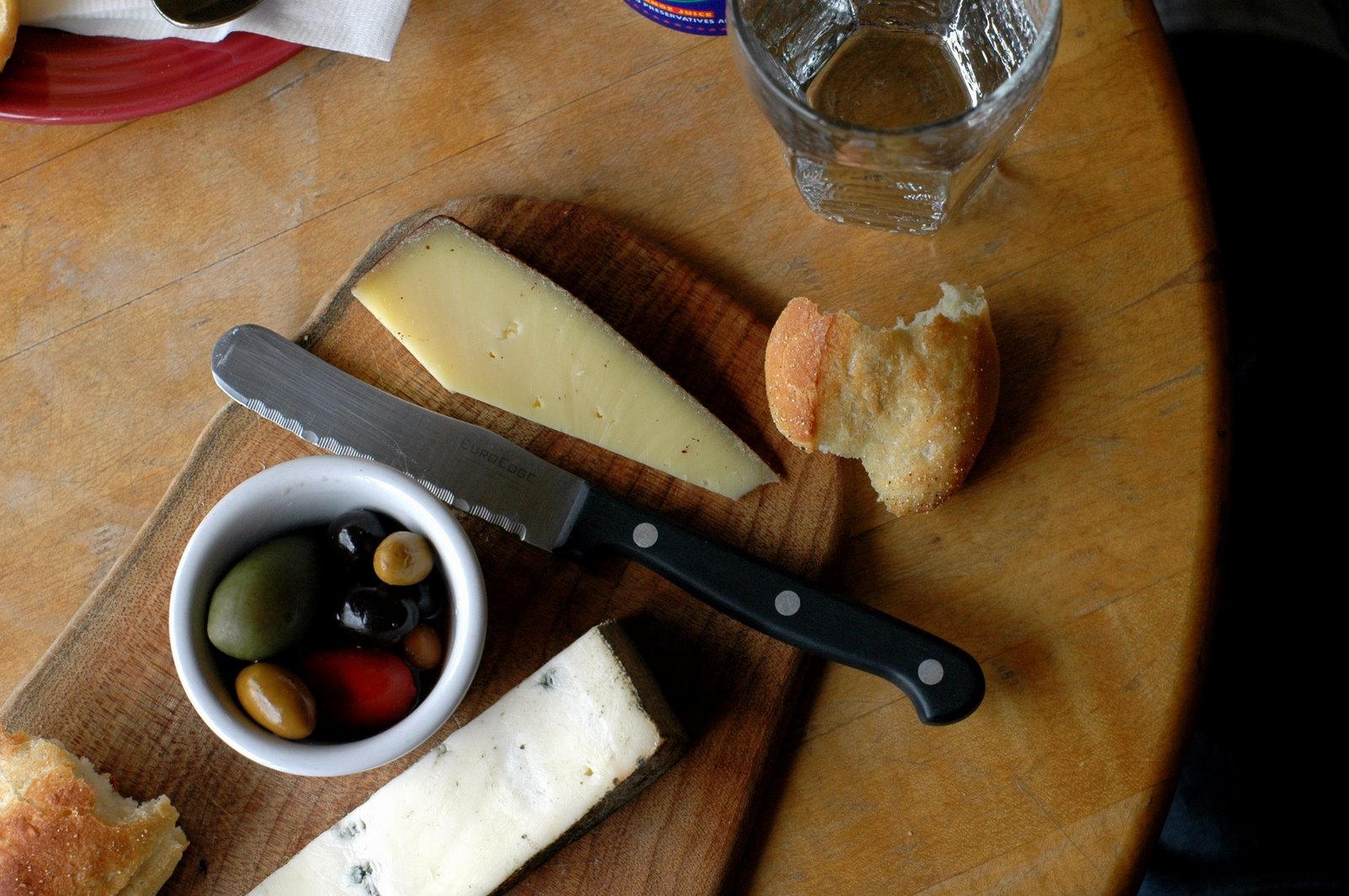 (Just so you know, The Udder Guy's Ice Cream Company, just a few doors up, also is worth a stop. We shared scoops of the mint chocolate ice cream, and of raspberry with chocolate. Pay no attention to the jelly bean they smash, willy-nilly, into the top of the scoop. No idea what that's all about.)
And then we came to Tofino. If you've ever been to Boulder, Colorado, imagine that, but with surfers instead of hikers and skiers. It's relaxed, welcoming, and a little touristy, and everyone there is outdoorsy and attractive, and all the little boys have long hair and tans. The beaches are lined with white sand and rimmed with evergreens, and the water goes on forever.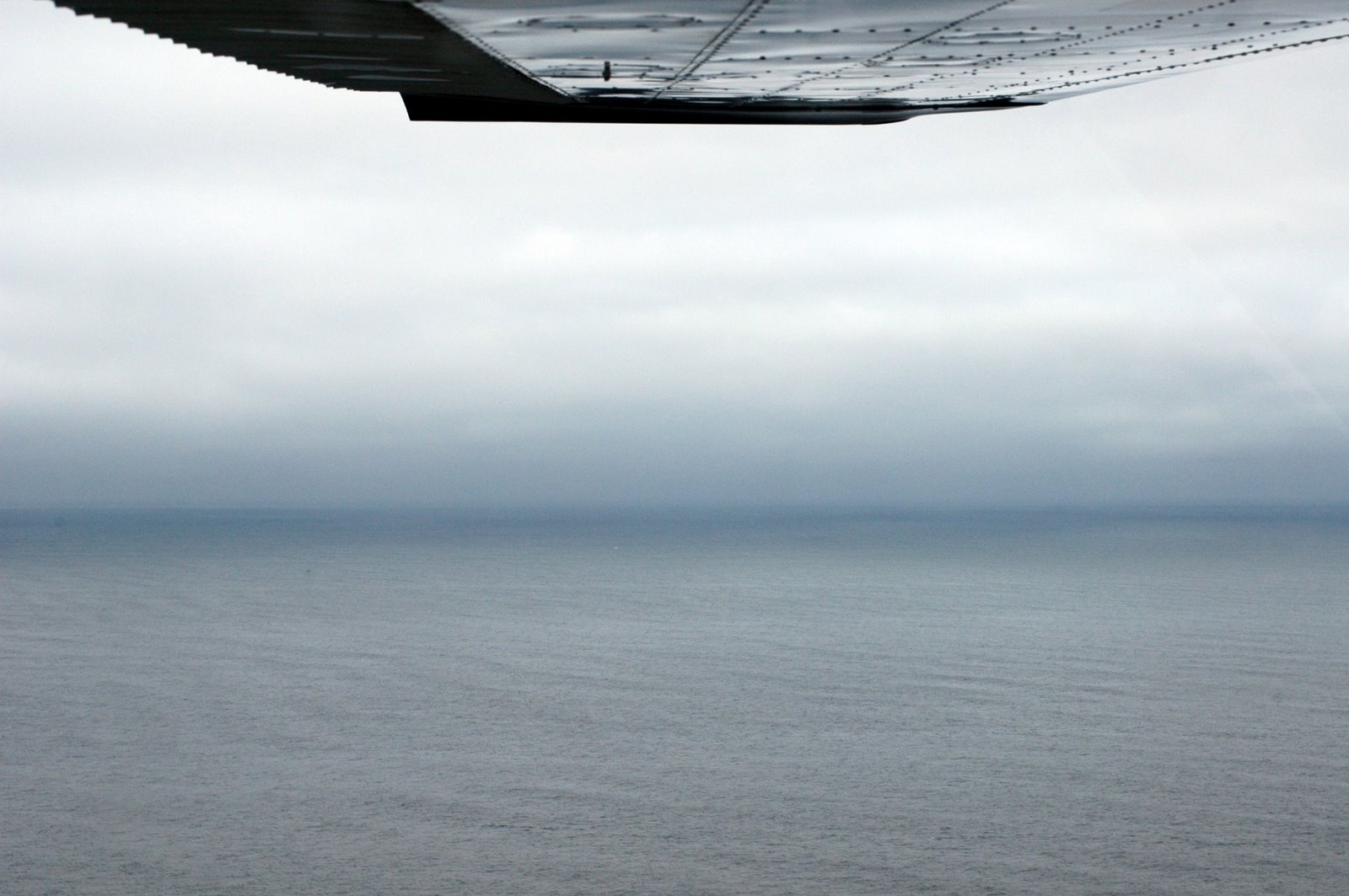 We stayed at a place called the Middle Beach Lodge, one of the more affordable options in a town of very expensive lodging, and nestled high on the rocks between two beaches, it was just what we wanted. In fact, unless you happen to dislike tide pools and sea anemones and beaches shrouded in morning fog and sunsets on the back deck and waking to the smell of fresh cinnamon rolls – which, I have to say, would make you straight-up wrong – it's close to heaven.
We took naps and peered into tide pools, and Brandon thrashed me at Double Solitaire. We bought our second box of Mini Wheats – who knew they were such a good snack? – and we also found SoBo. Short for Sophisticated Bohemian, it's a phenomenon not to be missed, a purple lunch truck in the parking lot of the Tofino Botanical Gardens that churns out everything from ceviche to soba noodles, cornmeal-crusted oysters, and polenta fries so stupendously good that I spoiled my lunch. At night, service moves to a cozy building in the garden, where they pour good wines and foamy beers. For a chilly evening, I especially recommend the hot soup – carrot-ginger with coconut milk, if they're making it – and a hunk of warm cornbread.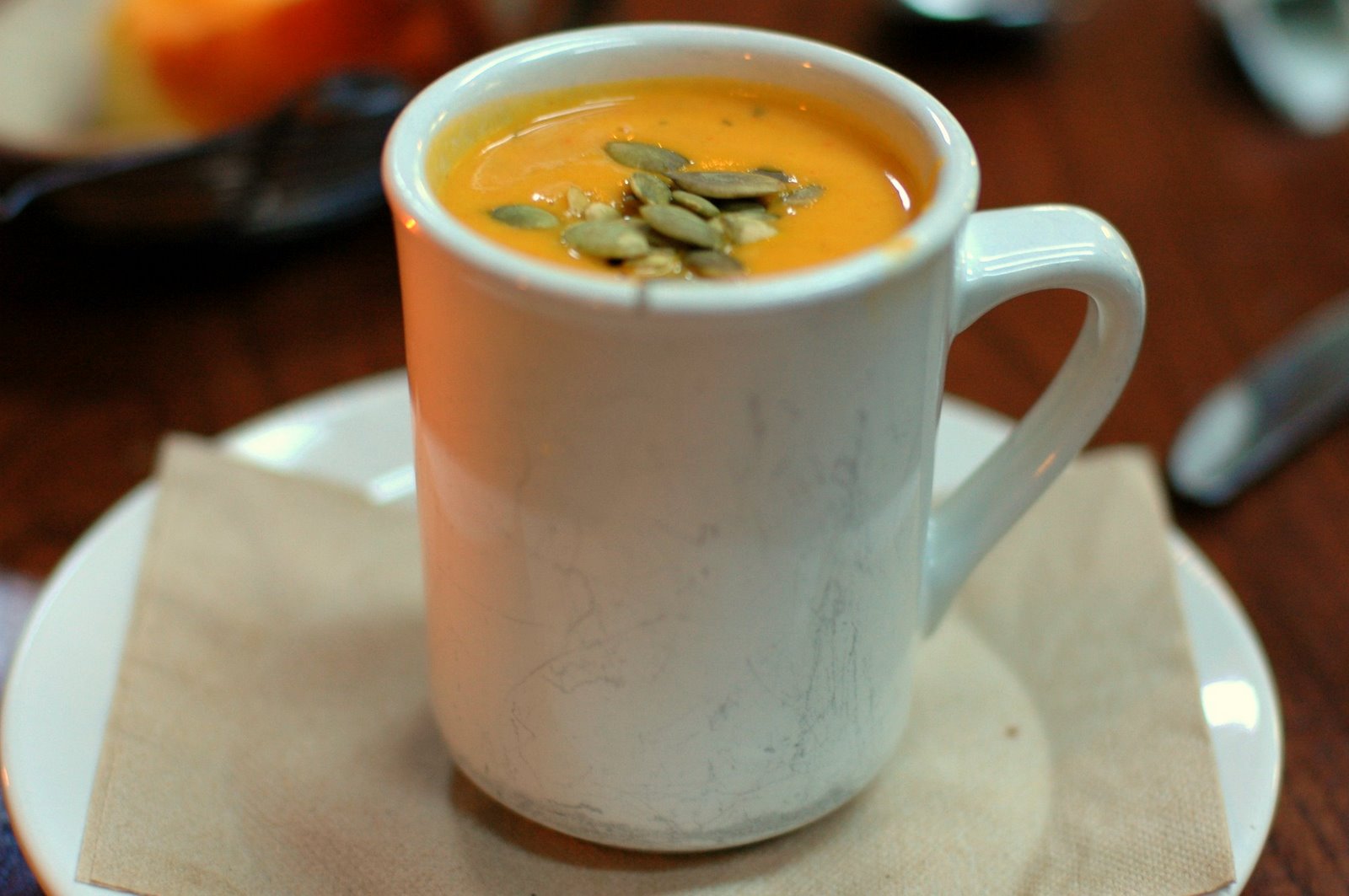 One day, we took a float plane out to a natural hot springs cove nearby, and had the water not been so crazily, ferociously hot, and had I not been savagely bitten – I still have scars – by giant(!) mosquitos(!) in the rainforest(!) there, oh Tofino, I might never have left you. And woe that we did, really, because we had a terrible time getting back to the mainland, waiting in parking lots at three different ferry terminals because it was the end of (what we had no idea was) a provincial holiday, and everyone was traveling. But one could do much worse, I think, than a dashboard dinner of vinegar-laced potato chips (bought in Cowichan Bay), cornichons (brought from Seattle), and an oatmeal cookie from SoBo, washed down with some water from a vending machine.
We did get to our last destinations, eventually – to Halfmoon Bay, on the Sunshine Coast, and then on Vancouver – and honestly, I could go on and on and on. We loved it all, and then, even more, we loved coming home to find our friend Sam at our kitchen table, with fixings for tabouli and mint juleps. But I brought home a souvenir for you, and rather than make you spend any more time in these rare, fleeting last days of summer – the very best part, the filet mignon of seasons – reading my never-ending honeymoon treatise, I want to hurry up and give it to you already.
I think you might know what it is.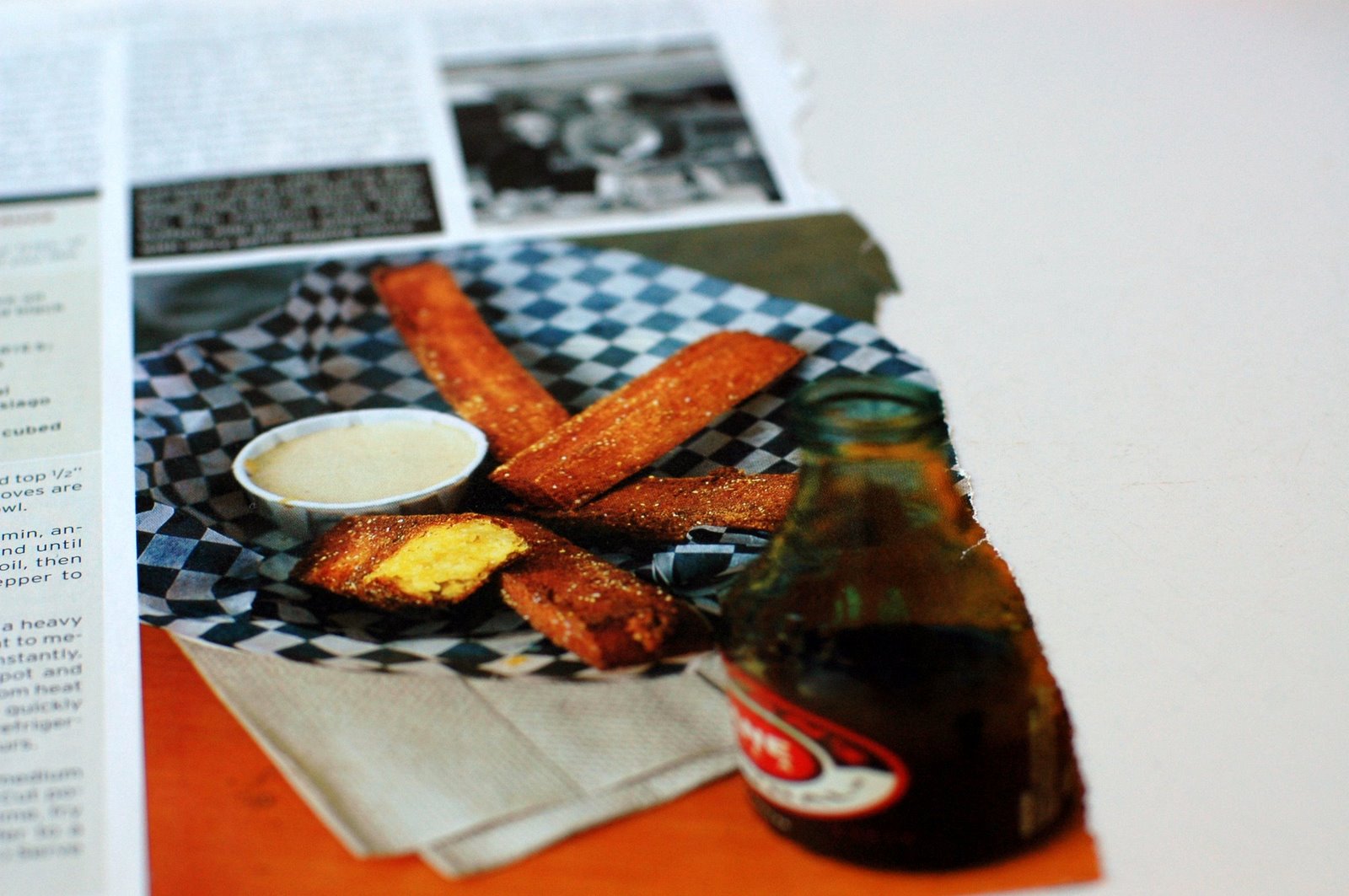 It's those polenta fries. The recipe, at least. I know you're going to love them. Imagine creamy polenta with a cup of asiago stirred in, and plenty of butter to boot. Imagine, then, that you let it cool, and then you cut it into fat, sturdy batons – like Lincoln Logs, only edible. Then you fry them until they're golden and crisp and a little puffed at the seams, and then you eat them, alongside a hamburger, say, or another something hot from the grill. I hope you might want to make them for Labor Day – those of you in the U.S., anyway. I know I will.
Thank you, friends, for making this trip with me through our wedding, and what came before and after. You've indulged me, and for that I am so grateful. Coming here has bolstered, calmed, and inspired me. It's been a great summer.
Onward, September.
Polenta Fries
Adapted from Lisa Barber-Ahier, SoBo, and Saveur
SoBo serves these with a creamy garlic sauce – a cross, flavor-wise, between aioli and Ranch dressing – but we like them plain. We made them for a dinner party the week after we got home, and everyone agreed. (They also inhaled them.) These fries don't need any help.
Also, if you happen to have an outdoor grill with burner on the side, consider frying your polenta there. It'll keep that nagging fried-food smell out of your house. Or, if you don't feel like frying at all, you could just eat the hot, cheesed-up polenta on its own. It's spectacular.
4 cups vegetable stock
Salt
2 cups coarse cornmeal
1 cup finely shredded asiago cheese
8 Tbsp. (1 stick) unsalted butter, cubed
Canola oil, for frying
Combine the vegetable stock and salt to taste in a heavy medium-sized pot over medium-high heat. Bring just to a boil, reduce the heat to medium-low, and slowly, whisking constantly, add the cornmeal in a thin stream. Cook, stirring constantly, until the polenta pulls away from the sides of the pot and most of the liquid has been absorbed, about 20 minutes. Remove the pan from the heat, and stir in the cheese and butter.
Transfer the polenta to a nonstick 8-inch or 9-inch square pan. (Or, alternatively, pour the polenta onto a sheet pan, and quickly shape it into a 9-inch square.) Smooth the top with a rubber spatula, and allow to cool slightly at room temperature. Then refrigerate, uncovered – you want it to dry out a little – until chilled and set, about 2-3 hours.
When you're ready to fry the polenta, pour oil into a heavy, large pot to a depth of 2 inches. Place over medium heat until the temperature hits 375 degrees Fahrenheit on a deep-fry thermometer. Meanwhile, turn the polenta out of the pan, and cut it into twenty 1"-x-4" sticks. Working with 4 polenta sticks at a time and taking great care – oil spatters are dangerous, and they hurt! – fry without stirring until the sticks are deep gold, a pretty shade of amber, about 4 minutes. Transfer them to a paper towel-lined sheet pan. (If any fries are stuck together, gently separate them.)
Serve immediately.
Yield: 20 fries, serving about 6 to 8 people
When you care about food, and when you're marrying someone who also cares about food, and when you met this someone because of a particular food, and when both of you spend your days – or the better part of them, anyway – cooking, scheming, and daydreaming about food, well, let's just say this: there's a lot of pressure to feed people well at your wedding. Which, quite honestly, is no easy feat. In most circles, the word "wedding" isn't exactly synonymous with "delicious." Usually, it's just the opposite. Many venues equipped to host weddings – hotels, gardens, museums, and so on – require that you use their (often iffy) in-house caterer, or at least limit your choice to a…
Read more
So you go and get married, and you eat deviled eggs with herbed aioli and dance for three hours, and then you go on a honeymoon for ten days, and you take lots of naps and ferries and put your toes in the Pacific, and then, you know, it's kind of hard to know what to say. Most of all, it was just really pretty. To start, I guess I should tell you a little something. When you get engaged, a few things happen. First, you agree to marry someone. Second, your head sort of explodes. Third, you are handed a ticket – rather sneakily, I should note, with no warnings at all – to an amusement-park ride known as…
Read more