February always feels to me like a funny limbo period. Winter has gone sort of tired and stale, but still, short sleeves are a little way away. Over most of the northern globe, it's nippy, damp, and grim. February is the shortest month, the Valentine's month, the scant sum of four weeks of frost and fog and those funky, crumbly candy hearts. It isn't much to speak of, quite honestly, except for all the soup.
The way I see it, February is the soupiest month. The giddy hubbub of holiday cooking is behind us, and summer barbeques feel like pure fantasy. So here in the middle, in Limbo Land, it's high time for soup. All I want these days is a bowl and spoon – and soup at noon, stew for supper, stock in the fridge, broth on the stove, soup soup soup! What with all the spoonable meals around here, you'd think I'd had some sort of major oral surgery. But nah, it's just Old February, sticking its fingers in the stockpot again.
And take it from me: when it does that, it's best not to resist. If I were you, I'd fire up the stove, throw a few potatoes its way, and call it locro de papas.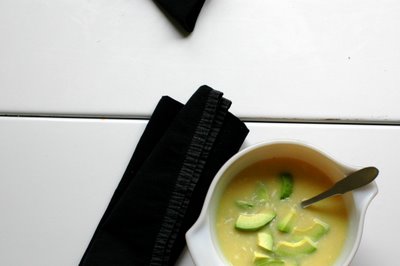 Mine looks nothing like the photograph in this month's Gourmet, but I don't care one bit, because this Andean potato stew is a deep-winter dream. It's warming, rustic, and immeasurably soothing, the sort of soup that makes you want to dock your spoon at the bottom of the bowl and hang out, right there, for a little while. I can think of many worse ways to spend February – can't you? – than in the company of potatoes like these, stewed into a mellow, cumin-scented broth and smoothed with milk and crumbly Mexican cheese. Creamy and subtle, topped with crescents of avocado, it's a little homey, a little homely, and quietly delicious – in other words, just the kind of food for February.
Now, that said, I should warn you, however, that this is not Saint Valentine's fare. That's not what it's for. There are plenty of other, sexier dishes to spoon delicately into someone else's mouth. (Ding, ding! Hello, chocolate!) This one is just for you. It's for a gray day, to be eaten in a cool room, and with a wool blanket across your lap. I've been doing just that since late last week, and I'm not the least bit sick of it yet. In fact, I'd be happy to drop anchor here indefinitely – (Can you tell we watched both Pirates of the Caribbean movies this weekend? Argh, matey.) – so long as the supply of avocado holds up. Or until the end of the month, whichever comes first.
Locro de papas
Adapted from Gourmet, February 2007
Fancy it ain't, but pay no mind, because this potato stew is a keeper. The only tricky thing about this recipe is the annatto – also known as achiote – seeds. They're small, triangular, rust-colored pellets that bring a red color and earthy, resinous flavor to many Latin American, Caribbean, and Filipino dishes. That means, unfortunately, that they're a little tough to find in the typical American grocery store. I bought mine at World Spice, but you could probably find them at your local Latin American or Mexican grocery, or at Penzey's.
And while we're on the topic of annatto, a word to the wise: when you make your annatto oil, below, use a stainless (or other light-colored) saucepan or skillet. I made the mistake of reaching for our well-seasoned omelet pan, which is black as tar and therefore made it damn near impossible for me to gauge the color of the oil as it steeped. And judging by the fact that my soup looks nothing like the sweetly burnished red-orange business in Gourmet, I think it's safe to assume that I didn't let my oil get red enough. Or that Gourmet did some sort of tricky retouching. Either way, don't use a dark pan, and don't say I didn't warn you.
2 tsp. annatto (achiote) seeds
2 Tbsp. olive oil
3 ½ lb. russet (baking) potatoes
1 cup chopped yellow onion (about 1 medium)
Rounded ½ tsp. ground cumin
2 ¼ tsp. salt
A few grinds black pepper
7 cups water
1 cup whole milk
1 ¼ cups coarsely grated queso fresco or queso blanco
2 firm-ripe avocados
In a small saucepan or skillet, heat the annatto seeds and oil over low heat, swirling the pan often, until the oil is bright red-orange and barely simmering, about 2 minutes. Remove the pan from the heat, and set aside to rest for 10 minutes.
While the annatto oil is resting, fill a large bowl with cold water. Peel the potatoes and cut them into ¾-inch chunks, dropping them into the bowl of water as you go. The water will help to prevent discoloration.
Pour the annatto oil through a fine-mesh sieve into a large (7-8 quart) pot, discarding the seeds. Warm the oil over medium-high heat, and add the onions and half of the potatoes. Cook, stirring frequently, until the onion is softened, about 4-5 minutes. Add the cumin, salt, and pepper, and cook, stirring, for 1 minute more. Add the water, stir to scrape up any brown bits stuck to the bottom of the pot, and bring to a boil. Reduce the heat and simmer, partially covered, until the potatoes are very tender, about 25-30 minutes; then mash the potatoes into the broth. (You could do this with a potato masher, I assume, but I couldn't find ours – the kitchen utensils drawer is a madhouse – so I used my immersion blender instead.) Remove the remaining potatoes from their bowl of water, drain them well, and add them to the pot. Simmer, partially covered, until they are tender, about 20 minutes more. Stir in the milk and the cheese, and increase the heat to bring the pot to a simmer again, stirring. Remove from the heat.
Cut the avocados into small cubes or slices. Ladle the soup into bowls, top with avocado, and serve.
Yield: About 6 servings