Before I begin, I have to assure you that it's not really as bad as it may seem. I'm not a curmudgeon, I swear. I'm not one of those bitter types who while away February by spitting on the displays of pink-and-red heart garlands in the grocery store. (Although, come to think of it, now that I've written that sentence, if I were a curmudgeon, I'd know exactly what to do.) It's just that Valentine's Day doesn't really excite me. It's not like Thanksgiving or Christmas, those holidays that come with catchy tunes to hum under your breath, the holidays that invite all sorts of baking and splurging and beautiful, endless buffet tables. Valentine's Day feels a little stilted, that's all. Too often, it's like an obstacle course or a big end-of-term exam, a test to prove how good you are, or how impossibly romantic you can be. I like my romance under less fraught circumstances. It just feels more romantic that way.
Maybe I shouldn't admit this, but I don't even remember what Brandon and I did last Valentine's Day. I have no idea. I don't even know if we were in the same city. I'm sure it was nice, whatever it was, but to tell you the truth, it has nothing on any number of other, more ordinary days. Like, for example, one Saturday last July. I think of that day a lot. It was overcast, and we left at midday and drove north to Bellingham. We had a bag of spicy peanuts in the console, and I was wearing a new pair of shoes. We stopped at a Goodwill near Mount Vernon and bought a Pyrex dish that I love, and then we ate spaghetti with pesto for dinner. Our canopy bed at the Best Western was nearly four feet high – it had stairs, people – and the next morning, when I tried to climb down, I banged my hip on the bedside table and got a whopper of a bruise. We laughed about it for a long time. I loved that trip.
Or then there was September 15, the day after my birthday, the day that Brandon spent sitting on the floor of my family's kitchen in Oklahoma City, wrestling contentedly with a rusty bolt in my father's old espresso machine. He spent hours sitting there, watching us come and go, rigging and wrenching and wielding a can of WD-40. When he finally pried the bugger loose, the machine shuddered to life with a squeal and a roar, a sound none of us had heard since my father died. Brandon worked the knobs with a sort of sweet, fearful reverence, and my mother fawned over her cappuccino for hours.
Or there's that time a few weeks ago, when we decided that dinner at home was too much trouble and drove instead to Malena's, as we sometimes do. The cilantro on my beans was a little wilted, but the guacamole was good, and so were the tortillas. We sat next to the heating vent, under the fluorescent tubes, and I tickled my foot along his calf, and all of it cost under nine dollars. I'd take any of these for a Valentine's Day. They're good enough for me. A special holiday for lovers is a very nice idea, but I'd much rather a little daily something heartfelt – a touch, a look, a table for two at a tacqueria – instead.
So I'm not a big Valentine's buff. I don't need any fancy celebrations or fanfare. (Never mind that Brandon has apparently planned some sort of huge, secret to-do for this Wednesday, nor that he is so impatient to share it with me that he asks at least once a day, "Do you want me to tell you what it is? No? Are you sure?" I know I will love it, whatever it is – but mainly because he's so unbearably cute when he's scheming and planning and itching to tell a secret, not so much because it's Valentine's Day.) For me, a quiet dinner is just fine. Or better than fine, even, especially when it concludes on the couch, with sleek, squidgy wedges cut from a chocolate tart.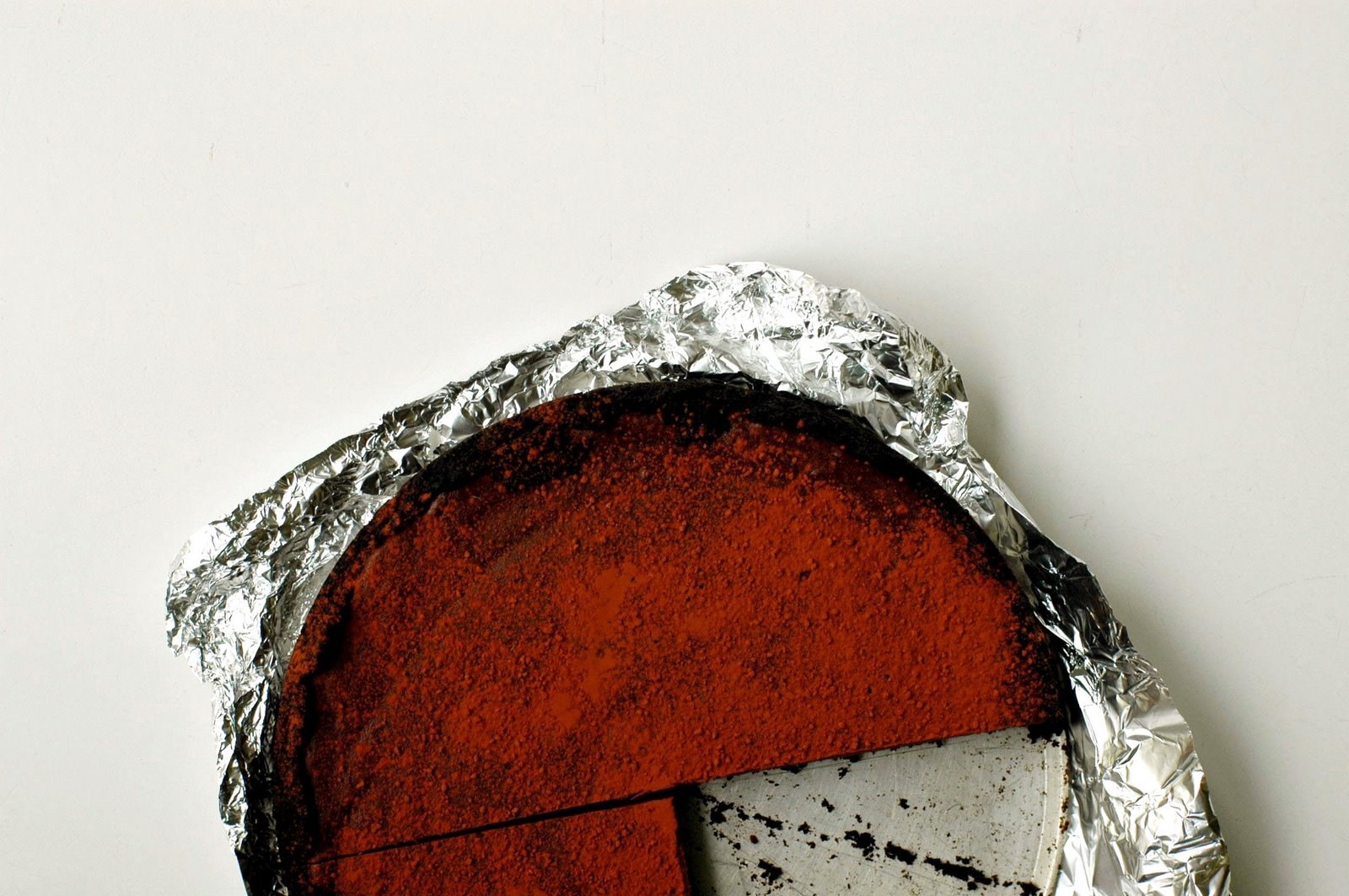 I know, because that was our Saturday. I didn't want to interfere with Brandon's secret scheme for Wednesday, so this weekend I made us an early Valentine's dinner. We started with a favorite salad, a purply jumble of slivered red cabbage and lemon, and then moved on to panade, which is pretty plush and sexy as winter dishes go. (It is also quite filling; be warned.) It was a good meal, minus the part where I got painfully hungry before supper was ready and Brandon had to step in to make the salad while I, in a panic, set the table. But the best part was undoubtedly the tart.
I had seen it in the most recent issue of Gourmet – (I know, I know, I'm starting to get redundant) – and it looked too good to ignore. Brandon agreed, and so I made it. The process was astoundingly easy: a press-in chocolate cookie crust filled with a spiffed-up, five-minute ganache, baked and chilled and dusted with cocoa. Moreover, it was delicious. Dense and silky, heartstoppingly rich, it was like eating the centers out of a half-dozen truffles, only without the mess. Its crust had just the right amount of crisp and shatter and, we noticed, the faintest caramelly flavor at its edges, where the butter had begun to brown against the hot pan. And, need I repeat, it was easy, which meant less time for cleanup and more for Brandon, and for our latest Netflix borrow. He even covered my eyes during the gory parts, and that, more than any grocery store garland, is love.
Chocolate Truffle Tart
Adapted from Gourmet, February 2007
In my humble opinion, the most important thing to know about this tart is that it improves with age. It was good on the first day, yes, but it was tremendous on the second. TREMENDOUS! So if you plan to serve it on Wednesday, try to make it tomorrow, or even tonight. Hop to it!
As for types of chocolate, I have to admit that I took the pitiful, what's-in-the-pantry route. I used Ghirardelli 60% bittersweet chips. With any other brand, I wouldn't even consider using chips – they just don't melt like baking chocolate – but Ghirardelli works beautifully. And although it is kind of a plain-tasting chocolate, it was perfect here, yielding a wonderfully complex, fruity flavor. I imagine that Valrhona could also be good, although I wouldn't use Scharffen Berger, which is already incredibly fruity to start with. It would be too much.
As for the pan, I only had a 9-inch springform, not the 8-inch version called for by Gourmet. The tart turned out just fine, but as you might expect, it was a little on the thin side, with the filling maxing out around a half-inch thick. So if you have an 8-inch springform pan, use it. And if you only have a 9-inch, know that your tart might look a little skinny. Pretty, but skinny.
Lastly – whew! – Gourmet calls for this tart to be served chilled, straight from the fridge, but we greatly preferred it after an hour or two at room temperature. When chilled, the filling is sort of chewy and squeaky, but after a little rest on the countertop, it softens a little and gets pleasantly silky. Much better.
For the crust:
28 chocolate wafers such as Nabisco Famous, finely ground in a food processor (1 ½ cups)
6 Tbsp. unsalted butter, melted and cooled
For the filling:
½ lb. good-quality bittersweet chocolate (no more than 60% cacao), coarsely chopped
6 Tbsp. unsalted butter, cut into ½-inch cubes
2 large eggs
1/3 cup heavy cream
¼ cup granulated sugar
¼ tsp salt
1 tsp. pure vanilla extract
Unsweetened cocoa, for dusting the finished tart
To prepare the crust:
Put an oven rack in the middle position, and preheat the oven to 350 degrees Fahrenheit. Wrap a sheet of foil around the outside of an 8-inch round springform pan, to catch any possible leaks. Lightly butter the sides of the pan.
In a medium bowl, stir together the ground wafers and melted butter until well combined. Turn the mixture into the pan and, using your hands, pat it evenly onto the bottom and 1 ½ inches up the side. Slide the pan into the oven, and bake until the crust is slightly puffed, about 10 minutes. Cool completely on a wire rack, about 15 minutes. Leave the oven on.
To prepare the filling:
While the crust cools, melt the chocolate and butter, stirring occasionally until smooth, in a double boiler or a metal bowl set over – but not touching – barely simmering water. Remove the mixture from the heat and set aside to cool for 5 minutes.
In a medium bowl, whisk the eggs lightly. Add the cream, sugar, salt, and vanilla, and whisk to combine well. Add the chocolate mixture, and whisk to combine well.
To assemble the tart:
Pour the filling into the cooled crust, smooth it gently with the back of a spoon or a rubber spatula, and rap the pan once on the counter to eliminate any air bubbles. Slide the pan carefully into the oven, and bake until the filling 1 inch from the edge is set and slightly puffed but the center still trembles a little when the pan is gently shaken, 20-25 minutes. The center will continue to set as it cools.
Cool the tart completely in the pan on a wire rack, about 2 hours. Chill, uncovered, until the center is firm, about 4 hours. About 1 to 2 hours before serving, remove the tart from the fridge and carefully pull away the side of the pan. Put a teaspoon or two of cocoa in a small sieve, and dust it over the cake. Allow to sit at room temperature for an hour or two; then serve.
Note: If you're short on time – which you may be, since Valentine's Day falls on a Wednesday – you can make the crust and filling and bake the tart a day or two ahead. When the tart is completely chilled, cover it loosely with foil. (Covering it before it is fully chilled can cause condensation.) The finished tart will keep, according to Gourmet, in the fridge for three days.
Yield: 8-12 servings