So, have you ever had one of those days when you do or learn or eat something so fantastic that you can't wait to tell the whole world, and then by some cruel twist of fate, the whole world seems to conspire to shut you up? First, let's say, you get a wretched sore throat, followed by a snotty, now-stuffed, now-dribbly nose. And then the hard drive of your computer up and dies, just like that, with nary a warning or whimper. And then you feel sorry for yourself and slouch around for a few days, sans computer, sneezing all over your old, beloved gray sweatshirt. Ever had that happen? Yeah? Me too. It's been a bad week. The last truly good thing I remember was the popover I ate on Sunday morning – and oh, what a popover it was. I would have told you about it a few days ago, were it not for, well, all this. Please pardon my delay, and my cold, and my computer.
What I've been meaning to tell you is this: popovers, I've decided, are my ideal breakfast food. Don't get me wrong – I do love my usual plain yogurt and granola, but I'm talking ideal here. Popovers are about as close as you can get to eating clouds without leaving the kitchen.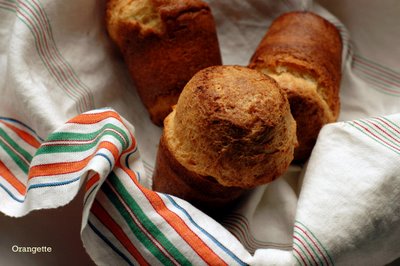 An American adaptation of Britain's Yorkshire pudding, a popover is a light, hollow roll made from an eggy batter, so named because it "pops" up and out of its pan as it bakes. Popovers enter the oven as mere puddles of batter but bake up, an hour or so later, into billowing, buttery, ethereal poufs. Lighter but no less special than a croissant or cinnamon roll, they boast golden, crisp crusts and a soft, custardy inner lining, perfect for a smear of jam or honey – or for eating plain, in big, greedy bites.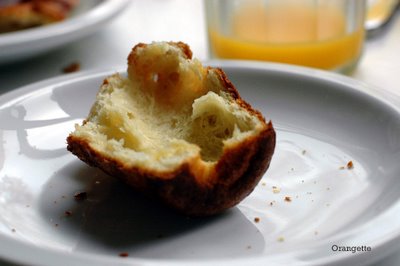 Some people might serve them as part of a big spread, but to me, what makes popovers so lovely is that they fill the belly just enough, but never too much. Last Sunday, Brandon and I sat down at the breakfast table with a basket of these, two pots of jam, and orange juice, and, between bites and slurps, agreed that anything more would have spoiled the charm. A couple of popovers, steamy and butter-scented, is all a girl needs on the average morning. In cases of severe hunger, a bowl of tart yogurt might be nice alongside, but for those of us who like to leave room for lunch, it's entirely optional. And should you have a popover or two left over – lucky you! – come noontime, they rewarm nicely in a moderate oven and go swimmingly with a bowl of soup.
Speaking of which, a cauldron of chicken noodle sounds pretty good right now – both for soothing my throat and for submerging my entire body. That may be in order for the weekend. But one thing is certain: Sunday morning will find us again in front of the oven, waiting for our popovers to pouf and pop, signaling the close of a very sub-par week and the start of a new one.
P.S. A big, huge, sloppy thank you to Brandon for letting me borrow his beautiful new MacBook Pro, and for spending hours on the phone with Dell, and for making me a piña colada in a fancy glass. I owe him something very nice, as soon as I stop snorting and sneezing.
P.P.S. And a warm thank you to dear mav, who gave me the beautiful linen dish towel pictured above.

Butter Popovers
Adapted from The Bread Bible, by Rose Levy Beranbaum
Not only does this recipe produce a delicious popover – crispy on the outside, airy and spongy on the inside – but it also is a real snap. Whereas some popover batters require a rest before baking, this one can go straight into the oven, thanks to the wonder of Wondra. In the words of Rose Levy Beranbaum, Wondra flour is
a granular form of flour developed by General Mills. It dissolves instantly in liquid because it has been subjected to a process called agglomeration. It is produced essentially by misting flour with water and then spray-drying it with compressed air, which separates the flour into particles of even size and shape that will not clump when mixed with liquid.
It may sound sort of fancy, but Wondra can be found in most American grocery stores. We found it on the flour aisle of our usual store, in a blue cylindrical cardboard can. Aside from that, you need nothing else unusual, except the popover pan. For this recipe, you'll want a standard-size popover pan with six wells, or a 12-well mini popover pan, or a standard 12-well muffin pan. Note that if your pan is made of black metal, you will need to lower the initial temperature to 400 degrees, rather than 425. I missed that little hint the first time I made these, and my popovers were finished in about 45 minutes total, rather than an hour. Their rise was also a little stunted, if you ask me.
1 cup plus 3 Tbs Wondra flour
½ tsp salt
½ tsp granulated sugar
1 cup whole milk
2 large eggs
4 Tbs unsalted butter, melted and cooled but still liquid, divided – plus a little more for greasing the pan
Preheat the oven to 425 degrees Fahrenheit. Set a rack on the second level from the bottom of the oven.
In a medium bowl, whisk together the flour, salt, and sugar. Slowly add the milk, whisking continuously. Using handheld beaters or a whisk, add the eggs one at a time, beating for about 1 minute after each addition, and then until the batter is smooth. Beat in 2 tablespoons of the butter. Don't worry if the butter seizes a bit into little clumps. (If you don't plan to use the batter immediately, cover it with plastic wrap, and refrigerate for up to 24 hours. Beat it lightly with a whisk before using.)
Use a pastry brush to thoroughly coat the inside of each well of the pan with some of the remaining melted butter. [Do not skimp, or the popovers might stick!] Then spoon about 1 teaspoon of additional butter into each well of the popover pan. If you're using a mini popover pan or a muffin pan, use only ½ teaspoon per well.
About three minutes before baking, place the pan on a baking sheet and slide it into the oven to warm. The butter should get very hot and begin to brown, but do not allow it to burn. Remove the pan from the oven, and divide the batter among the wells. Bake for 15 minutes. Lower the temperature to 350 degrees and continue baking for about 35 minutes for standard popovers or about 20 minutes for smaller or muffin-size ones, or, most importantly, until the popovers are puffed, golden brown, and crisp to the touch. About five minutes before the end of the baking time, open the oven door and – carefully! – make a small slit in the side of each popover to release steam and allow the insides to dry a little. Do not open the oven until this point, or the popovers might deflate.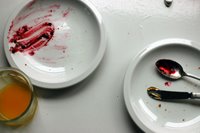 When the popovers are ready, remove the pan from the oven. With a pot holder, gently lift them from the pan one at a time, holding onto them from the top. [You might need to loosen them a tad around the edges with a knife.] Serve immediately, with jam, honey, or – for the extra indulgent – butter. I liked them best plain, but jam was nice too.
Yield: 6 standard popovers, or 12 smaller popovers