I try to keep things exciting for you. Really, I do. So far, in the lifespan of a single food blog, I've baked savory flans à la Dr. Seuss and had night sweats. I've declared a national emergency in the name of Brussels sprouts. I've made—and consumed—an heirloom egg nog containing five pints of ½-and-½ and four types of alcohol. Hell, I even went and got engaged. It's a lot of work, frankly, and after so much excitement, sometimes a girl just wants to sit on the floor, shout Jeopardy! answers at the television screen, and eat the same dinner, seven nights in a row, straight from the serving bowl.
Lucky for both of us, dear reader, said serving bowl contained a very special salad, the sort of thing that would be worthy of note whether or not I had eaten it every evening for the past week—which I have, of course, and happily. In all truth, I've been eating variations on this supper at least twice a week for the past two months. In a show of my sickness, I've even forced it—and an evening of America's Next Top Model—upon Shauna, who gamely gave both her hearty endorsement. I also dragged this salad schema to New York, where I risked my life to cross the threshold of Fairway on a Saturday afternoon for a few heads of endive and a package of feta. I may be a creature of habit, and an aggressive one at that, but I could do a lot worse, I think, than this spring slaw of sorts.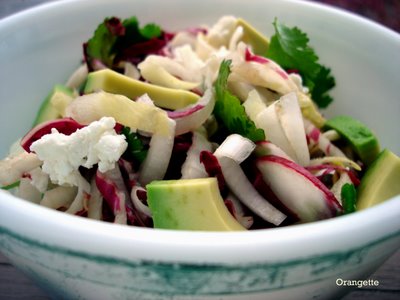 A cousin of the chopped salad, this sliced version is built on a four-point foundation: endive, cilantro, radishes, and feta. Though not initially an intuitive combination, together their sum is much greater than its parts, especially when a good, kicky vinaigrette is involved. The bitter earthiness of endive is subdued under a smear of soft, salty feta, and the watery crunch of a wafer-thin radish borrows brightness and character from whole cilantro leaves. Anything else is unnecessary, really, but I like to add radicchio for its color and bracing bite, and avocado for its creamy, mellow quality, which smoothes, softens, and unites the separate components into a delicious, seamless whole. Elegant and yet easy to eat while watching television, it makes for an entire meal, satisfying to both jaw and belly. I'd take this mess of sliced stuff over a simple green salad any day—or, really, actually, every day.
Sliced Spring Salad with Endive, Cilantro, Radishes, and Feta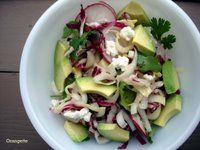 This salad is a study in small variations: I rarely make it the same way twice, but it never strays far from its core ingredients. Aside from the endive, cilantro, radishes, and feta, the list of ingredients below is a rough sketch. I've been known to substitute fennel for radicchio, and occasionally I add a few nuggets of Parmigiano Reggiano, some meaty flakes of smoked trout, or even just a few canned chickpeas, drained, rinsed, and dried. The key, in any case, is the quality of the ingredients. For salads like this one, I like a Hass avocado that's on the firm side of ripe: not hard, but solid, with just a hint of give—the potential for softness, you could say. I buy my endive on the small-to-medium size—no larger than 3 ounces each—with no bruises, brown spots, or other blemishes, and I look for tight, compact heads of radicchio, each about the size of a large man's fist, with smooth, shiny leaves. I serve this salad on its own, as the center of the meal, with a hunk of crusty bread or a few roasted sweet potato "fries" on the side.
1 medium Belgian endive, root end trimmed away, sliced crosswise into ¼-inch strips
¼ head radicchio, sliced as thinly as possible
2-3 red radishes, sliced into paper-thin rounds
A small handful of cilantro leaves, from about 6-8 sprigs
Red Wine-Mustard Vinaigrette, to taste
¼ medium avocado, sliced into ¼-inch strips
1 walnut-size nub of French feta (or more), crumbled
Optional additions or substitutions:
½ medium fennel bulb, sliced as thinly as possible
A small handful of smoked trout, torn into bite-size pieces
A small handful of chickpeas
Parmigiano Reggiano, broken into small nubs
In a medium bowl, combine the endive, radicchio, radishes, and cilantro leaves. Toss with vinaigrette to taste. [I find that endive salads take a bit more dressing than plain green ones.] Add the avocado and feta. Serve straight from the bowl.
Yield: 1 serving.