My name may not be Dr. Ruth, Ann Landers, or Dr. Phil, but where love and marriage are concerned, I do have this advice: sometimes self-deception is a future spouse's best friend. Especially at the dinner table.
Take, say, Brandon, my own handy example. Though a vegetarian, born and raised, he has developed a rather sneaky strategy where certain fleshly foods are concerned. His solution is a close cousin of the "Don't Ask, Don't Tell" policy, something best described as "Ask, But Don't Hear the Answer." When served a given food item, he tries in earnest to ensure that it is vegetarian-friendly, but should he learn otherwise, in certain cases, he will—very consciously, and quite conveniently—forget. It's quite simple, and with more than two decades of practice, he has it down pat. This policy applies to fish sauce, shrimp paste, gelatin, chicken stock, and, among other things, the sauce on Di Fara's square pizza, which gets its supple, sumptuous body from a porcine base. He has his priorities, and no dietary restrictions will keep him from a Thai or Vietnamese restaurant, a homemade marshmallow, a good soup, or New York City's finest slice. I am marrying a veritable master of self-deception, and as you might imagine, I really couldn't be happier.
Brandon's consciously self-deluding habits have led to many a good meal, the most recent being only a few days ago, mere hours after he arrived in Seattle for this month's tide-me-over visit. Between bites of sandwiches and French fries at Baguette Box, our conversation turned—as it inevitably does—to our next meal, and the following exchange ensued.
Molly: I was thinking we could make a lentil soup tonight—maybe that one from the Zuni cookbook? [She hesitates.] We could use that chicken stock I made last weekend.
Brandon: You mean that vegetable stock? [He winks.]
Molly: Oh, right. Vegetable stock! We'll use that vegetable stock I made last weekend.
A trained professional might not agree, but the little lies that we tell ourselves bode rather well, I think, for our future happiness, especially where lentil soup is concerned.
Black Lentil Soup with Black Pepper and Cumin Seeds
Adapted from The Zuni Café Cookbook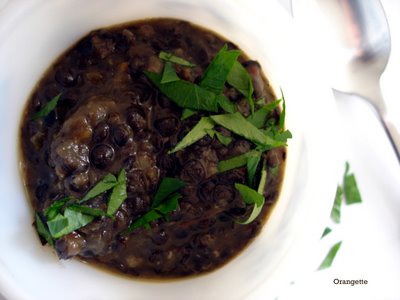 Every cook needs a good lentil soup, no matter how simple, in her repertoire. Though there are many worthy ones to be made, this version currently tops my list. It is rustic and full-bodied, and surprisingly complex. I venture to guess that nearly any type of lentil would work here, but if you can, try to find black (also known as Beluga) lentils, which sport a plump, round shape; a rich color; and a sweet, earthy flavor. The same note goes for the stock: while a good vegetable stock would work in a pinch, a homemade (or best-quality store-bought) chicken stock will bring wonderful body and flavor. Lastly, be not afraid of the amount of peppercorns called for here: they settle softly into the background, lending only a subtle undertone of spice—more fragrance, really, than bite. And the aroma that rises from the mortar when you crush them into a few cumin seeds really should not be missed.
3 Tbs good-quality olive oil
½ cup finely chopped red bell pepper
½ tsp whole black peppercorns
¼ tsp cumin seeds
¼ cup finely chopped carrot
¼ cup finely chopped celery
¼ cup finely chopped yellow onion
1 large garlic clove, smashed and chopped
1 Turkish bay leaf
1 sprig of Italian (also known as flat-leaf) parsley, chopped (both stem and leaves)
1 cup lentils, preferably Beluga
4 to 4 ½ cups good-quality chicken stock (such as the homemade version also in The Zuni Café Cookbook)
Salt, to taste
Crème fraîche or sour cream, for serving (optional)
A few leaves of Italian parsley, finely chopped, for serving (optional)
Place a large saucepan or Dutch oven over medium heat, and add 1 Tbs oil. When the oil is warm, add the bell pepper and cook, stirring regularly, until it softens a bit, about 5 minutes.
In a small mortar, crush the peppercorns and cumin seeds. Add them to the bell pepper, and cook the mixture for 1 minute. Add the remaining 2 Tbs oil, carrot, celery, onion, garlic, bay leaf, parsley, and lentils, as well as 3 cups of stock. Stir the mixture together, and bring it to a simmer. Reduce the heat, and cook the soup uncovered, barely simmering, until the lentils are tender and have absorbed most of the liquid, about 15 minutes. Turn off the heat, cover, and let stand for 5 minutes to allow the lentils to soften.
Using an immersion blender (or, alternatively, a blender or food processor), partially puree the soup, so that about half of the lentils are still whole. The soup should be a bit creamier, though still rustic, and a touch lighter in color. Add a bit more broth—I added 1 cup total, in ½-cup doses—to bring the soup to your desired texture. Simmer briefly to rewarm, taste, and add salt as necessary. Serve with crème fraîche and/or Italian parsley, if you like.
Yield: About 4 servings