Like any half-hearted confession, mine begins with a defense: I am not a shopper. I love pointy shoes, of course, and pencil skirts, shrugs, frilly things, and half-off items from the Marc Jacobs 2005 holiday collection, but I'm not so into shopping, straight up. Though I have wildly expensive taste—which, I might add, I cannot afford—I have never been wild about exercising it. I go in pursuit of purchases only once every few months or so, and then with a specific item in mind and a single-minded purpose.
But within the wide world of shopping malls, boutiques, and bazaars, there is one type of store that cuts straight to the heart of this non-shopper. One step into the Bermuda Triangle of bakeware, cookware, and dishware, and all is lost. From City Kitchens to restaurant supply stores, Sur La Table, Williams-Sonoma, and the searing deals on The Mezzanine at Zabar's, I am a crying, shopping shame. And the worst part, gentle reader, is that I kind of like it.
In times like these, I tell myself that no kitchen can have too many pastry brushes, shapely or newfangled spatulas, or silicone this and that. Those tiny fluted tart molds were cute, after all, curled softly into my hand, and there was no stopping the Bundt pan that leapt onto the counter in front of the cash register. Those mini loaf pans were an accident, but I took them home and loved them anyway. I'd be inhuman, surely, not to give a nod to the cheery Le Creuset display, its 5 ½-quart rounds, 6 ¾-quart ovals, crêpe pans, oval au gratins, and paté terrines. And the hours spent contemplating a set of highball glasses that leaned at an angle not unlike Charles de Gaulle's nose were, I swear, served in solemn salute to the French Resistance.
But there's no denying a certain something that crept onto my receipt and into my shopping bag one evening last December, when I was supposed to be buying candy cups to hold a batch of chocolate-dipped fruit-nut balls. It was an honest errand—for holiday gifts, no less!—until I saw that madeleine pan, slim, slick, velvety gray, and with curves in all the right places. I could blame it on after-work fatigue, I suppose, but this time, I dare say that fate sent me shopping. From the first batch, a few weeks later, of chocolate madeleines with toasted almonds and coffee, it was hard to imagine things having gone any other way.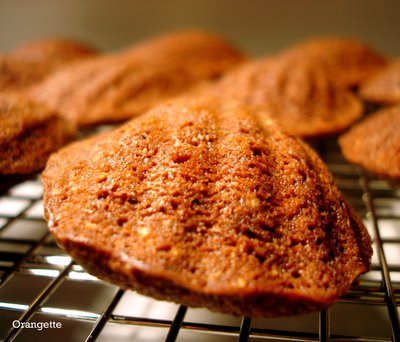 Buttery, toasty, and deeply, darkly chocolatey, these little cakes melt on the tongue, crumbling away to a gentle crunch of almond. With a smattering of coffee for bitter complexity and a cockeyed milk chocolate cap,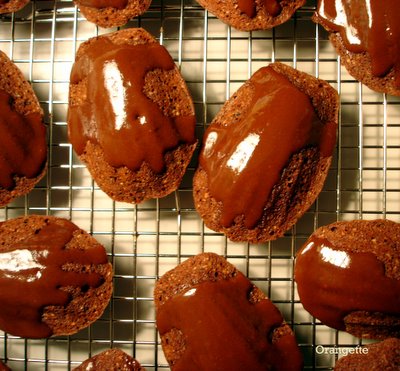 these ruffly-edged sweets are worth a good swoon, or even a shopping excursion. It's enough, really, to make a girl believe in fate—and occasional frivolity.
Chocolate Madeleines with Toasted Almonds and Coffee

These madeleines were declared "a religious experience" and dubbed "brownies of the angels" by one of my colleagues. But don't be fooled by such lofty praise: despite their refined appearance, delicate texture, and outright deliciousness, they are astoundingly easy to make. This recipe, adapted from a family friend, doesn't even require a mixer. A note for icing lovers: because these cakes are so rich, I tend to prefer my icing on the light side, with parts of the madeleine left bare. But if you want a good, heavy coat, you may want to double the quantities of the icing ingredients listed below.
For madeleines:
3 ounces raw almonds
12 Tbs (1 ½ sticks) unsalted butter, cut into large chunks
5 ounces good-quality semisweet chocolate (not chips), chopped
2/3 cup granulated sugar
3 Tbs unbleached all-purpose flour
1 Tbs finely ground coffee (decaf works fine, if you prefer)
3 large eggs
1 Tbs whiskey
For icing:
2 ounces good-quality milk chocolate, chopped
1 ½ Tbs unsalted butter
1 Tbs heavy cream
½ Tbs Kahlúa
Preheat the oven to 325 degrees Fahrenheit.
Spread the almonds on a baking sheet, slide them into the oven, and bake for 8-10 minutes, or until toasty and fragrant. Set them aside to cool.
Increase the oven temperature to 375 degrees, and spray a nonstick madeleine pan (standard size, with wells three inches long) with a thin film of cooking spray. Place the pan on a baking sheet.
Put the butter and chocolate in a medium metal mixing bowl, and place the bowl over a saucepan of simmering water. The bowl should not touch the water. Stirring occasionally with a wooden spoon, melt the butter and chocolate. When the mixture is smooth and velvety, remove it from the heat, stir in the sugar, and set it aside to rest for 20 minutes.
Meanwhile, place the cooled toasted almonds, flour, and coffee grounds in the bowl of a food processor, and pulse to grind to a very fine powder.
When the melted chocolate mixture is ready, add the eggs one at a time, stirring completely after each addition. Add the whiskey and then the almond mixture, stirring to mix well. Do not overmix.
Spoon the batter into the wells of the madeleine pan, using about 1 good tablespoon per well. Don't worry about smoothing the batter; it will spread evenly as it bakes. Bake the madeleines for 14-17 minutes, or until the tops look dry and spring back lightly when touched. Use a butter knife to gently coax each cake out of its well and onto a cooling rack, scalloped side up. Allow the pan to cool slightly; then repeat with the remaining batter.
When the all the madeleines are baked and cooled, make the glaze. Place the milk chocolate and butter in a small saucepan, and, stirring occasionally, melt them over low heat. When the mixture is smooth, remove it from the heat, and stir in the cream and Kahlúa. Using a teaspoon, drizzle a spoonful of glaze onto the scalloped side of each madeleine.
Note: These cakes freeze beautifully.
Yield: About 20 large madeleines