Like many things of unassuming appearance and surprising worth, I first found tamarind in a strip mall.
I was nineteen, a newly minted college freshman and a recent arrival to California, when a friend proposed dinner at Amber India, a well-regarded restaurant in nearby Mountain View. My palate was then untested by tandoors, chutneys, vindaloos, and the slow rumble of Indian spices, and needless to say, I did not expect to make their exotic acquaintance under a neon sign in a slab of shopping center on El Camino Real. You can well imagine my surprise when, at that table on the old King's Highway, I lifted to my lips a forkful of aloo chat, cold cubes of cooked potato folded with cucumber, banana, and dark, shiny tamarind, a soft, saucy mouthful more transportive than any loud, glaring street outside. The old proverb may proffer that the best things in life are free, but that night I decided instead that the best things in this life—or some of them, anyway—are in strip malls. Old adages are nice, but they have nothing on the pulp-filled, pod-like fruit of the tamarind tree.
In the eight or so years since that evening on El Camino, I have learned, of course, that tamarind isn't native to roadside shopping centers, or even to India. Slow-growing, long-lived, and impressive in stature, the tamarind tree originally hails from east Africa, but it has long since taken root in tropical Asia, the Middle East, Latin America, the Indies, the Pacific Islands, and my kitchen, where it thrives despite the arid linoleum environment. Tangy, fruity, and sweetly sour, concentrated tamarind pulp is a natural in pad Thai or spooned into yogurt, and I've long suspected—but have not yet tested—its prowess in the realm of barbeque. It can be a condiment, glaze, dressing, or dip, and according to Brandon, it makes a mean sauce when spun together with roasted garlic, balsamic vinegar, lime juice, cilantro, and a salty dusting of Parmigiano Reggiano. But as of late, I've been slurping it down in a softly spicy soup with chickpeas and chard.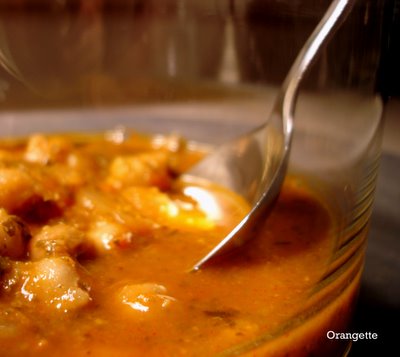 Tamarind's delicate, high-pitched tang makes it a delicious compliment to mild, meaty chickpeas and a lucky foil to the flavor of chard, low and loamy, melted into slack, stewy ribbons. Filled out with herbs, tomato, and fragrant, toasty spices, this is a soup tailor-made for a chilly, drizzly day. I've been toting it to work almost daily, actually, as a warming noontime reprieve from the gray Seattle winter. If you listen hard, you'll hear me, I'm sure, scraping the bowl, each spoon-stroke loud enough to turn heads all the way down in a strip mall in Mountain View.
Tamarind Soup with Chickpeas, Chard, and Spices
Adapted from Lynne Rossetto Kasper's Weeknight Kitchen newsletter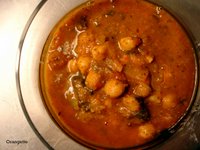 This soup unites an unlikely combination of ingredients from Italy to India, and it does so almost seamlessly. It takes a couple of hours to prepare and cook, but it requires no fancy techniques or undue attention, and it tastes even better after a day or two or four. It makes an ideal do-ahead lunch or dinner and a perfect no-brainer project for a Sunday afternoon. A single batch is quite large, so plan to refrigerate half and freeze the rest for later use.
Good-tasting olive oil
3 medium yellow onions, coarsely chopped
3 medium zucchini, halved lengthwise and cut into 1/3-inch-thick half moons
5 large leaves Swiss chard, ribs removed, coarsely chopped
2 large cloves garlic, coarsely chopped
½ cup tightly packed cilantro leaves, minced
½ cup tightly packed basil leaves, minced
1 generous Tbs ground cumin
1 generous Tbs spicy curry powder
2 Tbs sweet paprika
2 Tbs dry basil
1 28-ounce can whole tomatoes, drained and chopped
3 15-ounce cans chickpeas, drained and rinsed
1/3 cup red wine vinegar
3 Tbs tamarind concentrate
1 Tbs packed brown sugar
2 cups vegetable broth
Water
Salt, to taste
Pepper, to taste
Dried red chile or crushed red pepper flakes (optional)
Film the bottom of a large (8-12 quart) pot with olive oil, and place it over medium heat. When the oil is warm, add the onions, zucchini, chard, and generous dashes of salt and pepper. Cook for 8 minutes, stirring often. Add the garlic, herbs, and spices, stirring to mix. Cook for another minute or two.
Stir in the tomatoes, chickpeas, vinegar, tamarind, brown sugar, and broth, and add enough water to cover by 2 inches. Bring the soup just to a boil, and reduce the heat to keep it at an even simmer. Cook for about 1 hour, partially covered, adding water if necessary.
As the soup cooks, taste it for seasoning. If you like, add a bit more tamarind or salt, or drop in a dried red chile or a pinch of red pepper flakes. When the vegetables are very tender, remove the soup from the heat, and allow it to cool for about an hour. Purée half of it in a food processor, and stir it back into the pot. When you are ready to serve the soup, reheat it gently.
Yield: Depending on serving size, 8-12 servings