Slowly but surely, I am, it seems, taking up residence at 30,000 feet. Though I'm no jetsetter, income-wise or otherwise, my 2005—or the last eight months of it, anyway—was punctuated by take-offs and landings. The airplane has become a central part of my personal geography. Falling in love with a New Yorker will do that to a Seattlite, and to her credit card. It's been a big year for us both.
I write this from seat 17F, somewhere between Newark and Seattle, with poppy seeds from an Absolute Bagel still stuck in my teeth. It was a full weekend to end a full year: we sampled pretzel croissants at City Bakery, slurped down hot apple cider with my old friend Elizabeth at Elephant & Castle, and shared pan con tomate with lovely Luisa at Bar Carrera; and on New Year's Eve, we toasted with French 75s and French fries at Balthazar. But frankly, when we weren't sampling, slurping, sharing, and toasting, we were plodding through the rain and feeling pretty sniffly and sick, Brandon with body aches and me with a cold. Aside from the brief rustling of my feather-ringed dress, ours was a fairly quiet New Year. But minor disappointment aside, we did do the whole in-sickness-and-in-health thing pretty nicely, and it bodes well, I think, that we share a taste for tangerine-flavored Emer'gen-C.
But now it's back to Seattle I go, back home, a concept that grows in complexity with each crisscrossing of the country. It's difficult, no doubt, but if it weren't, these take-offs and landings might not be so spine-tinglingly delicious, or bring with them so many stories. And as you and I both know, that's where the meat is.
May 2006 bring, dear reader, health and happiness for us all. May our kitchens be warm and our knives sharp, and may our plates be always pleasantly full. When the instance requires, may our travels be safe—and someday, if I may beg on my own behalf, one-way.
Balthazar Salad, Slightly Bastardized
Adapted from The Balthazar Cookbook
Since he first tasted it a few years ago at New York City's Balthazar, Brandon has made the Balthazar Salad one of his easy at-home standbys, and with good reason. It brings together a delicious balance of delicate and hearty flavors and textures: sweet green beans and bitter radicchio, bright fennel and dark, earthy truffle. Brandon first made this salad for me one warm night last May, and as fate would have it, that dinner would mark a pivotal moment in our relationship. I suppose it could have been the heat, but immediately after forking up the last bite, I climbed into his lap and, with only the slightest pang of terror, declared my love.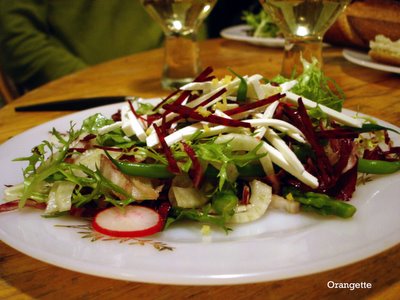 Luckily, I was a bit calmer by this past Saturday, when I had the pleasure of sampling this salad at the site of its invention.
The following quantities make a good-size salad for two—enough for a very satisfying dinner, preferably with a hunk of crusty bread and a slab of cultured butter. I find this kind of meal perfect for recovering from the holidays—or, really, any day of the week. We have left the quantities of romaine, frisée, and radicchio purposely ambiguous, because any proportion of the three is delicious. Just prepare enough greens to have a couple of handfuls each, and dig in.
¼ lb skinny asparagus spears, trimmed and cut into 2-inch pieces
A handful of skinny green beans or haricots verts, trimmed
A dozen or so thin strips of lemon zest
1 medium fennel bulb, sliced paper-thin
A half-dozen red radishes, sliced paper-thin
Romaine lettuce, cut into ½-inch strips
Frisée, ripped into bite-size pieces
Radicchio, cut into ¼-inch strips
Lemon-Truffle Vinaigrette, to taste (see below)
4 ¼-inch slices from a wedge of ricotta salata, cut into matchstick slivers
1 small raw beet, washed, dried, and cut into matchstick slivers
A few thin slices of avocado (optional)
Maldon salt or fleur de sel, as needed
First, blanch the asparagus, green beans, and lemon zest. Fill a medium saucepan with water, and bring it to a boil over high heat. Add a pinch or two of salt, and add the asparagus. While the asparagus is cooking, make an ice bath by filling a medium bowl with ice cubes and cold water. Cook the asparagus until it is bright green and barely crunchy, about 3-4 minutes; then, using a slotted spoon, transfer the spears to the ice bath. Add the green beans to the boiling water, and cook them until they are bright green and barely crunchy, about 3-4 minutes. Remove them to the ice bath with the asparagus. Finally, add the lemon zest to the pot of boiling water, and blanch the strips for 1 minute before removing them to a cutting board. Blot the zest dry with a paper towel, and mince it finely.
Remove the asparagus and green beans from their ice bath, dry them well on paper towels, and place them in a large salad bowl. Add the fennel, radishes, romaine, frisée, and radicchio, and toss to mix. Add vinaigrette to taste and toss again to coat each leaf and green with a thin sheen. Serve, topping each portion with a few fingersful of ricotta salata, a few slivers of beet, and a slice or two of avocado, if you like, and cap with a light sprinkling of minced lemon zest. Season with salt to taste.
Lemon-Truffle Vinaigrette
Adapted from The Balthazar Cookbook
2 Tbs fresh lemon juice
¼ tsp salt, or to taste
1/8 tsp freshly ground black pepper
6 Tbs mild olive oil
2 Tbs white truffle oil
In a medium bowl, combine the lemon juice, salt, and pepper. Slowly add the olive and truffle oils, whisking constantly. Continue to whisk until the dressing is thoroughly emulsified. The vinaigrette will keep, refrigerated in a sealed container, for one week.