Sometimes details escape me, such as when I'm engaged in heated battle with a virus. For example, I have—until today—completely forgotten to announce, dear hungry reader, that you can now also find me and my writing over at Seattlest, a sibling of New York City's illustrious group blog Gothamist, San Francisco's SFist, Paris's Parisist, and the rest of the -ist gang.
I'll be contributing weekly food pieces focused mainly on seasonal recipes and cooking, broadcasting from my kitchen, as usual. In my first article, I extolled the virtues of caramelized cauliflower, one of my favorite fall standbys and the recipe to turn to when you want to watch a sworn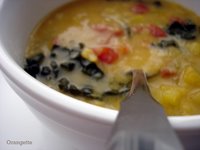 cauliflower hater literally eat his words. This week I turn to yellow split pea soup with winter squash and kale, a warming brew that, along with cacio e pepe and my old faithful buttered toast with honey, recently sustained me through several flu-fraught days.
I hope you'll come visit.