A few devoted readers may remember when, about eight months ago, in a post involving Spandex, my mother, erogenous zones, and whole wheat bread, I mentioned a woman named Sherry, an aerobics instructor for whom I once harbored a short-lived but memorable fascination. I was only five or six, too young to stay at home alone while my mother took her aerobics classes, but old enough to keep myself entertained in the back room of the gym—and to do some serious thinking about my life.
Sherry was the nicest, prettiest, and most approachable of the instructors. She had a soft, crinkly, playful voice, and her legwarmers always matched her elastic belt. Her shiny, dark brown hair was something straight out of a V05 Hot Oil ad, and she was engaged to a man who, I believed, looked like Ken. I was fascinated with Sherry. I wanted to be Sherry. First, I reasoned, I would have to change my name, and then we would have to spend lots of time together. This part would be very convenient, actually, because I had a plan. In the wilds of preschool, I had somehow come to believe that in order to get my driver's license, I would have to pass a test requiring me to take apart a car and put it back together. This being far too daunting, I decided that when my time came, I wouldn't bother with getting my license; instead, I'd get Sherry to drive me everywhere, and that way, we'd be together. So it was that I devised a handy life strategy: if being an adult looks too hard, I'll just get a pretty lady to do it for me.
Today, two decades later, the inner workings of automobiles remain a mystery to me, but I do have a driver's license and, happily, my given name. I must admit, though, that when adulthood—work, laundry, and staying awake on the bus, plus clothing, bathing, and feeding myself—starts to look grim, I still start looking for the pretty lady. And that, dear reader, is how I came to own a Nigella Lawson cookbook.
Had Nigella been around when I was a pre-pre-adolescent, smiling down reassuringly from the cookbook shelf, I would surely have been spellbound. And if someone had warned me that as an adult, I'd have to cook and feed myself three times a day, my answer would have been easy: I'll let Nigella do it for me. Sure, she may be a tad obvious, what with all that coy finger-licking and cleavage, but when being a grown-up gets me down, she is the Sherry of my kitchen. Though she can't actually pack my lunch or dish out my dinners, at least she can tell me what to eat and how to cook it. Her look may be more merry-widow Bed Head than V05, but her style is warm, inviting, and sensible; her food is easy-peasy approachable; and to cap it off, her recipes work—and beautifully too.
I have gladly slurped her simple pea soup; I've topped dozens of oatmeal cookies—not to mention some fingers—with her brown-butter frosting; and I've nearly forgotten all social graces before a slice of her chocolate banana cake, which no one should ever, ever, be asked to share. I even trust her with granola—a momentous declaration indeed, given that my breakfast is a ritual of the highest order. For years, I started my mornings with one granola—and one I still love dearly—but recently I've been cheating with Andy's Fairfield granola from Feast. Nigella told me to. And when the dim, damp, doggedly tiring days of fall have left me with little enthusiasm for the kitchen, I've settled into the couch with one of her cookbooks and emerged refreshed, with a pair of chopsticks and a plate of her red seasonal salad.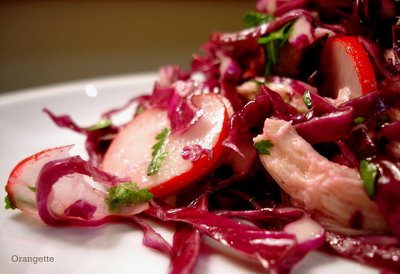 Now, if only there were a pretty lady to do the dishes.
Red Seasonal Salad
Adapted from Feast, by Nigella Lawson
Nigella Lawson has quite a way with Vietnamese-inspired flavors, and this salad is ample proof. If you're anything like me, you'll find yourself in an all-out chopstick assault, pinching and plucking up punchy mouthfuls of cabbage, red onion, radish, and cold chicken doused with fish sauce, lime, chiles, garlic, and cilantro. The original recipe calls for cooked turkey, which, come Thanksgiving, can be found in abundance across the U.S., but for everyday purposes, I prefer chicken. This is, after all, a winter salad, and nothing fits the season better than a roasted chicken.
2 red chiles (often labeled Thai chiles), seeded and finely chopped
1 clove garlic, minced
2 Tbs superfine sugar
3 tsp rice vinegar
3 Tbs fresh lime juice
4 Tbs fish sauce
3 Tbs vegetable oil, such as canola or grapeseed
1 red onion, peeled, halved, and very thinly sliced
Freshly ground black pepper
4 cups cold cooked turkey or chicken, shredded
1 ½ lbs red cabbage, quartered, cored, and very thinly sliced (about 8 cups, sliced)
½ lb red radishes, thinly sliced into rounds
¼ cup chopped fresh cilantro
In a very large bowl, whisk together the chiles, garlic, sugar, vinegar, lime juice, fish sauce, and oil. Add the red onion and a grind or two of black pepper, stir to immerse the onion slivers in liquid, and set aside to steep for 15 minutes. Add the shredded turkey or chicken, and leave to steep for another 15 minutes. Add the cabbage and radishes, and toss gently to coat with dressing. Add about half of the cilantro, and toss to mix. Serve, topping each portion with a bit of the remaining cilantro.
Leftovers of this salad keep surprisingly well—though they do lose a bit of pep and crunch—for up to two days in the refrigerator, sealed in an airtight container.
Yield: about 8 servings