I am, dear reader, a bread snob. I'm a harsh critic of crust and crumb, a stickler for sourdough, and very, very picky about my pain au levain. In my experience, few things trigger heartache like a cardboard baguette or a spongy, thin-skinned boule—and honey, I have known heartache.
But lately I've found myself feeling an unabashed affection for a type of bread that would ordinarily fall under the general category of "bad," and that would be soggy bread. In fact, I'm starting to wonder if the title of this blog isn't something of a misnomer. "Orangette" is apt enough, I suppose, and certainly, plenty of chocolate-dipped orange rinds have passed these lips, but given the recent output of my kitchen, "Sog Story" seems more fitting. It may seem a bit sog-centric of me, but as far as I'm concerned, first there was pappa al pomodoro; then there was panade; and then there was light.
James Baldwin once wrote, "To be sensual, I think, is to respect and rejoice in the force of life, of life itself and to be present in all that one does, from the effort of loving to the breaking of bread. It will be a great day for America, incidentally, when we begin to eat bread again, instead of that blasphemous and tasteless foam rubber that we have substituted for it" (The Fire Next Time, 1963).
Now, I'd certainly second that, but if it were up to me, I'd rephrase things a bit. To be sensual, I think, is to respect and rejoice in soggy bread, in sogginess itself and to be present with all that we make soggy, from the effort of soaking to the eating of wet bread. It will be a great day for America when we begin to eat soggy bread, instead of blasphemously and tastelessly scorning it.
Indeed, I'm starting to think that if I'm to be remembered for anything, it might as well be for my unflagging advocacy of panade, a velvety, voluptuous casserole with a base of soggy bread and stewed onions. This is where stale bread goes when it's been very, very good.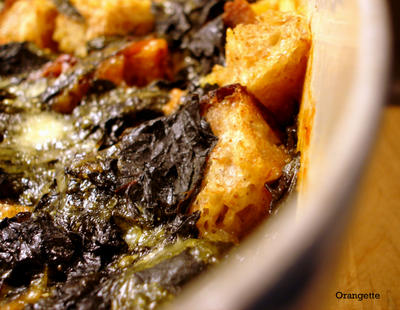 As someone who has cobbled together some of her most satisfying meals from little more than bread, cheese, and a bowl of greens, I'm prone to nothing less than fits of fork-in-air ecstasy before a steaming plate of this peasant fare, a slurp-worthy mosaic of day-old bread, coarsely grated gruyère, wilted chard, and caramelized onions, doused in chicken broth and baked until swollen and silky.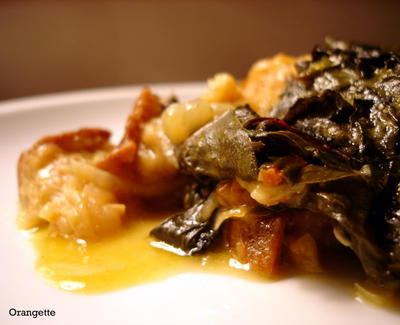 Somewhere between the full-bodied flavor of good broth, the unctuous ooze of melting gruyère, and the deep, dark sweetness of slow-cooked onions, panade becomes something infinitely greater—and wondrously richer—than the sum of its simple parts. A cross between soup and stuffing, it's an ideal accompaniment to a chilly night's dinner of roasted chicken, lamb, or pork, but it's also plenty satisfying on its own, with little more than a green salad alongside.
If this is what a soggy Seattle winter tastes like, there will be some serious heartache when spring rolls around.
Chard, Onion, and Gruyère Panade
Adapted from The Zuni Café Cookbook
If you, like me, aren't regularly cooking for a crowd, you may be tempted to toss aside this recipe, assuming that this delicate, soupy stuff won't make for good leftovers. Skeptical reader, I argue otherwise. Once refrigerated, the panade will soak up its extra liquid and become something like a moist Thanksgiving stuffing, but all is not lost. A quick jolt in the microwave will restore its soft unctuousness, even if its soupiness is gone. In fact, it makes for wonderful at-work lunches: easily transported in a Tupperware container, it is hearty, satisfying fuel for a day of whatever it is that you do. And if you're into gilding the lily, Judy Rodgers, chef of the Zuni Café, also recommends pan-frying flattened scoops of leftovers. I haven't yet tried this method, but if you do, please report back.
1 ½ lbs yellow onions, preferably a sweet variety, thinly sliced
About ½ cup olive oil
6 cloves garlic, slivered
Salt
1 lb red Swiss chard, thick ribs removed, cut into 1-inch-wide ribbons
Water
10 ounces day-old chewy artisan bread, cut into rough 1-inch cubes
2 cups good-quality chicken broth
About 2 loosely packed cups good-quality Swiss gruyère
To prepare the onions:
Place the onions in a large, deep saucepan or Dutch oven, and drizzle and toss with about ¼ cup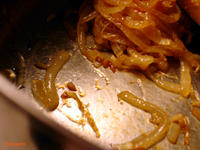 olive oil. Set over medium-high heat, and shaking the pan occasionally, cook until the bottom layer of onions is golden on the edges, about 3 minutes. Stir, and repeat. Once the second layer of onions has colored, reduce the heat to low, and stir in the garlic and a few pinches of salt. Let cook, stirring occasionally, until the onions are pale amber and tender but not mushy, another 20 minutes or so. If at any point the onions look as though they're drying out, cover the pan to trap in moisture.
Preheat the oven to 325 degrees Fahrenheit.
To prepare the chard:
Place handfuls of chard in a large sauté pan or skillet, drizzle with olive oil, and sprinkle with water and a few pinches of salt. Set the pan over medium heat until the bottom layer of leaves begins to cook; then reduce the heat and stir and fold the leaves until they are just wilted, 2-4 minutes. The leaves should be bright green and their white veins quite pliable. Set aside.
To prepare the bread:
Using your hands, toss and massage the cubed bread with 2 or 3 Tbs olive oil, ¼ cup of the broth, and a few pinches of salt.
To build the panade:
Using a flameproof 2-quart soufflé dish or deep, enameled cast-iron pan, assemble the panade in layers. Start with a good smear of onions, followed by a loose scattering of bread cubes, a thin layer of onions, a blanked of chard, and a handful of cheese. Repeat, continuing until all ingredients are incorporated and the dish is full. Aim for 2 to 3 layers of each component, but make sure that the top is a mosaic of all the ingredients. Don't worry if the layers are a bit uneven, or if you have to pack them down a bit—this is meant to be rustic.
Bring the remaining 1 ¾ cups broth and 2 cups water to a simmer in a medium saucepan. Pour the warm liquid slowly, in doses, over the assembled panade, drizzling it down the sides of the dish. The liquid should come up nearly to the top of the layered ingredients.
Set the dish over low heat on the stovetop, and bring its liquid to a simmer, looking for bubbles around the edges. Cover the top of the dish with parchment paper, then very loosely cover the top again with aluminum foil. Place the panade on a baking sheet to catch drips, slide it into the oven, and bake it until hot and bubbly, about 1 to 1 ½ hours. The top should be pale golden and a bit darker on the edges.
Uncover the panade, raise the oven temperature to 375 degrees Fahrenheit, and leave until for another 10-20 minutes, until the top is golden brown. Remove it from the oven, allow it to settle for a minute or two, and then serve.
Yield: About 5 main-dish servings, or 6-8 side-dish servings