It was a Friday night, and you know what that means: good Catholics won't eat meat; Shabbat-savvy Jews won't sow, plow, reap, grind, sift, knead, bake, spin, weave, tie, or untie; and good, savvy Seattlites won't hesitate to crack open a beer, break a few eggs, and call it a day.
Dear reader, this may be the closest I'll ever come to getting religion, and I owe it all to my petite, ingenious friend Jenny, her husband Thomas, and their little boy Eero. In their small but influential family unit, Friday means eggs-and-beer night, and that means I'm coming over. With my Catholic-schooled mother and a father whose ancestry adds up to 100% Polish Jew, I suppose I could try a tricky straddling of traditions, but let's be frank: ours was a non-observant house, and when push comes to shove—or, hell, even a gentle nudge will do—my faith lies in a cold brew and a runny yolk.
Jenny is, as the best of us are, a champion cookbook collector and recipe clipper, and this evening's find was no exception: a Turkish dish combining poached eggs, garlic-spiked yogurt and spicy, sage-scented butter. Even Eero, whose gustatory genius is no secret, lent his approval. As we simmered eggs and measured spices, he bobbed in and out of the kitchen, his wispy white-blond mini-mullet puffing over his collar and a baggie of sumac clutched in his tiny fist. Jenny warmed thick slices of baguette and wielded the bottle-opener over three beers, and on a chilly October night, we sat down at their sturdy wooden table and slipped into the weekend over plates of silky eggs.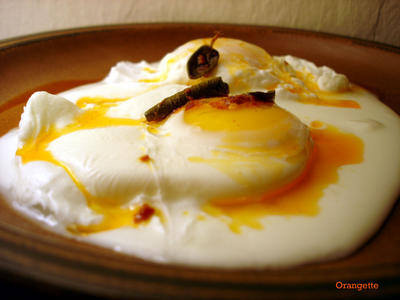 Firm but delicate, fresh from a quick simmer and ready to spill their molten yolks with the slightest prick of the fork, the eggs sat in a bath of yogurt and were capped with a few spoonfuls of paprika-tinted, red-pepper-flecked butter with whole leaves of fresh sage.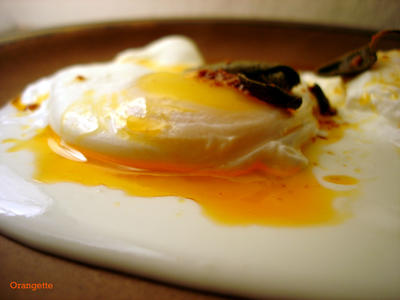 It was a case calling for a hunk of bread and a napkin, for scooping and soaking. The butter was heady with herbs and heat, and the yogurt was cool and tangy with a fiery edge of fresh garlic, a perfect foil for the richness of buttery yolk.
For his part, Eero tucked away a poached egg, a mound of blanched peas, and a few yolk-soaked nuggets of his mother's bread. It was a standard show for his intrepid palate, but truth be told, he's more interested in a new gig—namely, impromptu recitations of his four favorite words*: diocese, Appaloosa, sacrifice, and Democrat. He pronounces them slowly, deliberately, precisely, looking around to be certain that all jaws are dropped and all ears tuned to his high-pitched frequency. And at the ripe age of almost-two, this performer has an uncanny sense for his audience: looking straight at me, he announced, "Democrat Molly." Apparently, his palate isn't the only thing that's intrepid. I say, sign this one up for Mensa preschool, and sign me up for eggs-and-beer night.
*Jenny adds the following report: "by the way, eero has added one more word to his list of favorites: 'placebo effect.' but he does sometimes leave it off, because he is quite in the groove of his top four. he rattles them off to impress people, or substitutes them for hello or tacks them onto good-byes, especially 'democrat.' We go to Chaco Canyon a lot for juice, and when we leave, he says 'bye democrats' as loud as he can. one of the girls who works there now calls him her 'favorite democrat.' bless his liberal little heart, no?"

Turkish Poached Eggs with Yogurt and Spicy Sage Butter
Adapted from Epicurious and Bon Appétit, May 1985; not martha.org; and Jenny
This is the epitome of an easy, lightning-fast dinner, but its flavors are remarkably complex and sophisticated. It's nobody's plain-Jane breakfast-for-dinner. Of greatest importance is that the dish be served while the eggs are still piping hot; we dallied a bit and learned the hard way that a cool egg is not such a tasty egg. Also, for future reference, don't make the mistake of eating the butter-frizzled sage leaves, and don't say I didn't warn you. Be sure to serve this with plenty of warm bread for scooping up luscious swirls of yolk, yogurt, and spicy butter, and of course, a beer never hurts. We drank Fish Tale Organic Amber Ale, but a Belgian-style ale would go down awfully nicely too.
1 cup plain yogurt, preferably full-fat
1 large garlic clove, pressed or crushed in a mortar and pestle
¼ cup (½ stick) unsalted butter (or, if you want to experiment, try salted butter; while eating this dish, I had a premonition that salted butter might be the way to go)
12 fresh sage leaves
½ tsp paprika, or Spanish smoked paprika, if you like
¼ tsp dried crushed red pepper
Salt
1-2 Tbs white distilled vinegar
8 eggs
Bread for serving, such as warm pita or a good, chewy artisan bread
Stir the yogurt and garlic in a small bowl to blend. Season to taste with salt. Divide the mixture evenly between four plates, spreading to coat the center of the plate with a large, thin circle.
Melt the butter in a small, heavy saucepan over medium heat. Add the sage, paprika, and red pepper, and stir just until the butter sizzles. Remove it from the heat, and season to taste with salt.
To poach the eggs, fill a large skillet about two-thirds full with water, to a depth of about 2 inches. Add a tablespoon or two of white vinegar, and bring it to a bare simmer over medium-high heat. There should be plenty of little bubbles along the bottom of the pan, and the surface of the water should be barely trembling. When in doubt, err on the side of hotter water. While the water is heating, fill a large bowl with very warm (but not boiling) water: you'll hold cooked eggs here as you finish cooking the rest of them.
Now, be not afraid: in my experience, this is a pretty fool-proof method for poaching eggs, and I say that as someone who, until now, had gone through roughly two dozen eggs and her entire vocabulary of expletives trying to poach a single egg.
Crack an egg into a small, thin-lipped mug or a small custard cup. Holding the mug or custard cup upright, lower the base into the water, and then, slowly and gently, twist your wrist to turn the egg out into the water. You're essentially twisting the mug out from under the egg. Don't hold the mug in the water for too long, or the egg will cook to the inside of the mug.
Disturb the water as little as possible, and allow the first egg to settle a bit before adding a second one. Depending on the size of your skillet, you could probably poach up to three eggs at a time.
Cook each egg for 2-4 minutes total, until the white is opaque from the edges right up to the yolk. Mine cooked for about 3 minutes. Use a plastic spatula to gently release the egg from the bottom of the pan—it may have stuck a bit—and lift it out with a slotted spoon. It should be wobbly in the center, but not runny. Slide the egg gently into the bowl of warm water; this will rinse away any vinegar residue and keep the eggs warm. Repeat with the remaining eggs, and if the butter needs to be rewarmed, put it briefly over low heat.
When you are ready to serve, remove the eggs from the water, gently shake off any water droplets, and place two eggs atop the yogurt on each of the four plates. Spoon the butter over the eggs and yogurt, and serve immediately, with bread.
Yield: 4 servings