I am firmly of the belief that a meal has not officially ended until one has eaten something sweet. I'm not the alone, certainly, in holding this belief, and in fact, I'd venture that it's more widely and faithfully subscribed to than many major religions. Now, dessert can take many shapes—for the restrained, a piece of ripe fruit; for the refined, a glass of port; for me on an average night, well, graham crackers dunked in milk and a few squares of dark chocolate—but the sweet tooth must be fed. So, knowing this much, you don't really think I'd have left the lamb roast without a swipe at the dessert table, do you?
I didn't think so.
The theme of the day may have been meat, but truth be told, I kept a closer eye on the sweets.
Prior to last year's lamb roast, I'd never been a great admirer of baklava—so often dry, sticky, cloyingly sweet—but the Knight family's rendition is another thing entirely.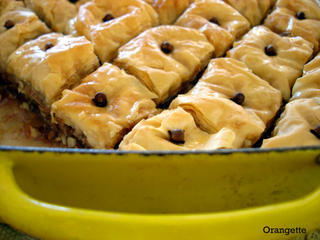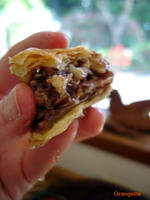 Preparing for the inevitable raid that occurs when it hits the table, this year they'd made four pans of the stuff, half walnuts and half almonds, sweet with cloves and cinnamon, and soaked in a syrup that ran down my fingers when I took a bite.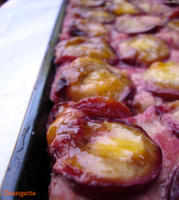 Their neighbor Elfie, my fantasy of a Swiss grandmother made real, arrived with a tray of plum pudding, a thin, custard-topped cake dotted with soft, sweet-tart Italian plums, and a platter of puff-pastry twists for dipping into a deep glass bowl of peach compote.
Nicho's mother Martha arrived with a small, square basket with a flip-back top—a rustic cake box, if you will—from which she pulled one of her ethereally flaky pies, dark and jammy with blackberries from the backyard, and a delicious threat to a white tablecloth.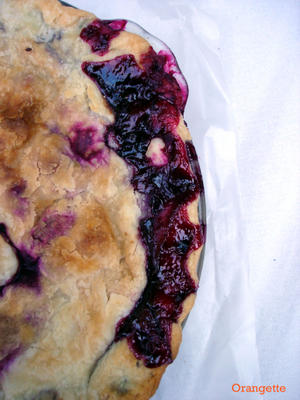 And of course, there were also cookies, cobblers, and a linzer tart from Macrina Bakery, but I selfishly saved room for my own contribution, a few creamy-crackly, melty mouthfuls of chocolate masquerading under the humble name "brownie."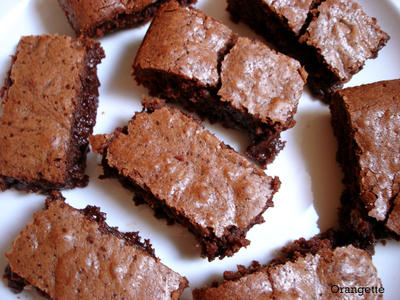 Be not fooled, dear reader: this is nobody's Betty Crocker box recipe, nobody's innocent kindergarten snack-time fare. With two sticks of butter and six ounces of chocolate for an 8-inch pan, it's not the sort of thing you want to be left alone with. But there's safety in numbers, so thank goodness for lamb roasts, for friends that become family and entire families that become friends, for paper plates sturdy enough to stand up to a table's worth of sweets.
The Archetypal Brownie,
or, as the book calls them, Best-Ever Brownies
Adapted slightly from Baking with Julia; contributing baker: Rick Katz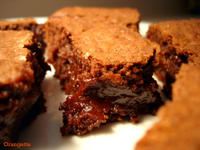 My father gave me Baking with Julia for my "un-birthday," as he inscribed it, in 1997. It lives on my kitchen counter with my favorite go-to cookbooks, and it's the one I reach for, without fail, when I think brownies.
These dark, deeply chocolatey, oozy things aren't your typical specimens: they're what brownies on sad party tables everywhere aspire to be. All too often, "brownies" are just so-so: oddly black, dry around the edges, super-sweet, or—the horror!—spongy, like cake. Not these: they're crackly on top with a soft, gooey interior, fudgy and rich, buttery and serious and very, very sophisticated. If you're of the cakey-brownie persuasion, these aren't for you. But if you like a brownie that melts on your tongue with a flood of buttery chocolate, read on.
1 ¼ cups unbleached all-purpose flour
1 tsp salt
2 sticks (8 ounces) unsalted butter
4 ounces best-quality unsweetened chocolate, coarsely chopped
2 ounces best-quality bittersweet chocolate, coarsely chopped
2 cups granulated sugar
1 tsp pure vanilla extract
4 large eggs
Center a rack in the oven, and preheat the oven to 350 degrees Fahrenheit.
In a small bowl, whisk together the flour and salt; set aside.
Melt the butter and the chocolate together in the top of a double boiler over—but not touching—simmering water (or in a metal bowl over a saucepan of simmering water), stirring frequently. When the chocolate and butter are both melted and smooth, add 1 cup of the sugar to the mixture, and stir it for 30 seconds; then remove the mixture from the heat, and stir in the vanilla extract. Pour the mixture into a large bowl.
Put the remaining 1 cup sugar and the eggs into a medium bowl, and whisk by hand to combine. Little by little, pour half of the sugar and eggs into the chocolate mixture, stirring gently but constantly with a rubber spatula so that the eggs don't scramble from the heat. Beat the remaining sugar and eggs on medium speed until they are thick, pale, and doubled in volume, about 3 minutes. Using the rubber spatula, gently fold the whipped eggs and sugar into the chocolate mixture. When the eggs are almost completely incorporated, gently fold in the dry ingredients.
Pour and scrape the batter into an unbuttered 8-inch square pan (I've found a heavy nonstick metal brownie pan to be ideal, although the original recipe recommends ceramic or glass). Bake the brownies for 25-28 minutes, during which time they will rise a bit and the top will turn dry and a bit crackly. After 23 minutes, stick a knife or toothpick into the center to see how they are progressing. They should be just barely set—not too raw, but still fairly gooey (mine generally take the full 28 minutes, if not a touch more). Cool the brownies in the pan on a rack. When they're completely cool, cut them into rectangular bars to serve.
Note: These brownies will keep, at room temperature or refrigerated, for 2-3 days. They also freeze beautifully, although they never freeze solid—a bonus (or horrible danger) if you, like me, are known to consider eating them straight from the freezer.
Yield: 18 fantastically rich brownies