Seattle may spend eight months out of twelve under cloudy skies, but come summer, it puts on its sunscreen and pulls out all the stops. There are countless concerts and block parties and festivals here and there, including the seemingly never-ending SeaFair, with its deafening air shows, hydroplane races, and—because every port city needs a few—professional pirates. That said, however, the only local summer event that gets a dedicated slot on my calendar is—all apologies, dear reader—invitation-only. But if you drive around a certain part of western Washington on a certain Sunday and happen to spot a homemade sign featuring a cotton-ball-clad lamb, well, follow the arrow, and you'll too find yourself at the Knight family lamb roast.
It was a good thing that Kate and I had recently relieved her family's garden of some of its burden, because it would soon fill again with an onslaught of edibles, this time including a homegrown lamb on a spit, platters full of dolmas, four pans of baklava, three coolers of beer, two bottles of ouzo, and a few dozen assorted friends and family.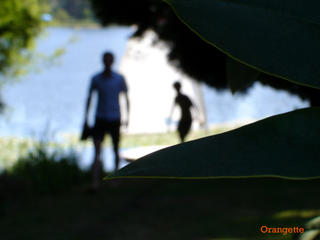 I arrived a little after one with an armload of my own, balancing a tourte de brandade and two plates of brownies*. It was still quiet—no one would arrive until after three—and walking in from the street felt like descending into another element, with the garden spilling out at my side, chickens clucking somewhere around the corner, and at the end of the driveway, the house tucked deep under the trees. The yard was in full bloom, with tomatoes of every shape and size, lettuces, Romano beans, herbs, potatoes, corn, and carrots, not to mention a gnarly swath of raspberry bushes, beds of dahlias and daisies, and pear, plum, and apple trees. And between a trellis of beans and the garage, the lamb, aptly dubbed "Briquette," spun quietly over the coals in time to twangy country music playing from a nearby radio.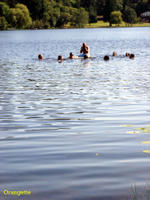 With the smell of so much meat in the air, it wouldn't be quiet for long. Guests trickled in, bearing swim suits and bowls full of food, and while Briquette bronzed, they worked up an appetite in the lake, splashing around on surfboards and in sailboats. Meanwhile, I whet my own with a few sips of ouzo—and began planting the seeds for a slow but steady movement toward the groaning buffet tables.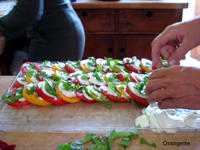 There, under the shade by the side of the house, bowls of pasta salad jostled with pickled vegetables, which butted up against roasted beets with fresh herbs, noodles, heirloom tomatoes and fresh mozzarella, hummus, olives, Vietnamese pancakes filled with ground meat and bean sprouts, baskets full of litchis, pies, plum puddings, compotes, and cookies. And then, of course, there was the lamb, rich and earthy and ringed with fat from seven months of grazing on lush local grass.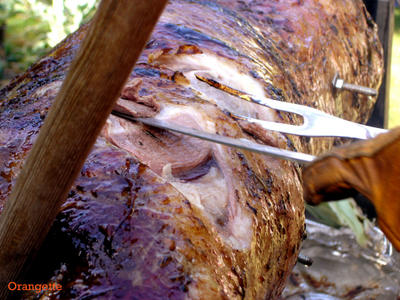 We dispersed ourselves around the yard, sitting on the ground or leaning here and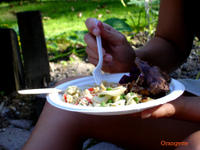 there, balancing paper plates on our knees and fending off the chickens, who'd been, much to their delight, liberated from the hen house to root in the loose dirt of the garden. And there was more ouzo, and soon that happy stupor that follows anticipation. There's a strange, delicious limbo zone one enters after this kind of feasting, when the mind and the senses are both quieted and sharpened, slow but nimble.
Down by the water, Kate slid the sailboat out for one more go before nightfall, and before anyone could wake to the end of summer, I snuck away with my dirty plates, my skin still warm from the sun.
*Recipe forthcoming.
[And special thanks to Robert Hass for the cribbed title of this post, which comes from one of my favorite poems, "Meditation at Lagunitas."]
Tourte de Brandade, or Salt Cod Tart
Adapted from Saveur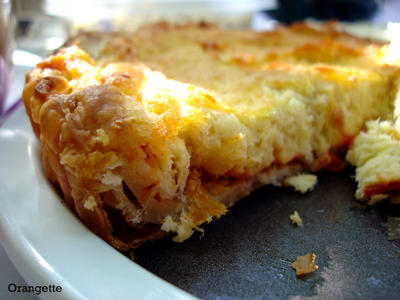 When I announced that I'd be bringing a Provençal salt cod tart, Kate responded with resounding approval—that's my girl!—even though she'd never tasted brandade, or a mousse of salt cod, olive oil, garlic, and cream. True, it may sound a bit odd—off-putting, even—but once tasted, you won't think twice. Brandade is rich, garlicky stuff, creamy and savory, the flavor of the cod having been tempered and soothed by salting and drying. The mousse is spread atop a layer of slow-simmered tomato sauce inside a puff-pastry shell, and when baked, it puffs lightly and turns a gorgeous shade of gold. Best served when still warm, it is also perfectly delectable at room temperature—terrific picnic, or lamb roast, fare.
1 ½ Tbs extra-virgin olive oil, plus ¾ cup, warm
1 small yellow onion, peeled and minced
3 medium tomatoes, cored and chopped
Leaves of 2 sprigs fresh thyme
1 bay leaf
A pinch of sugar
Freshly ground black pepper
¾ lb boneless, skinless dried salt cod, soaked overnight in abundant water, drained, rinsed, and cubed
4 cloves garlic, peeled and chopped
1 ½ Tbs heavy cream
Salt
3 Tbs crème fraîche
1 large egg
1 sheet puff pastry, such as Dufour
Heat 1 ½ Tbs olive oil in a small saucepan over medium heat. Add the onions, and cook until soft. Add half the garlic and the tomatoes, thyme, bay leaf, sugar, and salt and pepper to taste. Reduce the heat to medium-low, and simmer the sauce until it is as thick as a paste, about 40-45 minutes. Discard the bay leaf, and set the sauce aside.
While the tomato sauce cooks, bring a medium pot of water to a boil; remove it from the heat, and add the cod. Cover the pot, and let it rest for 7 minutes. Drain the cod into a colander or sieve; then transfer it to a food processor. Add the remaining garlic, and process to combine. With the motor still running, gradually add ¾ cup warm olive oil through the feed tube in the processor lid; then add the cream. Adjust the seasonings with salt. Transfer the mousse to a bowl, and stir in the crème fraîche and the egg. Set it aside.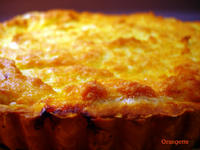 Put a pizza stone on the middle rack of the oven, and preheat the oven to 425 degrees Fahrenheit. Roll the puff pastry out on a floured surface to a large, 1/16"-thick round. Fit the pastry into a removable bottom tart pan (the original recipe calls for an 11" pan, but I used a 9" with no problems), and trim the edges. Prick the pastry all over with a fork; cover it with plastic wrap; and chill it for 30 minutes.
Remove the tart shell from the fridge, and spread the tomato sauce in a thin but thorough layer over the bottom (you may have some sauce left over); then cover it with the salt cod mixture. Bake the tart on the pizza stone until golden brown, 20-25 minutes. Serve warm.
Yield: One 9- to 11-inch tart