The Fourth of July is, no question, pretty exciting. There are the parades, the loudly flapping flags, and the burgers that dribble down the inside of the wrist; there's the candy-sweet corn and the half-melted ice cream, the cold pool, and the icy beer. And of course, there are the fireworks—including unexpected blasts from a neighbor's backyard two days too early, a little blitzkrieg that sent me ducking and cursing skyward on my walk home from the video store. But sometimes the greatest excitement comes with something smaller, simpler, more monochromatic, and less flammable—something like, say, a stack of humble homemade flour tortillas.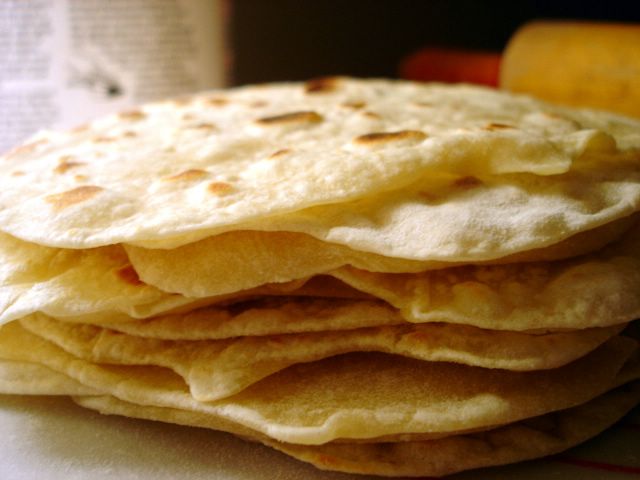 This story begins a week or so ago, when I returned home from work to find Brandon stretched out on the living room floor, gently stroking my beautiful, sleek cookbook-for-the-coffee-table Saveur Cooks Authentic American. Upon closer inspection, I saw that his fingers were tracing four curvy, boldface words: New Mexican Flour Tortillas. Now, by way of background, dear reader, you should know that Brandon is a great devotee of a certain brand of ultra-fresh refrigerated flour tortillas sold at New York's Fairway Market, and here in Seattle, he's been just short of starving, an exhaustive tortilla search having as yet failed to yield a good local source for anything resembling the soft, chewy specimen he's grown accustomed to. For a man who lists among his principal interests "anything with the consistency of salsa," the scarcity of worthwhile tortillas is downright dangerous. But that afternoon, the search came to an end—and with a turning point that steered us to the only place we'd forgotten to consider, the kitchen.
Clearly, a celebration was in order, and by happy coincidence, a national holiday was strategically positioned only a few days away. With a brief strategizing session, a bit of menu planning, and a hot cast-iron skillet, we could have an apartmentful of friends and fresh tortillas, and a fireworks show to celebrate our Independence Day, an end to the tyranny of sub-par supermarket flatbreads. So it was that yesterday evening, Kate arrived at six with a bagful of guacamole ingredients; mushrooms, bell peppers, and red onion for roasting; a one-gallon tub of hand-picked raspberries; and a pint of whipping cream; and Nicho followed shortly thereafter with his lovely girlfriend Nicole, a few chicken sausages, and hard cider. Brandon and I had spent the afternoon simmering a pot of black beans with sautéed onion, jalapeño, and cumin seeds, and as the hours passed, he slaved happily away at three signature hot sauces: a fire-roasted tomato salsa, a chunky pico de gallo, and a fiery green sauce of garlic, cilantro, jalapeños, lime juice, and salt. On the other side of the kitchen, I turned to the tortillas.
With only four ingredients—flour, salt, shortening, and water—they were heartbreakingly simple to make, the dough like a silky, resilient fabric. With my mother's old wooden rolling pin in hand, I sank into an easy rhythm: roll, cook, flip, cook, roll, cook, flip, cook.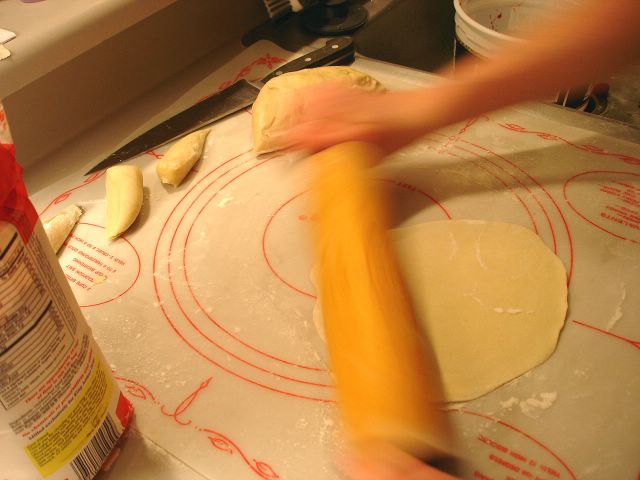 The warm tortillas were thin and tender, crisp outside and yielding inside, with the rich sweetness of flour bound with salt and fat. We huddled around the table with a gold-tinged stash of them—soft, seconds-old, toothsome scoops for salsas and spicy tar-black beans, chunks of seared sausage and roasted pepper, creamy guacamole, and cooling sour cream.
In one little apartment in Seattle, America had a very happy Independence Day.
Flour Tortillas
Adapted from Saveur Cooks Authentic American
I'd always thought I was more of a corn-tortilla girl than a flour one, but this recipe has solidly converted me. Once you get a feel for the dough and settle into the rhythm of rolling and cooking it, you might never want to buy tortillas again.
4 cups unbleached, all-purpose flour
1 ¼ tsp salt
6 Tbs vegetable shortening (preferably a non-hydrogenated type, such as Spectrum)
In a small saucepan, bring about 2 cups of water to a boil.
In a large bowl, stir the flour and salt together with a whisk. Mix in the shortening with your fingers until the mixture resembles a coarse meal. Stir in enough boiling water (about 1 ¼ to 1 ½ cups) that the dough holds together; you will want to begin by stirring with a spoon, since the water is scorching hot, but you should finish by working the dough with your hands.
Turn the dough out onto a lightly floured surface, and knead until smooth, 2-5 minutes. Do not overwork it. Form the dough into a ball, cover it with plastic wrap, and allow it to rest for 30 minutes.
Set a well-seasoned 9″ cast-iron skillet over medium heat. Place the ball of dough on a lightly floured surface, and cut it into 6 wedges. Cut each wedge into 3 smaller wedges, for a total of 18 wedges. Use a rolling pin to roll out a wedge into a very thin circle—as thin as you can make it, like a sheet of fabric—roughly 7 ½ to 8 inches in diameter. When the skillet is hot but not smoking, cook the tortilla until slightly puffed, about 20-30 seconds. Flip, then cook for 20-30 seconds more, or until flecked with golden or brown (whichever you prefer) spots. Place on a cooling rack. Repeat the process with the other 17 wedges. Allow each tortilla to cool completely before stacking them.
Freshly made tortillas are soft and perfectly delicious at room temperature, but to reheat them, you can warm them briefly in a low oven. These keep well in the fridge, wrapped in paper towels and sealed in a plastic bag, and they also freeze nicely.
Yield: 18 tortillas