I accepted the challenge, and I conquered: I cooked breakfast for Jimmy, the reigning king of Sunday mornings, and dear reader, he asked for the recipe. Never mind the fact that I had help (Brandon), or that the majority of the menu was decreed from above (Rebecca). I did it, and I did it my way, daring to use only the amount of butter called for—no more, no less—and tossing in a reckless amount of a "healthy" ingredient, oats. Certainly, there would be plenty of sugar and saturated fat, but this morning, we would really throw caution to the wind.
The plot was hatched a few weeks ago, when Rebecca returned from a trip to her native land of St. Petersburg, Florida, singing the praises of what she called "cheesy grits." I came home from work one day to find a lengthy message on my answering machine, describing them in minute detail and, as you might expect, featuring prominently the word "butter." Apparently, while in St. Pete's, Rebecca had breakfasted each morning at a local greasy spoon, where she ordered eggs, white toast (with butter), and the aforementioned cheesy grits (butter and cheese included).* Like a woman possessed, she returned to Seattle able to speak of little else. As luck would have it—and because I too have a bit of the South in me—I had a bag of stoneground South Carolina grits in my freezer. It was as simple as that: before I knew what I'd done, I had volunteered to take the reins for our next Sunday breakfast at Jimmy's. The only stipulation, Rebecca said firmly, was that our grits must be accompanied by eggs and bacon. So the menu was set, and I would deliver.
Now, grits are very good, and a well-scrambled egg is exquisite, but frankly, the ante needed some upping. Jimmy has within his arsenal more than a few simple showstoppers, and I was itching to show off a bit myself. The situation clearly called for a dessert course, and a revolutionary dessert at that—one that would make salt-, starch-, and sugar-loving Rebecca eat a substance not only condoned but actually endorsed by the American Heart Association.
It was a tall order, I thought, but oatmeal cookies, if big and buttery and pitched properly, might fit the bill.
And because he has uncanny timing in such matters, it would happen that Brandon came home shortly thereafter from a thrift-shopping outing with a copy of The Silver Palate Good Times Cookbook and a sharp hunger for its hazelnut praline recipe. Within seconds, an inspiration was born: to make thick, chewy oatmeal cookies, slather them with creamy brown-butter frosting, and sprinkle them with crunchy caramelized hazelnuts. A few days and a bit of researching later, we hit the jackpot, and we took it to Jimmy's as the surprise finale for our cheesy grits extravaganza.
It goes without saying that the grits were indeed good—although not as great as I'd hoped—and the eggs were nice too, big soft curds that sat up stoutly on the plate to ward off the runny, molten grits. The bacon was likewise found acceptable, with Rebecca eating the entire package, save two strips for her straight husband John, before the meal was even served. But my small, private victory came with the cookies.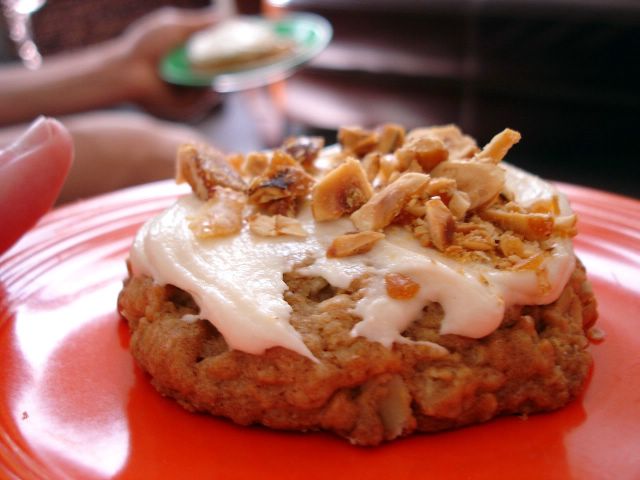 Rebecca gave hers a good, solid slathering of the deeply caramelly frosting and, noting that this might be the first oatmeal cookie she'd ever agreed to eat, threw it back like a regular oat aficionado.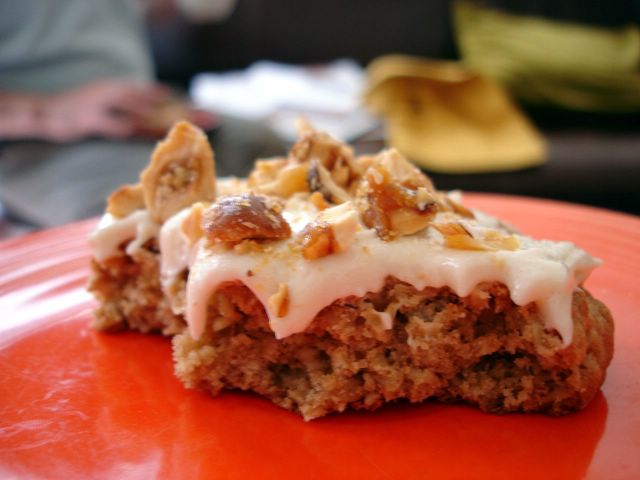 And as if that weren't enough, Jimmy, always brainstorming where baking is concerned, asked if the recipe might be up for grabs. I swooned happily into my oaty crumbs and brown butter, not a bad place to land on a Sunday morning at 9 am.
*I am quite confident that Rebecca also ordered bacon, although the memory is a bit faded and the message now long since erased.

Oatmeal Cookies with Brown-Butter Frosting and Hazelnut Praline
Adapted from The New Joy of Cooking, Nigella Lawson's How to Be a Domestic Goddess, and The Silver Palate Good Times Cookbook
This three-part, country-meets-city-sophisticate combination brings together complex and fragrant flavors—from brown sugar to butter, dark caramel, toasted hazelnut, and even toffee—and the textures, chew to crunch, are perfect foils. For extra pleasure, serve it as we did: the cookies on a platter, and the frosting and praline in bowls alongside. Your guests can smear on the frosting as thick (or thin, I suppose) as they like, and nobody seems to mind a little praline dust on their fingers.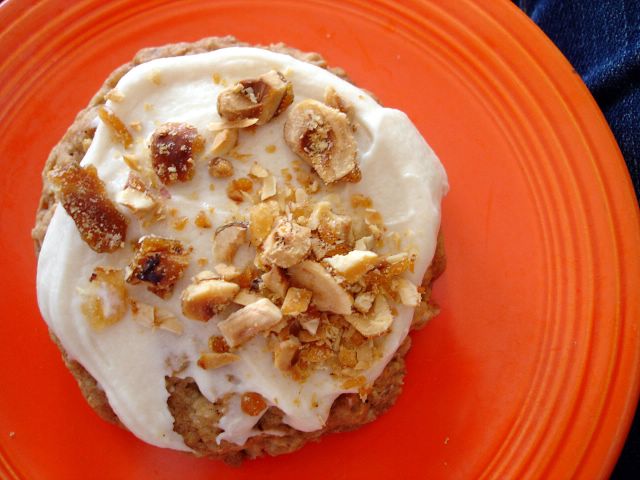 For the cookies:
1 1/2 cups plus 2 Tbs unbleached all-purpose flour
3/4 tsp baking soda
3/4 tsp baking powder
1/2 tsp salt
1/2 tsp ground cinnamon
1/2 tsp ground nutmeg
1 cup (2 sticks) unsalted butter, at room temperature
1 1/2 cups packed brown sugar
1/4 cup granulated sugar
2 large eggs
2 1/2 tsp vanilla extract
1 3/4 cups old-fashioned rolled oats
1 3/4 cups quick-cook oats
In a medium bowl, whisk together the flour, baking soda, baking powder, salt, cinnamon, and nutmeg. Set aside.
In a large bowl (or in the bowl of a stand mixer), beat together the butter, brown sugar, granulated sugar, eggs, and vanilla on medium speed until well blended. Stir (or gently beat, if using a stand mixer) the flour mixture into the butter mixture until smooth. Stir (or gently beat) in the oats. Do not overmix.
Cover the bowl of dough with plastic wrap, and refrigerate it for one hour. Preheat the oven to 350 degrees Fahrenheit. Grease two cookie sheets, or line them with silicone baking mats.
Use a large ice cream scoop or a 1/4-cup bowl-shaped measuring scoop to pack the dough into generous domes. Place the domes on one of the prepared cookie sheets, spacing them about 3 inches apart (roughly 8 cookies per sheet). Return the bowl of dough to the refrigerator. Bake the cookies until they are lightly browned all over and set, about 12 minutes; rotate the sheet halfway through for even browning. Remove the finished sheet to a rack, and let the cookies rest for about 20 minutes, until cool and firm. Transfer them to a rack to cool. Repeat the baking process with the remaining dough, one sheet at a time, remembering to keep the dough chilled between batches.
Serve the cookies with bowls of soft brown-butter frosting and hazelnut praline.
For the frosting:
1 1/4 cup unsalted butter (2 1/2 sticks)
2 2/3 to 3 1/3 cup powdered sugar, sifted
4 to 5 Tbs milk (nonfat is fine)
2 tsp vanilla extract
Put the butter in a medium saucepan over medium heat, and stir until it turns a dark golden color, about 10-15 minutes. Remove the butter from the heat, and strain it through a cheesecloth-lined sieve into a large bowl to remove the butter solids and any sediment that may have formed as the butter browned. The butter should smell deeply caramelly. Set the bowl aside, and allow the butter to solidify to a soft, thick paste; this step can be sped along in the refrigerator, but be careful to avoid getting the butter fully solid. When the butter is ready, beat in half the sugar, or enough to make a stiff mixture. Alternating milk and remaining sugar, beat the frosting until its consistency and sweetness are to your liking. Add the vanilla extract. Serve the frosting in a bowl alongside the cookies, allowing guests to smear their own cookies with a healthy glob of it. Top with a sprinkling of hazelnut praline.
For the praline:
1 1/2 cups raw hazelnuts
1/2 cup sugar
2 Tbs water
1 tsp vanilla extract
1 Tbs unsalted butter
Preheat the oven to 350 degrees Fahrenheit.
Toast the hazelnuts on a rimmed baking sheet for 7-10 minutes, or until fragrant. Rub the nuts against each other in a kitchen towel to remove the skins.
Lay a sheet of aluminum foil on the counter, and spray it with cooking spray. Set aside.
Slowly heat the sugar and water to boiling in a heavy medium-sized saucepan. Boil rapidly for 2-3 minutes, stirring occasionally with a wooden spoon. Remove from the heat, add the nuts, and stir until evenly coated with syrup. The sugar will start to crystallize; don't panic.
Return the pan to medium heat to melt the sugar again and caramelize the nuts. Cook, stirring constantly with a wooden spoon, until the nuts begin to color. Stir in the vanilla. [If the mixture begins to smoke, remove it immediately from the heat. Allow it to cool slightly before continuing.] Continue to cook and stir until the nuts and syrup turn a nice golden color. Remove from the heat, and stir in the butter.
Spread the praline mixture on the oiled aluminum foil, and let stand until completely cool. Break the cooled praline into pieces, and pulse them briefly in a food processor until coarsely chopped.
Serve the praline in a bowl alongside the frosting and cookies.
Yield: About 20 cookies