Jimmy springs eternal.
Just when it had started to seem as though we'd exhausted all conceivable possibilities for fatty, sugary breakfasts, Jimmy announced that he was making triple chocolate scones.
One evening, I arrived at my usual Pilates mat class to find a note in Rebecca's perfect cursive, announcing that "our breakfasts must resume—he's talking triple chocolate scones, which technically are a breakfast food. Sunday at 9, are you free? P.S. I'm pushing for babies." Apparently, Jimmy had been eyeing a recipe for chocolate scones, and to make them truly his own—i.e. excessive in every way—he planned to fill them with chocolate chips and douse them with ganache. Rebecca, while in no way anti-chocolate, insisted that so much caffeine would bring her interminable insomnia, so she filed a supplementary request for Dutch babies. As for me, well, I do as I'm told. And so it was that I chased my fat with more fat, my sugar with more sugar, and my baby with a triple shot of chocolate.
When I arrived, the babies were already in the oven, puffing skyward and leaving a smoking pool of butter in their wake on the oven floor. Rebecca's straight husband John was busy fanning the living room with a pillow, trying to steer the smoke toward the window, while nearby, a rack of artistically and abundantly ganached scones relaxed on the kitchen counter.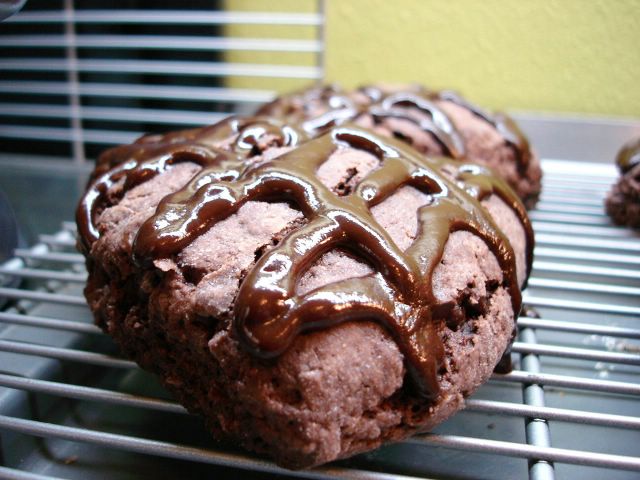 "I like to be assaulted by flavor," Jimmy explained, watching me inspect his silent cocoa-bombs. They were as big as fists, cross-hatched with a shiny web of ganache. A cloud of warm, almost spicy air hovered over them, as did I.
Now, a lemon-sugar Dutch baby is, I'll freely admit, a nearly perfect breakfast. Until this morning, I might have argued that it was the perfect breakfast—give or take a few buckwheat pancakes, a bowl of homemade granola and yogurt, or the occasional soft-boiled egg with toast, butter optional. But I can now say with the utmost assurance that no breakfast is truly complete without a triple chocolate scone for dessert.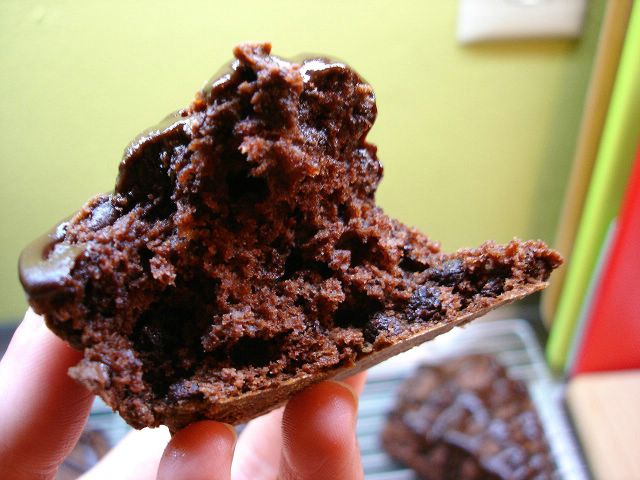 With a texture somewhere between biscuit and cake, Jimmy's scones have a lightly crisp crust and a moist, tender crumb, and though entirely immoderate when it comes to chocolate, they're remarkably subtle in sweetness. I'm never one to skip dessert, and true to form, within an hour of finishing my Dutch baby, I had put away an entire triple chocolate fistful—crumbs, ganache smudges, and all. I only regretted it for a minute, until I wanted a second one. Jimmy is clearly onto something: when it comes to dessert, 9 am is a good time to start.
Jimmy's Triple Chocolate Scones
This recipe makes six large scones, but if you'd like something a bit more moderate, try cutting the dough into eight or ten wedges. With smaller scones, your baking time will be shorter, so keep an eye on the oven.
For the scones:
1 ¾ c unbleached all-purpose flour
¼ c plus 1 Tbs unsweetened Dutch-process cocoa
2 ¾ tsp baking powder
¼ tsp salt
6 Tbs cold unsalted butter, cut into chunks
1/3 cup granulated sugar
½ cup heavy cream
2 large eggs
2 tsp vanilla
1 cup mini semisweet chocolate chips
For the ganache:
8 ounces semisweet chocolate, finely chopped (be sure to choose a good-quality chocolate that you'd enjoy eating on its own)
3/4 cup heavy cream
Preheat the oven to 400 degrees Fahrenheit. In a large mixing bowl, sift together the flour, cocoa, baking powder, and salt. Drop in the butter, and using a pastry blender or two knives, cut the butter chunks into the flour until they are reduced to pearl-sized nuggets. Stir in the granulated sugar. Set aside.
In a small bowl, whisk together the cream, eggs, and vanilla.
Pour the wet mixture over the dry ingredients, add the chocolate chips, and stir to form a dough. The dough will be firm but moist, and a bit sticky to the touch. Knead the dough lightly in the bowl about ten times—or, as Jimmy has found, if the dough is too sticky, don't worry about kneading. It is better to undermix than to overmix.
Form the dough into a 7- to 7 ½-inch round disk on a lightly floured surface. Cut the dough into 6 wedges, and using a spatula, transfer the wedges to a baking sheet. Bake the scones for 17-18 minutes, or until set. Remove them to a rack to cool, and set the rack over a rimmed baking sheet.
To make the ganache, place the chopped chocolate in a medium bowl. Heat the heavy cream in a small saucepan until it is very hot and steamy (not boiling, but close), remove it from the heat, and pour it over the chocolate. Whisk until the mixture is smooth and the chocolate is thoroughly melted. Use a spoon to drizzle the ganache over the cooled scones, and serve. [You will have leftover ganache, which can be refrigerated or frozen; the scones also freeze well and are remarkably good cold.]
Yield: 6 large scones