Though the topic has already been amply covered by countless wistful love ballads, I'd like to bring something to your attention: the loveliness that is a summer night. Call me a sap—you wouldn't be the first—but there's something primordially good about a clear, warm night. Everything thrums—from locusts, the soundtrack of summer, to mosquitoes, the season's scourge. Even the skin pricks up and hums when warm air rubs softly against it. An icy bottle sheds welcome droplets down the inside of the arm, and the tongue begs for salt, preferably in the form of something cool, slippery, and delivered via chopsticks. Yes, I've been eating noodles again, redundancy be damned.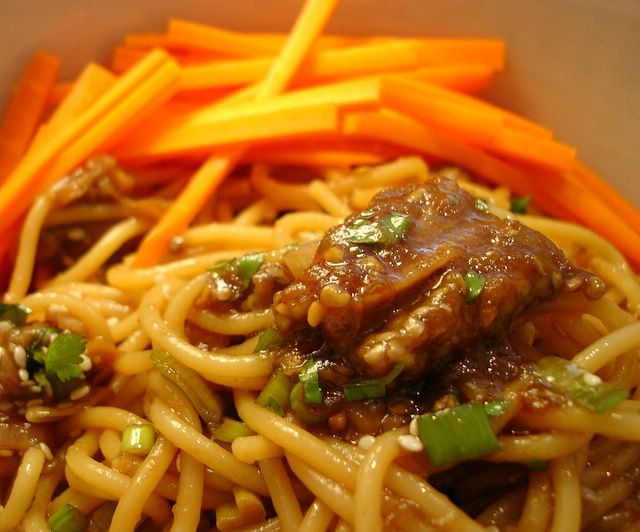 Granted, early-summer Seattle is a bit slow to heat up, but the days make up for their thermometric shortcomings by doing double-time on the clock. Sunrise comes at five in the morning, and sunset, in no mood to hurry, follows sixteen hours later. With each day, the light stays a bit longer, as though too lazy to leave at anything but a slow crawl. Such long, drawn-out days make for long, drawn-out evenings, perfect for simple, leisurely cooking and even more leisurely lingering at the table. All of this points inevitably to big bowls of cold noodles—at least until it points inevitably to late-summer tomato bread salads, any number of things involving pesto and fresh figs, and variations on the theme of avocado.
Last week, I slurped down filmy, translucent rice noodles and sang a song of fish sauce, but today I'm trading Southeast Asia for China. In this week's routine, I've slicked skinny noodles with sesame oil, soy sauce, and balsamic vinegar, revved them up with hot red pepper oil and soothed them with a good dose of sugar. For a welcome grounding among such high-pitched flavors, there's a soft hunk of roasted eggplant, a ribbon of blanched snow pea or julienned carrot, or the watery relief of a mung bean sprout. Each chopstickful is salty and sweet, clean and nutty, crisp and yielding. I can't think of a better way to settle into the rhythm of summer, or to set everything thrumming.
Chinese Noodle Salad with Roasted Eggplant
Adapted from The Greens Cookbook
Though I did a brief stint in the kitchen at Greens, it was my half-sister Lisa who introduced me to this delicious recipe. Despite its relatively long list of ingredients, this salad is very easy to prepare, and as an added bonus, the noodles and eggplant will keep well for several days in the refrigerator. For seasonal variations, try adding blanched asparagus tips or garnishing with slivered French breakfast radishes.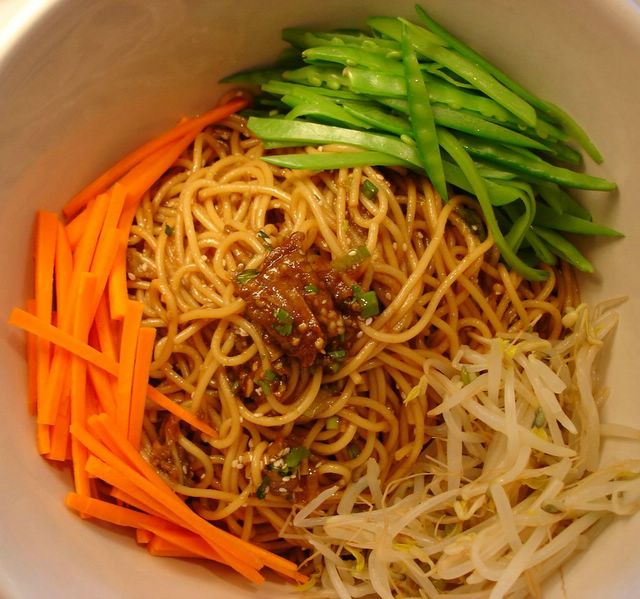 For the dressing and the noodles:
7 Tbs toasted sesame oil
7 Tbs low-sodium soy sauce (or tamari)
3 Tbs balsamic vinegar
3 Tbs sugar
2 ½ tsp salt (or less; this seems like a lot, so I've experimented with using as little as 1 tsp)
1 Tbs red pepper oil
8-10 scallions, thinly sliced into rounds
3 Tbs cilantro, chopped
1 lb spaghetti (the original recipe calls for thin fresh Chinese egg noodles, but I've found simple spaghetti to yield just as tasty a result; please forgive the lack of authenticity)
For the eggplant and vegetable garnishes:
1 lb firm, shiny Japanese or Chinese eggplants
1 Tbs fresh ginger root, peeled and minced
1 clove garlic, minced
Reserved dressing
1 cup snow peas, strings removed
½ lb mung bean sprouts
3 Tbs sesame seeds, toasted in a skillet until lightly colored
1 medium carrot, peeled and julienned
Cilantro leaves
Begin by making the dressing. Combine all the dressing ingredients (except the noodles, of course) in a bowl, and stir them together until the sugar has dissolved.
Bring a large pot of (unsalted) water to a boil, and add the noodles. Cook until done but not overly soft; then immediately pour them into a colander. Rinse them with cold water to cool them, and then shake the colander to remove excess water. Transfer the noodles to a large bowl. Stir the dressing again; then pour half of it over the cooked noodles, tossing them with your hands to distribute the dressing evenly. Set aside the remaining dressing. If the noodles aren't to be used for a while, cover the bowl with plastic wrap and refrigerate to allow the flavors to develop.
Preheat the oven to 400 degrees Fahrenheit.
Pierce the eggplants in several places, and bake them on a rimmed baking sheet until they are soft and their skins have shriveled, 20-30 minutes, depending on their size. When the eggplants are ready, slice them in half lengthwise, and leave them on the baking sheet to cool. When they are cool enough to handle, peel the skin away from the flesh and shred the flesh into rough strips. Add the ginger and garlic to the reserved dressing, and then add the eggplant strips. Stir the mixture well to thoroughly coat the eggplant.
Bring a medium pot of salted water to a boil. Add the snow peas, and cook them until they are bright green, about 20-30 seconds. Remove them with tongs or a strainer, and rinse them with cool water. Cut them into long, thin strips, and set them aside. Next, put the sprouts into the boiling water, and allow them to cook for about 30 seconds. Pour them into a colander, rinse them with cold water, and lay them on a layer of paper towels to dry.
If the noodles have been refrigerated, allow them to come to room temperature; then toss them with the eggplant and reserved dressing, as well as half of the sesame seeds. Mound them in a wide bowl or on a platter, and distribute the snow peas, mung bean sprouts, and carrots over them. Garnish with the remaining sesame seeds and a few branches of cilantro. Once served, guests can toss the noodles and vegetables together to thoroughly mingle the textures and flavors.
Serves four to eight, depending on accompaniments.