It's been a long, mundane week. By day, I poke and prod at other people's punctuation. I cross items off the list. I fall asleep on the bus. And I pass my nights on the couch with a highlighter and a pack of Post-It flags, wrapped in a wool blanket and wearing pink-and-green Christmas gag-gift socks with candy canes and "Sweet Stuff" printed around the ankle.
After so much toil and troubling footwear, I've earned something very, very good. Short of dashing Frenchmen beating down my door, I at least deserve a glass of wine, a piece of cake, and hours of exuberant hip-shaking and singing to myself. With years of practice, I've learned what makes me happy, and although I don't often go so far as to surprise myself with flowers, I'm quite good at anticipating and fulfilling my needs. After all, as Autumn, wise waxtician and facialist of Duque, says, "Honey, you're always dating yourself!"

The evening thus began with an after-work stop for the holy trinity of foodstuffs: a bottle of wine, good dark chocolate, and butter. Coming home, I took down one of the wine glasses my neighbors recently lent me—ah, the luck of having generous teetotalers next door!—and I preheated the oven and fired up the stereo. Then I retrieved from the refrigerator my beloved jar of sourdough starter, foamy, thick, and very lively, thanks to a recent feeding.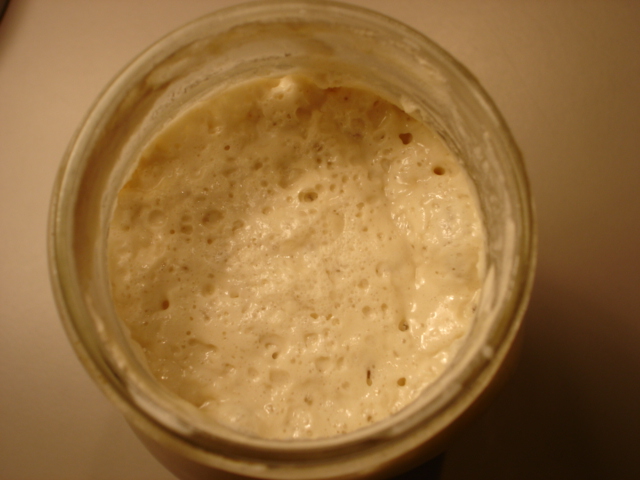 I set to work on Margot's trademark sourdough chocolate cake, a moist, fine-crumbed wonder I'd helped to make several times but had never put together on my own. Somewhere between greasing the pan and creaming the butter, I poured myself another half glass of wine. [For the scorekeepers present, that's one and a half very modest glasses, total.] Then things started to get a little unsettling. Half an hour later, I sent the following e-mail to Margot:
"I hate myself.
I just made your sourdough chocolate cake and accidentally left out the sugar. There I was, working the hand-beaters feverishly, thinking, "Wow, this butter is creaming really strangely with these eggs. Usually, recipes tell you to cream the butter with the sugar before adding the eggs. Hmmm. I guess the sugar comes later in this recipe. How weird." But I carried on and even tasted the finished batter before pouring it into the pan, thinking, "Well, it tastes okay, I guess." Then, while washing the bowls, I finally started to panic, realizing that I'd added no sugar at all. Ever. I went back and reread the recipe and realized, sure enough, that I'd completely missed the "cream sugar and butter blah blah blah" part. Needless to say, I took the thing out of the oven, poured it down the garbage disposal, and started hating myself. I've never done this kind of thing before. Guess there's a first time for everything, eh? But if we're talking first times, I'd prefer something sexier.
Waaah.
Goodnight."
Apparently, the holy trinity was not a very cooperative team. I may have simply been very tired, or maybe delirious from too many nights in those socks, but I blame this disaster on my pathetic and intractable lightweight status. It was clearly time to get something into my stomach. Luckily, I'd planned ahead.
For a year or so, I've been a subscriber to Lynne Rossetto Kasper's Splendid Table Weeknight Kitchen e-mail newsletter. Each Tuesday I find a new recipe in my inbox, led off by a lusty description from Ms. Rossetto Kasper herself. A few weeks ago, the focus was an egg and tomato gratin from Jacques Pépin's newest book, Jacques Pépin Fast Food My Way. A simple layered dish of gently boiled egg, sautéed onions and tomato perfumed with thyme, and gruyère cheese, it sounded like a holy trinity in its own right. And it could easily be made in single servings, a distinct bonus when you're dating yourself.
So, cheeks burning from the cake failure and wine, I opened the refrigerator and pulled from its cool belly the container of saucy sautéed onions and tomato I'd made only a few days earlier. I turned the oven up to 400, put an egg on the stove to boil—a blessedly easy task, perfect for restoring culinary confidence—and grated a handful of gruyère. While the gratin baked, broiled, and bubbled in its ramekin, I toasted a few slices of day-old La Brea wheat baguette for dipping and scooping, and I set the table.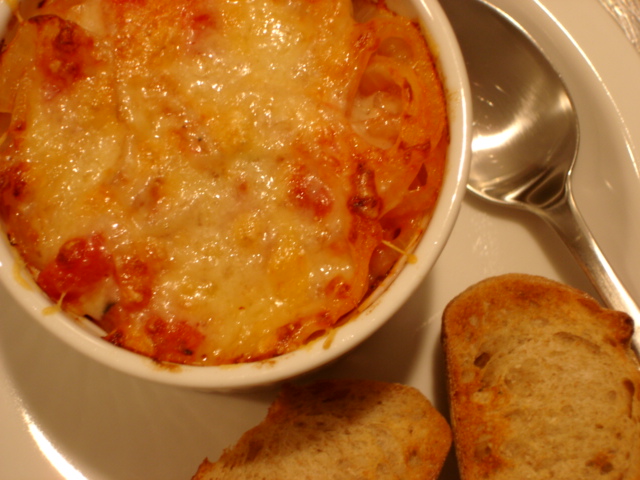 It was simple; it tasted like France; and it was exactly what I needed. The cake may have been an embarrassment, but there was more wine if I dared, and my cabinets are never without chocolate. Now if only I could get myself to give me a back massage.*
*Special thanks to Amy for providing the inspiration for this post.

Egg and Tomato Gratin
Adapted from The Splendid Table Weeknight Kitchen, which in turn excerpted from Jacques Pépin Fast Food My Way

The recipe below makes one gratin serving four people, but it can also be made in individual ramekins for four single-serving dinners. Simply make the onion and tomato mixture the first night, and each night thereafter, just boil and slice an egg or two, top with some of the vegetable mixture and a loose handful of cheese, and bake.
6 large eggs, preferably organic and free-range
2 Tbs good olive oil
2 medium onions, thinly sliced
4 tsp chopped garlic
¾ tsp dried thyme leaves
½ tsp salt
¼ tsp freshly ground black pepper
1 14-ounce can whole peeled tomatoes, roughly chopped and juices reserved
2/3 cup grated gruyère (or other good-quality Swiss-style) cheese
1. Place the eggs in a saucepan and add cold water to cover. Bring to a boil over medium-high heat, reduce to a simmer, and let cook for exactly nine minutes. Immediately (and carefully) pour the hot water out of saucepan and run cold water over the eggs. Transfer the eggs to a bowl filled with ice water and let sit for 10 to 15 minutes, until thoroughly cooled. Peel the eggs, and cut each of them into four wedges. Arrange the wedges in a 6-cup-capacity gratin dish or baking dish.
2. Heat the oven to 400 degrees. Heat the oil in a large skillet over medium-high heat until hot but not smoking. Add the onions, and sauté for about two minutes; then add the garlic, thyme, salt, and pepper. Add the tomatoes and their juice, bring the mixture to a boil, reduce the heat, and simmer, covered, for 4 minutes.
3. Pour the onion and tomato mixture over the eggs in the gratin dish and sprinkle the cheese evenly over the top. Bake for 10 minutes; then turn on the broiler and broil the gratin 3 or 4 inches from the heat source for 2 or 3 minutes, just to brown the top. Serve.
Serves four.