I'm generally very well-behaved, of a willpower that knows few equals. I can bake a whole mess of very treacherous and tempting stuff, stash it in the freezer, and peacefully coexist with it—no boundaries transgressed!—until the next dinner party, appropriate event, or emergency. But, dear reader, I've met my match, and it's a chocolate-covered coconut macaroon.

For the first two decades of my life, I associated coconut strictly with the scent of cheap tanning oil, a very nasty substance indeed, and especially for a redhead whose skin has only two settings: pale and burnt. As a child, I had a deep-seated, visceral aversion to lotions in general and put up impressive battles whenever my parents approached with a bottle of sunscreen, so I've suffered more than a few horrendous, nausea-inducing sunburns, often at beaches and pools where the scent of tanning oil hung heavy on the air. Needless to say, coconut had a few hurdles to clear before it could elicit a positive reaction from me.
But shortly before my 21st birthday, I was conquered by a one-pound monster of a chocolate-covered macaroon from Max's Café in Corte Madera, California. I was converted to coconut worship, and there would be no turning back. That summer, I bought those macaroons more often than I'd like to admit. They're dense, tooth-achingly sweet, and rich enough to cause hot flashes, and I'd usually cut each into quarters and, with remarkable discipline, savor it over a couple of days. Only once did I throw caution to the wind, inhaling three quarters in a single evening and barely surviving—with much, much regret—to tell the tale. The episode dampened my enthusiasm for a few weeks, but I'd sufficiently recovered by my September birthday and, in a show of daring, requested a cake-sized macaroon as one of my two birthday cakes. Max's central bakery in the South Bay had never before taken an order like mine, but they pulled through admirably, creating the biggest and most horrifyingly beautiful chocolate-covered macaroon I've ever seen. You can catch a glimpse of it on the cake stand on the left in the picture below, in which I'm laughing out the candles on my other birthday cake, a four-layer lemon-curd stack, in my very short hair and very questionable dusty-purple eye shadow and lemon-curd face paint, this last thanks to my cousin Sarah, who, even at age twenty-three, had to put her hand in the cake—and then on me.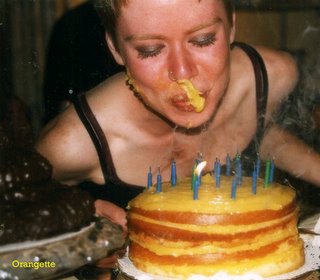 All of which brings us to a few days ago, when, in the interest of not wasting six egg whites left over from a galette des rois, I scoured my accordion folder of recipe clippings and came away with a perfect solution: chocolate-covered coconut macaroons. This was clearly some sort of sign. Thus I did the only rational thing possible: I promptly marched to the grocery store and spent $12 on coconut, whipping cream, good bittersweet chocolate, and a bag of sugar to refresh my dwindling supply. Never mind the fuzzy logic of buying things to avoid wasting: although I might not make such a good Depression wife, I can bake a mean macaroon.
This, however, is not good news. I can't be left alone with these things, not even when they're "safely" hidden away in the freezer. In fact, and what's worse, I prefer them frozen. I've clearly met my match. Each time I walk into the kitchen, I feel like Odysseus, preparing to sail past the Sirens: for my own good, I should ask my neighbors to chain me to something solid and heavy, seal their mouths with anti-macaroon protective tape, and ignore my screams and pleas as they remove the (now half-empty) Ziploc bag from my freezer and carry it down to the dumpster in the parking garage. Short of this, my only hope for salvation lies in forcing the macaroons upon unsuspecting friends. Last night I gave three of them to fellow macaroon-lover Keaton, who ate one on the spot, moaning with pleasure. She has no idea of the danger now lurking in her kitchen. Oh Keaton, I'm so sorry.
Chocolate-Covered Coconut Macaroons
Adapted from Bon Appétit (September 2002) and the Marigold Kitchen of Madison, Wisconsin
These macaroons are dangerously good. The coconut base is moist, sweet, and wondrously crispy on the outside, and its cap of chocolate is a perfect, slightly bitter counterbalance.
3 cups (lightly packed) sweetened shredded coconut
¾ cup granulated sugar
¾ cup egg whites (about 5 or 6 large)
1 ½ tsp pure vanilla extract
¼ tsp almond extract
8 ounces bittersweet or semisweet chocolate, finely chopped
3/4 cup heavy cream
Place the first three ingredients in a large, heavy saucepan, and stir to combine well. Cook over medium-low heat, stirring regularly, about 10-12 minutes, until the mixture is pasty but not dry. (The uncooked mixture will look sort of granular at first, then creamy as it heats, and then it will slowly get drier and drier. You want to stop cooking when it no longer looks creamy but is still quite gluey and sticky, not dry.) Remove from heat. Mix in vanilla and almond extracts. Spread out the coconut mixture on a large baking sheet. Refrigerate until cold, about 30 minutes.
Preheat oven to 300 degrees Fahrenheit. Line another baking sheet with parchment paper or a Silpat baking mat. Using a ¼-cup measuring scoop, scoop and pack the coconut mixture into domes, and place them on the baking sheet. You should wind up with about a dozen. Bake the macaroons until golden, about 30 minutes. Transfer to a rack and cool.
Set cookies on rack over a rimmed baking sheet. Place the chopped chocolate in a medium bowl. Heat the heavy cream in a small saucepan until it is very hot and steamy (not boiling), remove from the heat, and pour it over the chocolate. Whisk until the mixture is smooth and the chocolate is thoroughly melted. Spoon the glaze over the macaroons, covering them almost completely and allowing the chocolate to drip down the sides. [You will have leftover glaze, which can be refrigerated or frozen.] Refrigerate the macaroons until the glaze sets, at least 2 hours. Transfer the macaroons to an airtight container, and refrigerate or freeze.
Yield: 12 macaroons