Tag:
unlikely ice cream
I'm not exactly sure how to broach this topic, so I'm going to cut right to the chase. Fennel ice cream.
I had fennel ice cream for the first time almost a month ago, and I'm still thinking about it. I used to only get this way about things involving chocolate, but apparently I'm growing up, or getting weirder. Either way, I take it as a positive development.
If you've been reading here for a while, or if you keep up with Bon Appétit, you've probably heard that my friend Olaiya is a knockout of a cook. She consistently finds, creates, and writes the best recipes I know. I feel very lucky to have her around, not only because she teaches me a lot, but also because she occasionally invites us over to dinner and does something crazy, like opening the freezer and blithely serving up, la di da, a homemade fennel ice cream that might be, what do you know, some of the best ice cream anywhere.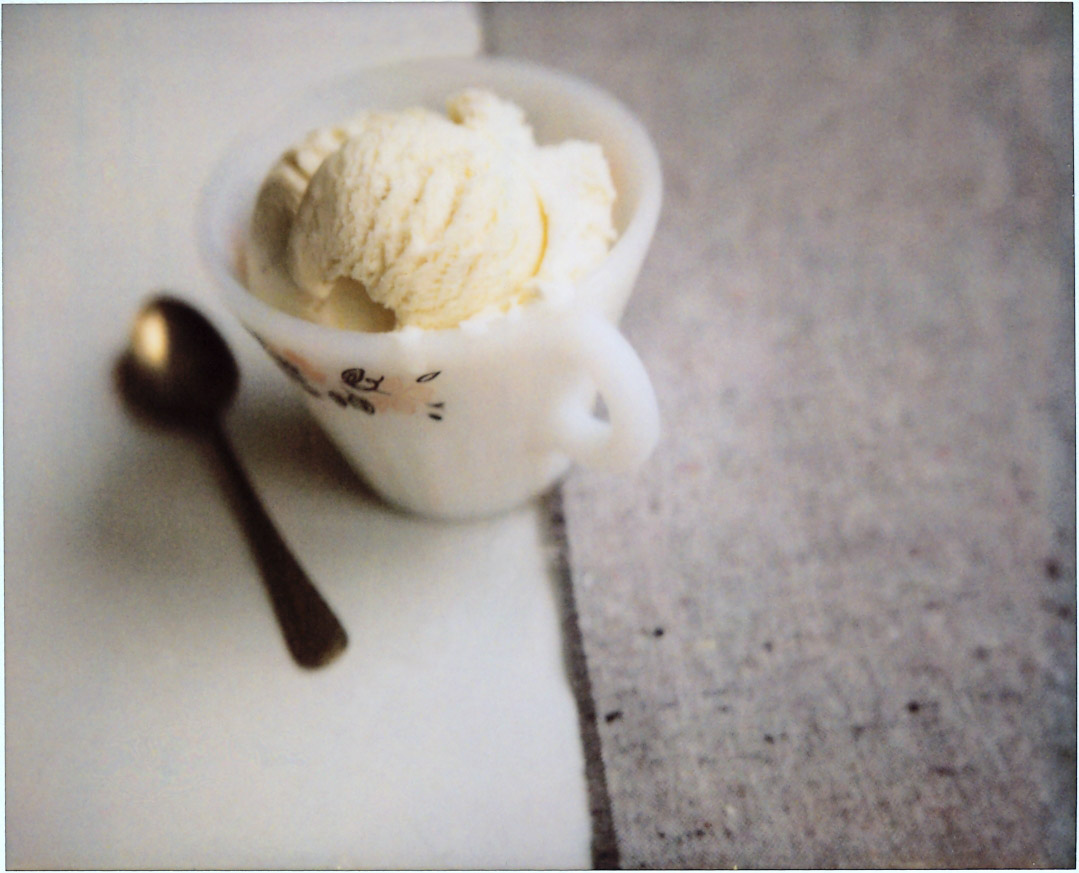 Fennel is never an easy sell, and if you've already clicked away, see you next week! But for those of you still here, listen: even if you don't like fennel, and even if you absolutely despise it, there's still a good chance that you'll like this ice cream. I'm not making promises, but there's something sort of magical, something surprising and bewitching, that happens when you steep fennel seeds in hot cream. The cream takes on the essential flavor of the seeds, as you would expect, but the butterfat works to soften that flavor, rounding off its pointy edges, turning down the volume on the licorice notes, resulting in a taste that's almost hard to identify: cool, herbal, smooth, even quiet. It doesn't scream fennel, by any means. It mostly whispers eat me, ideally with a bowl of sliced strawberries.
I wish I could say that Olaiya invented this stuff, but the recipe came, I learned, from her clippings folder. It was originally published in the October 2007 issue of Gourmet, where it was adapted from Holly Smith, chef of Café Juanita and, most recently, Poco Carretto Gelato. I knew immediately that I wanted to tell you about it, and with Olaiya's blessing, I went to Epicurious to look for the recipe – only to find, in the reviews, a mention that Deb of Smitten Kitchen had written about it shortly after it came out. That woman is on her game! She doesn't miss a beat. I not only missed this beat, but I missed it by almost three years. I tore my hair out for a little while, wondering whether this meant that I shouldn't write about it, that the world is already over, totally over, fennel ice cream. But I decided to write this post anyway, because if even one of you out there hasn't tried it, it's my duty to make sure you do.
Take my word for it. You want to make fennel ice cream. It's a very straightforward recipe: if you've ever made ice cream, you can do it in your sleep, and if you haven't made ice cream, you can do it with your eyes closed, which is almost like sleeping. It's also an excellent ice cream base, fennel flavor or no: it's smooth and creamy, but it's not too rich, not one of those ice creams that coats the spoon with a slick of something like butter and sets your teeth on edge. It's also made for this time of year, when strawberries are upon us and raspberries are coming soon, followed shortly by peaches and nectarines. This ice cream wants to hang out with summer fruits, all the juicy, soft types with a good balance of sweet and tart. And maybe this is taking it too far, but I think it might also be a first-rate match for chocolate. I'm inclined to try scratching the fruit entirely sometime and serving it instead with hot fudge, or a slice of chocolate cake. Who knows, but I have high hopes.
Recipe
Fennel Ice Cream
Adapted from Gourmet, October 2007, and Holly Smith
1 2/3 cups heavy cream
2 tsp. fennel seeds, crushed
1 cup whole milk
¾ cup sugar, divided
Pinch of salt
4 large egg yolks
Combine the cream and fennel seeds in a small heavy saucepan, and bring just to a simmer. Remove from the heat, cover, and let steep for about 30 minutes.
Meanwhile, prepare an ice bath.
Then combine the milk, ½ cup sugar, and a pinch of salt in a medium heavy saucepan, and bring just to a simmer, stirring to dissolve the sugar.
In a large bowl, whisk together the egg yolks and the remaining ¼ cup sugar. Add the hot milk mixture in a slow stream, whisking constantly. Return the mixture to the medium saucepan and cook, stirring with a wooden spoon, until the mixture coats the back of the spoon and registers 175°F on an instant-read thermometer. (Do not allow it to boil.) Immediately strain through a fine-mesh sieve into a metal bowl. Cool in the ice bath, stirring occasionally.
When the custard is cool, strain the fennel cream through a fine-mesh sieve into the custard, pressing on the solids. Continue to chill in the ice bath until the custard is very cold. (Alternatively, cover the mixture, and chill it in the refrigerator overnight.) Freeze in an ice cream maker. Transfer to an airtight container, and put in the freezer to harden, about 1 hour.
Yield: 1 quart