Tag:
tara o'brady
I promised cookbooks, and I shall deliver cookbooks. No more nostalgia! No more old photographs! No more zoning out with Danzig videos on YouTube because a man in a Danzig t-shirt just walked into the coffee shop where I am writing and reminded me of the song "Mother '93"! I will be useful.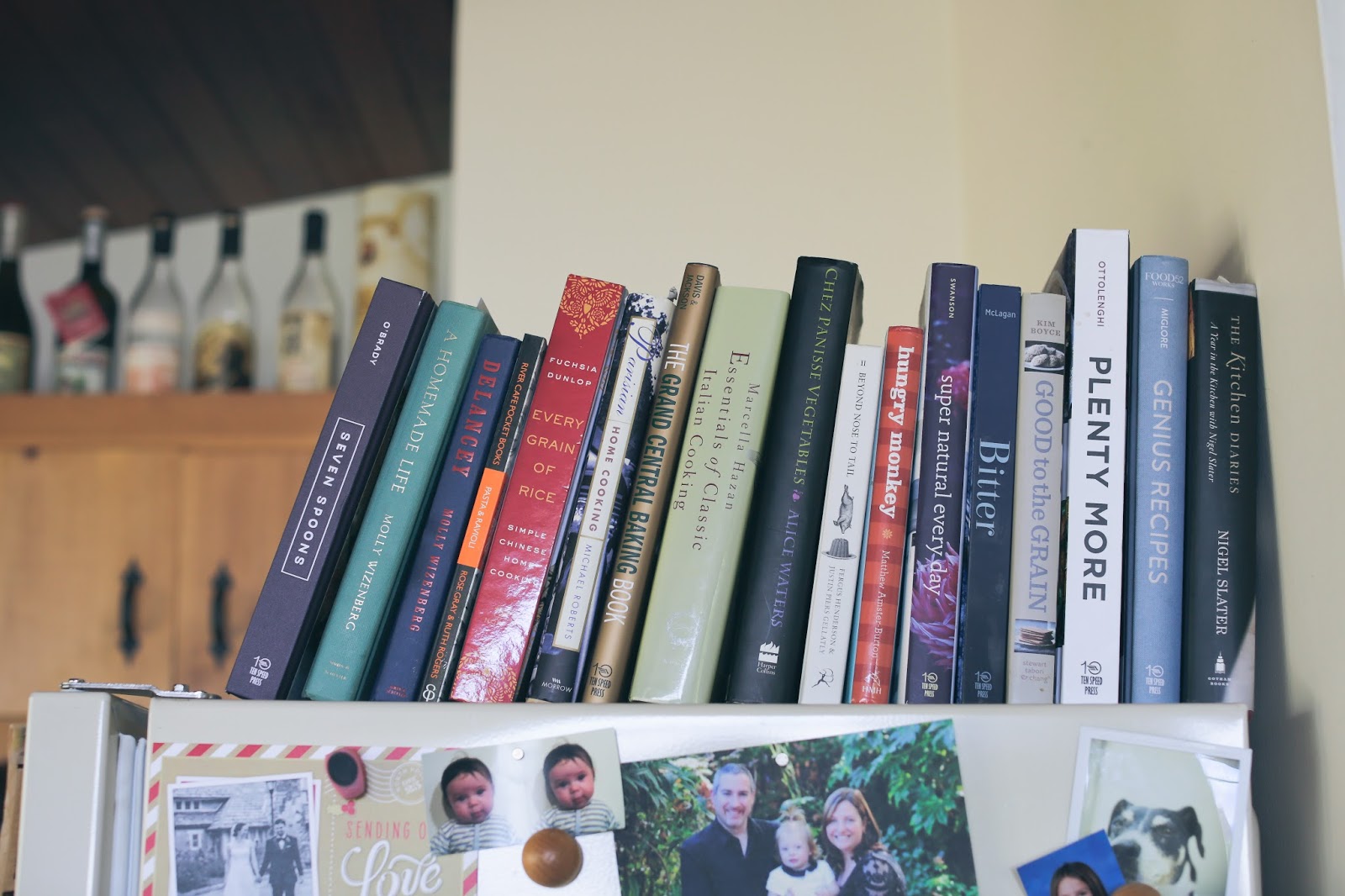 Four years ago, when we moved into the house where we now live, I started keeping a small collection of cookbooks on top of the refrigerator. Most of our books live in June's room, on the wall of shelves there, but that's down the hall from the kitchen, and I wanted to have my most-used, best-loved, most-consulted books within reach.  I rotate them as new books come out and others fall out of use, but a few never leave.  I wrote about last summer's collection on Serious Eats, but the fridge looks decidedly different now, so here I am, not watching Danzig videos and recoiling in horror from Glenn Danzig's pectorals, nope nope nope.
We'll go from left to right, and I'll try to point out recipes that I particularly like or make often.
– Seven Spoons, by Tara O'Brady. I hope you know about Tara's wonderful site. Her book is even better, if that's possible. The first time I picked it up, I thought, This book is going BIG. It's full of food I want to eat, food that feels doable but also thoroughly inspired, and the whole package is lit from within by Tara's writing.  Hummus with White Miso (page 112), Za'atar Chicken and Roasted Vegetable Salad (page 170), Coconut Kheer (page 230), and with the kheer, Pickled Strawberry Preserves (page 111)
– My own books! So embarrassing! I keep them up there because I am suuuuch a jerk because the best part of having your recipes printed and bound is being able to dog-ear them, write notes in the margins, and muck them up with butter smears. From A Homemade Life: Buckwheat Pancakes (page 68), Banana Bread with Chocolate and Crystallized Ginger (page 26), Ed Fretwell Soup (page 156), and Scottish Scones (page 174); and from Delancey: My Kate's Brownies (page 183) and Sriracha-and-Butter Shrimp (page 88)
– River Cafe Pocket Books Pasta & Ravioli, by Rose Gray and Ruth Rogers. I have three River Cafe books, and I've come to believe that their recipes aren't meant to be followed to the letter; they're best used as treasuries of good, simple ideas. I've been meaning to make the Penne with Zucchini and Mint, which I think my friend Gemma once recommended, and in which the zucchini gets cooked until mashable and enriched with an amount of butter that might best be described as swashbuckling. Also, Penne with Sausage and Ricotta.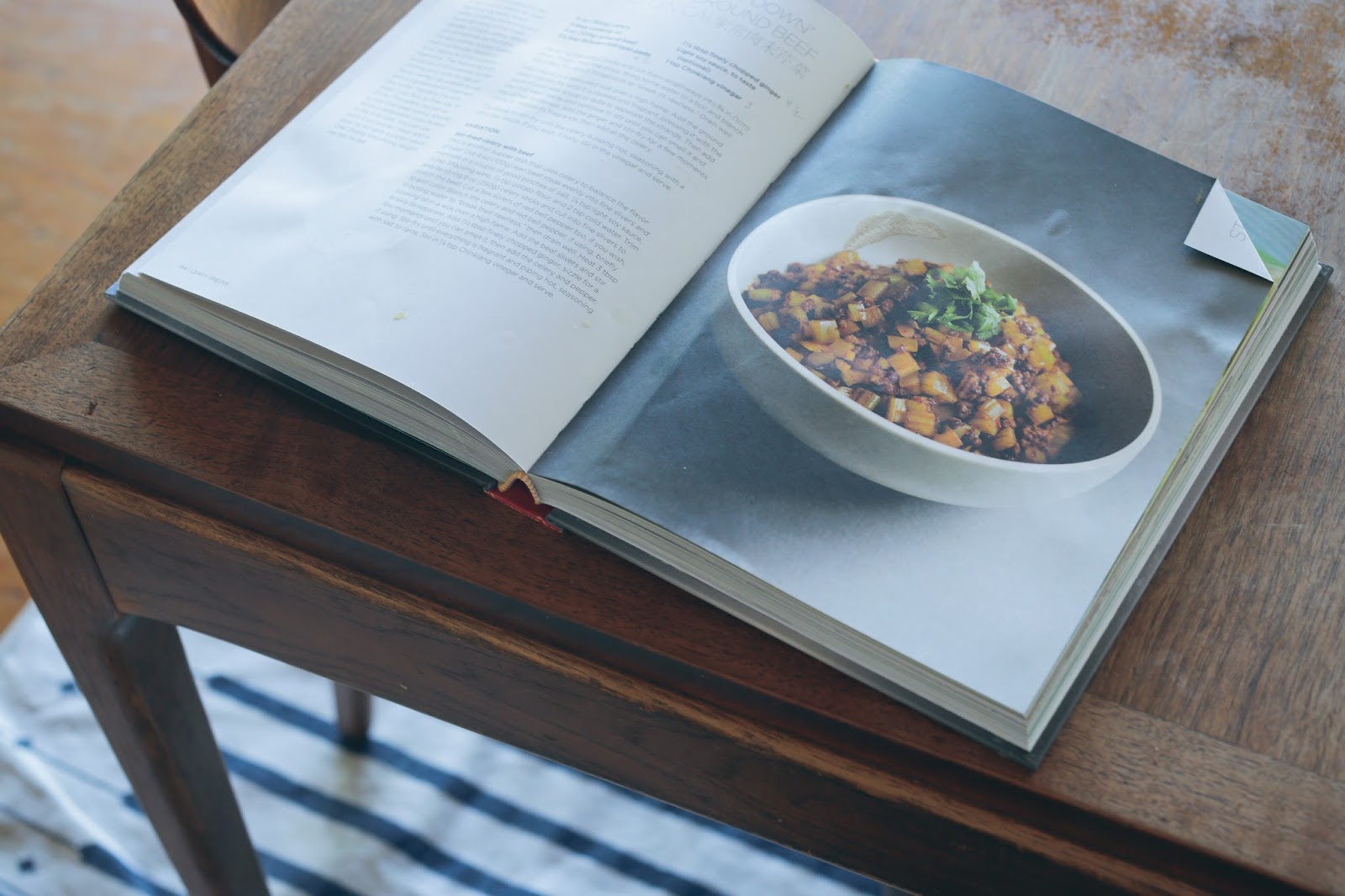 – Every Grain of Rice, by Fuchsia Dunlop. I LOVE THIS BOOK. Luisa does too, and I'll just let her speak for me, because she gets it so right. I requested the Sichuanese chopped celery with ground beef (pictured above) for my birthday dinner last year, and I may well request it again this year. Red-Braised Beef with Tofu "Bamboo" (page 108), Bok Choy with Fresh Shiitake (page 180), Sichuanese "Send-the-Rice-Down" Chopped Celery with Ground Beef (page 194), and Fish-Fragrant Eggplant (page 210)
– Parisian Home Cooking, by Michael Roberts. I bought this book on a whim when I was 22, living alone for the first time, and at the height of my Francophilia. (When I opened the front cover just now, a flier fell out from an anti-Front National rally on May 1, 2002, with a headline reading, "Nous Sommes Tous des Immigrés." Ouaaaaais!) Michael Roberts taught me a lot about French home cooking, and though I don't use this book as much as I used to, I like to keep it around. Perfect Mustard Vinaigrette (page 69), from which I took the proportions for "my" everyday vinaigrette; Scrambled Eggs the French Way (page 50); Whole Roasted Cauliflower with Vinaigrette (page 92); Glazed Brussels Sprouts and Shallots (page 96); Green Beans and Morels (page 110); and hey, whoa, I just noticed Plums Baked with Marzipan (page 344), and now I want to eat it.
– The Grand Central Baking Book, by Piper Davis and Ellen Jackson. I put this one on top of the fridge a couple of months ago, after eating a piece of Irish soda bread at the Grand Central on Eastlake. It was incredible, and I really need to hurry up and make the recipe, because I want to hurry up and eat it. Irish Soda Bread (page 25)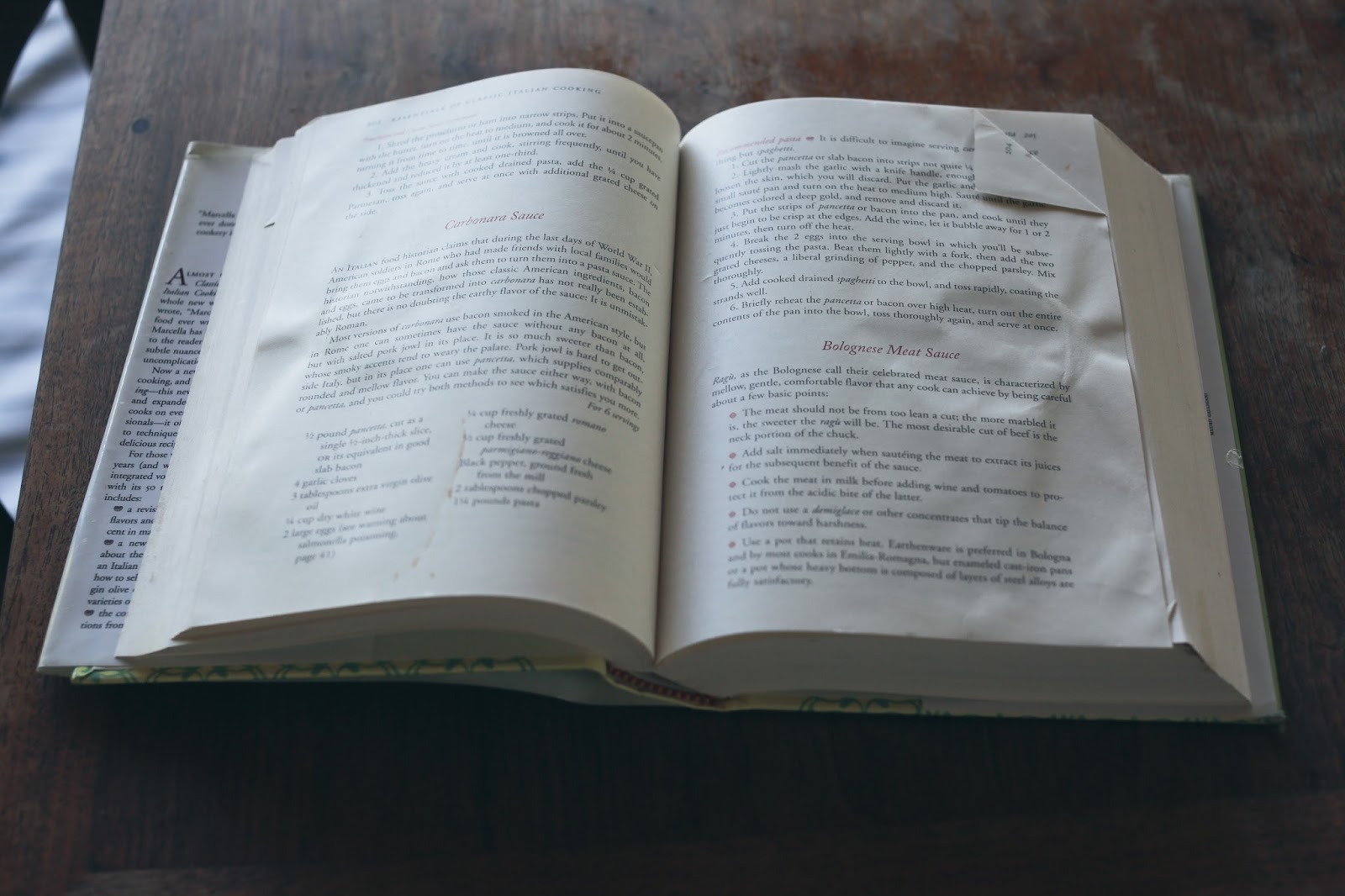 – Essentials of Classic Italian Cooking, by Marcella Hazan, as pictured above. A classic. Marcella makes me a better cook. Tomato Sauce with Onion and Butter (page 152); Pesto by the Food Processor Method (page 176); Bolognese Meat Sauce (page 203), though I can't decide whether I prefer Marcella's or Luisa's; Smothered Cabbage, Venetian Style (page 479); and Rice and Smothered Cabbage Soup (page 94)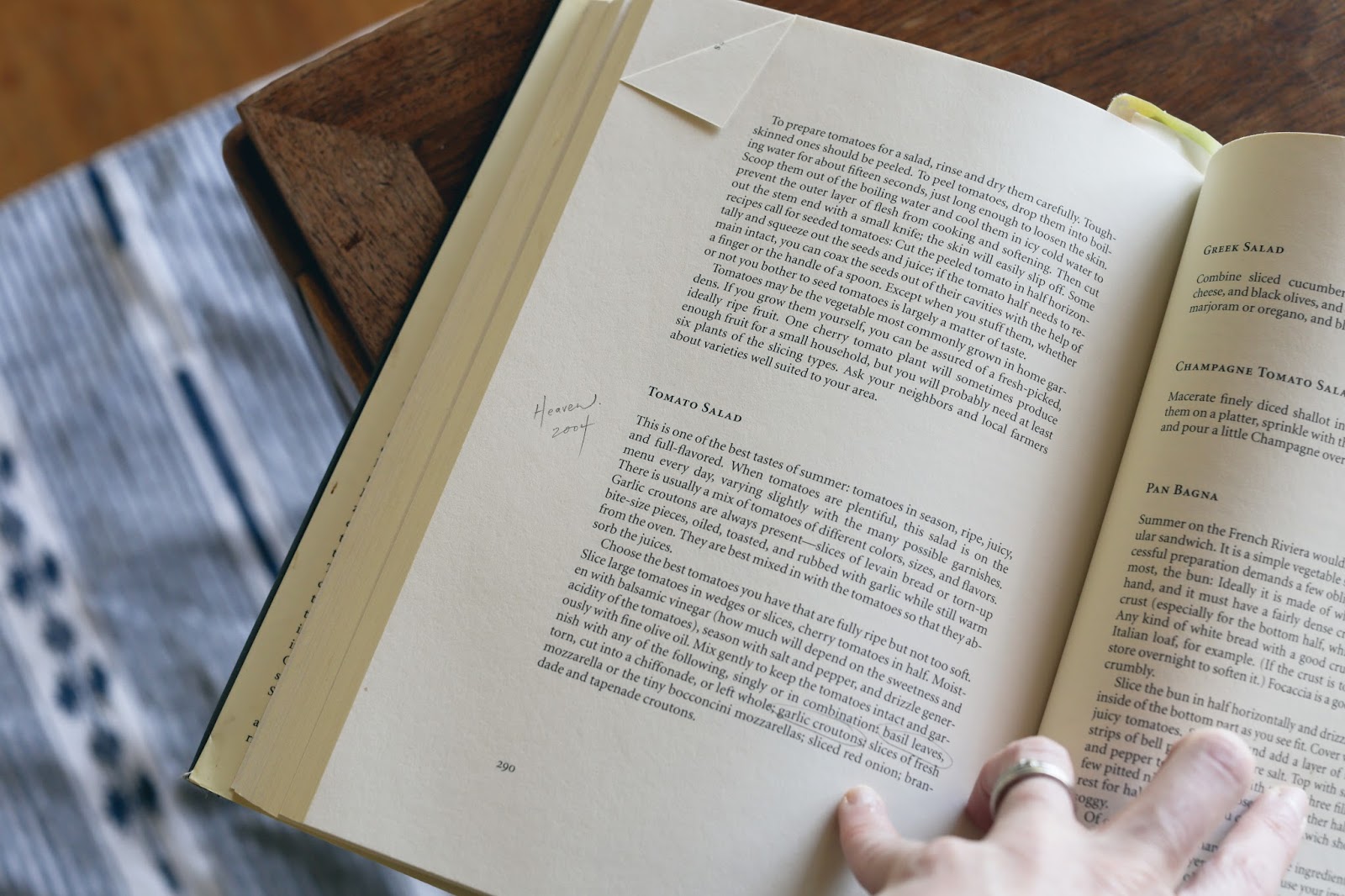 – Chez Panisse Vegetables, by Alice Waters. My sister gave me this book for my birthday in 2002 – just found her tiny gift card wedged inside the book, aww – and I've consulted it often. Like Nigel Slater's Tender, it's organized alphabetically by vegetable, though the dishes are more spare, more basic, more Chez Panisse-y, than Slater's. Honestly, I'm torn on which I prefer. But this book taught me how to make lots of staples, and how to make them well: braised chard, roasted potatoes, and the simplest Tomato Salad (page 290), which, in the summer of 2004, moved me to write the word "Heaven" in the margin.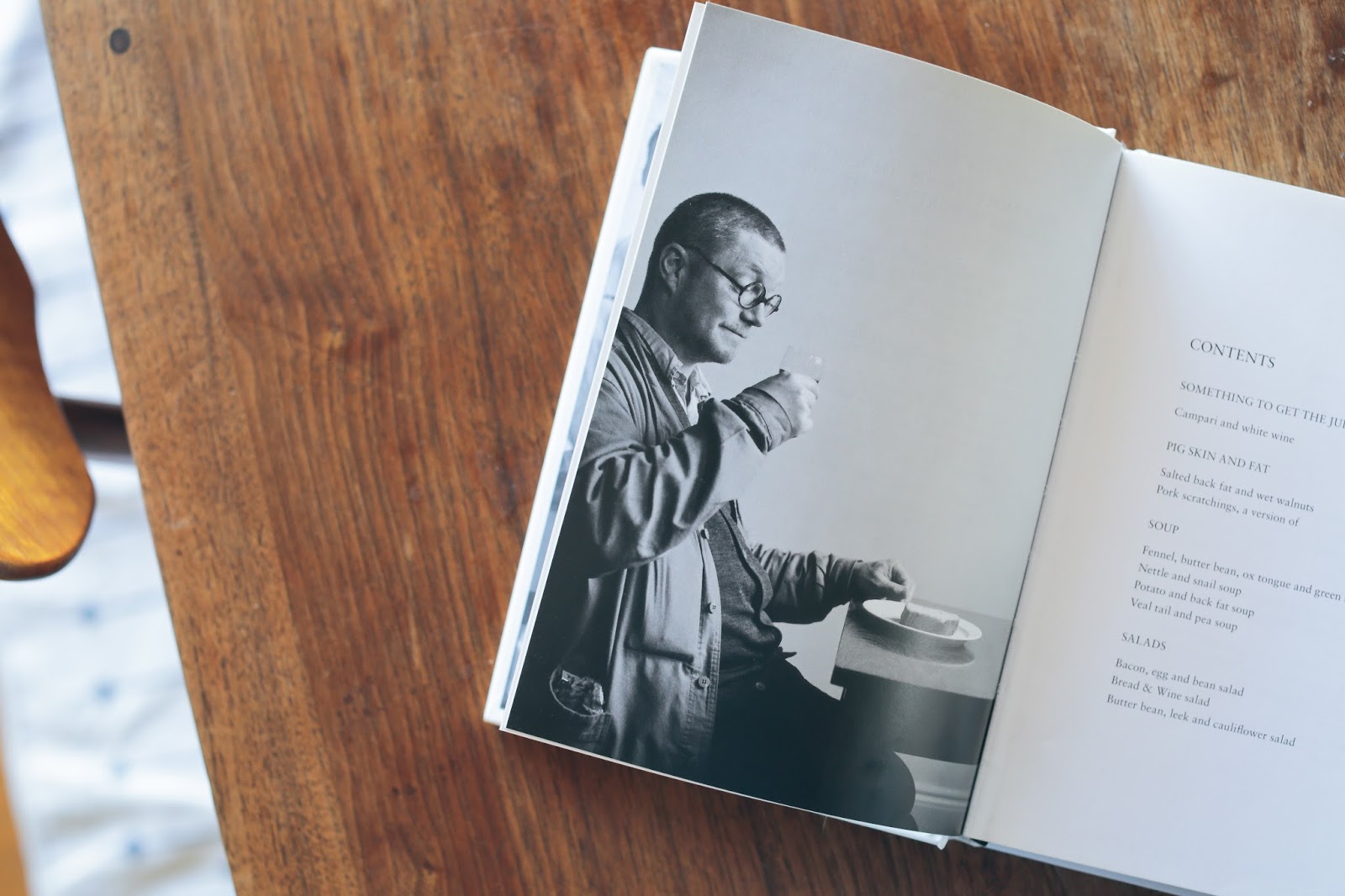 –
Beyond Nose to Tail
, by Fergus Henderson and Justin Piers Gellatly, pictured above and below. I've cooked very little from this book, and I cannot speak to the reliability of its recipes. I love this book instead because it is the most irreverent, beautiful, ugly, unnerving, and personality-filled cookbook I know. From its elegant white cover with tidy type to a black-and-white shot of a cook face-down in a bowl of what appears to be Apple and Calvados Trifle and a full-color centerfold of a Pot-Roast Half Pig's Head, it is stunning.  Plus: Henderson's writing, of which a favorite passage, from the recipe for Pressed Pig's Ear, is below. 
Campari and White Wine (page 3); Bacon, Egg, and Bean Salad (page 20), Orbs of Joy (page 74), What a Baked Potato (page 76), Quince and Prunes (page 153), and You Fool (page 156)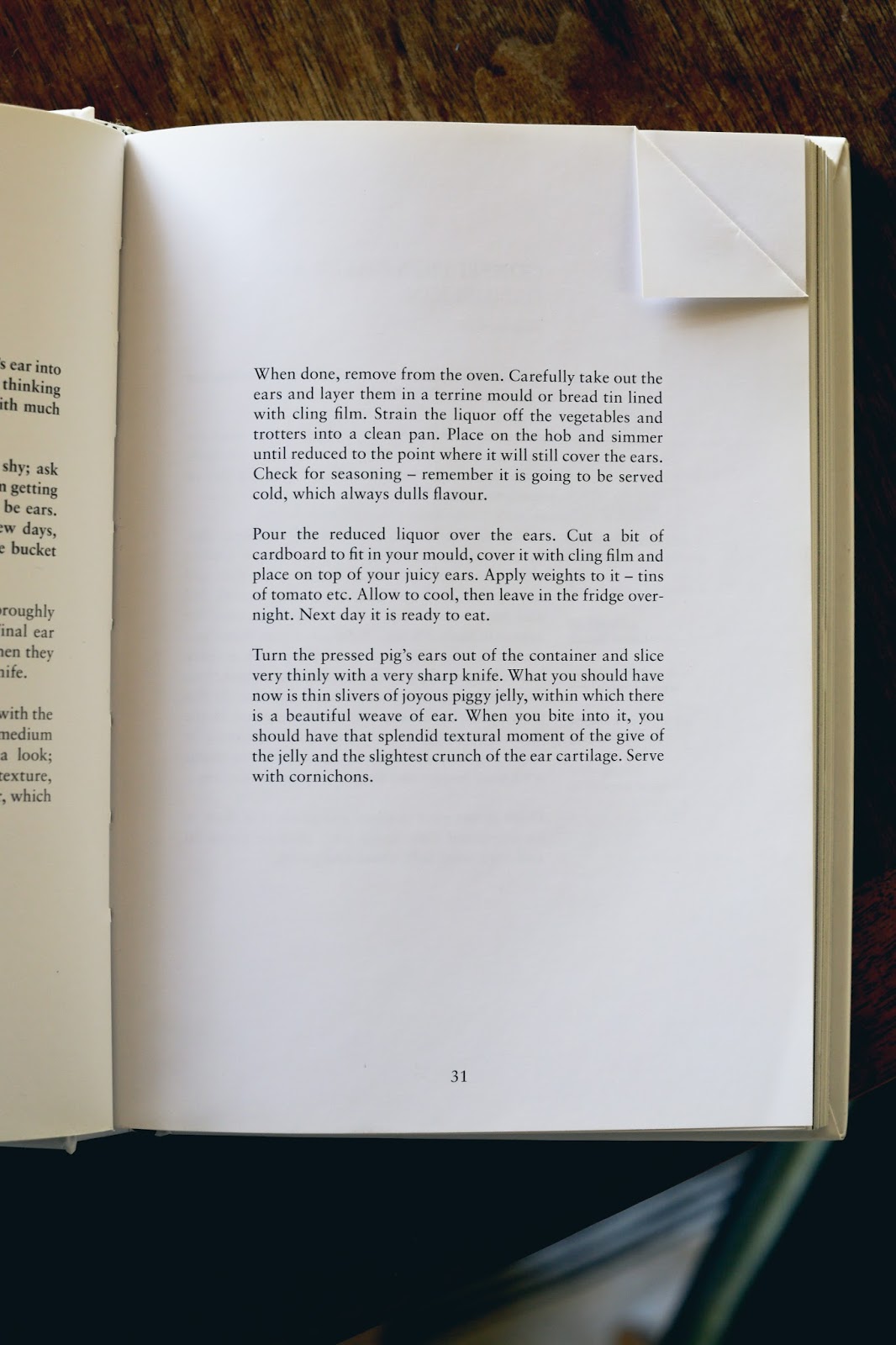 – Hungry Monkey, by Matthew Amster-Burton. Matthew is one of my closest friends, so bias bias bias, but: this book is a funny, smart, and very very useful account of feeding a young kid. I credit Matthew with the fact that I really enjoy cooking with and eating with June, mostly because I refuse to get worked up about it. Also, his recipes are great. Sour Cherry Shake (page 103), Chicken and Spinach Meatballs (page 140), Potstickers (page 239), Cumin-Ginger Carrot Coins (page 90), Gingerbread Cupcakes with Lemon Glaze (page 101), Larb Gai (page 53)
– Super Natural Every Day, by Heidi Swanson. I love Heidi. We all love Heidi. This is my favorite of her books, though I have a feeling that her newest, Near & Far, is also going to join the fridge-top collection shortly.  Baked Oatmeal (page 44), White Beans & Cabbage, which I finish with a squeeze of lemon and more olive oil (page 86), Hard-Cooked Eggs with Dukkah (page 106), and Macaroon Tart (page 192)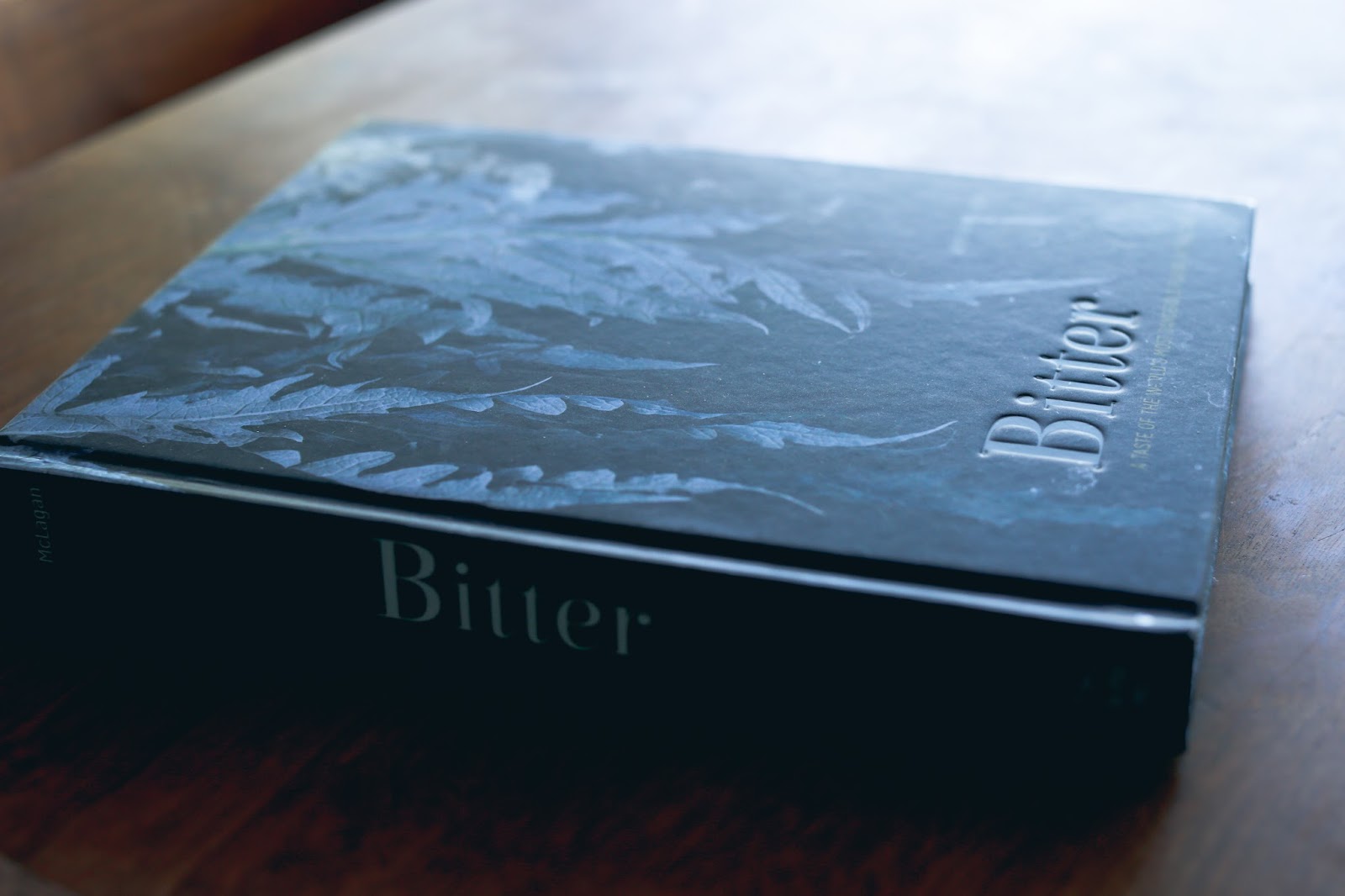 – Bitter, by Jennifer McLagan. This book has the sexiest cover in the history of the written word. I may, or may not, have sat around stroking it for fifteen minutes before taking the above photograph. It also happens to pay tribute to several things that I love: chicories, Campari, beer, grapefruit, rutabaga. And Campari Granita, ding ding ding!  Will be posting about that shortly. Belgian Endive Salad with Anchovy Dressing (page 19), Sugarloaf Chicory Sautéed in Duck Fat (page 34), Tea Custard with Poached Fruit (page 67), and Campari Granita (page 86)
– Good to the Grain, by Kim Boyce. I have loved, currently love, and will probably always love this book. I'll even call it a classic. I wish it had measurements by weight, but now I'm just being grouchy. Chocolate Chip Cookies (page 41), Oatmeal Sandwich Bread (page 130), Crumble Bars (page 156), Banana Cereal Muffins (page 157), and I've been meaning forever to make the Figgy Buckwheat Scones (page 80)
– Plenty More, by Yotam Ottolenghi. Of course. Saffron, Date, and Almond Rice (page 49), which I like to eat with harissa and with a salad of cukes and feta; Thai Red Lentil Soup with Aromatic Chile Oil (page 89), Green Beans with Freekeh and Tahini (page 110), Honey-Roasted Carrots with Tahini Yogurt (page 163), Curry-Roasted Root Vegetables with Lime Leaves and Juice (page 177), Baked Rhubarb with Sweet Labneh (page 291), Bitter Frozen Berries with White Chocolate Cream (page 295), Stewed Blackberries with Bay Custard and Gin (page 305), Walnut and Halvah Cake (page 315), and Meringue Roulade with Rose Petals and Fresh Raspberries (page 332)
– Genius Recipes, by Kristen Miglore. I'm going to let this Instagram shot speak for me. From Shirley Corriher's Touch-of-Grace Biscuits (page 6) to Judy Rodger's Roasted Applesauce (page 12), Marion Cunningham's Raised Waffles (page 29), Moro's Warm Squash and Chickpea Salad with Tahini (page 70), Marie-Hélène's Apple Cake (page 221), and Marion Burros's Purple Plum Torte (page 217), this book compiles and houses a substantial fraction of my cooking repertoire. Next I want to try Diana Kennedy's hunky, dead-simple Carnitas (page 120).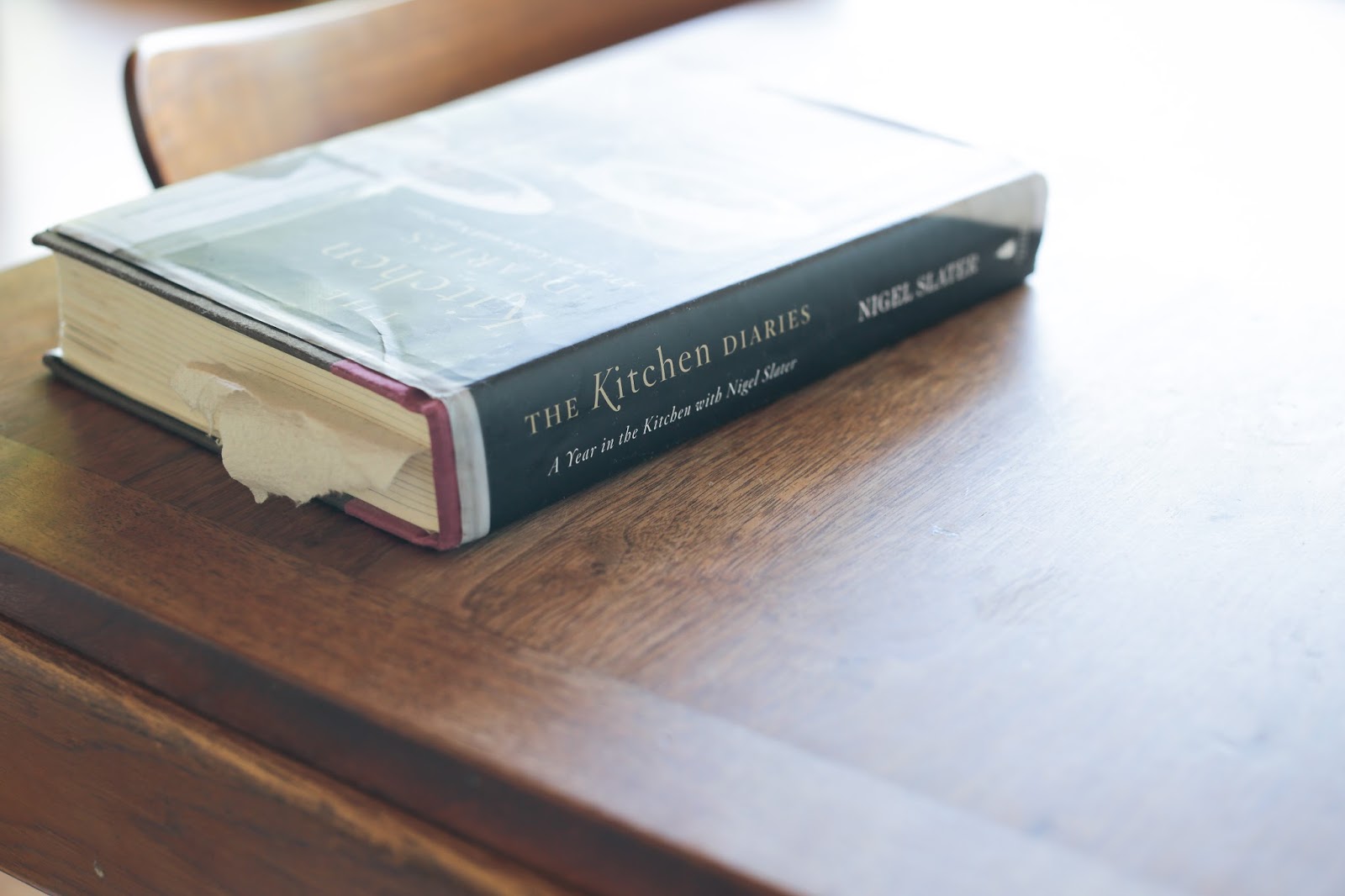 – The Kitchen Diaries, by Nigel Slater. This is my favorite of his books, because the format is so inviting, so functional. I love being able to flip open to a date close to today's – July 24th, let's say – and imagine him hustling together a dinner for six: French beans and goat cheese, cold wild salmon with mayonnaise, boiled new potatoes, a green salad with warm peas, and a trifle so good, he writes, "that I wish I had made two, the last one to eat alone, in my bathrobe, at breakfast." I get the sense that Slater's recipes, like those of the River Cafe ladies, are meant to be used as springboards, not as hard-and-fast recipe-recipes, and I've been meaning for a while now to play around with the Pork Burgers with Lime Leaves and Cilantro (page 79), Thai Fish Cakes (page 113), Mustard Chops (page 127), An Almond and Greengage Crumble (page 280), A Quick Ham and Mushroom Supper (page 305), and Baked Onions with Parmesan and Cream (page 336).
And there is one more book that isn't in the photo up top, a book that I added to the fridge only last week, and that is Rachel Roddy's Five Quarters: Recipes and Notes from a Kitchen in Rome, which will soon be released in the US under the title My Kitchen in Rome: Recipes and Notes on Italian Cooking. I have long been a fan of Rachel's writing, and let me just say: Rachel, THIS BOOK! You nailed it!  This is one I'll have forever.
Well, that was fun.  Happy week, everybody.
P.S.  Most of the book links in this post are Amazon Affiliate links – you know, FYI and so on.