Tag:
barbara kafka
Helloooooooooooooooo.
I didn't mean to be gone for so long. I know what some of you were thinking, and I am delighted to report that I did not give up on blogging. I also did not die. But it's been a long, hard, dizzying summer, I will say that, with, among other things, Herculean staffing woes at Delancey, Essex, and Dino's. (Did you know there's currently a shortage of restaurant cooks in a lot of cities, including Seattle? I could tell you stories.) But now that June is in school again, I've been able to tiptoe my way back to writing, and that's a relief. I turned 38 last week, and that too feels good. I've also been cooking again, after the lazy, happy ease of summer eating. In the past couple of weeks, I've made two new dinners that I think you will like. But first: a dish that I made and shot two entire months ago. You have been patient, and I thank you.
Yes, what we have below appears to be a bowl of Fusilli with Absolutely Nothing. It is not a head-turner. (I could say the same about most of my favorite things to eat. Maybe I should formally claim that as my culinary motto, have it embroidered on an apron or something: It doesn't look like much… BUT WAIT!!!)  This particular non-head-turner is Barbara Kafka's Creamy Lemon Pasta, a five-ingredient (or six, if you add Parmesan, as I do) wonder of wonders, miracle of miracles, classic of classics.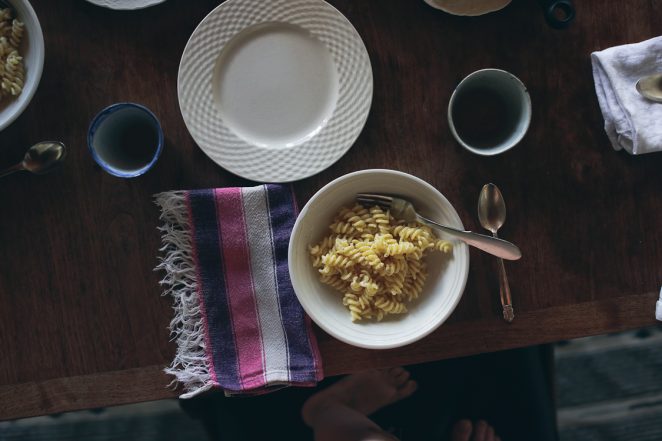 On the Fourth of July, my friend Natalie brought over a bag of lemons, intending to make lemonade for the kids. She did not. We did not. Instead, we ate a bunch of chips and dip, and I gave June a haircut in the living room with my Joyce Chen kitchen shears (sharpest scissors around, FYI), and then some of us went up on the roof to watch fireworks and had a serendipitous owl-spotting while we were at it. A couple of weeks later, with the lemons still sitting on the kitchen counter, I sat down at the computer to search for recipes involving an abundance of lemon. The recipe I was most drawn to, the aforementioned Creamy Lemon Pasta, only called for two lemons, which I don't consider an abundance, but I chose it anyway, and I'm not sorry. (I am a little bit sorry, though, just a little bit, to say that June has been on a real nudity bender, and while I cannot blame her – being naked is great, and we should probably all be naked, all the time – it does make photographing our family dinner a special challenge.)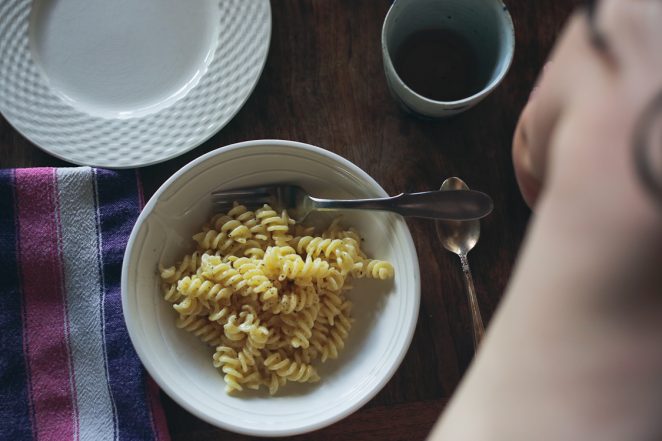 This pasta was first published in the New York Times in 1999, and at this point, it would be fair to call it timeless. It is, to me, the definition of good everyday food – or, as Kafka put it, "luxurious weeknight cooking at its best." Oooh la.  You probably already have everything you need for it. Cook some noodles, egg or otherwise, until tender. In the time that takes, you warm a cup of cream in a saucepan with strips of zest from two lemons, salt, and black pepper. When the pasta is cooked and the cream has just hit the boil, you pour the latter over the former, add a generous splash of lemon juice, mix it all up, and cook it for a few minutes more, so that the sauce reduces to coat the noodles. Kafka has you serve it with additional black pepper, but I strongly, strongly suggest you go one step further and grate some Parmesan over each portion.
Ahhhh. It's good to be back.
P.S. Food for thought, via Grace Bonney: "The Woman You Want to Be Is Rich."
P.P.S. Something that is changing my writing life: the app Day One. (Not sponsored; just something I genuinely love.)
Recipe
Barbara Kafka's Creamy Lemon Pasta
Kafka calls for egg noodles, but I used fusilli, because it's what I had. I do love egg noodles, though.
Also, about lemon sizes: I find it troublesome to call for "2 lemons," because lemons vary in size and juiciness. If I were you, I would measure out the juice before you use it, and start with no more than 1/4 cup. You can always add more, but you can't take it away.
12 ounces (340 grams) wide egg noodles, or other pasta shape
Zest and juice of 2 lemons (see note above); zest cut in very thin strips 1 inch long
1 cup (240 ml) heavy cream
Kosher salt, to taste
Lots of freshly ground black pepper
Parmesan, for finishing
Bring a large pot of salted water to a boil. Add noodles, and stir to separate. Cook for 8 minutes (or whatever time is indicated on the package), or until tender. Drain, then return to the cooking pot.
Just before noodles are done, combine the lemon zest, cream, salt and pepper in a small saucepan. Cook over medium heat for 2 minutes, or until cream comes to a boil.
Pour the hot cream mixture over the drained noodles, and add the lemon juice. Stir to coat. Cook over medium heat, stirring, until all the liquid is absorbed, about 1 to 2 minutes. Season with additional pepper, if desired, and divide among bowls. Top with freshly grated Parmesan.
Yield: 6 servings