This one goes out to my friend Natalie. One night early last month, she and hers were over for dinner, and I made an applesauce cake with caramel glaze for dessert. As they left, she asked about the recipe, and she's been patiently waiting for me to post it ever since. In the intervening weeks, our kitchen faucet sprung a leak – a leak that must have actually sprung a month or two before that, because by the time we noticed it, it had thoroughly saturated all the wooden surfaces below and around it, making them buckle and curl like waves on an ocean, a special ocean that smells like rot. We called Natalie and Michael, because they are handy people, and this past Sunday, they came over with their three-year-old son and gave their day to helping Brandon do a quick, cheap fix of the kitchen, ripping out approximately fifty percent of the counters and the sink (and heaving them, wheeeeeeee, out the window into the yard), patching the floor and drywall, and installing a stainless steel restaurant-supply sink and work table. I now really, really owe Natalie this cake recipe. I now owe Natalie a small-scale kitchen remodel.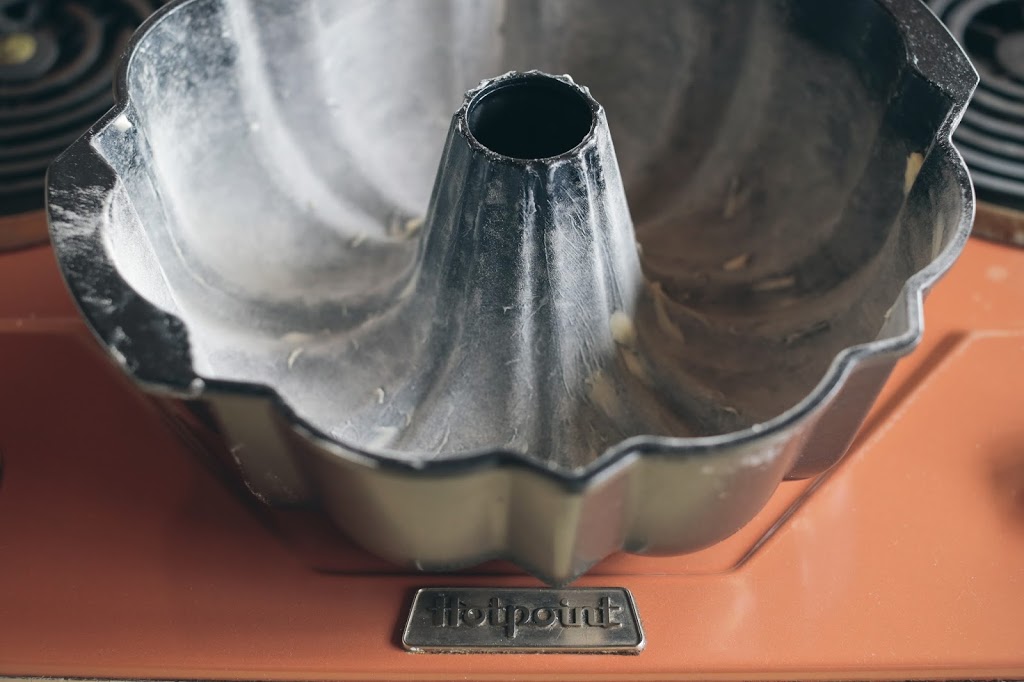 I cannot take any credit for this cake.  I cannot even take credit for finding the recipe.  It comes from the great Merrill Stubbs of Food52, and I found it because the great Youngna Park, an artist / generally creative person / someone I admire, recommended it on Twitter. It was late September, and we were going apple-picking that weekend. We came home with enough apples to fill not only most of our fridge but also most of my mother's, and over the weekend that followed, Mom and I turned them into Judy Rodgers's roasted applesauce. And then I turned most of the applesauce into cake.
The original recipe uses a Bundt pan, and that's how I made it the first time. I did not take a picture of it, because we were too busy eating it. A few days later, I made the cake again, but this time, I used one standard-size loaf pan and one mini loaf pan, with the intention of delivering the smaller one to my mom. I did not, because we were too busy eating it. I did, however, give her half. (Of the smaller one.) (With apologies.)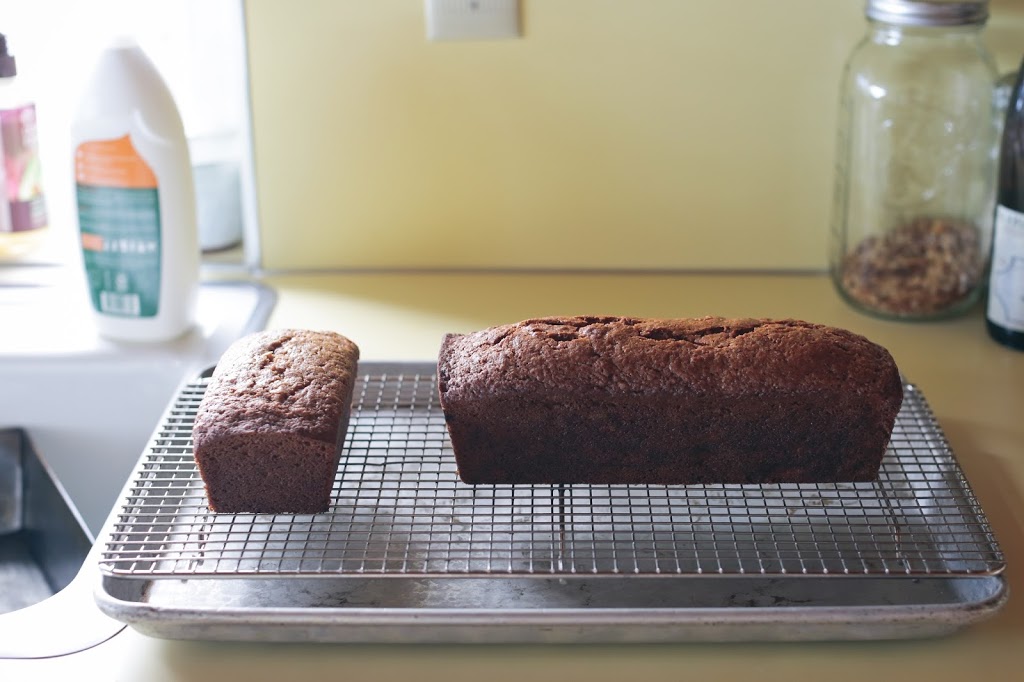 There are a lot of recipes for applesauce cake. But what makes this one so good is not only that it's very moist – thanks to a generous amount of applesauce and to vegetable oil, rather than butter – but also that it's spiced just enough. It calls for cinnamon, ginger, black pepper, and allspice, though I had no allspice, so I used grated nutmeg. (Never liked allspice much, anyway.) I also replaced the light brown sugar with dark brown sugar, because that was all we had, and because I hoped its deeper caramel flavor might sit well with the apples and warm spice. In any case, all of that made for a very, very good cake, plenty good as it was. But what made it a standout is this: once the cake is baked and cool, Merrill instructs us to make a quickly boiled glaze, cream and butter and brown sugar, and while the glaze is warm, to pour it over the top.
Taste the glaze on its own, and it's sweet sweet sweet: you can almost hear the sugar crystals between your teeth. But against the dark, fragrant cake, it's exactly right. Merrill calls it a caramel glaze. But even more than caramel, it tastes like a soft, thin layer of brown sugar fudge, or penuche – or Aunt Bill's Candy, for any Oklahomans in the crowd. Fudge! On top of cake!  Have a great weekend.
Recipe
Applesauce Cake with Caramel Glaze
If you have only light brown sugar in the house, by all means, use it.  But having made the cake both ways, with light brown sugar and with dark brown sugar, I prefer it with dark. The flavor is fuller, with a different depth.
For the cake:
2 cups (280 grams) all-purpose flour
1 ½ teaspoons baking soda
1 teaspoon kosher salt
¼ teaspoon finely ground black pepper
2 teaspoons ground cinnamon
1 teaspoon ground ginger
¼ teaspoon freshly grated nutmeg
2 large eggs
1 cup (200 grams) sugar
½ cup (90 grams) dark brown sugar or muscovado sugar
1 ½ cups (360 grams) unsweetened applesauce (though the tiny amount of sweetener in
this applesauce
is fine)
2/3 cup (160 ml) vegetable oil
1 teaspoon vanilla extract
For the glaze:
4 tablespoons (55 grams) unsalted butter, cut into chunks
½ cup (90 grams) light or dark brown sugar
1/3 cup (80 ml) heavy cream
¼ teaspoon kosher salt
About ¾ cup (90 grams) confectioner's sugar, sifted
Position a rack in the middle of the oven, and preheat the oven to 350°F. Butter and flour a standard-size (12-cup) Bundt pan.
In a medium bowl, combine the flour, baking soda, salt, pepper, and spices, and whisk to mix well.
In a large mixing bowl or the bowl of a standing mixer, beat the eggs with both sugars until light. Beat in the applesauce, oil, and vanilla until smooth. With the mixer on the lowest speed, add the flour mixture, and beat briefly, just to combine. Use a rubber spatula to fold gently, making sure that all the dry ingredients are incorporated. Scrape the batter into the prepared pan. Bake for about 45 minutes, until a toothpick inserted in the thickest part of the cake comes out clean. Cool the cake for 10 minutes in the pan on a rack before turning it out and allowing to cool completely. Make sure the cake is not at all warm when you make the glaze.
When you're ready to glaze, set the cooling rack (with the cake on it) on top of a rimmed sheet pan. This will catch drips.
Put the butter in a medium (2- to 3-quart) saucepan with the brown sugar, cream, and salt, and set over medium heat. Bring to a full rolling boil, stirring constantly. Boil for one minute exactly, and then pull the pan off the heat. Leave to cool for a couple of minutes, and then gradually whisk in the confectioner's sugar until you have a thick but pourable consistency – and note that you may not need all the sugar! I don't use the full ¾ cup (90 grams). Really, eyeball it, and go with your gut. If you've added too much sugar and the mixture seems too thick, add a splash of cream to thin it slightly. And do not worry if the glaze seems to have little flecks of powdered sugar in it at first; just keep whisking, and they will dissolve. Then immediately pour the glaze over the cake, evenly covering as much surface area as possible. Let the glaze set before serving the cake.
Yield: a good 10 servings