A couple of weeks ago, I got up earlier than usual, while the light was still blue, and baked a cake.
We are having a very adult fall – not adult in the sense of, I don't know, the adult film industry, but in the sense that we now have a child who is enrolled in a real school. I remember only bits and pieces of my own first year of school, but I do remember operating under the happy illusion that my parents were bonafide adults who had things figured out. Having now crossed over to the other side of that illusion, I can report that, whoa, hey, it's an illusion! June is no fool, but she's content to play along as necessary. Yesterday, in the car on the way home, she informed me, apropos of nothing, that she has no blood. When I asked what's inside her body instead, she paused and stared out the window – Moms, man! Totally clueless! – and then replied, "Pee and poop, silly." (She gets it from me.)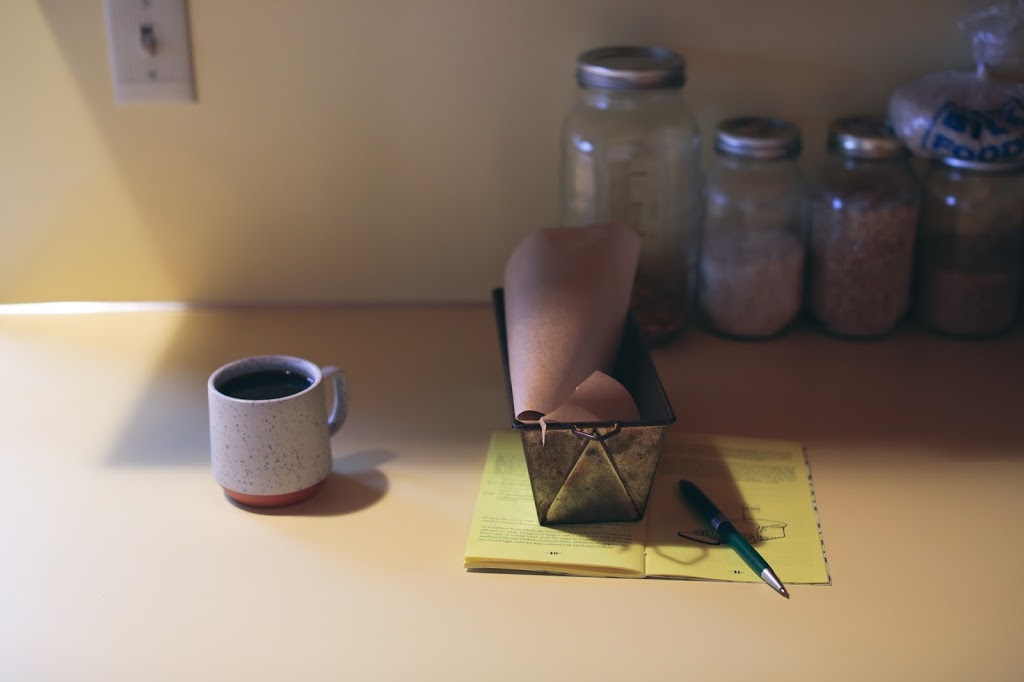 In any case, we are now firmly into fall. My child, who has no blood, is now a child who goes to school. I am, as ever, a person who will bake a cake before the sun is up, after the sun is down, and anywhere in between, because I like to.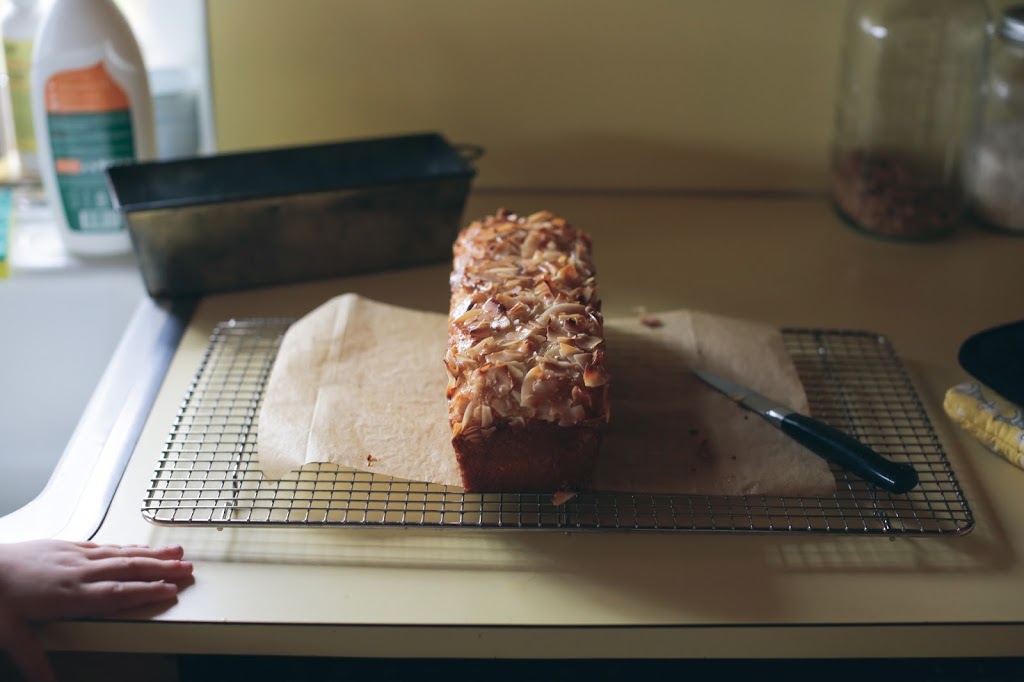 This is Alison Roman's Coconut-Lemon Tea Cake, from her Short Stack mini-book Lemons. I picked up a copy of Lemons on a whim one day at Book Larder, and I immediately wanted to make everything in it, starting with a Campari/lemon/rosé drink called "Rosé All Day," or maybe "Meyer Lemon Moonshine" (which, as Roman explains, "is one of the easiest things you can do with lemons, and of course the most fun (because it will get you very drunk)."). But I went for cake.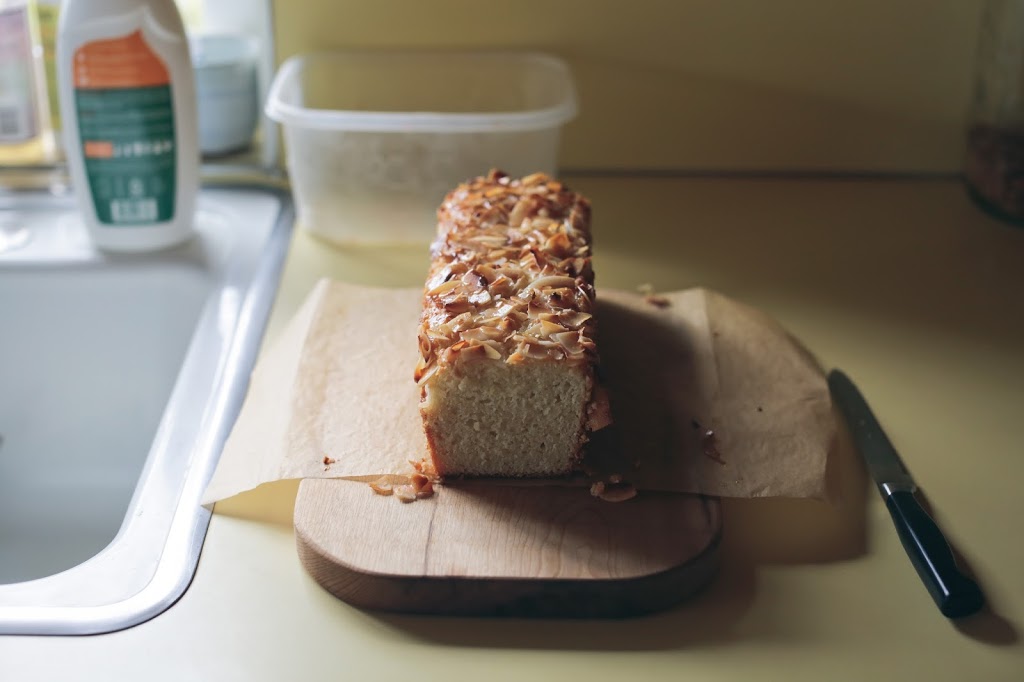 There are a certain few cooks whose recipes I trust instinctively and always. It's not to say that I trust only those few, but theirs are the recipes that most consistently appeal to me, make me feel confident, and in the end, make me proud. The late Judy Rodgers, for instance, is one of those cooks. Another is Alison Roman. I don't know her, and she doesn't know me, but she was a senior food editor at Bon Appétit, and I first saw her name in the magazine, attached to a lot of good recipes. That raspberry-ricotta cake I wrote about last March, that was hers. She's now moved over to BuzzFeed Food, but in any case, wherever she is, she knows her way around a lemon.
This cake uses lemon in two forms: the grated zest, which you rub into sugar to infuse and perfume the batter, and the juice, which you make into a syrup to pour over the finished cake.  There's also coconut in two forms, though its flavor is more subtle: there's coconut oil in the cake itself, and coconut flakes on top, which get toasted and sticky with the lemon syrup. What you wind up with is a texture and heft a lot like pound cake, but with a heady whack of lemon and the satisfying chew of coconut. June and I ate it for breakfast, and I took another slice after lunch. My mother, who loves a lemon dessert, came over a couple of days later and stumbled upon what was left of the loaf, still moist, when she went to put away an upturned aluminum mixing bowl on the counter and found that I'd co-opted it as a cake dome. She raved about it. This one's for her.
Recipe
Coconut-Lemon Tea Cake
Three notes before we get started: I tend to have regular whole-milk yogurt on hand, not Greek yogurt, and I used what I had. I haven't had this cake when made with Greek yogurt, but I can imagine that it could only be better. It was plenty moist and tender with regular yogurt. Also, re: the mildly fiddly step of rubbing the sugar and lemon zest together with your fingers, I know I know I know, but do it. It infuses the sugar with lemon flavor, and lemon flavor is what this cake is all about. Lastly, because coconut oil is very hard and crumbly at room temperature, I find it difficult to measure by volume. So I measure it by weight, scraping and chipping it from the jar onto the scale, and then I melt it.
1 ½ cups (210 grams) all-purpose flour
2 teaspoons baking powder
¾ teaspoon kosher salt
1 ¼ cup (250 grams) sugar, divided
2 tablespoons finely grated lemon zest
¾ cup (210 grams) whole-milk Greek yogurt (see note above)
½ cup (80 grams) coconut oil, melted
2 large eggs
½ cup (35 grams) unsweetened coconut flakes
2 tablespoons fresh lemon juice
Preheat the oven to 350°F. Grease a (9"x5"-ish) loaf pan lightly with cooking spray or butter, and line it with parchment paper. Grease that too, while you're at it. (Though trying to grease paper with butter can be an infuriating, wrinkle-filled endeavor, so I won't blame you if you skip it.)
In a medium bowl, whisk the flour, baking powder, and kosher salt.
In a large bowl, rub 1 cup of the sugar with the lemon zest until the sugar is fragrant and yellow and smells, well, like you just rubbed a lemon in there. Whisk in the yogurt, coconut oil, and eggs. Add the flour mixture, and stir just to blend.
Scrape the batter into your prepared pan, and smooth the top. Sprinkle coconut flakes over the surface, and bake until the top of the cake is golden brown, the edges pull away from the side of the pan, and a tester inserted in the center comes out clean, 50 to 55 minutes. (I found that the coconut flakes were browning before the cake was done, so I tented the cake loosely with foil after about 45 minutes.)
While the cake bakes, combine the lemon juice and remaining ¼ cup of sugar in a small saucepan, and bring it to a simmer. Cook, stirring occasionally, just until the sugar has dissolved. Turn off the heat, and keep the mixture warm. When the cake is done, brush the top with the syrup; then return the cake to the oven and bake for 5 minutes more to re-crisp the coconut. Remove the cake from the oven, and cool completely before serving.
Yield: 1 standard-sized loaf