Hello from a train en route to Portland, Oregon! I'll be at Jim Dixon's Real Good Food olive oil warehouse tomorrow, Monday, from 3 to 4, if you'd like to stop by for some olive oil and a book, and then I'll be reading at Powell's on Burnside tomorrow night at 7:30. And then, on the way home, because I am an unstoppable book-signing machine, I'll be swinging by the Bayview School of Cooking, in Olympia, for an event at 6:00 pm. If you're in the area(s), come on out.
Now, in the meantime, I promised you the recipe for June's new favorite thing, which, now that I think about it, may also be my new favorite thing. The thing in question is minestra di piselli e polpettine di pollo, or English pea and chicken meatball soup. Does it sound more enticing if we call it herbed chicken meatballs in broth with peas and Parmesan? It does have herbs and Parmesan. It seems wrong to not mention that.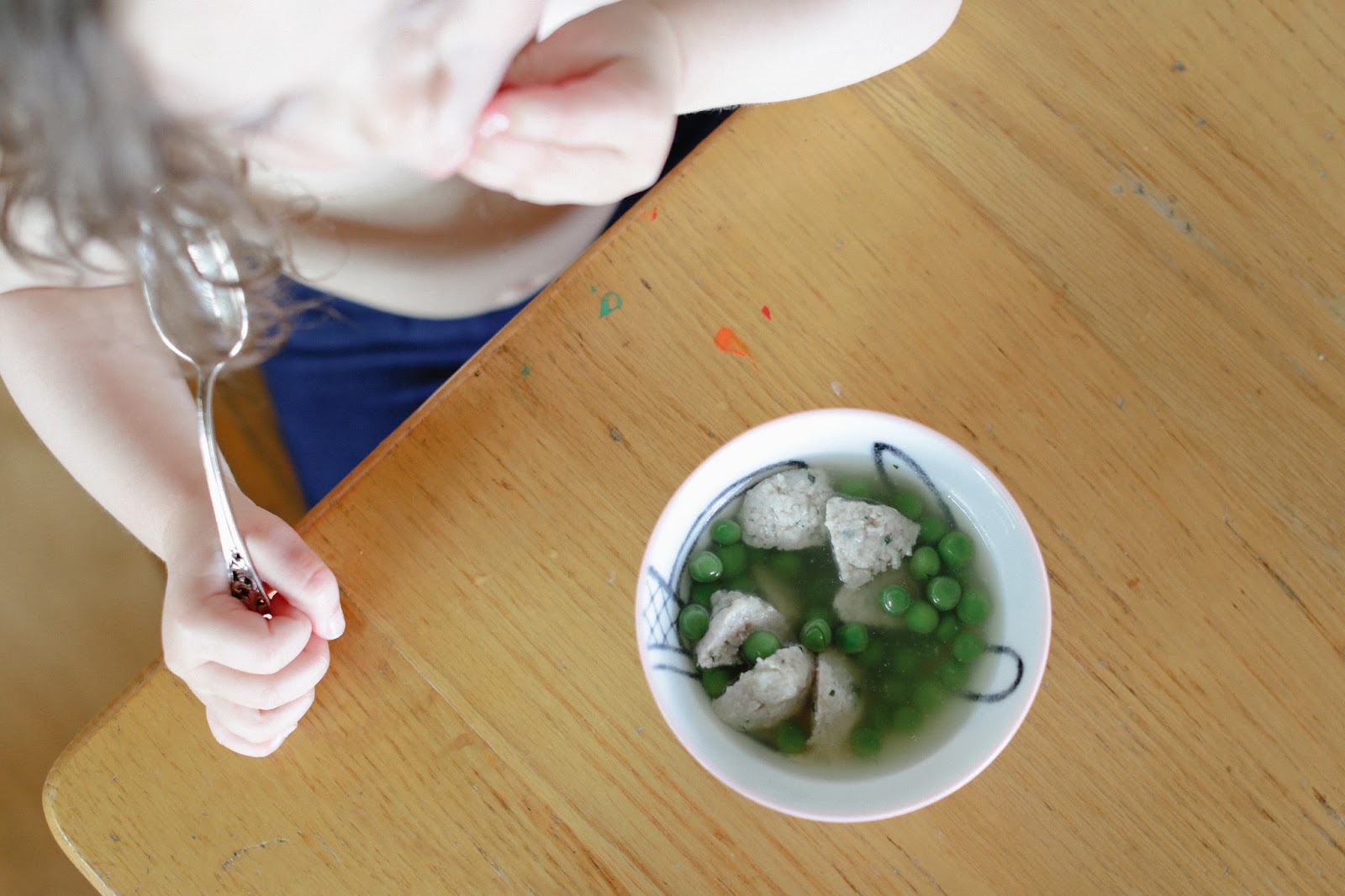 First of all: poached meatballs. I know. Not attractive. In general, poached meat is rarely attractive, except maybe poached chicken breasts, maybe. That aside, look at the peas! Attractive! The golden(ish), clear(ish) broth! The grated Parmesan, which I forgot to put on for this photo! And more to the point: the flavor!
A couple of years ago, a small, handsome book called Zuppe, by Mona Talbott, showed up on my stoop. (I often receive free, unsolicited copies of newly published books, and this was one of them. Full disclosure, etc.) Talbott, I learned, was the founding executive chef of the Rome Sustainable Food Project at the American Academy in Rome, where she cooked for the Academy's community of scholars, artists, and thinkers. I immediately got the sense that she had spent a lot of time thinking about soup – my kind of person – and her recipes felt like the stuff of Italian grandmothers, humble but satisfying, the way I want everyday cooking to feel. I thumbed through the book, and then I put it on top of the fridge with the other dozen or so cookbooks that I use most, even though I hadn't used it yet. I just had a feeling.
The recipes in Zuppe are not elaborate, and they're also not very detailed: they assume that you already know something about cooking and have your own opinions and instincts to bring to the task. That's not necessarily a problem: these recipes have some very good ideas, very doable good ideas that I wouldn't come up with alone, and if you jump in and follow your nose, they're great. (I find that many of Nigel Slater's recipes work the same way.) For instance, this soup. It could be plain. But if you make sure that your broth is flavorful, your fresh herbs are fresh, your meatballs are seasoned well, and your Parmesan is good, it's quietly perfect, just what I want to eat as late spring turns into summer. It feels comforting, filling, but also light. We've mostly eaten it for dinner, because it's so easy to do ahead (see below) and because many days, by dinnertime, I can barely manage to pour a Campari Shandy and let's not even talk about actual cooking no no no. It would also be an ideal lunch.
I should also say, for those of you in the business of feeding babies or toddlers, that this sort of meal is spot-on for June. (Right now. Tune in for the next episode!) I quarter her meatballs, and she eats them and the peas mostly with her fingers, and then she drinks the broth that's left. It makes us both happy.
Recipe
Herbed Chicken Meatballs in Broth with Peas and Parmesan
Adapted from Zuppe, by Mona Talbott
I made this one evening after June was in bed, and it fed both of us for the next couple of days. When you pack it up for the fridge, keep the meatballs separate from the broth, so that they don't fall apart and the broth doesn't get cloudy. When you want to eat a portion, just ladle out some broth, plunk in a few meatballs and some peas, and warm it. Grate on some cheese, and it's ready.
If you have a choice about your ground poultry, use dark meat. As for the chicken broth, I try make some whenever I roast a whole chicken: I toss the carcass in a deep pot with a quartered onion, a roughly chopped carrot, a roughly chopped stalk of celery, a handful of cilantro or parsley stems (if I have them), and some salt; cover it all generously with cold water; bring it to a simmer; put it in a 200- or 225-degree oven overnight, and then I strain it, let it cool, and stash it in the freezer. But when I'm not so spectacularly on top of things, Better Than Bouillon is quite tasty.
Oh, and I think this soup would be wonderful served with a slice of garlic-rubbed, olive-oiled toast at the bottom of the bowl, to soak up broth and get silky.
3 ounces (85 grams) rustic, country-style bread
¼ cup (60 ml) whole milk
18 ounces (540 grams) ground chicken or turkey
6 sprigs Italian parsley, leaves finely chopped and stems discarded
4 sprigs marjoram, leaves finely chopped and stems discarded
Black pepper
Salt
2 ½ quarts (scant 2 ½ liters) chicken stock
12 ounces (340 grams) fresh or frozen peas
Grana Padano or Parmesan, for grating
Cut the crusts off the bread. Cut the bread into roughly ½-inch cubes, and put it into a large bowl. Add the milk, toss to coat, and leave to soak for about 20 minutes. Then squish the bread into a mush, and add the ground chicken. Add 1 tablespoon each of the chopped parsley and marjoram, a few grinds of black pepper, and a couple of very generous pinches of salt. (If you're using table salt or fine sea salt, about 1 teaspoon should be right.) Mix with a fork, or with your hand, until evenly combined. (If you're unsure of the seasoning, at this point you can fry off a little bit of the meat mixture and taste for salt.) With damp hands, form the meat into 1-inch balls. You should get approximately 25. Chill the meatballs for 30 minutes before cooking.
Bring the chicken stock to a simmer in a wide pot, such as a Dutch oven. (This is a good time to taste the stock for seasoning.) Gently drop the meatballs into the simmering stock, and cook for 5 minutes. You're looking for their internal temperature to reach 165 degrees. Remove the meatballs from the stock, and set aside. If the broth is cloudy, you can strain it, or just continue on. You can now go one of two ways:
1. If you plan to serve the soup immediately, add the peas to the simmering stock, and cook until tender, about 5 minutes. Return the meatballs to the pot, and stir in the remaining chopped herbs. Serve with freshly grated Grana Padano or Parmesan.
2. If you plan to eat the soup later, chill the meatballs and the stock separately. When you're ready to eat, bring the broth back to a simmer, add the meatballs and peas, and cook until everything is warm and the peas are tender, maybe 5 minutes. Stir in the remaining chopped herbs. Serve with freshly grated Grana Padano or Parmesan.
Yield: 4 to 6 servings