So, how bored will you be if we talk about soup again? Ham Bone, Greens, and Bean Soup? I didn't set out to write about this one – I made it mostly as a vehicle for a ham bone that I put in our freezer last April, forgot, and then triumphantly unearthed the week before last – but June liked it so much that she did her special high chair "dance," swaying from side to side and grunting, so I changed my mind. Swaying and grunting: strong praise from young June E. A. Pettit! (Also, Swaying and Grunting: what I will call my debut album when I launch my third career as a down-and-out country singer.)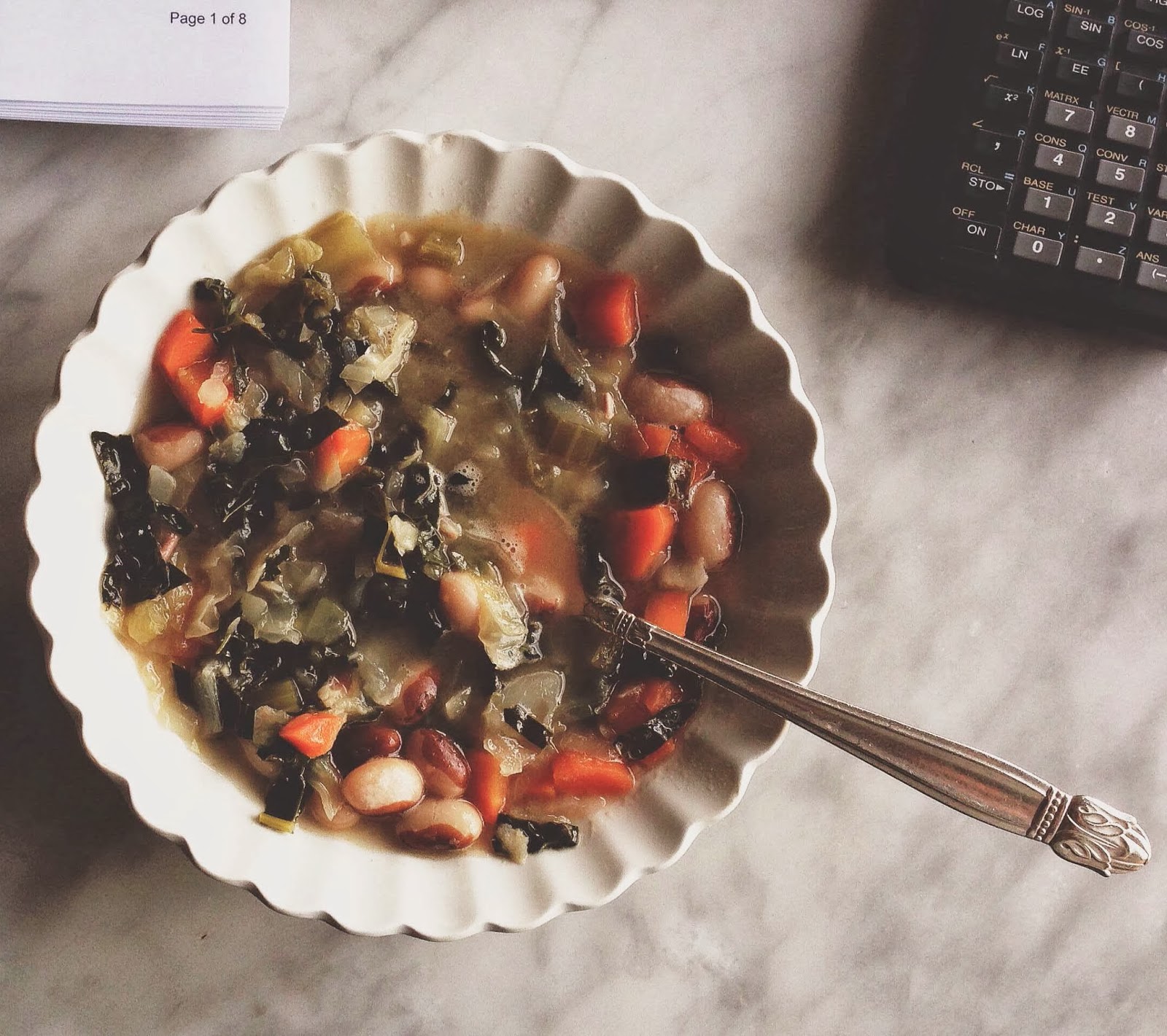 I know that it's almost Thanksgiving, and that I'm supposed to be talking about cranberries or what to eat with your turkey, and that you and I both have planes to catch and grocery lists to write, but please consider filing away this recipe for the future, a future after the holidays, when you may find yourself with a couple of free hours and a defrosted ham bone that was once lost beneath some frozen bananas. This soup is for a day like that, a cold day when soup is what a person wants to eat, a nice ordinary day. June and I shared a bowl of it one Sunday night, and I ate another bowl while I did payroll on Monday afternoon, and it was so good, so right for right now, that I considered hoarding the rest of the batch. But because no expense is too great for the opportunity to watch June "dance," I let her have it.
The recipe for this soup comes from Melissa Clark and her wonderful book Cook This Now. I was flipping through it recently, and I don't know what it is, but every recipe she writes sounds fantastic. She's… bewitching. That's the word for it.  I read one of her recipe titles, any one of her recipe titles, and I come to a few minutes later, standing in front of the refrigerator. Buckwheat Pancakes with Sliced Peaches and Cardamom Cream Syrup! I don't like anything but maple syrup on my pancakes – the truth, revealed – but because of Melissa, I will make that damned cardamom cream syrup. And Seared Wild Salmon with Brown Butter Cucumbers!   Fragrant Lentil Rice Soup with Spinach and Crispy Onions!  Ham Bone, Greens, and Bean Soup!!!!!!  My tea this morning might have been stronger than I thought.
This soup is one of those full-meal-in-one-bowl numbers, thick with beans, carrots, celery, onion, cabbage, and kale, with big flavor from the ham bone and some bacon fat.  (You start the recipe by cooking chopped bacon, which you then scoop out and reserve for a garnish while you cook the vegetables in the fat.  As you can imagine, the bacon fat contributes a nice, meaty richness. But if you'd rather skip the bacon step for some reason, I'll bet you could use olive oil or butter. I should also mention that I forgot to use the bacon garnish and didn't miss it, possibly because the bacon fat and ham bone were so flavorful.)  The beans wind up tender and creamy, and the broth is sweet and smoky and deeply hammy, but the best part might be the cabbage, which softens until it nearly melts.  I ate mine with a dash of hot sauce, because pork likes a little vinegary heat. If you find yourself with a ham bone, you know what to do.
P.S. Yesterday, Brandon and I shared a bunch of tips for making mashed potatoes over at Food52. Hop to it! And while you're there, check out the other Thanksgiving tips, too, from Rose Levy Beranbaum, Adam Rapoport, and Andrew Knowlton. Pretty great.
P.P.S. If you need a Thanksgiving cocktail idea, how about, ahem, a Nardini Spritz?
Recipe
Ham Bone, Greens, and Bean Soup
Adapted very slightly from Melissa Clark's Cook This Now
What makes this soup different from one that uses, say, ham hocks, is that the marrow in the ham bone melts into the soup, bringing extra richness and body. So if you have a ham bone, use it! You will be rewarded. If not, a ham hock will also be good. My ham bone fit easily into the pot I used, but Melissa Clark suggests that, in general, you ask your butcher to cut it in half or thirds for you, so that it's guaranteed to fit and also has some marrow exposed.
As for beans, you could probably use any light-colored bean you like. I had a bag of Rancho Gordo's yellow eye beans in the cupboard, so I used those. (Rancho Gordo beans make a great holiday present, by the way.)  Also, I find that adding a little salt when I soak dried beans makes them turn out better when I cook them, and here's a video from America's Test Kitchen that explains why.  I don't tend to use the full amount of salt that's called for in the video, but I have, and it worked beautifully.  (I don't use that much because I tend to forget to rinse the beans after soaking, and then I wind up with salty beans. Using less salt still seems to help, and then there's no need to rinse.)
1 cup (175 grams) dried pinto beans, or another bean you like
4 strips bacon, cut into ½-inch pieces
3 large carrots, diced
2 celery stalks, diced
1 large yellow onion, diced
3 garlic cloves, finely chopped
1 ham bone (about 1 ¼ lb. / 565 grams)
1 bay leaf
2 teaspoons kosher salt, or to taste
½ head (about ¾ lb. / 340 grams) green cabbage, cored and thinly sliced
1 bunch kale (about ½ lb. / 225 grams), stems removed and leaves chopped into bite-size pieces
Freshly ground black pepper, for serving
Hot sauce, for serving
Twelve to 24 hours before you plan to start the soup, put the beans in a bowl and cover with plenty of cold water. Add a generous pinch of salt. Set aside at room temperature. (Or, if you don't have that much time, you can instead use a quick-soak method: put the beans, lots of cold water, and a generous pinch of salt in a pot, bring it to a boil, turn off the heat, cover the pot, and let stand for 1 hour. Drain, and then proceed with the recipe.)
Warm a large (about 5-quart) pot over medium-high heat. Add the bacon, and cook until crisp, about 5 to 7 minutes. Remove the bacon with a slotted spoon to a paper towel-lined plate, and save for garnishing the soup. Add the carrots, celery, and onion to the bacon fat in the pan. Cook, stirring, until softened, about 5 minutes. Add the garlic, and cook for 1 minute more.
Put the ham bone and bay leaf into the pot, and add 8 cups water and 2 teaspoons kosher salt. Bring the mixture to a boil over high heat; then add the beans, reduce the heat to medium-low, and simmer for 30 minutes. Stir in the cabbage and simmer for 30 minutes more. At this point, fish out a bean and taste it: it should be nearly done. If it's still pretty firm, let the soup simmer a bit longer before continuing. Then stir in the kale and simmer until the kale is soft but still bright green, about 15 minutes. Remove the ham bone and bay leaf. If you'd like, you can pull the meat from the ham bone, chop it up, and stir it back into the soup.
Serve with freshly ground black pepper and a dash of hot sauce, and more salt, if needed. (Oh, and crumbled bacon, if you want.)
Yield: 6 to 8 servings