Earlier this week, I think it was, one of you kindly wrote to me, asking if I might do a post about what I've been eating for lunch lately. The reader who wrote to me is pregnant, and there are a number of foods that us pregnant ladies are told to avoid, making quick, easy lunches hard to come by: no deli meats, no (uncooked) cured meats, no high-mercury fish (tuna, for example), no cheeses of certain types, and so on. I am going to spare you, however, a post on what I've been eating at my desk lately, because my lunches are about as riveting as C-SPAN. The post would go something like this: nut butter sandwich, carrots, tangerine, nut butter sandwich, carrots, tangerine, nut butter sandwich, carrots, tangerine, hard-boiled egg, bowl of soup, nut butter sandwich, carrots, tangerine, and if you are still awake at this point, you win a pound cake.
A pistachio pound cake. With citrus.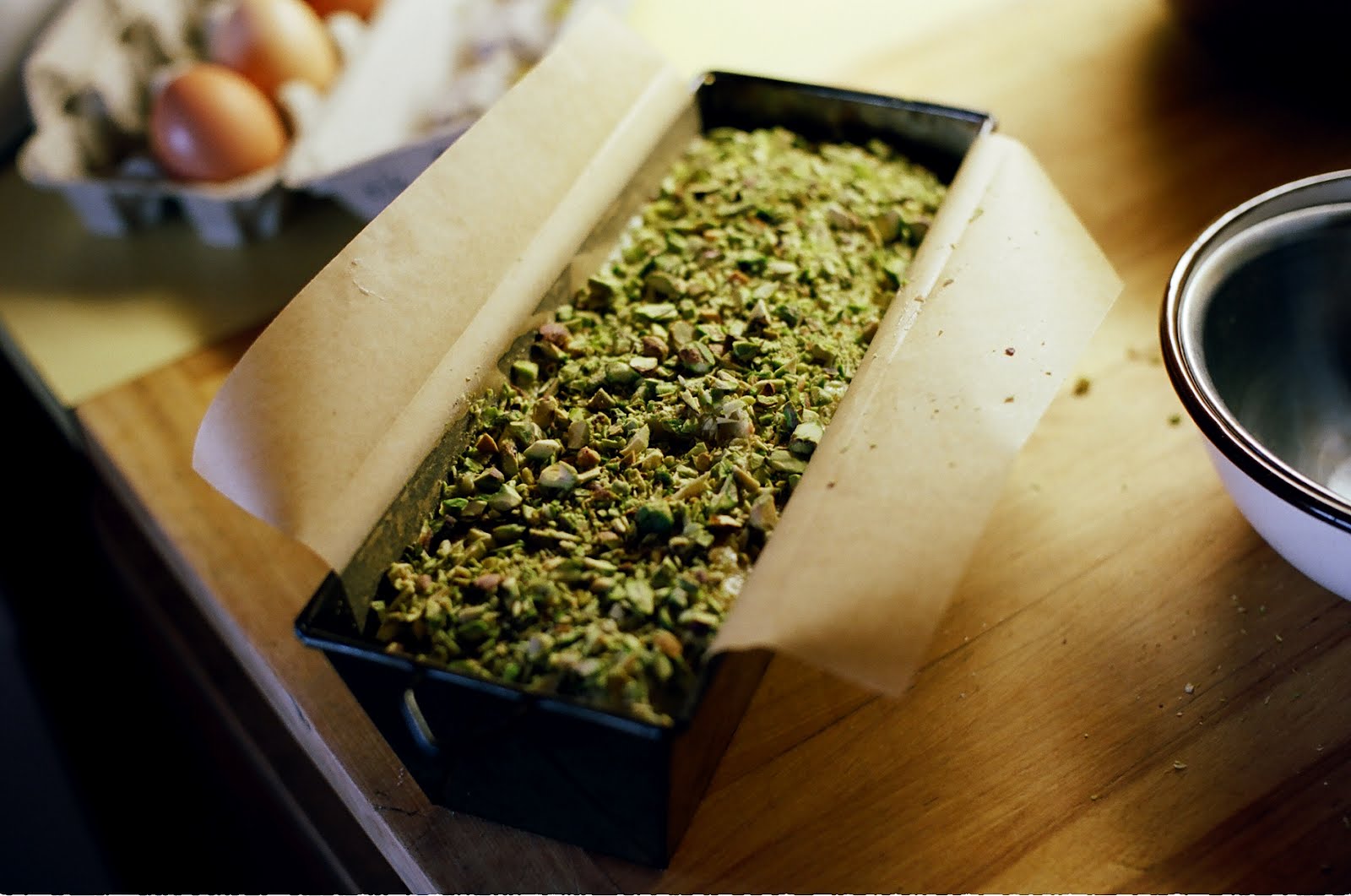 I haven't found myself with much time for cooking lately, or not outside of recipe testing for my manuscript, but this cake caught my eye as I was thumbing through the latest issue of Bon Appétit. The merest mention of the word "pistachio" can turn my head, and not surprisingly, this cake shot to the top of my to-do list, above more sensible tasks like making spinach-cilantro soup or poaching chicken for salad. This, for the record, is how a 33-year-old woman winds up lunching on nut butter sandwiches and carrot sticks, the official midday meal of American first graders. I blame the editor at Bon Appétit who, as the headnote explained, ate this pound cake at a restaurant in Houston and declared it her "dream dessert." You can't use words like that and expect people to go on living their lives as though nothing had happened, as though there were not a pistachio pound cake recipe to be tried.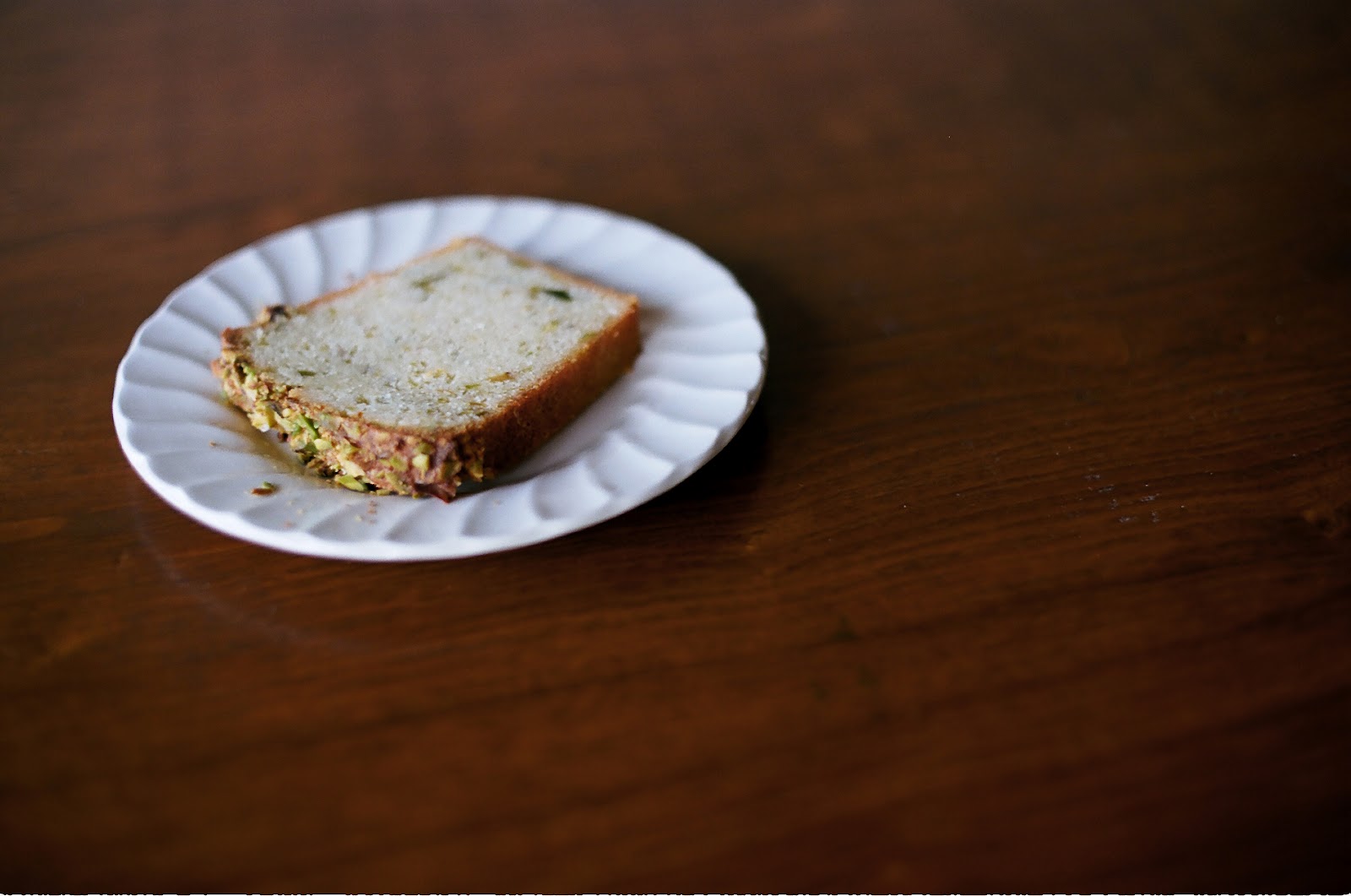 So one night last weekend, I baked a pistachio pound cake. It should be called a pistachio-citrus pound cake, really, because it contains juice and zest from three different citrus fruits. The basic batter is classic pound cake – plenty of butter, sugar, eggs, and flour – but into that go fresh lemon juice, fresh orange juice (or juice from a Pixie tangerine, if you happen to have some on hand; I highly recommend it), some zest from that same orange (or Pixie tangerine), and some zest from a lime. Then you fold in a generous dose of coarsely chopped pistachios, scoop the batter into its loaf pan, and put another generous dose of pistachios on top. Actually, I should warn you: it may seem as though you have too much chopped pistachio to cram onto the top of the cake, but you must persevere. There's no such thing as too much pistachio.
Like other pound cakes I've made, this one bakes for a while (about 90 minutes) in a low-to-moderate oven, which is convenient, because it gives you time to redeem yourself by cooking something nutritious – or, if you prefer, to rest your feet and nurture your two-decades-long fascination with Sexy Frankenstein, also known as Jonny Greenwood, by reading that Radiohead story in the current Rolling Stone. Meanwhile, the house will fill with the scent of toasted pistachio and orange, heady and almost exotic. When you open the oven door to check on your cake, you'll be rewarded with the sight of a tall, pistachio-crusted, perfectly browned loaf. I've done a lot of baking, and I can't remember another time when I felt so giddy or so proud as I pulled a cake out of the oven. It's a handsome thing.
We ate the cake plain, in sturdy slices, for breakfast or after lunch, and while it was very good right away, it gets even better, more delicate, once the flavors settle for a day. Like a proper pound cake, it's firm and buttery, but it gets a gentle lift from the citrus, both in flavor and in fragrance, and then, behind it, there comes the deep, toasty, rumbling flavor of the pistachios. It's an ideal afternoon cake. If I were going to dress it up for company, I might cut up some strawberries, soften them in a little sugar, and heap them on top of a slice, maybe with some lightly whipped cream – or, wait, even better, just spoon on some strawberry conserve. Or I might do nothing at all.
P.S. True story, and yes: a bar (probably) in July + a baby (probably) in September = we are nuts. But happy.
P.P.S. It's a girl(!).
2 cups (260 grams) all-purpose flour
1 ½ tsp. kosher salt
1 tsp. baking powder
2 sticks (226 grams) unsalted butter, at room temperature
2 cups (400 grams) sugar
5 large eggs
2 Tbsp. fresh lemon juice
2 Tbsp. fresh orange juice
2 tsp. finely grated orange zest
1 tsp. finely grated lime zest
1 cup (125 grams) shelled, unsalted pistachios, coarsely chopped
Position a rack in the middle of the oven, and preheat the oven to 325°F. Lightly butter a 9"x5" loaf pan, or grease it with cooking spray. Cut a rectangle of parchment paper to line the bottom and the two long sides of the pan, leaving a little overhang. Press the parchment paper into the dish, and grease it lightly, too.
In a medium bowl, whisk together the flour, salt, and baking powder. Using an electric mixer, beat the butter on medium speed until light and fluffy, about 2 minutes. Add the sugar, and beat until well incorporated, 1 to 2 minutes more. Add the eggs one at a time, beating to blend between additions. Add the juices and the zests, and beat until well combined. (Don't worry if the batter looks curdled.) Add the flour mixture, reduce the speed to low, and beat until just incorporated. Add ¾ cup of the pistachios, and fold in gently. Pour the batter into the prepared pan, smoothing the top. Sprinkle the remaining ¼ cup pistachios over the top.
Bake the cake, rotating it halfway through, until a tester inserted into the center comes out clean, about 1 ½ hours. Transfer it to a wire rack, and let it cool completely in the pan. Run a sharp knife along the short ends of the pan to loosen the cake; then pull up on the parchment paper to lift the cake out of the pan.
Note: The flavor of this cake is best on the day after it's made.
Yield: 1 loaf