Month:
July 2011
I may be too late for strawberries. I worry about that. But on the off chance that you can still get them where you live, and that they're still worth eating, I will say: you should try this. And hurry. If it helps to get you out of the chair – because I can see that you're still sitting there; I have powers – repeat after Melissa Hamilton and Christopher Hirsheimer: "a conserve of soft berries in a barely set syrup." A conserve of soft berries in a barely set syrup! A conserve of soft berries in a barely set syrup!!!!!!! GO.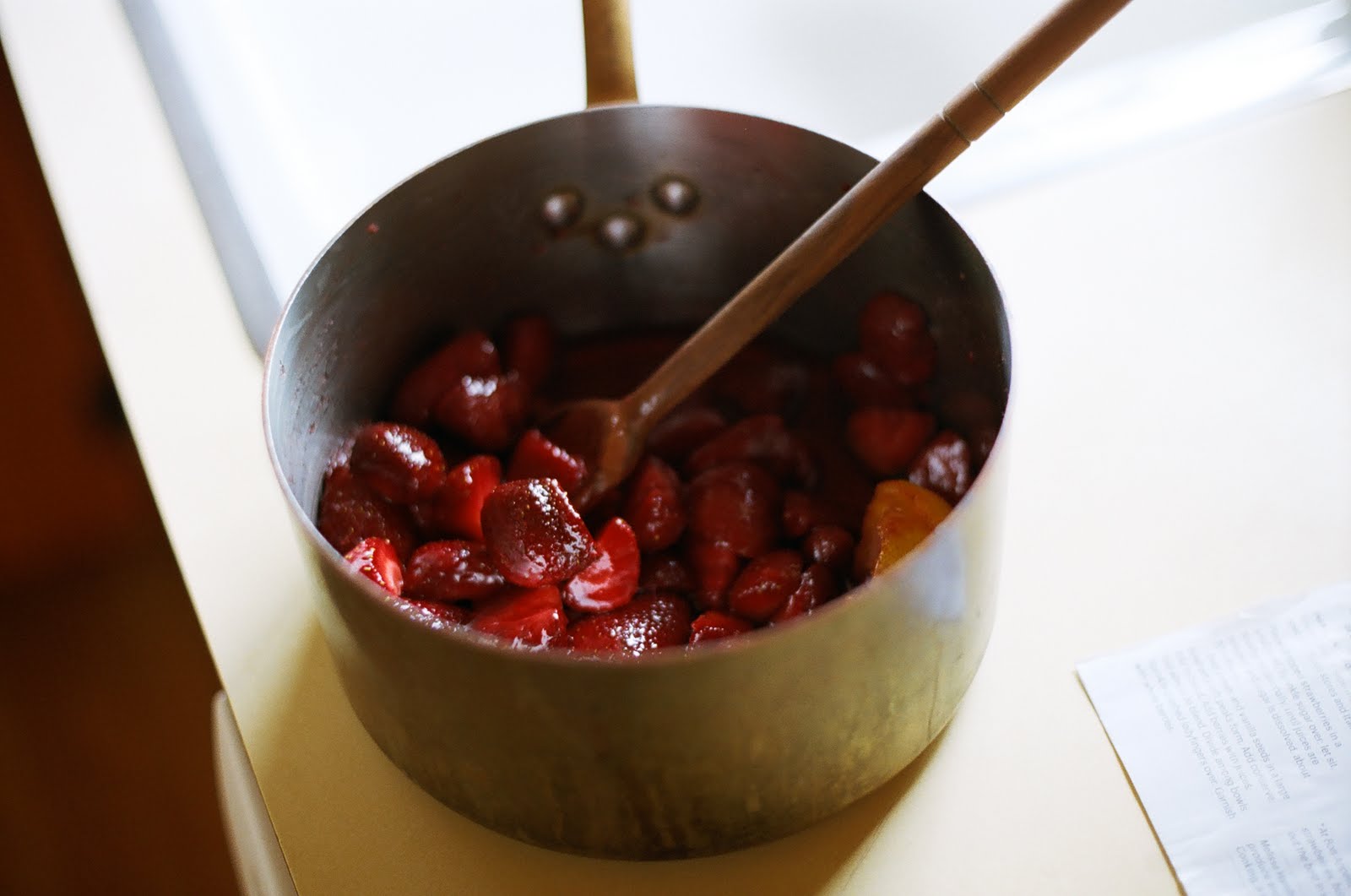 Before we start, I should admit to a problem, and that problem is jam. I love to make jam, jelly, preserves, anything along those lines, but I rarely eat them. I like my toast with only butter, and my scones with nothing but themselves. I manage to get myself around a lot of peanut butter, but only occasionally in the form of peanut butter and jelly. My cabinets are an arsenal of jam, but here in the Land of Wizenberg, we rarely go into battle. That's why I like this strawberry conserve. It appeals to the part of me, the highly irrational part of me, that wants constantly to make jam, but it isn't really jam. It's more useful than jam. It goes to places where jam doesn't go. It starts from halved strawberries, and because it's a conserve, or a whole-fruit jam, it doesn't get a long cooking; the berries are simmered only briefly, until they're very soft but still have integrity, like self-contained pockets of concentrated strawberry juice. It occurs to me that that could also serve as nice ad copy for Capri Sun. I always wanted Capri Sun, and I was never allowed to have it. You don't forget these things.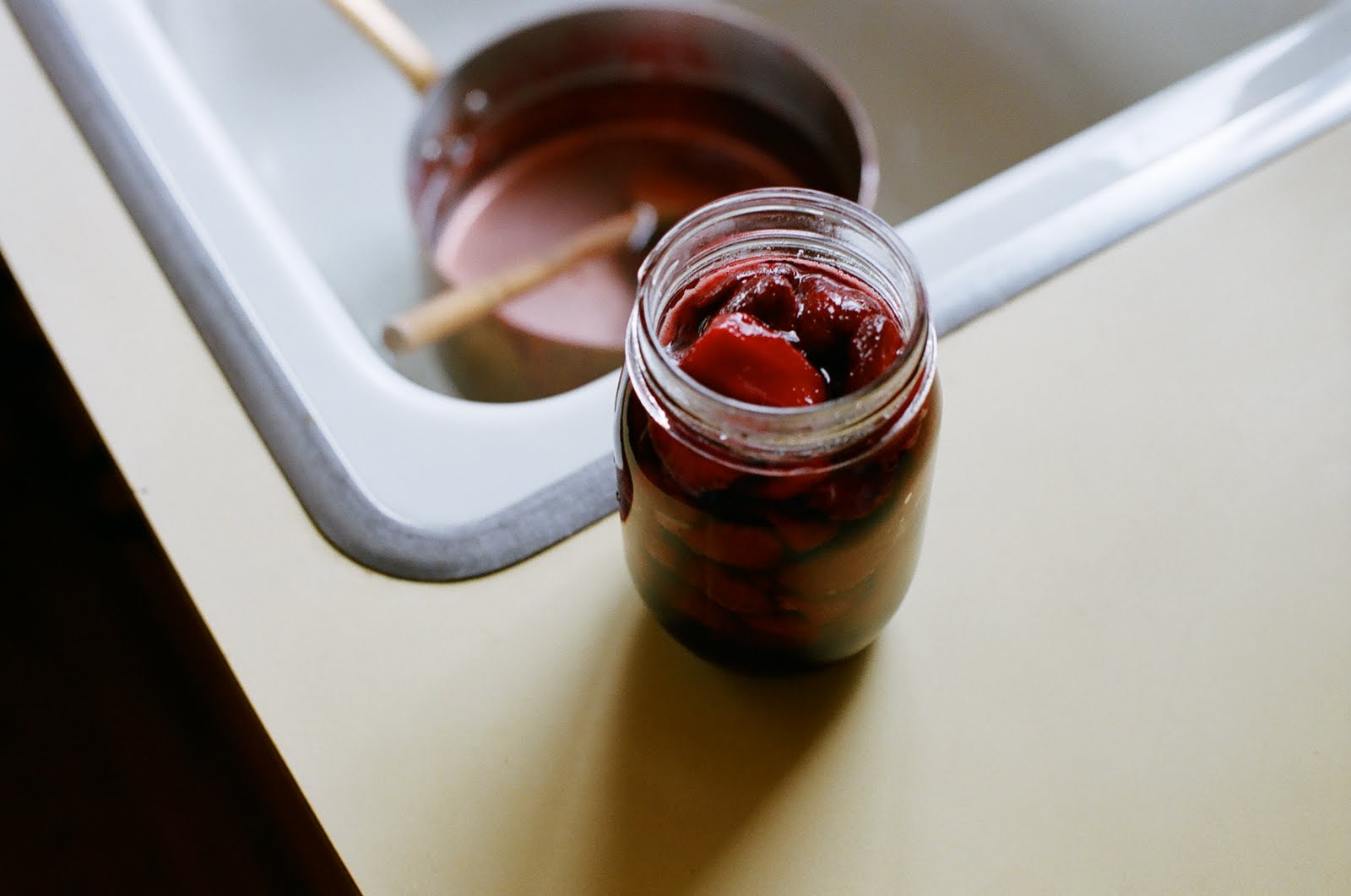 In any case, I love this strawberry conserve. I like that the berries taste like jam but stay in their discrete halves, perfect for all kinds of uses. I also like that the berries are suspended in a thick strawberry syrup, so what you get here is really a two-in-one deal. You can, as Hamilton and Hirsheimer suggest, lay one of these strawberries on top of a cracker or small toast with a slice of Serrano ham or prosciutto and a drop of aged balsamic vinegar. There might not be a better cocktail snack. On the sweeter end of things, you could also fold them into whipped cream for a fool. Or you could do as we did this morning and put them on a pancake. My father-in-law, who is currently visiting from New Jersey, went out on a limb and developed a particularly daring variation involving strawberry conserve AND maple syrup. You can imagine. You could also put them on a waffle. Or ice cream. Plain yogurt. Cake.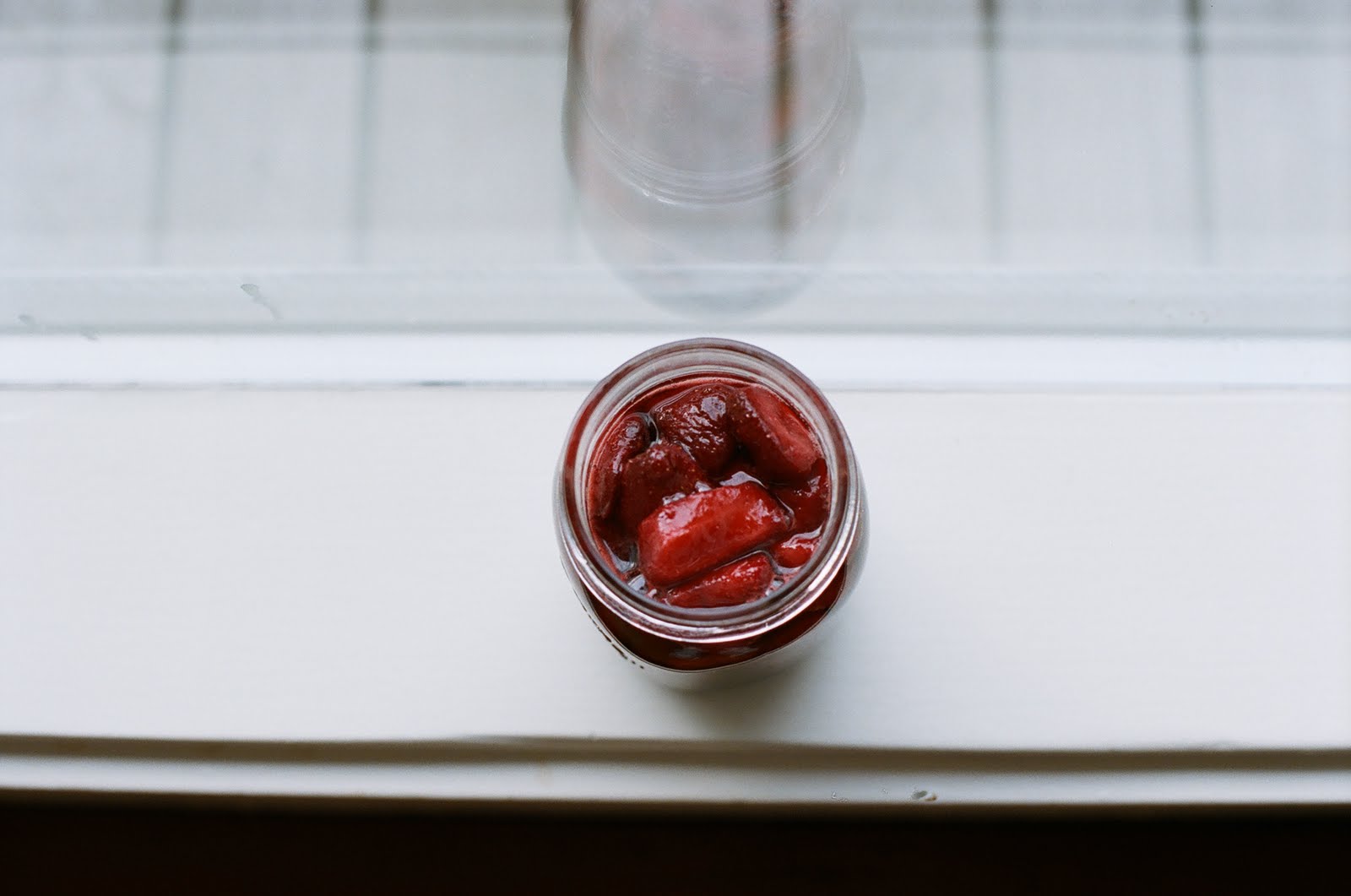 And somehow, though I said only two paragraphs up that I am boring about my toast, I think the best place for this conserve might be a piece of buttered toast. A soft, pulpy strawberry does a lot for raspy bread, and vice versa. It can lead to the kind of sordid scene where you sit at the table with a piece of glistening toast and a jar of conserve with an iced tea spoon upright in it, and each time you take a bite, you pull up a single berry and lay it on top, and you do that until you're out of toast, and then you make more toast, and you do that until you're out of berries. And then you've got the syrup that's left behind, which is to say, you're just starting.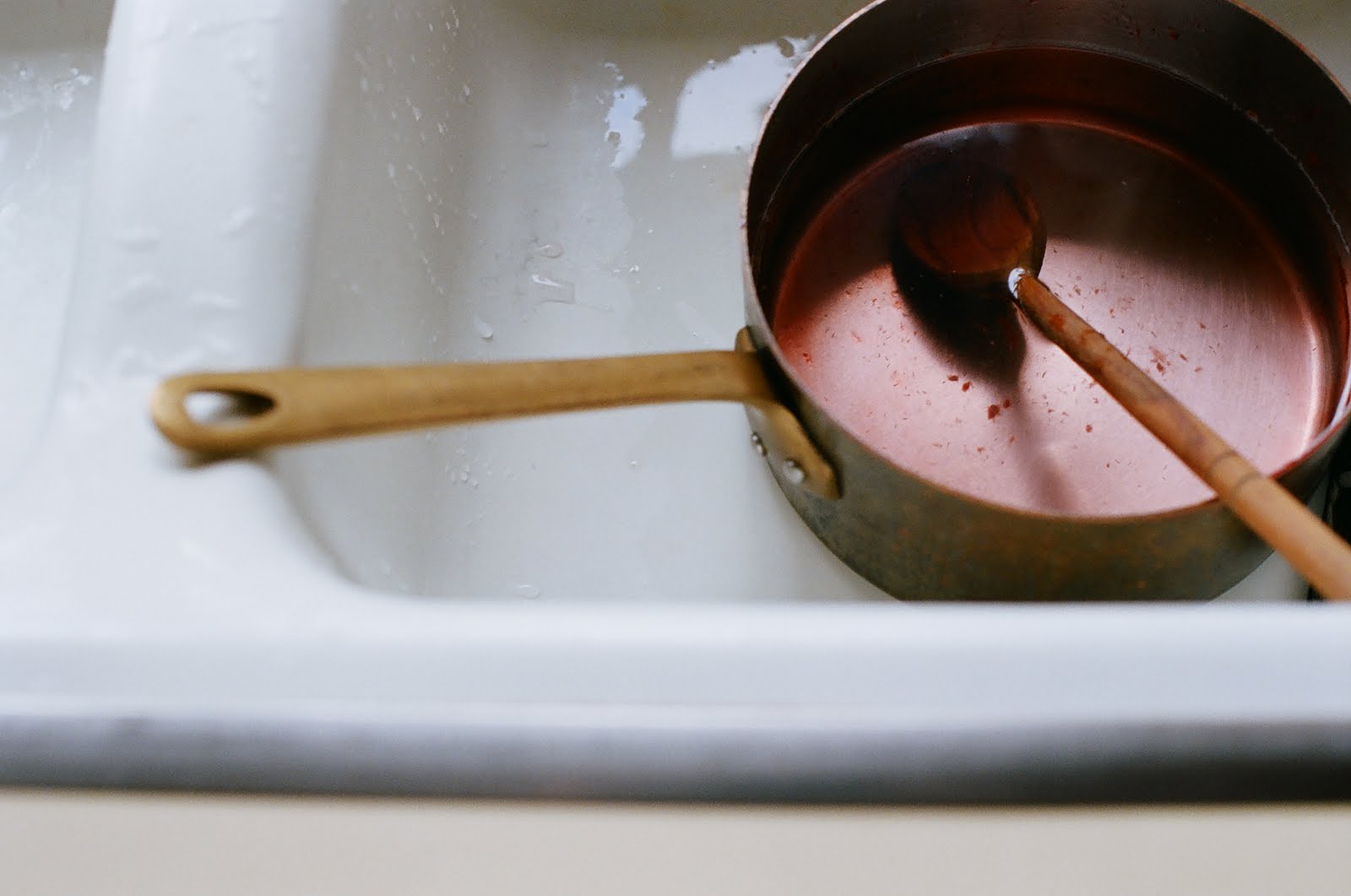 Strawberries are low in pectin, so they don't readily set into a firm jam. The presence here of some lemon rind, which is full of natural pectin, helps with that. But still, what you wind up with is more like strawberries in a beautiful, thick, blood-red syrup than it is like a jam. And in that way, it's pretty spectacular.
4 cups fresh strawberries (about 1 lb.), halved
¾ cup superfine sugar
Peel (with white pith) of ½ lemon
Combine all ingredients in a heavy, wide pot. Cover; let sit at room temperature, stirring occasionally, for 2 hours. The sugar will dissolve and the mixture will get very juicy.
Bring the mixture to a simmer over medium heat. Cook, stirring gently, until the strawberries are just tender, about 3 minutes. Using a slotted spoon, transfer the strawberries to a 1-pint jar. Continue simmering the liquid until it thickens into a syrupy consistency, 1-2 minutes. [Mine took a little longer.] Discard the lemon peel, and pour the syrup of the strawberries in the jar. Seal, and let cool to room temperature. Chill for up to 1 month.
I mentioned last week that I had been away at a wedding, Luisa's wedding, and a number of you wrote that you were eager to see pictures. I felt a little unsure about posting them, to be honest, because it was her wedding day and hers to share, but she says that I can go for it. Here we are. Luisa was one of the first friends I made through blogging. I guess it was about six years ago, give or take a bit. That was when Brandon was still living in New York, and I would go there to see him every couple of months. Luisa was still living in New York then, too. She and I had exchanged…
Read more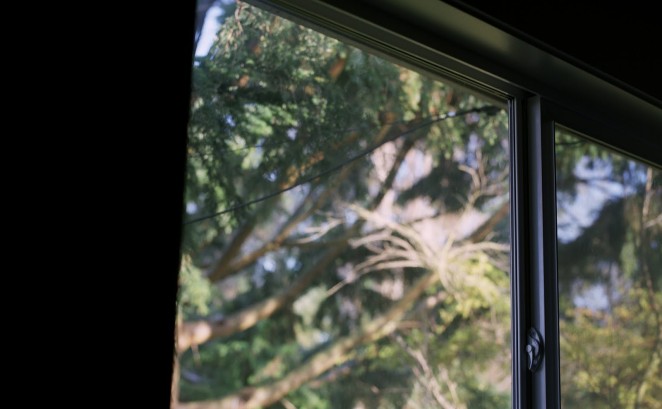 I woke up this morning and found the house entirely wrapped in fog. If you stood in front of the window in the kitchen, where I stand to make my coffee, you could watch it blow up the street in gusts – sometimes wisps, sometimes great puffs. I called Brandon over to see it when he woke up, and even half asleep, he managed a moderately enthusiastic WOW, which surprised me. The fog horns were blowing. And now, a couple of hours on, the sun is out, searing through it, working its way steadily across the floor. I could talk about the weather all day. I am turning into an old man. The dog does his morning walk of the…
Read more