Good people! Here it is, by popular demand: my new friend Aperol. Your new friend Aperol. Our soon-to-be old friend Aperol.
I first tasted Aperol last November, when Brandon and I spent the weekend after Thanksgiving at a friend's apartment in Brooklyn. We were wandering around that Saturday, I think, content to have no plans and no restaurant to run, and late in the afternoon, we wound up at Marlow & Sons for some oysters and a plate of soppressata. There was something called an Aperol Spritzer on the cocktail menu, and though I knew that Aperol is bitter and I had yet to meet a bitter drink I liked, I went temporarily insane and ordered it. It came in a Collins glass with a straw, just Aperol and Muscadet and some soda, and I thought, oh well, how bad could it be. It was cold and fizzy, and there was bitterness there, but it was a measured bitterness, very fragrant and pleasantly sweet. I was surprised by how much I liked it. The flavor of the Aperol reminded me of what it's like to eat an orange peel, the way the bitter flavor doesn't feel like an off-note or an accident, the way it's inseparable from the flavor of the thing itself. I wished there were more of it, and I was sorry when it was over.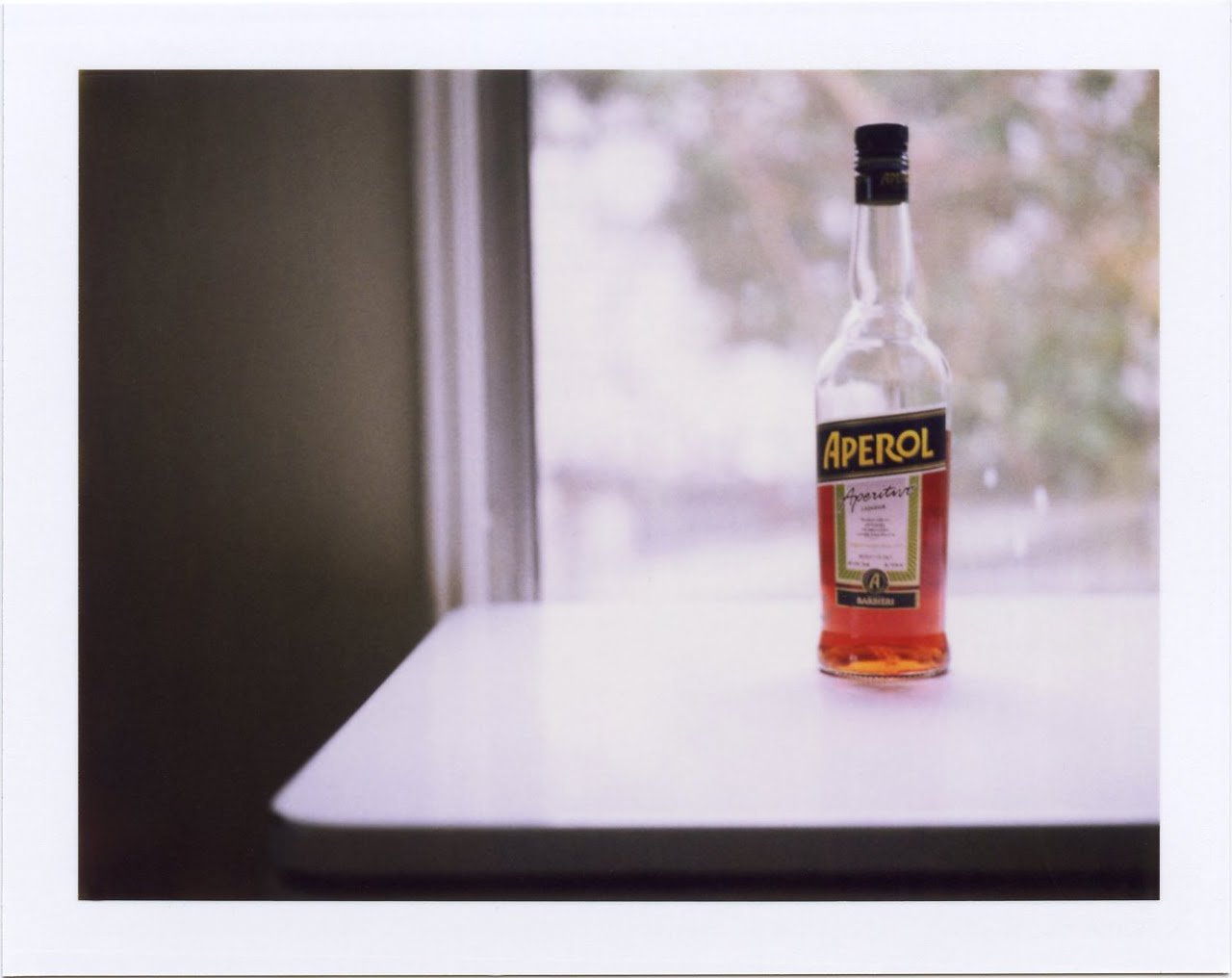 So I came home and started ordering every drink I saw that contained the word Aperol. I also started feeling like I need a vacation in Palm Springs, because this is how dark it was in my kitchen at noon today. NOON.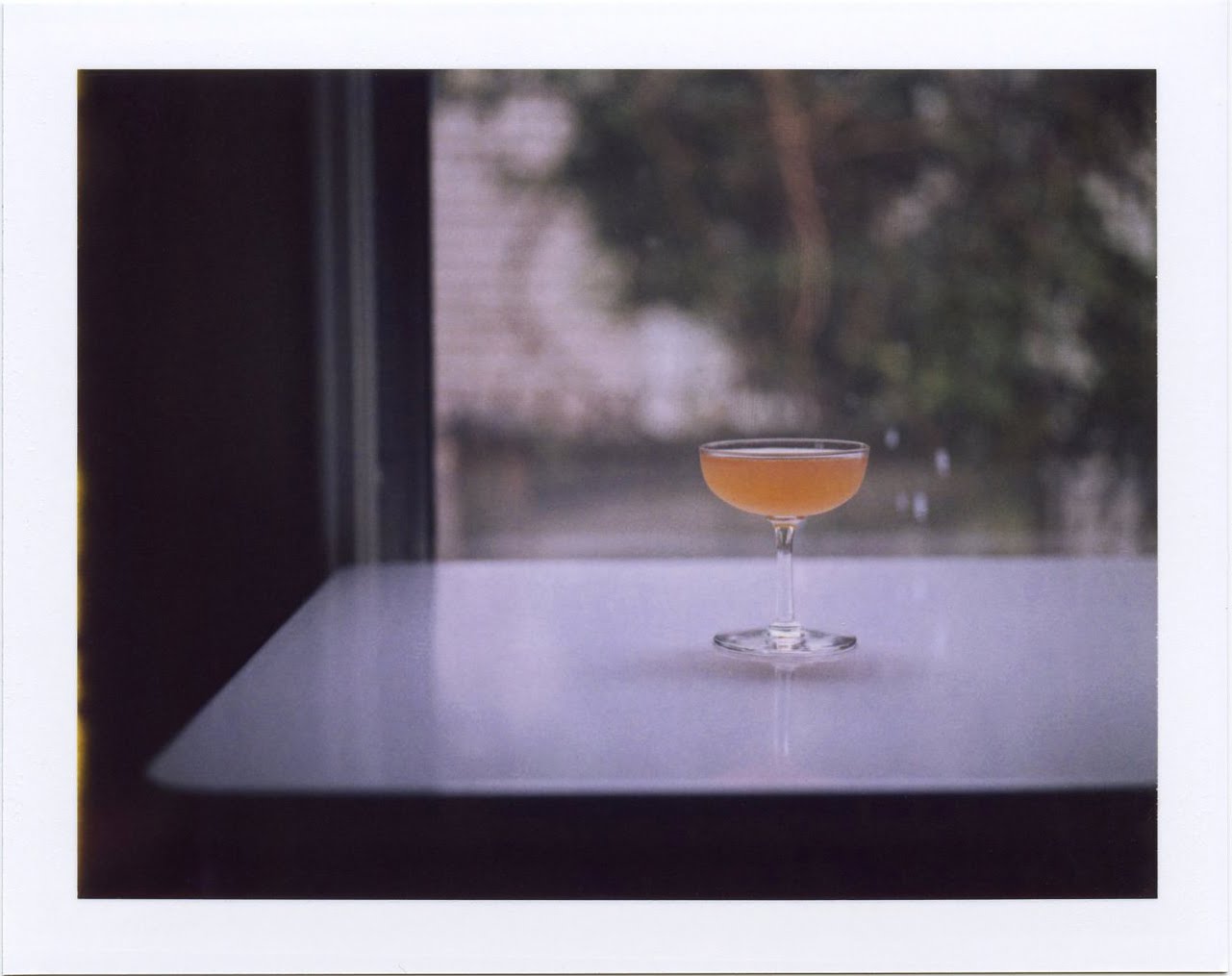 Don't worry: I made that drink only to photograph it. I wouldn't drink a cocktail at noon. Or maybe I would. Maybe I did! Ooh la.
I have to say this before we go on: I am not a spirits writer. If you want to delve into the topic of booze, the person to see is Mr. Jason Wilson, spirits columnist for the Washington Post. But in the past couple of months, I've read up a little on Aperol, and I've learned that what I drank in Brooklyn was essentially a classic Aperol Spritz. Like Campari and Cynar, Aperol belongs to the family of Italian bitters, or amari, commonly consumed before a meal and said to stimulate the appetite. Nearly every region of Italy has its own bitter spirit, and Aperol comes from Padua, in the Veneto. It's a vivid shade of reddish orange and very low in alcohol – 11 percent, less than most wines – and it gets its flavor from some thirty herbs and spices and fruits, the most prominent among them being orange, rhubarb, and gentian root, whatever that is. It smells a little, just a little, like medicine – though less so than Campari, if you're familiar with that. It's also less bitter than Campari, sweeter and more floral, and if you have it on hand, you're never far from a good drink.
That drink up there, in the second photograph, is the one I mentioned in my post last week, made from Aperol, white wine, and grapefruit juice. It's a pretty color, isn't it? I think the proper word for that color is salmon, and there was a time, a time happily long ago, when my mother had a lipstick just like it. The name of this drink is the Pamplemousse (French for grapefruit), and I had it at the Walrus and the Carpenter, one of my favorite restaurants in town. (I should note that one of its owners, Renee Erickson, is a friend and mentor of ours, but I would love the place even if I didn't know her from a fence post.) I did a little investigative work and got the recipe, and with permission, I pass it along to you. It's very light and immensely refreshing, and the Aperol works quietly, underlining the bitterness of the grapefruit at the same time that it sweetens it. It's going to make your February go a lot faster.
At home, I serve this drink in a Champagne coupe, but at the Walrus and the Carpenter, they put it in a martini glass. Frankly, I like it so much that I could probably be convinced to drink it out of a rusty bucket, so serve it in whatever you like.
Also, consider the amount of Aperol below a starting point. I like to use a little more. And if you have sparkling wine on hand, try substituting it for the white wine – a great variation.
½ oz. Aperol
2 oz. freshly squeezed grapefruit juice, pulp strained out and discarded
2 oz. dry white wine
Fill a tall glass about halfway with ice cubes. Add the Aperol, juice, and wine, and stir to blend. Strain into glass.
Yield: 1 drink