November was nice, but what happened to it? Hi.
Our visit to the East Coast was good and long and involved a lot of sleeping and pizza research, the common themes of our days off since Delancey came along. I wrote a story about stuffing for this fine newspaper – you know that it's not just for Thanksgiving, right? You can eat stuffing whenever you want – and now I'm working on a story for this fine magazine. But lately, my head is very full of Possible Future Book. I want you to know that I thought long and hard before I typed that last sentence. Because now it means that I can't chicken out.
The idea of writing another book has been percolating for a while, but to be honest, I wasn't ready. And to be even more honest, though I know approximately what the story is, I still don't know what precise path that story will take. I'm the kind of person who has to write for a while, wade way in and splash around, before I can see where I'm going. (I write everything that way, including this blog post.) But I'm ready for that slog. I'm excited for it. Winter was made for projects, I think. So I'm going to write a book proposal and see what I've got. Who knows. But I wanted you to know what I've been up to, and what I'll be up to for some time to come. Knowing you're here makes me feel braver.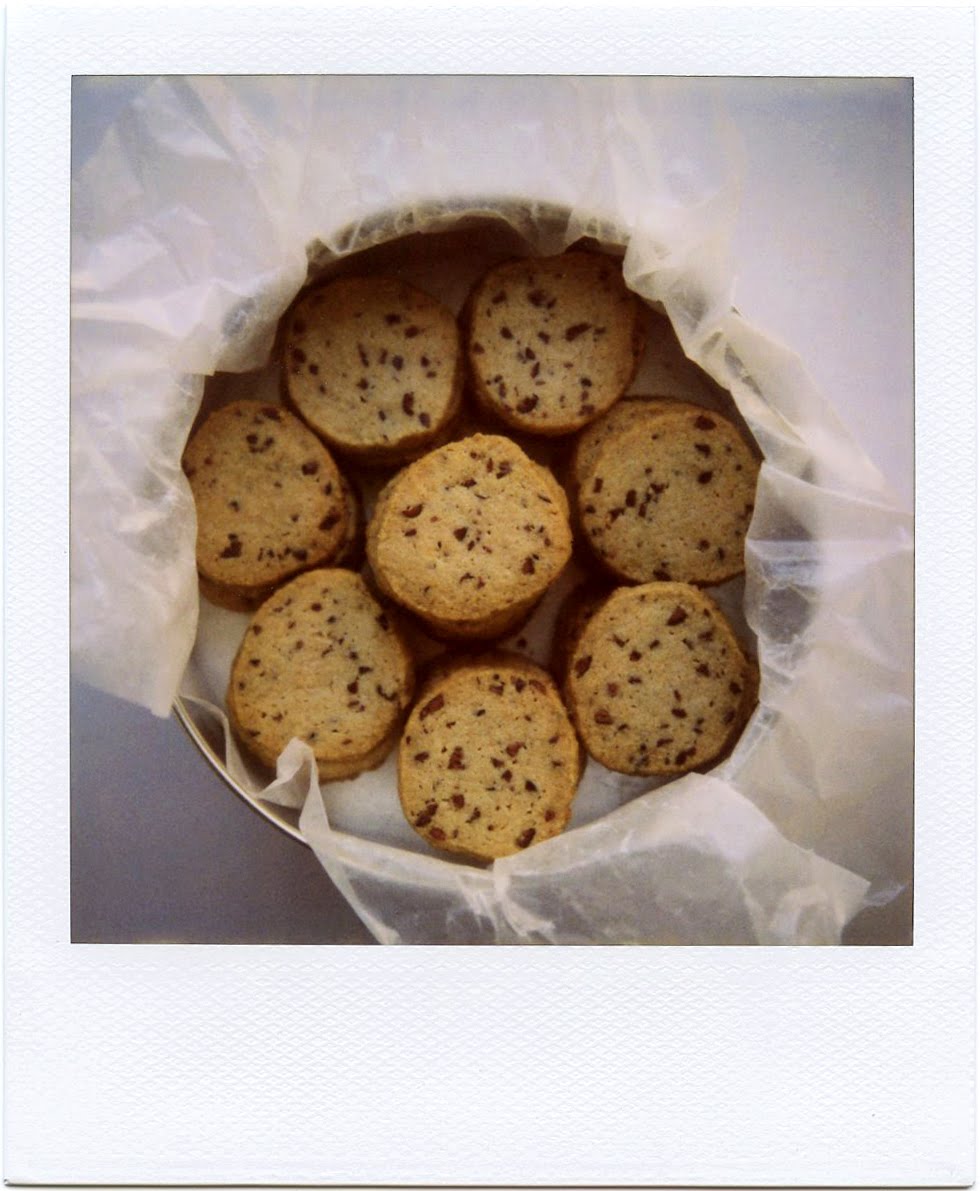 Knowing there's a tin of butter cookies with cacao nibs on the kitchen counter makes me feel braver, too. You should try it.
I've been a little wary of posting this recipe, because it's a close cousin of this one, and because it uses whole wheat, which we've been talking about a lot here recently, and I don't want to beat you over the head with it. But the truth is, if you made those whole wheat chocolate chip cookies – and I know a lot of you did, you excellent people – you've probably got some whole wheat flour around, and maybe you might like another place to use it? Like the chocolate chip cookies before them, these butter cookies combine the flavor of whole wheat and chocolate, but in a more subtle, delicate, refined way. If the natural habitat of a chocolate chip cookie is a lunchbox, say, the natural habitat of these cookies is the saucer of a teacup. And they're even quicker to make, which is noteworthy, because chocolate chip cookies aren't exactly slow and laborious. They also make a handsome gift, if you can stay out of them.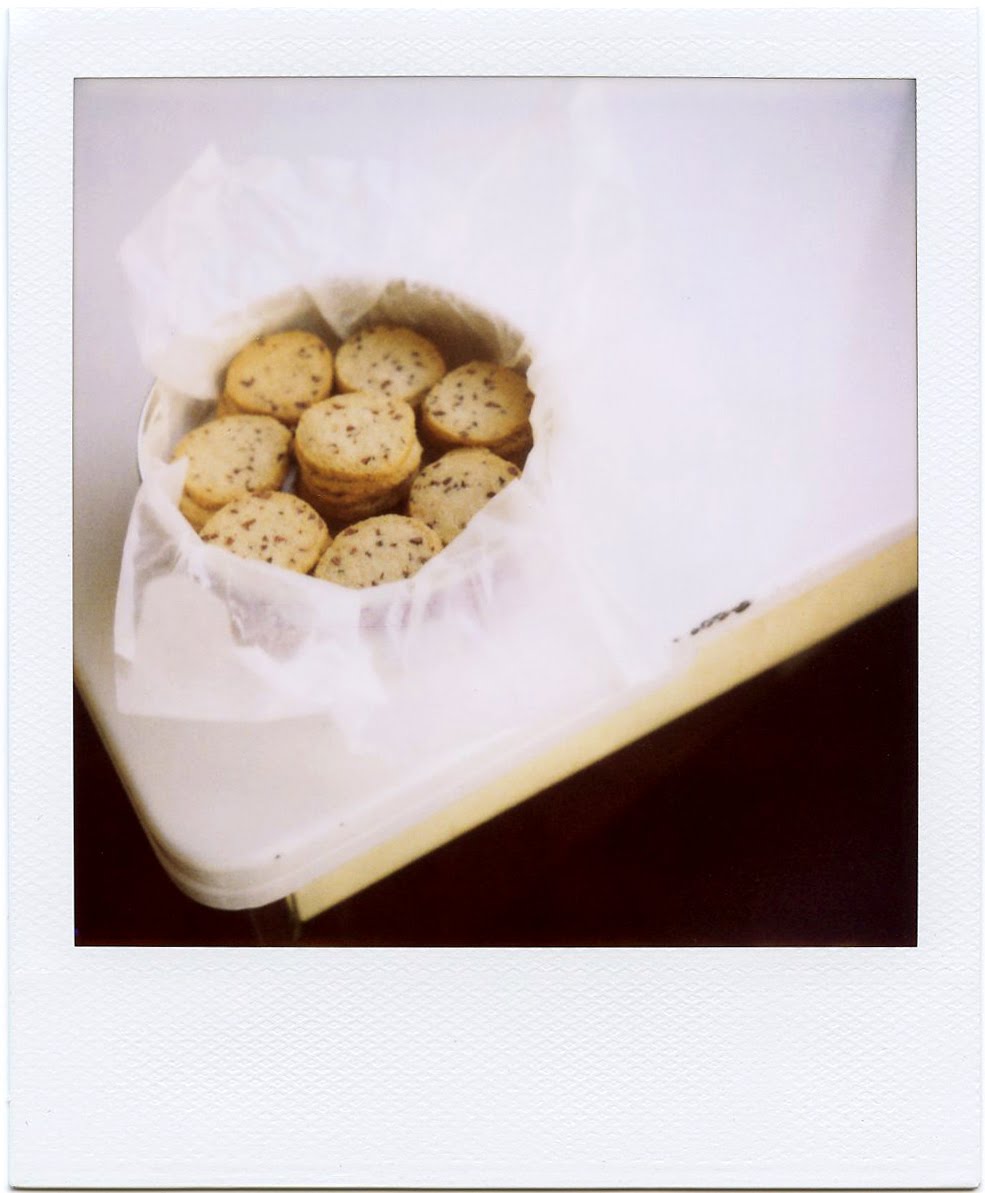 This recipe comes from the brand-new book by Alice Medrich, she of so many great sweets, and I've already baked four batches of them. (Admittedly, two and a half of those were for an event to celebrate her book. Another half batch went into my mouth. And the last batch is for gifting, if they survive the weekend.) There's a lot of talk these days about using whole grain flours for flavor as opposed to using them for reasons of health, and while the latter is certainly admirable, I'm on board for flavor. Let's be clear about that. These cookies would probably be very nice with white flour, but what makes them work, really work, is the whole wheat flour. I fed them to my friend Olaiya, and she told me she would have never known that the flavor she was tasting was wheat. She thought it was some sort of warm, nutty mystery spice. Whole wheat flour is also a smart tweak, texture-wise: a sablé cookie should have a crumbly, pleasantly sandy feel – sable is French for "sand" – and the natural coarseness of whole wheat accentuates that. They crumble almost instantly, and then they start to melt, and the cacao nibs kick in with exactly the right amount of crunch. Would it be weird to say that these cookies feel nice between my teeth? I'm all for weird. They feel nice between my teeth.
Recipe
Whole Wheat Sablés with Cacao Nibs
This recipe is particularly quick to assemble if you get out a scale and use weight measurements. So quick! I used whole wheat pastry flour because I keep it around (for scones, mostly), but you can also use a mixture of regular whole wheat flour and white flour. And I don't see any reason why you couldn't substitute white whole wheat flour for the regular whole wheat, if you have it. Oh, and if you live in Seattle or nearby, try the cacao nibs from Theo. They're the best I've had.
2 cups (9 oz.) whole wheat pastry flour, OR 1 cup (4.5 oz.) all-purpose flour plus 1 scant cup (4 oz.) whole wheat flour
14 Tbsp. (1 ¾ sticks) unsalted butter, softened
½ cup (3 ½ oz.) sugar
¼ tsp. salt
1 tsp. vanilla extract
1/3 cup (about 1 ¼ oz.) roasted cacao nibs
If using the two flours, combine them in a bowl, and mix with a whisk or fork.
In a medium bowl, with a large spoon or an electric mixer, beat the butter with the sugar, salt, and vanilla until smooth and creamy but not fluffy, about 1 minute (with the mixer). Scrape down the sides of the bowl with a spatula, and add the nibs. Beat briefly to incorporate. Add the flour, and mix until just incorporated. Scrap the dough into a mass and, if necessary, knead it a little with your hands to make sure that the flour is completely incorporated. Form the dough into a 12-by-2-inch log. Wrap and refrigerate for at least 2 hours, or overnight.
Set racks in the upper and lower thirds of the oven, and preheat the oven to 350°F. Line 2 cookie sheets with parchment paper.
Use a sharp knife to cut the cold dough log into ¼-inch-thick slices. Place the cookies at least 1 ½ inches apart on the prepared sheet pans.
Bake for 12 to 14 minutes, or until the cookies are light golden brown at the edges, rotating the pans from top to bottom and front to back halfway through the baking time. Cool the cookies for a minute on the pans, then transfer them (with or without their parchment) to a rack to cool completely. Repeat with remaining dough.
These cookies are good on the first day, but they're best with a little age, after at least a day or two. Store in an airtight container at room temperature for up to a month.
Yield: about 48 cookies