Well. That was not at all what I planned for the month of April.
So long, April. So long, plans.
I want to get this show back on the road. I've missed being here, and I've missed you. But before we go any further, I want to offer a long overdue thank you to those who came to my readings last month. I thought I had a great time on my first tour, but somehow, I had an even better time this year, despite the fact that I was dealing with a whopping case of laryngitis and could hardly speak. I hope you could hear me, and that you enjoyed it. It made me so happy to meet you. I'll be high on that well into next year, I think. Which is a good thing, because there won't be any more touring until I write another book, and writing books takes a while. I'll keep you posted.
Also, I want to thank you for your very kind comments and e-mails about my grandmother. Nanny, as we called her, passed away on April 15. She'd been slowly declining for a number of years, but the last two were particularly hard for her, and hard for us, and when she got a cold in early April, we knew she couldn't withstand it. It's never easy to lose someone, but in this case, to be honest, I'm relieved. She was ready. She'd wanted to go, and she was very vocal about that. If anything, I'm sad that she had to go through so much discomfort, and wait so long, before she could get her wish. I'm happy that she's free. She's with my grandfather now, her husband of almost fifty years, who passed away in 1992. I'll bet they're elated. Can you imagine? What a reunion.
After she was gone, we had to clear out her apartment, which meant dividing up her belongings. I came home with a lot of photographs. Nanny was very good about writing dates and names and any relevant notes on the back of family photographs, but she wrote only "Feb '51" on this one. By the date, I'm guessing that she's holding her youngest child. I love her hair. I can't imagine having a baby, plus six other young children running around, and having hair that good. I have only a dog, and a restaurant, if that counts, and my hair is a disaster.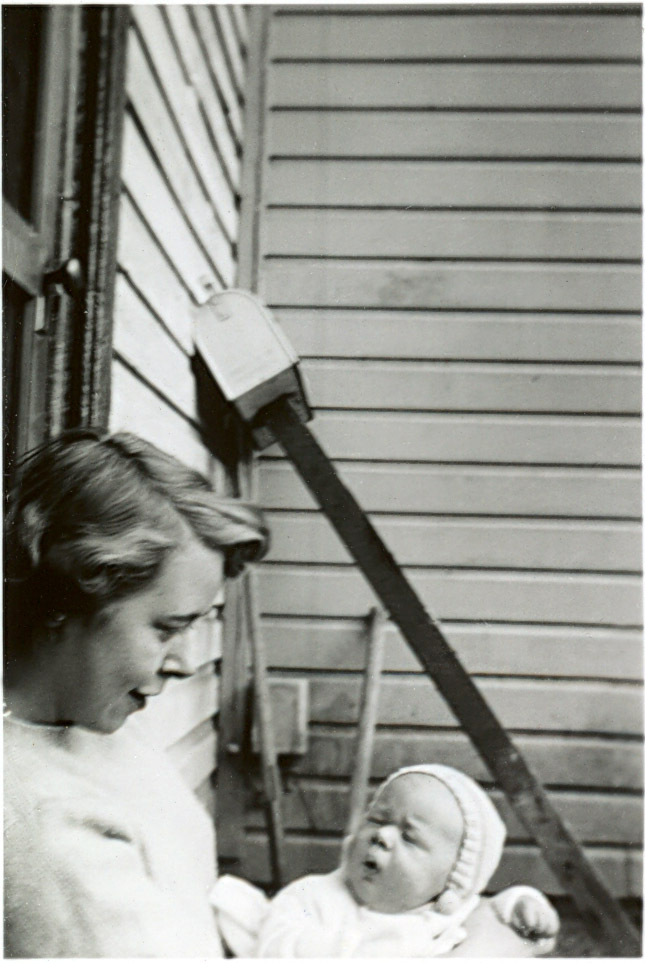 That aside, I also got to keep her recipe box. I know she would like that.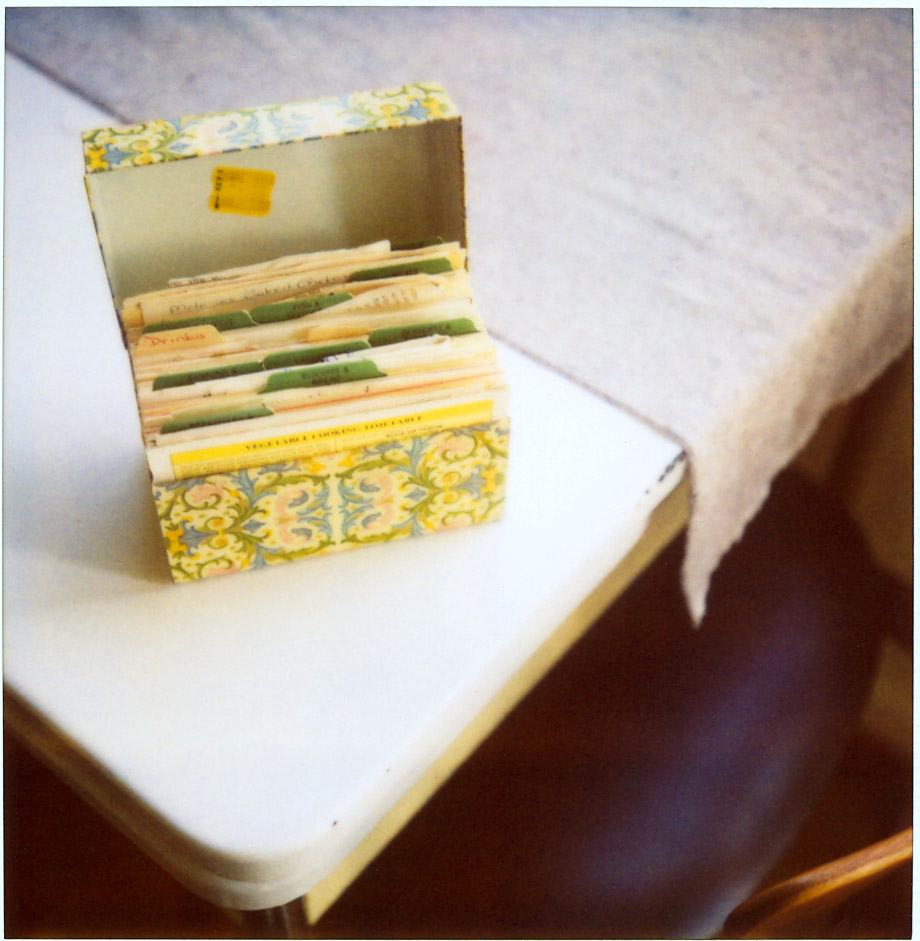 It's made of enamel, and it's sturdy and heavy, filled with index cards and newspaper clippings separated into categories by stout green partitions. I flipped through it and was thrilled to find a few dinner party and cocktail party menus among the recipes, jotted on slips of white paper. I can now tell you that on Sunday, December 30, 1984, she and my grandfather had guests in from 3 to 6 pm, and she served:
Smoked Turkey + Rolls
Phyllis Dip
Crudite + Spinach Dip
Cookies
Candies
Chocolate Chip bread
Fruit cake.
She must have served a lot of fruit cake, because I found it listed on other menus, too. I had no idea she was so into fruit cake. I also found the following recipe in the appetizers section, and I have to type it up for you exactly as it was written, because it would be a shame not to share the wealth:
Nibbler
Bowl of peanuts + raisins
Mixed
I love Nibbler.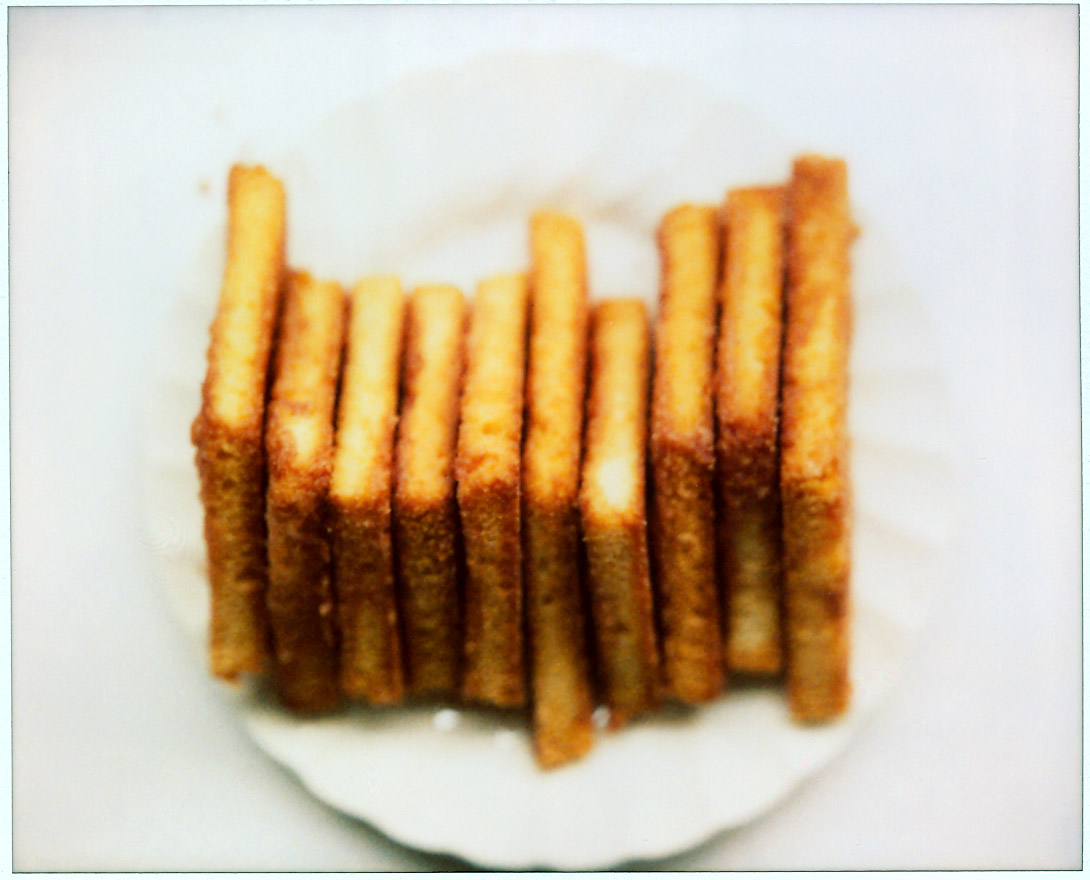 But most crucial for our purposes, I found a recipe for something called Cinnamon Toast. I know you're sitting there like, Riiiight. Cinnamon toast. Tell me something I haven't heard, but bear with me, because this is different. It's not bread that you toast and then butter and sprinkle with cinnamon sugar. It's bread that you cut into triangles, generously coat on both sides with melted butter, dredge in cinnamon sugar, and then bake until crisp. You can keep them in a tin on the counter, where they actually get better with a day or two of age, and you eat them like cookies. I don't know where the recipe originally came from, but it was written in what I think is my aunt Millicent's handwriting. My mother tells me that she also has it, and that she's had it for years. She used to make it all the time, she says, particularly when she was having a morning meeting and wanted something to serve with coffee. I don't remember ever eating it, and to be frank, I sort of had a hard time believing it could be worth a real, written recipe. I mean, it's CINNAMON TOAST. But I tried it yesterday, and I was wrong. Nanny, Mom, Millicent, I was wrong. I was so wrong. Next, I'm making Nibbler.
You should try this recipe. I've never had anything quite like it. The premise is simple, and so are the ingredients, but it sort of defies categorization. The bread gets crisp and crunchy, and the butter gives it some richness, and the cinnamon sugar caramelizes lightly, going almost lacy at the edges. My mother says it's "like cinnamon candy," but to me, the overall experience is closer to a snickerdoodle cookie. Only easier, and faster, and crunchier. Which is to say, I like it even better.
Recipe
Cinnamon Toasts
Adapted from my grandmother Elaine Mack
This recipe in its original form calls for dipping the bread in butter. On both sides. I tried it, and the bread got so saturated that it sort of terrified me. There was a LOT of butter in that little piece of bread. I found that brushing on the butter is a more moderate, palatable approach, and it still works very well. Either way, you're going to use quite a bit of butter, and please don't freak out about that. If it helps, keep reminding yourself that this is not breakfast; this is a cookie. Make it your mantra.
Also, the original version of the recipe calls specifically for Pepperidge Farm white bread. My grocery store didn't have any, so I used Franz brand "Milk and Honey" bread instead. Whatever brand you use, make sure that it's not too squishy and spongy. The quantities of butter and cinnamon sugar listed below should be pretty close to perfect for six slices of sandwich bread, but if you have extra butter or sugar, just use more bread.
1 stick (4 oz.) unsalted butter, cubed
6 slices white sandwich bread, or more as needed
½ cup sugar
2 tsp. ground cinnamon
Preheat the oven to 325°F. If you want, line a baking sheet with parchment or aluminum foil. It makes cleanup easier.
Put the butter into a pie plate or similar baking dish. Slide the dish into the oven, and keep an eye on it. You're looking for the butter to melt completely.
Stack the slices of bread, and then cut them diagonally into quarters. You should have 24 triangles.
In a small bowl, whisk together the sugar and cinnamon. Turn the cinnamon sugar out onto a dinner plate, or another pie plate.
When the butter is melted, remove it from the oven, and brush it onto both sides of a triangle of bread. Don't be shy: apply the butter generously, so no spot is left uncoated. The bread should feel a little heavy in your hand. Dip the bread into the cinnamon sugar, taking care to coat both sides. Lay it on the prepared baking sheet. Repeat with remaining pieces of bread.
Bake the toasts for about 25 minutes, until lightly browned. Transfer to a rack. The toasts will crisp as they cool. When cooled, store in an airtight container at room temperature.
Note: These taste best with a little age. When I tasted them on the day they were made, they were just okay, but by the next day, the flavors had come together nicely.
Yield: 24 pieces