I am reliably fickle about rhubarb recipes. Every spring, I think, I am destined to fall for a different one. At this point in my life, if all goes well and life expectancy charts are accurate, I probably have about fifty springs left, which means fifty more rhubarb recipes to love. The fifty springs part is sort of depressing, but on the upside, it's really quite a lot of rhubarb. I'm looking forward to it.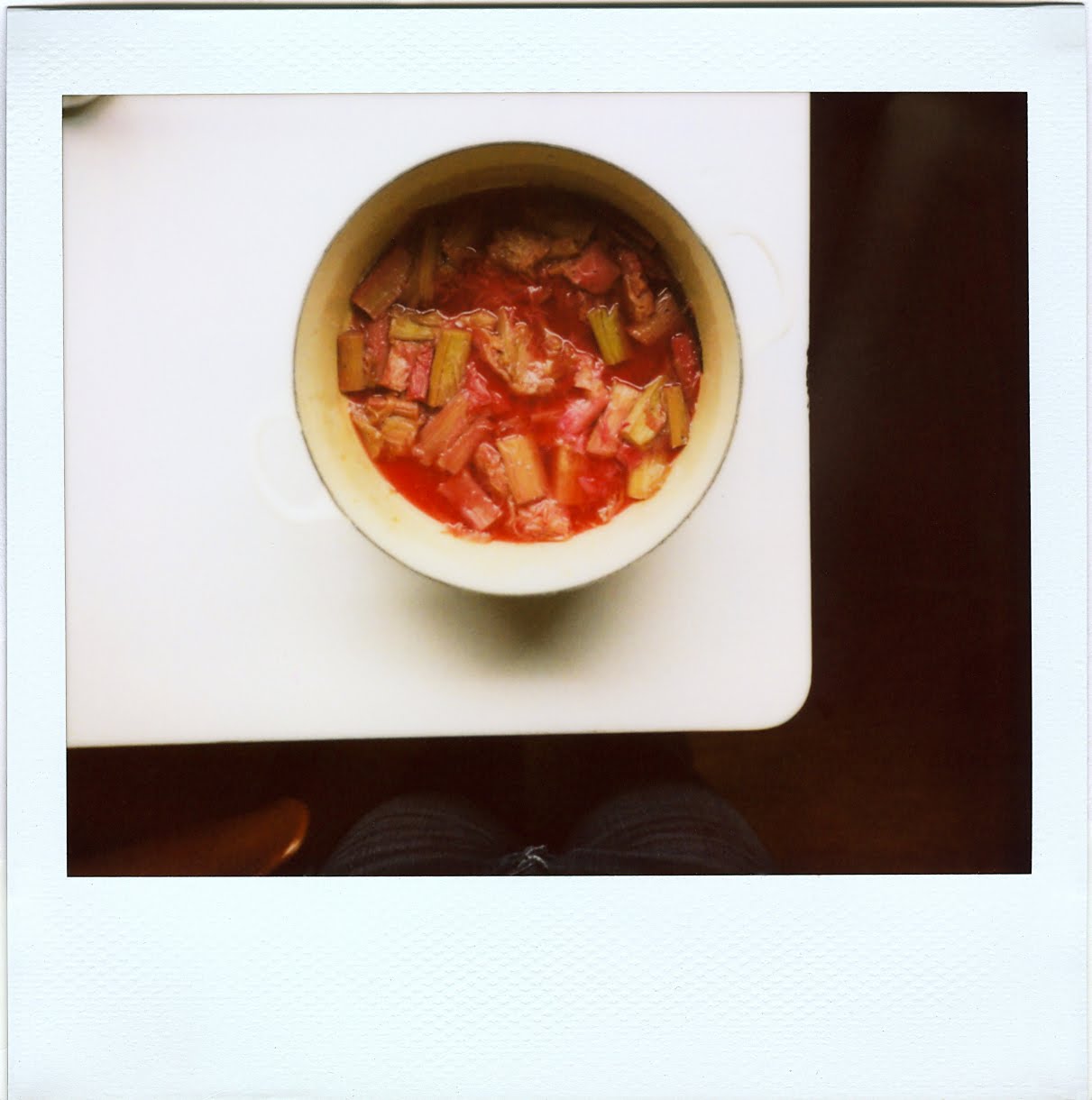 In the meantime, I am pleased to announce that this spring, my allegiance lies in a pot of roasted rhubarb with white wine and vanilla bean. Eaten cold, ideally.
This particular recipe was inspired by a series of seasonal recipe collections called Canal House Cooking, which I learned about from my friend Maria. Canal House Cooking is hard to describe, and I love that about it. Written, photographed, illustrated, and published by Christopher Hirsheimer and Melissa Hamilton, a founding editor of Saveur magazine and the former food editor of the same, respectively, it's part magazine and part cookbook, published in three volumes a year: Summer, Fall & Holiday, and Winter & Spring. I bought a three-volume subscription when I first learned of it, and when the third volume arrived a few weeks ago, I renewed my subscription in under 24 hours. I think this makes me an official fan. I want to cook almost every recipe they print, and the books themselves are so inviting, so elegant but easygoing in tone, that I sort of want to carry one around with me everywhere, just to keep the good feeling going. I think this makes me an official creepy person.
Either way, in the most recent volume, the third one, Winter & Spring, there is a recipe for roasted rhubarb in red wine, and it caught my eye. So when I spotted some rhubarb at the farmers' market last weekend, I bought a couple of pounds with this recipe in mind. As it happened, however, when I got home, I discovered that I didn't have an open bottle of red wine lying around. It seemed wasteful to open a new one only to use a small portion, so I decided to use the open bottle of white wine that I did have lying around. I'm not sure how my white wine version compares to the original, and I may never find out, because now that I've made it this way, I feel no desire to make anything else, ever. Not before next spring. You understand.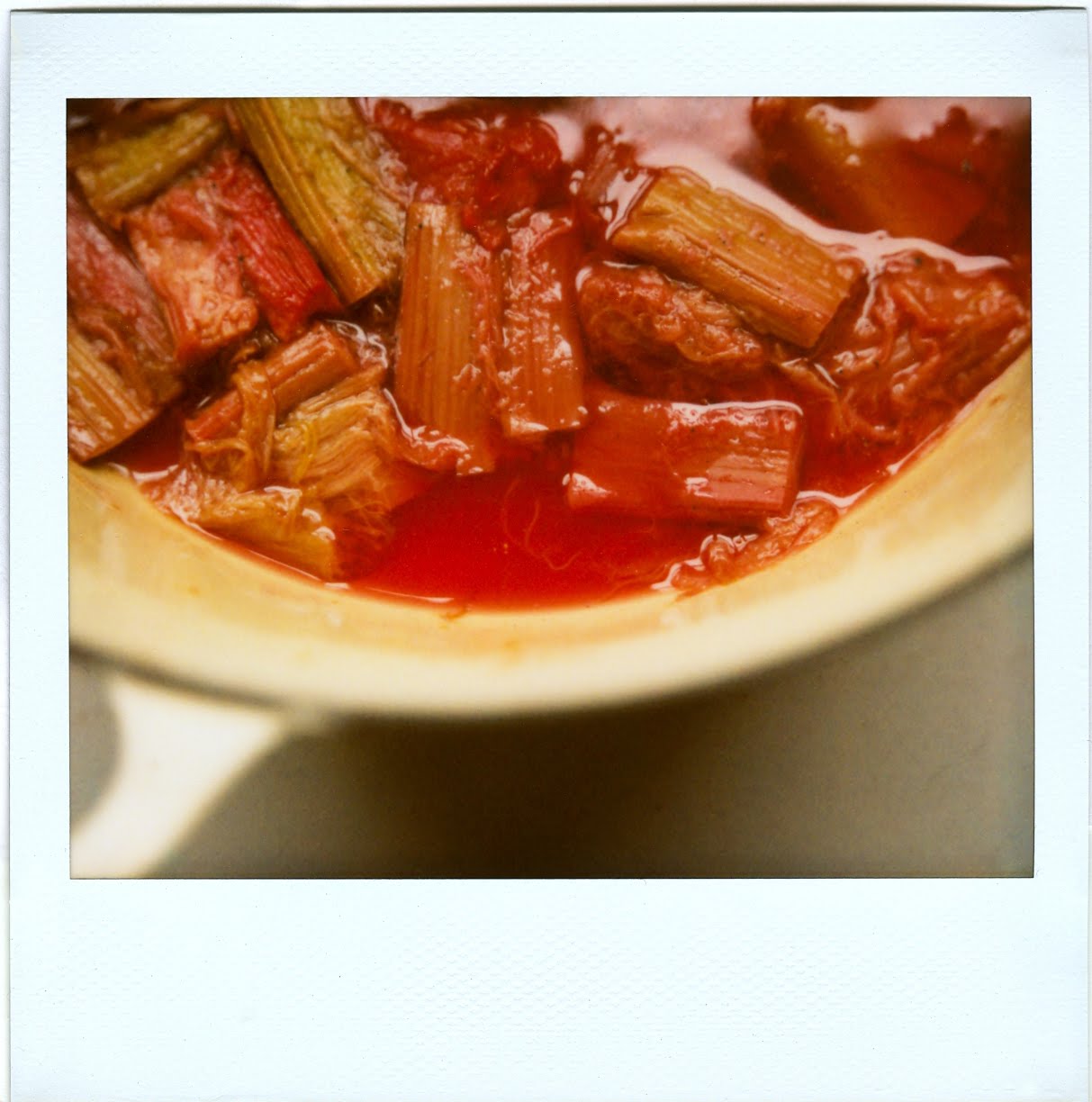 Cooked rhubarb rarely wins beauty contests, and this recipe won't change that record. But it's delicious enough that I don't care. It's fresh rhubarb, cut into short lengths, tossed in a pot with wine and sugar and a vanilla bean, baked until it goes tender enough to slump juicily on the end of a fork. I've made a very similar recipe that called for water instead of wine and orange zest instead of vanilla, and it's very good, too. But what's outstanding about this is just that: the wine and the vanilla. Where water works fine, wine brings a flavor and fragrance of its own, an added dimension, a dose of sweetness and acidity that balance and complement the flavor of rhubarb. And though I do like rhubarb with orange in almost any incarnation, vanilla bean is subtler, able to bring out and underline the best in rhubarb without masking it. It's not too sweet, and it's not too tart, and though it would probably be nice with Greek yogurt or ice cream or a simple cake, I take mine straight, by which I mean straight out of the refrigerator. I don't even need a plate.
Recipe
Roasted Rhubarb
Inspired by Canal House Cooking, Volume 3
For the wine here, I used our house white at Delancey: Château de Pellehaut Harmonie de Gascogne, a blend of Ugni Blanc, Colombard, Gros Manseng, Chardonnay, and Sauvignon Blanc. It's bright and crisp and citrusy.
2 lb. rhubarb, trimmed and cut into 3-inch lengths
½ cup sugar
½ cup crisp white wine
1 vanilla bean, split
Set a rack in the lower third of the oven, and preheat the oven to 350°F.
Put the rhubarb in a Dutch oven or other deep oven-safe pot. Add the sugar, wine, and vanilla bean, and stir to mix. Bake (uncovered) for about 30 minutes, or until very tender, giving the pot a gentle stir about midway through to ensure that the rhubarb cooks evenly.
Note: I like to eat this cold, though I imagine you could also serve it warm.
Yield: 4 to 6 servings, depending on how greedy you are