I have many important things to tell you.
1. I'm doing a podcast! I intended to tell you about this a week ago, but there's been an illness in my family, and I've been away, and it hasn't been a lot of fun, so, you know, let's talk about that podcast. It's called Spilled Milk, and I co-host it with my friend Matthew Amster-Burton. Every time we record an episode, Matthew makes me laugh until I snort, cry, hyperventilate, and/or hoot like an owl, and I hope our show does the same for you. The first episode is on the topic of fried eggs, and you can listen or download it – free! – through the Spilled Milk website, or through iTunes. The second episode, on winter squash, will be released a week from today, on January 21.
2. Yes! That's a new banner up there! It had been the same for three years, and those orangettes were stale. So, in honor of winter, I give you a head of cabbage instead. When spring comes, we can switch to artichokes, I'm thinking, or asparagus. Maybe rhubarb. It's going to be exciting.
3. I love this chocolate mousse. Loved it, rather.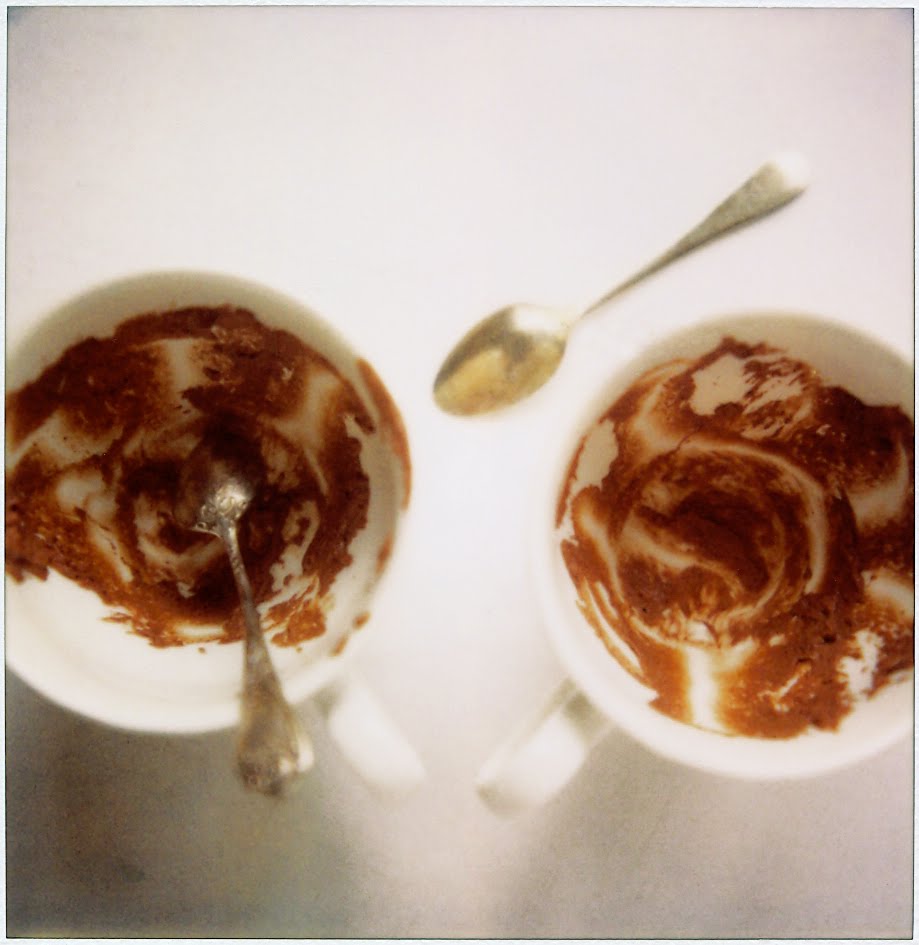 I seem to have a nasty habit of writing about rich foods in January, right on the heels of the holidays. I'm sorry about that. Even I don't want to hear about chocolate mousse right now. But I love this recipe, so I'm going to write about it anyway, and even if you are totally chocolated-out, or desserted-out, or avoiding sweets as a New Year's resolution, or whatever, I strongly recommend that you bookmark it for future use. It's my go-to chocolate mousse. I think everyone should have a go-to chocolate mousse. It's not hip, nor has it been for about a million years, but it never goes out of style, either. It's the Audrey Hepburn of desserts. Only fatter. Or fattier? You know what I mean.
I can't remember how or where I was introduced to chocolate mousse, but I remember eating an alarming amount of it when my parents took me to Paris as a kid. There was a restaurant called Claude Sainlouis, I think, around the corner from our hotel, and though we were only in town for ten days, we went there twice, mainly because I was obsessed with their chocolate mousse. The first night, the host sat us in the back dining room, hidden behind a partition. The main dining room bustled, but ours was empty, quiet as a church. I remember my parents saying that we'd been put there because we were foreigners: we'd been sniffed out, ghettoized, hurried away from the French-speaking diners. It was a terrible feeling. I'm not sure why we went back, but I must have begged convincingly for the mousse, because we did. And the second night, miracle of miracles, the host smiled at us, a tiny smile of recognition. He showed us to a table in the main dining room. My father beamed. It was a great night. I ate steak frites and mousse au chocolat. I don't know that the mousse was anything special, but I loved it. I was 10 years old, and my feelings about chocolate mousse were much like my feelings about ice cream: good or bad, it was AWESOME. The restaurant is still there, I think, although I haven't been back. I looked it up on Google Street View, and the awning looks much classier than I remember. Who knows.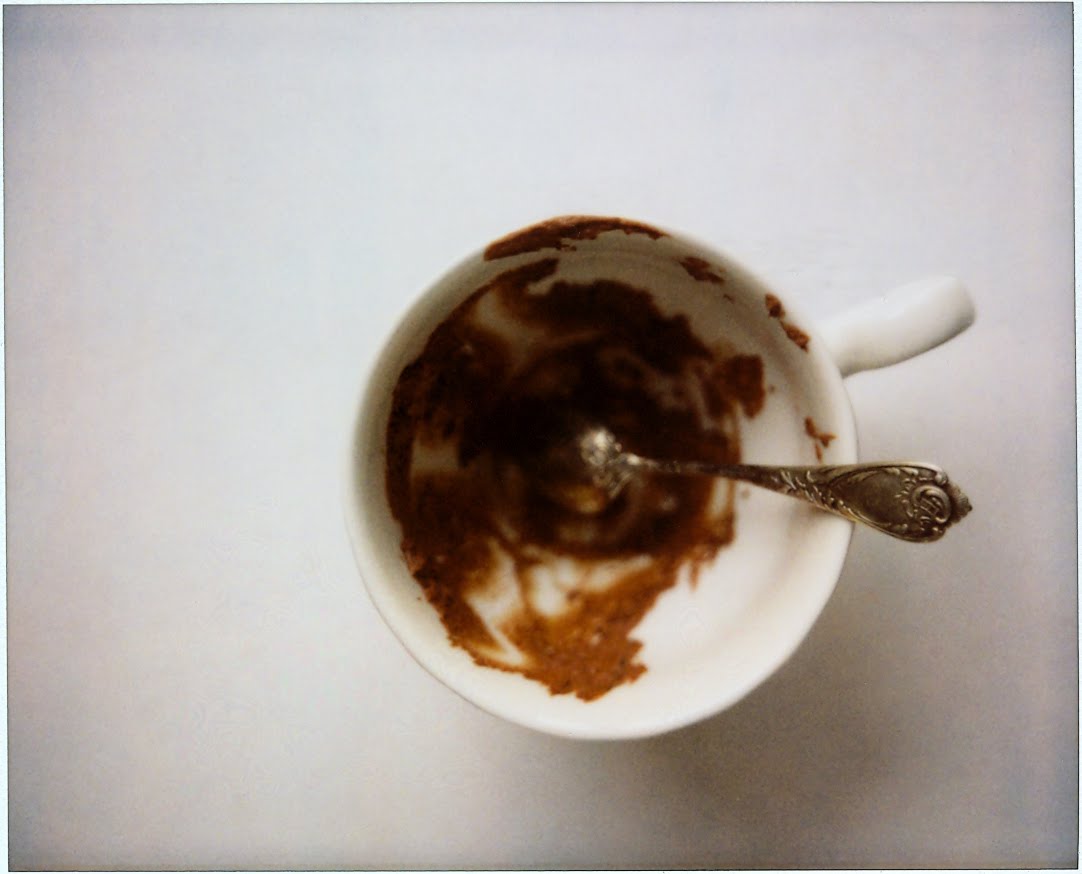 Anyway, I do love chocolate mousse. And this year, when we were planning a Christmas Eve dinner with a few friends, I couldn't stop thinking about it. I've tried a few chocolate mousse recipes over the years, some better and some worse, and this time, I decided to use one that had been skulking around my clippings folder untried, a recipe from Cook's Illustrated. (I also made Dorie Greenspan's extraordinary lemon tart, because I am apparently into total excess, and because it really is extraordinary.)
The thing about this mousse recipe, to put it simply, is that it's perfect. Some mousses are dense and sticky, like a ganache truffle. Others are foamy, almost frothy, with the mouthfeel of a marshmallow. This one sits squarely, happily, in the middle. It's soft and creamy, light but substantial. It's also not too sweet. It's deep and dark and complex, spiked with enough coffee and booze to complement the chocolate, but not compete with it. As I recently heard Brandon's aunt say of her son's new girlfriend, I think it's The One. It's a keeper.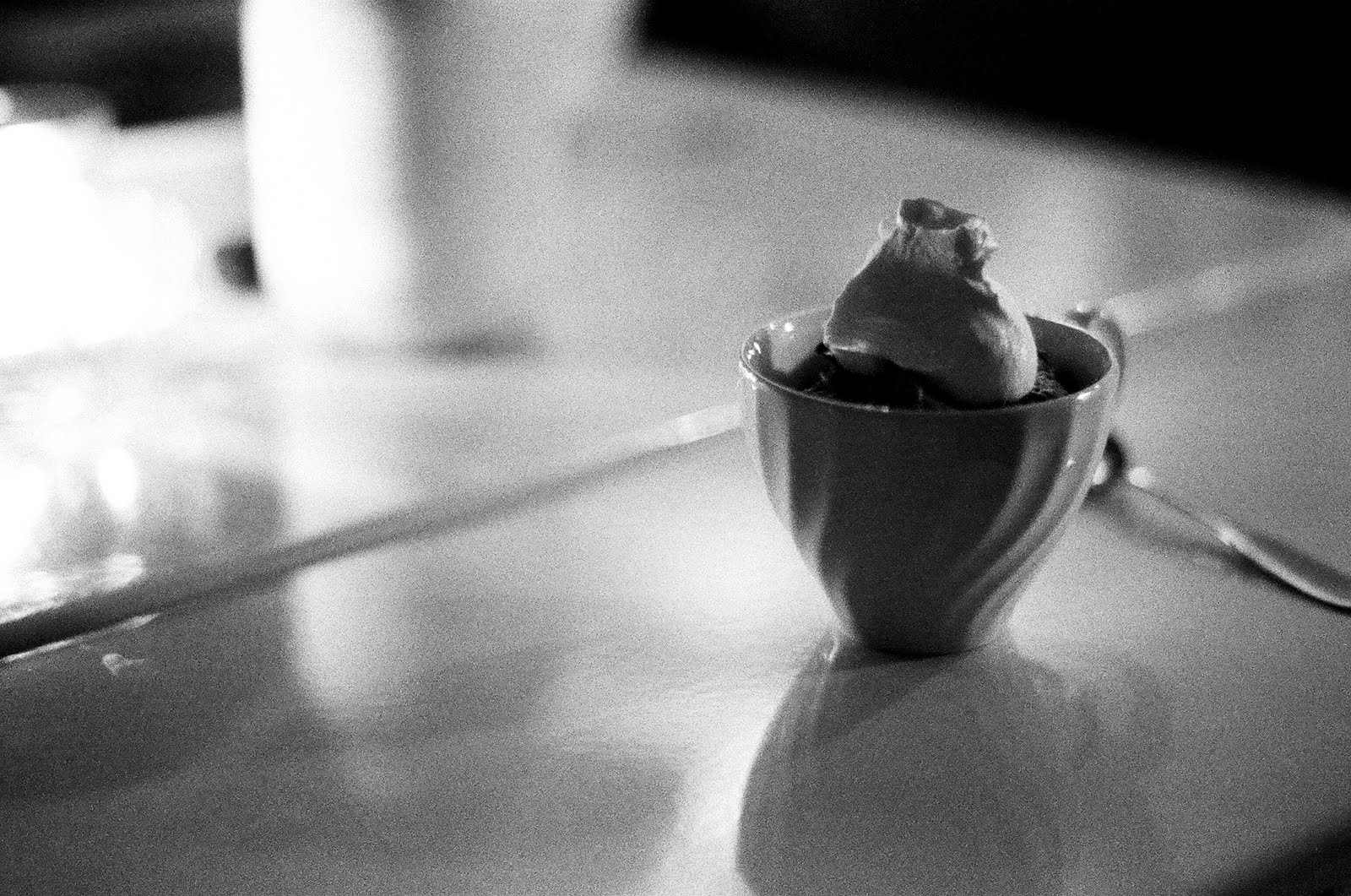 Just a single caution: see this teacup? It's a standard size, as teacups go, but people, that was a LOT of mousse. Do not fill your teacups like I filled my teacups. Do not. The amount of whipped cream on top, however, was spot-on.
Recipe
Chocolate Mousse
Adapted from Cook's Illustrated, 2006
The original recipe calls for brandy, not whiskey, but I never seem to have brandy around. We're whiskey people. You can use whichever you want.
About the chocolate: the good people at Cook's Illustrated use Ghirardelli bittersweet (60% cacao) chocolate for this recipe, and I do too. You could use a fancier brand, if you want, but whatever you use, it should contain about 60% cacao. Chocolates with a higher cacao percentage have less sugar and a starchier consistency, and they won't work well in this recipe.
Also, about serving size: chocolate mousse is, by definition, serious stuff. I am pretty much a total pig about dessert, but I recommend that you offer this in small servings. The recipe makes six to eight servings, and I lean in favor of eight. Especially since I like to serve it with a whack of whipped cream on top.
8 oz. bittersweet chocolate, ideally 60% cacao, finely chopped
2 Tbsp. Dutch-processed cocoa powder
1 tsp. instant espresso powder
5 Tbsp. water
1 Tbsp. whiskey or brandy
2 large eggs, separated
1 Tbsp. sugar, divided
1/8 tsp. salt
1 cup plus 2 Tbsp. cold heavy cream
For serving:
Very lightly sweetened whipped cream
Combine the chocolate, cocoa powder, espresso powder, water, and whiskey in a medium heatproof bowl. Place over a saucepan filled with 1 inch of gently simmering water, and stir frequently until the chocolate is melted and the mixture is smooth. Remove from the heat.
In another medium bowl, combine the egg yolks, 1 ½ teaspoons sugar, and salt. Whisk until the mixture lightens to a pale yellow color and thickens slightly, about 30 seconds. Pour the melted chocolate mixture into the egg mixture, and whisk until combined. Set aside for about 5 minutes, until just warmer than room temperature.
In the bowl of a stand mixer fitted with the whisk attachment, beat the egg whites on medium-low speed until frothy. Add the remaining 1 ½ teaspoons sugar, increase the mixer speed to medium-high, and beat until soft peaks form when the whisk is lifted. Detach the whisk and bowl from the mixer, and whisk the last few strokes by hand, making sure to scrape up any unbeaten whites from the bottom of the bowl. Using the whisk, stir about ¼ of the beaten egg whites into the chocolate mixture, to lighten it. Then, using a rubber spatula, gently fold in the remaining egg whites until only a few white streaks remain.
In the now-empty mixer bowl, whip the heavy cream at medium speed until it begins to thicken. Increase the speed to high, and whip until soft peaks form when the whisk is lifted. Using a rubber spatula, fold the whipped cream into the mousse until no white streaks remain. Spoon into 6 to 8 individual serving dishes – I like to use teacups – or, if you're feeling casual, mound it up in a single serving bowl. Cover with plastic wrap, and refrigerate until firm, at least 2 hours and up to 24 hours.
For best texture, let the mousse sit at room temperature for 10 minutes before serving. Serve with very lightly sweetened whipped cream.
Yield: 6 to 8 servings