About five years ago, I think it was, I went out to dinner with my friend Keaton and ate something called sauce gribiche. I had never heard of it before, but it was a kind of coarse vinaigrette, with chopped cornichons and capers and hard-boiled eggs, and it was served over asparagus. I don't know why I remember it so clearly, aside from the fact that I dripped some of it onto my pants, but ever since, I've thought about it sometimes, usually when I'm supposed to be thinking about more important things, and I've wanted to try making it. It took me a while, as you can see, but yesterday, I finally did. Twice.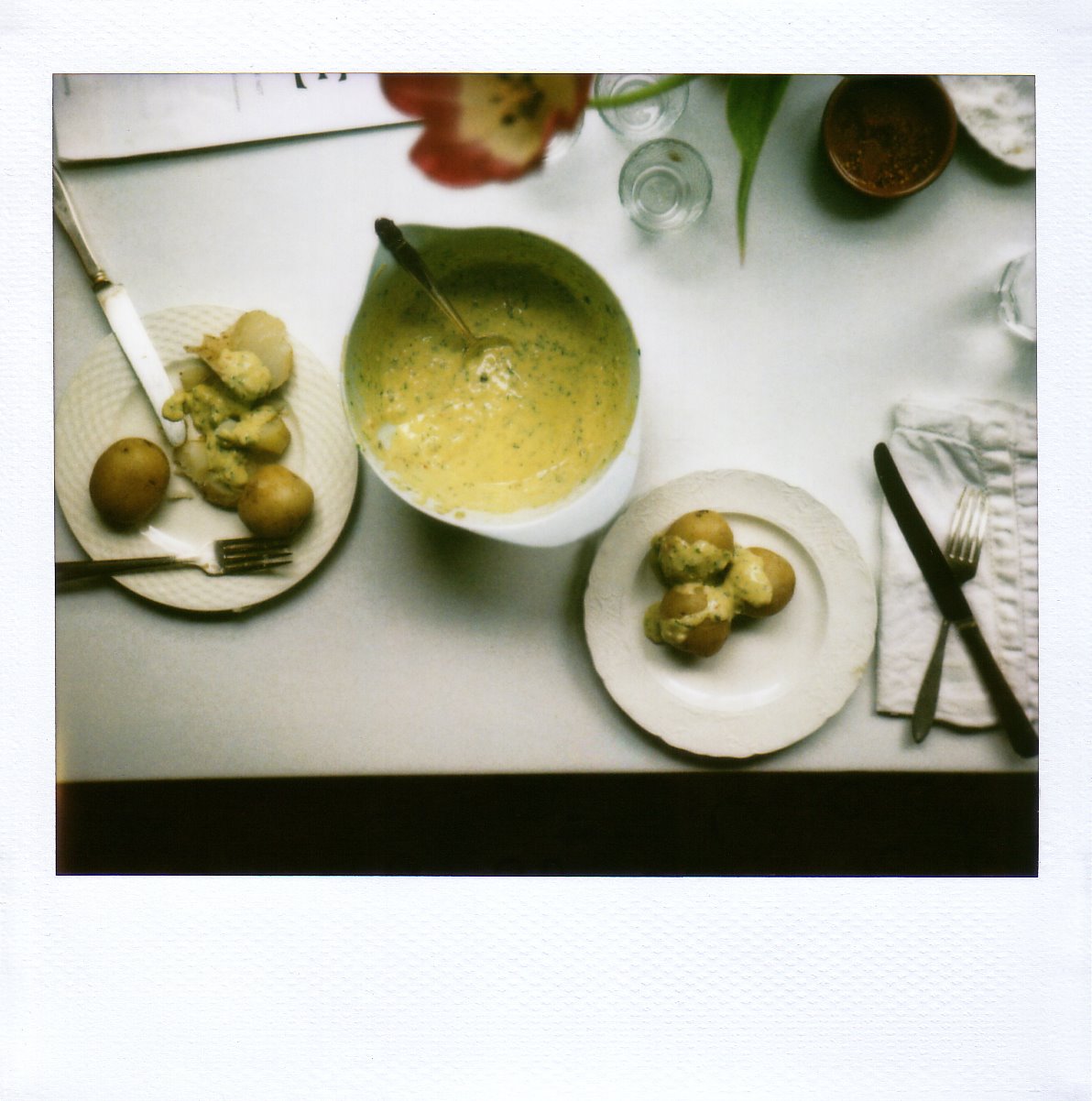 The thing is, as I learned while tearing my hair out, there is no one sauce gribiche. Its origins are almost certainly French, but from there, it gets tricky. Look in one book, and you'll be told – very authoritatively, of course – that it's a mayonnaise with pickles and herbs, a close cousin of tartar sauce. Look somewhere else, and you'll be told that it's a vinaigrette with parsley and hard-boiled eggs. Apparently, it's sort of like pizza: to one person, the word means a deep-dish pie with pineapple and Canadian bacon, while to another, it's a thin crust dotted with fresh mozzarella. Am I right? Has Delancey fitted me with a permanent pair of pizza goggles? I can't be sure.
Anyway, I don't know what a proper sauce gribiche is, if there even is one, but I can tell you that I have now made two different sauces that go by that name. I can also tell you that it was very confusing, because neither tasted like what I had had before, but I liked them both. Either way, I thought you should know about them, because they're good company for so many springtime foods, like halibut and new potatoes and asparagus, or cold roasted chicken. There is no time like the present to get confused about sauce gribiche.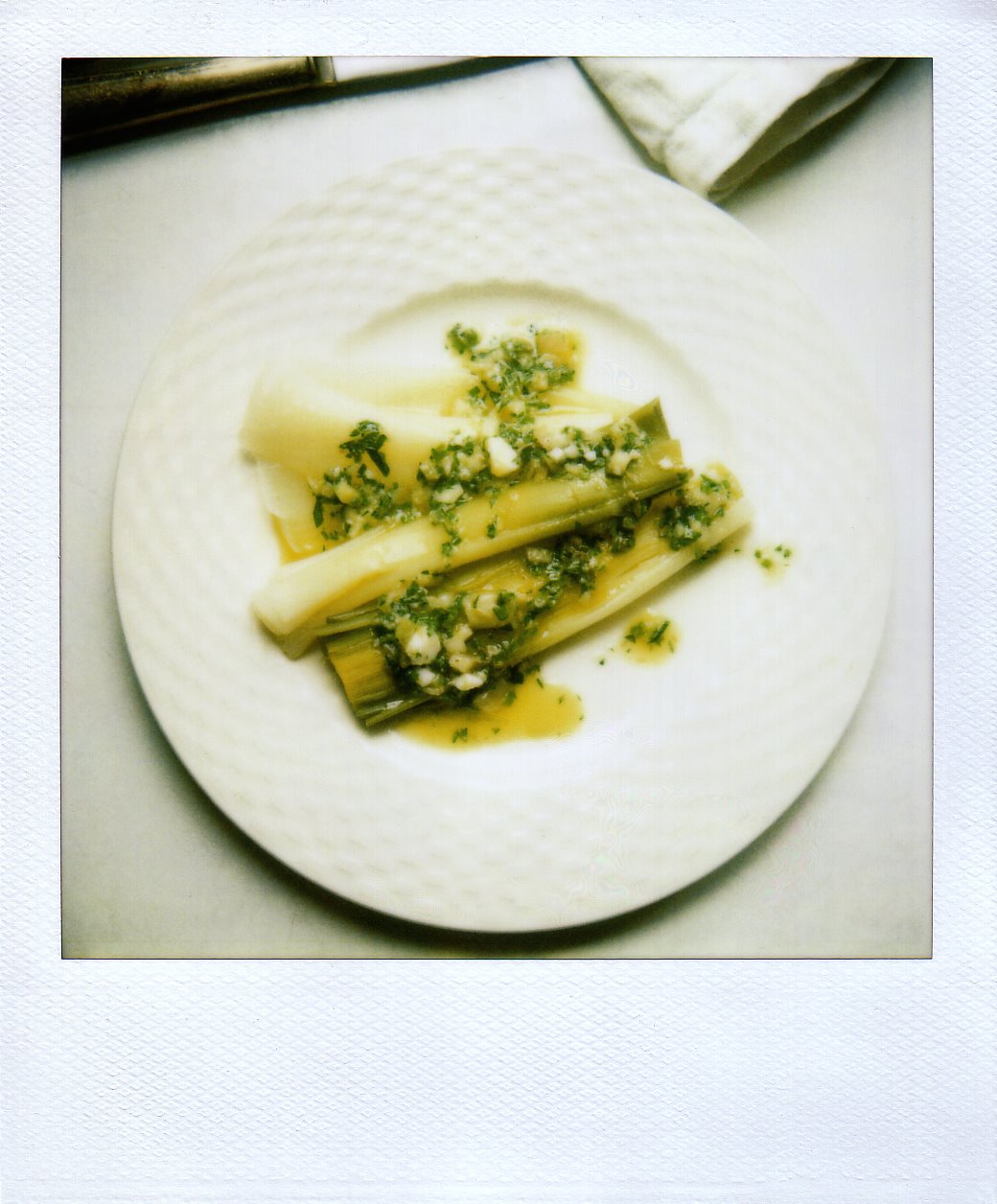 The first specimen up there, in the bowl and on some boiled potatoes, is an adaptation of a recipe from The Zuni Café Cookbook. It's essentially a mayonnaise with lots of Dijon mustard, shallots, fresh herbs, and capers, and it starts with a soft-boiled egg. You cook the egg for four minutes, so that the white is set but the yolk is still liquid, and then you mash it in a bowl with mustard and salt. It's kind of ingenious: when you add olive oil, the yolk binds it to make a mayonnaise, while the white breaks up into little bits and nubs, adding texture to the sauce. To that you add the herbs and other seasonings. We tried spooning ours onto a few boiled potatoes, because that was what we had in the house, and it was nice enough. But when we chopped the rest of the potatoes into chunks, tossed them with more sauce gribiche, and let them sit in the refrigerator overnight, it made a bang-up potato salad, rich but bright, one of the best I've ever eaten. It's bookmark-worthy.
The second gribiche, which comes from one of the Chez Panisse cookbooks, is more like the one I ate five years ago, a riff on vinaigrette. It's kicky but sleek, a French translation, sort of, of chimichurri. It's delicious. It has more herbs than the Zuni method, and its egg gets hard-boiled and chopped, and it calls for a few cornichons, which means that I got to buy a whole jar and eat them while I cooked, a plus in any category. We ate it on some steamed leeks, which I don't actually recommend – turns out, sauce gribiche isn't a great fit for oniony things – but when I go to bed tonight, I hope to dream of it spooned onto some blanched asparagus or a plate of leftover roast beef. I can hardly wait.
Recipe
Zuni Café's Four-Minute Egg Gribiche
This version is essentially a mayonnaise, and it's particularly important to use a very mild-tasting olive oil. If your oil is at all bitter, or if you're unsure, use a mixture of it and a more neutral-tasting oil, like canola.
2 medium shallots, finely chopped
2 Tbsp. sherry vinegar or red wine vinegar
1 large egg
1 Tbsp. Dijon mustard
Salt
1 ¼ cups mild-tasting olive oil
2 tsp. thinly sliced chives
2 tsp. finely chopped parsley
2 tsp. finely chopped chervil
½ tsp. finely chopped dill
2 Tbsp. capers, rinsed and dried, coarsely chopped
Combine the shallots and the vinegar in a small bowl, and set aside to macerate while you prepare the rest of the sauce.
Put the egg in a small saucepan of barely simmering water, and bring it to a boil. Then reduce the heat and simmer for about 4 minutes. Drain, and put the egg in a bowl of ice water to cool completely.
When the egg is cool, crack and scrape it into a medium bowl. Add the mustard and a pinch or two of salt. Mash it all together, and then begin whisking in the oil, just a few drops at first, then gradually increasing the flow to a thin stream. Stop adding oil when the mixture is satiny and has lots of body, like – and I love that Judy Rodgers describes it this way – a hot fudge sauce. Stir in the herbs and capers. Add the vinegar and shallots, and adjust with salt to taste.
Serve with grilled fish or poultry, fried seafood, roasted potatoes, boiled shrimp, or asparagus, or – my personal preference – as the dressing for a fantastic potato salad.
Recipe
Chez Panisse's Sauce Gribiche
For this recipe, it's important to use a big, fruity-tasting olive oil, because it will be the foundation flavor here. You want one with a round fragrance and as little bitterness as possible.
1 large egg
1 medium shallot, finely chopped
2 Tbsp. lemon juice, or to taste
2 Tbsp. finely chopped parsley
2 Tbsp. finely chopped chervil
2 Tbsp. thinly sliced chives
Finely grated zest of ½ lemon
1 Tbsp. capers, rinsed and finely chopped
3 cornichons, finely chopped
¾ cup olive oil
Salt, to taste
Put the egg in a small saucepan, and cover with cold water. Place the pan over medium-high heat, and bring to a boil. As soon as it boils, remove the pan from the heat, cover it, and set a timer for 12 minutes. When the timer goes off, drain away the hot water and rinse the egg under cold water until it is thoroughly cool.
Meanwhile, combine the shallot and the lemon juice in a small bowl. Set aside to macerate while you prepare the rest of the sauce.
Combine the parsley, chervil, chives, lemon zest, capers, cornichons, and olive oil in a small bowl. Whisk well. Peel the egg, and then finely chop the yolk and dice the white. Add the egg to the bowl. Add the lemon juice, shallots, and a good pinch of salt, and whisk well. Taste, and adjust with more lemon juice and salt, if needed.
Serve over asparagus, steamed or boiled potatoes, grilled endives, fish, cold roasted chicken, or other cold leftover meats.