I would like to sit down here today and write as though everything were normal, as though I were actually capable of forming complete sentences. But the truth is, I am an absolute maniac. Tomorrow is the official release date for my book, a day that I never really trusted would come, and I feel alternately so ecstatic and so freaked out that I can't decide whether I need to run around the block a few dozen times or lie down for a nap. In the meantime, I will eat some sweet potato pound cake. As you can see, that's been my fallback position for a few days now.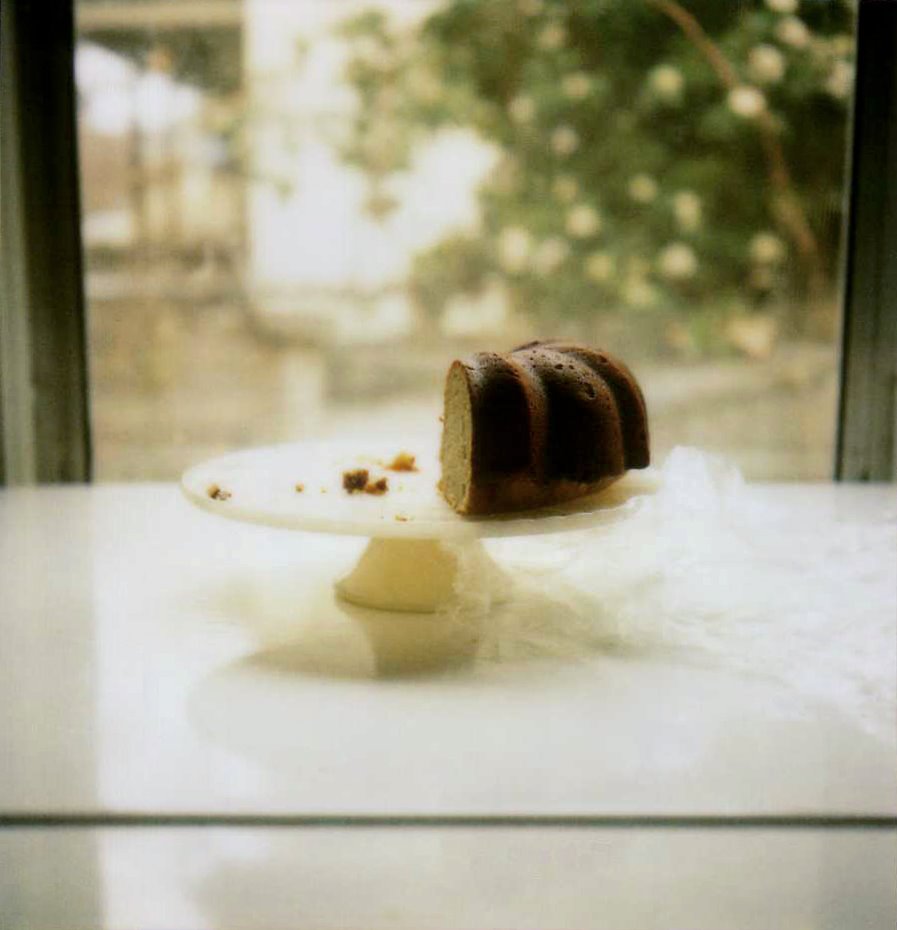 Many of you have written already(!) to say that you have the book in your hands, and that you've started to read and cook from it, and I want to thank you for that. Thank you. I wouldn't have written the thing at all if it weren't for you, and I mean it. I hope that, if you can, you will come out and let me shake your hand and thank you in person. I'll be looking for you.
To those of you in the Seattle area: I will be at University Book Store tomorrow night – Tuesday, March 3 – at 7:00 pm. I'm baking some coconut macaroons with chocolate ganache for the occasion, and as an added bonus, I will probably be blushing uncontrollably through the entire evening. It's a show you don't want to miss. (4326 University Way NE)
To those in the Portland area: I will be at Powell's this Friday, March 6, at 7:30 pm. I can't guarantee any macaroons, but I will no doubt still be blushing. (1005 W. Burnside)
And an update on the Washington, DC event: a number of you e-mailed or left comments to express an interest in coming that night, but I now need a formal RSVP. If you plan to attend, please e-mail cheeseandchocolate (at) gmail (dot) com to say so. The event will be at Ceiba on March 16 from 5:30 to 7:00 pm, with a cash bar, complimentary hors d'oeuvres, and books for sale. The DC event is now full. Whew! I'm so sorry that we cannot accommodate more of you; we've just run out of space.
I think that's all for now. I anticipate that I won't be able to post much for the next couple of weeks, but I will stop by to remind you of where I'll be, and when, and at what time, and whatnot.
And when I get back, I'll have a new Delancey update for you. Last week, the wood-burning oven arrived – that's the first step in building the kitchen – and it's beautiful. It weighs 3,600 pounds. Its arrival heralded two days of sweat, heavy lifting, and cement-mixing for Brandon, and for me, a few rolls of film and an early morning in my pajamas, helping to move it into position in the soon-to-be kitchen with the help of a plastic protractor, masking tape, and a cart that vaguely resembled a handtruck on steroids. Needless to say, I have some photographs for you. Although none of them feature my pajamas, so don't get your hopes up.

Until then, be well, bake yourself some sweet potato pound cake, and thank you, always, for being here.
Recipe
Sweet Potato Pound Cake
Adapted from Southern Cakes, by Nancie McDermott
I was introduced to this cake by my friend Shari, who co-curates the inspiring site this joy+ride. (That's me in the current issue, #12. Thank you, sweet Shari.) She not only gave me the cookbook that contains this recipe, but she also posted an enticing photo of it on Flickr the other day. She has never led me astray in anything, so I took the hint. I immediately flipped on the oven and pulled some butter out of the fridge, and I suggest that you do the same.
This cake is perfect for late winter: moist, fragrant, warmly spiced, with a flavor a little bit like – and I mean this in a very good way – a spice doughnut. Or maybe an applesauce doughnut. In short, I am going to be making it for a long, long time. You can roast, peel, and mash the sweet potatoes ahead of time, and from there, the cake comes together fairly quickly and easily. The recipe comes with an optional buttermilk glaze, which I used and liked very much, but you could go either way. The glaze is mainly for added flavor and moisture: in my experience, it isn't one of those types that sits prettily atop the cake, but rather soaks in like a syrup. The overall effect was dangerous. I think I ate about five slices on Saturday. Consider that a warning.
For the cake:
3 ¼ cups all-purpose flour
2 tsp. baking powder
½ tsp. baking soda
½ tsp. freshly ground nutmeg
½ tsp. salt
½ cup milk (low-fat is okay)
1 tsp. vanilla extract
8 oz. (2 sticks) unsalted butter, at room temperature
1 cup sugar
1 cup light brown sugar
4 large eggs
2 cups mashed cooked sweet potatoes
For the buttermilk glaze (optional):
½ cup buttermilk
½ cup sugar
4 Tbsp. (½ stick) unsalted butter, cubed
1 ½ tsp. cornstarch or flour
¼ tsp. baking soda
1 tsp. vanilla extract
Preheat the oven to 350°F. Grease and flour a 10-inch tube or Bundt pan. (If your pan is nonstick, you can get away with just some cooking spray; no need to flour.)
In a medium bowl, combine the flour, baking powder, baking soda, nutmeg, and salt. Whisk well. In a small bowl or measuring cup, combine the milk and vanilla.
In a large bowl, beat the butter, sugar, and light brown sugar until light and fluffy, stopping once or twice to scrape down the sides of the bowl. Add the eggs one at a time, beating well after each addition. Add the sweet potatoes, and mix until the batter is combined. (The batter may look terrible at this point: curdled, weird, terrible. Don't worry.) With the mixer on low speed, add half of the flour mixture. Beat to just incorporate. Then add half of the milk mixture, and continue to beat on low until well blended. Add the remaining flour, followed by the remaining milk, and beat on low until the batter is thick and smooth.
Scrape the batter into the prepared pan, and bake for 60 to 75 minutes, or until the cake springs back when pressed lightly and a toothpick inserted in the center comes out clean. Cool the cake in the pan on a wire rack for 20 minutes. Run a thin knife around the edge to loosen the cake, and then carefully invert it onto the rack.
Meanwhile, make the glaze, if using. In a medium saucepan, combine the buttermilk, sugar, butter, cornstarch, and baking soda. Place it over medium heat, and bring it just to a gentle boil. Immediately remove it from the heat, stir well, and set it aside to cool to room temperature. Add the vanilla, and stir well.
Set the wire rack – with the cake atop it – over a rimmed sheet pan. Spoon the glaze through a fine-mesh sieve over the warm cake. (I recommend using a sieve because my batch of glaze had some little gelatinous bits of clumped cornstarch in it.)
Cool completely before serving.