I never thought I would say these words, but I like boiled kale. Kind of a lot.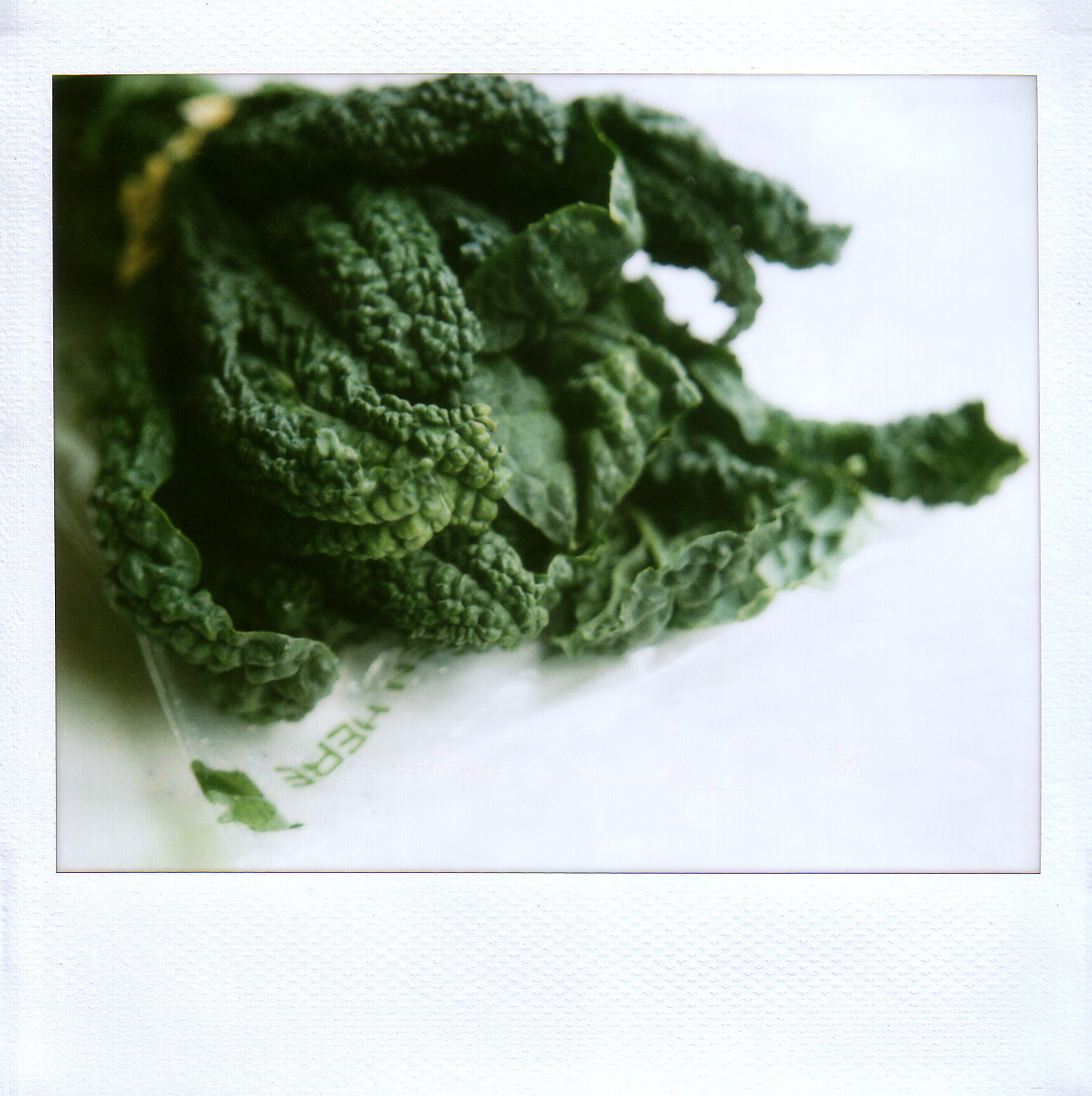 This may not be the most exciting confession I have ever made, but please bear with me. Or, at least, don't knock it till you've tried it. Boiled kale, I mean. I don't usually like boiled anything – except, of course, pasta – but boiled kale, yes. It's the wool sock of winter vegetables: warming, soothing, completely unglamorous, as cozy as a bunch of green leaves can be. If I could climb into a bowl of anything right now, I think I would choose kale. That's the ultimate measure, you know, of a cool-weather food: would you want to lie down in a vat of it? Creamy polenta is a top contender, as is rice pudding, but, for me, for now, boiled kale is the winner. It's soft; it's silky; and if your shoulders get cold, you can grab a few slivered leaves and drape them over you like a shawl.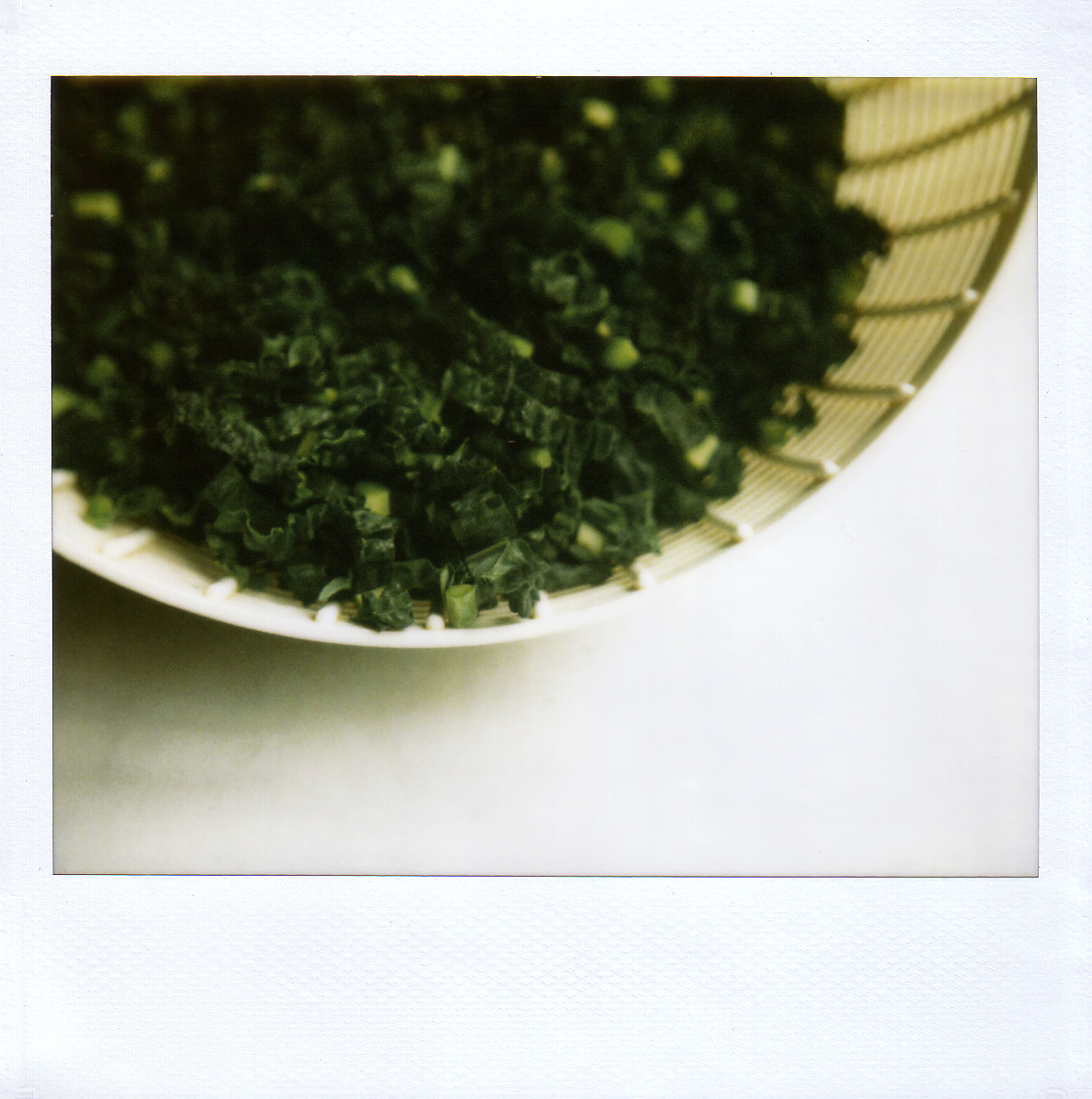 I always eat a lot of kale during the colder months, but boiling it is new to me. Usually, I toss it in a hot skillet with some butter or olive oil, knock it around for a couple of minutes, just until it turns bright green, and then drizzle it with lemon juice and turn it out onto a plate. Or I braise it with some chickpeas, like this. I had never even thought to boil it until a little over a year ago, I think it was, on a trip to San Francisco, when we had lunch at Zuni Café. Every time I go there, I seem to come away inspired somehow, and this lunch was no exception. I was in the mood for something healthy that day, and as I read down the menu, the first item to catch my eye was cavolo nero, or Tuscan kale, boiled and served on toast with a fried egg. Oh, I know. Listen, I know. It's criminal to pass up the famous Zuni hamburger. But I couldn't help it. I ordered the humble kale, and I am not sorry.
In fact, what the waiter set down in front of me a few minutes later was the closest I have ever come, in a restaurant, to my ideal lunch. It was a wide soup bowl – the type my mother calls a cream soup bowl – and in it was a beautifully sloppy pile of kale, stewed into tenderness in a clear, fragrant broth. Beneath the kale was a generous slice of country bread, happily soaking up the aforementioned broth, and atop it all sat a fried egg, waiting to loose its yolk onto the greens below. It wasn't rocket science, but it was everything I love about Zuni Café: unpretentious, perfectly pitched, and utterly ballsy in its plainness. The best part was, of course, that it was delicious. The kale was sweet and earthy, the egg mellow and rich, and the bread soft, comforting, pleasantly sogged.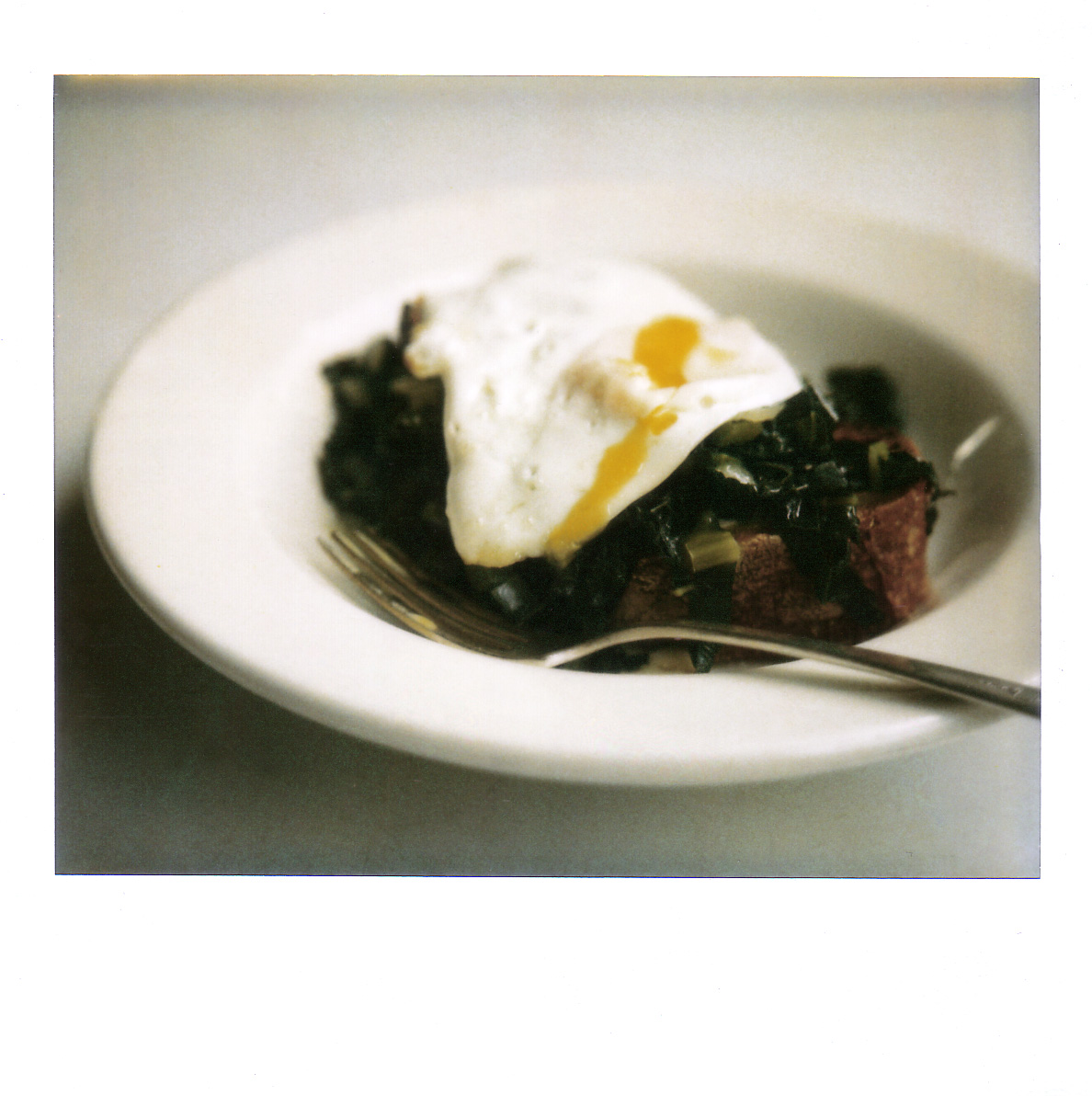 So, this past week, the week when I pulled my wool jacket out of the closet and put on my new wrist worms, I decided to boil some kale. Or, rather, I asked Brandon to do it while I did a load of laundry and cleaned the bathroom. I think he got the better end of the deal. But it doesn't really matter, because 45 minutes later, I got some kale either way – and on toast, to boot, with an olive oil-fried egg, my favorite kind. And though I know I've been complaining about fall lately, I have to admit, I was happy to see kale again. I almost couldn't believe it – especially since I got so tired of the stuff last winter – but I really was happy. Isn't it great how that works? It's kind of magical, to tell you the truth, like some sort of benevolent strain of amnesia. Hello, kale. It's nice to know you again. For now.
Boiled Kale with a Fried Egg and Toast
Adapted from The Zuni Café Cookbook
I like to use cavolo nero – also sold as Tuscan kale, lacinato kale, or dinosaur kale – for this, but you could also use curly kale. And while you could use just water for this, I prefer to make it with chicken stock, preferably homemade.
Here's a good, quick chicken stock: take 2 pounds of chicken parts (I like legs, or a mix of legs and wings) and dump them into a large saucepan with the following: 3 sprigs of fresh thyme; 1 small carrot, cut into a few pieces; 1 celery stalk, cut into a few pieces; and half of a yellow onion. Add 2 quarts of water. Bring to a simmer, and cook gently for 45 minutes, skimming away any foam that rises to the surface. Salt to taste. Strain through a colander to remove large solids; then strain again through cheesecloth. It's ready to go.
About 8 ounces kale
5 Tbsp. olive oil
1 medium yellow onion, diced
A pinch of dried red pepper flakes
2 large garlic cloves, thinly sliced
3 to 4 cups mild chicken stock, or water, or a combination of the two
To serve:
Thick slices of country bread
Eggs
Olive oil
Prosciutto, torn into bite-sized bits (optional)
Parmigiano Reggiano or Pecorino Romano
First, prepare the kale: trim away any discolored spots, and then remove and discard the ribs and stems, if they are thick or woody. Stack a few leaves at a time; then slice them into ¼-inch-thick ribbons. Dump the sliced kale into a salad spinner, and add plenty of cold water. Swish the kale around to free any trapped dirt. Let stand for a minute or two – this lets the dirt fall to the bottom – and then lift the basket from the spinner. Pour out the dirty water. Replace the basket, add fresh water, and repeat. Spin dry.
In a large (4-quart) saucepan, warm the oil over medium-low heat. Add the onions, and cook, stirring occasionally, until they are translucent but still firm. Add the red pepper flakes and garlic and the kale, and stir until the kale is fully wilted. Add stock to cover by about ½ inch. Bring to a simmer. Cover, and continue to simmer until the kale is tender but not mushy, about 30 minutes. Taste, and salt as needed. This dish needs quite a bit of salt, so don't be shy.
To serve, toast one slice of bread per person. While still hot, lightly rub both sides of the toast with raw garlic. Place the toast in the bottom of a wide soup bowl. Now, fry some eggs – one per person, probably – in olive oil. Pile some kale onto the toast in each bowl, drizzle with a little bit of olive oil, and top with a fried egg. Strew with prosciutto, if you want. Grate some cheese over the whole thing, and serve.
Yield: about 4 servings