I have a little theory about summer. It's called the Picnic Quota, and basically, the idea is this: that a person requires a certain number of picnics per summer (PPS) in order to maintain a reasonable level of happiness through the impending winter. The baseline PPS may vary slightly from person to person, as does the definition of "reasonable," but you get the idea. As a general theory, I think it is pretty airtight. I also, incidentally, think I need more picnics.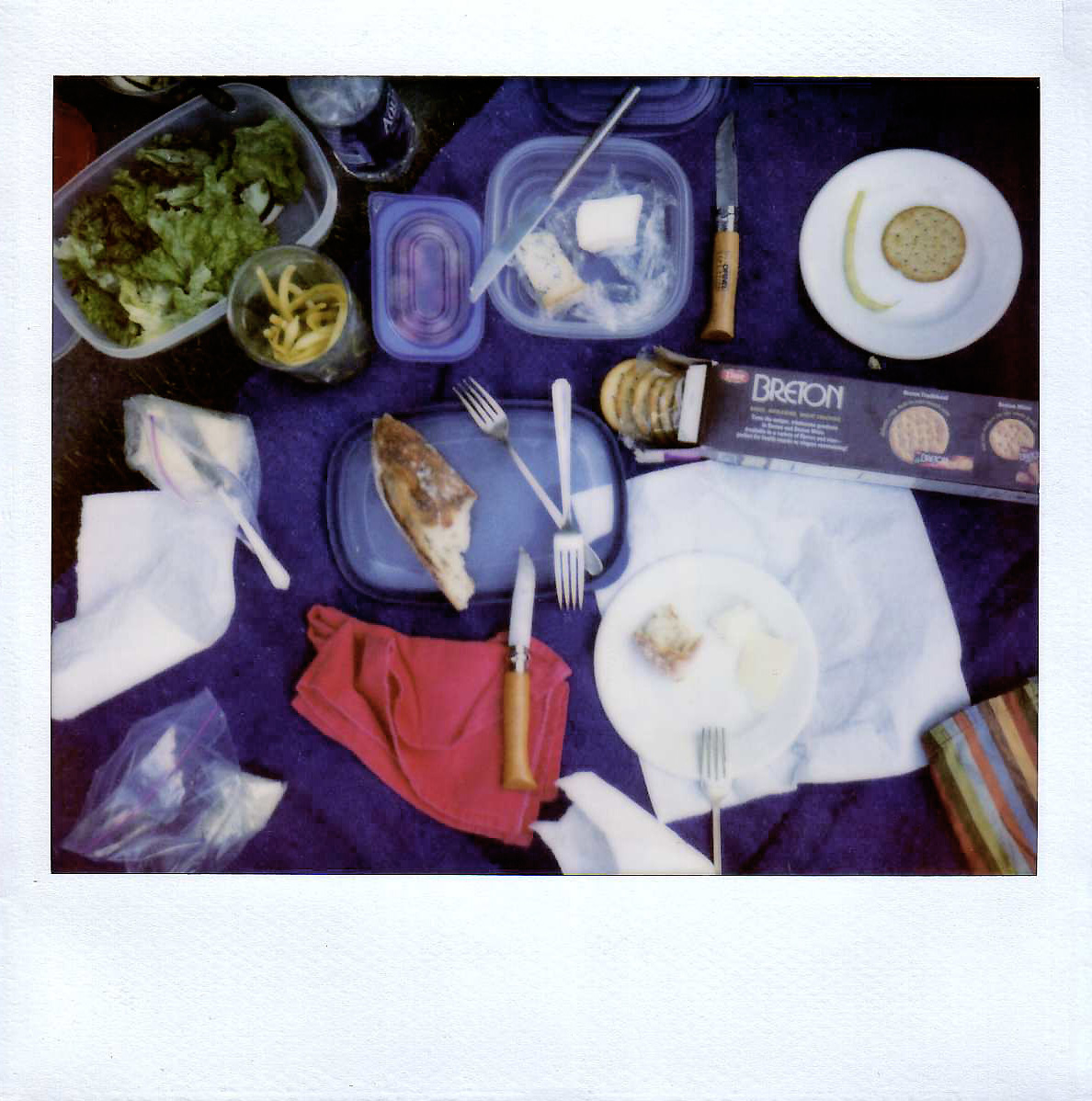 The thought hit me this weekend, when I got caught in the rain while walking the dog – did I mention that we got a dog? We got a dog! – and realized with a start that I am not at all ready for summer to end. The calendar has somehow rolled around to August, which means that we have approximately one month, maybe six weeks, before the real Seattle rains arrive, and I haven't yet had a swimsuit on. I haven't even rolled up my jeans and waded. I don't know what is wrong with me. Also, picnics. I have a quota to fill.
So, in an effort to promote a picnic or two, I planned to tell you today about something called Deep Dish Fruit Pie. It's a recipe that I found in my grandmother's recipe box while I was in Oklahoma, written on an index card in her loopy handwriting. I'm not sure why she called it a pie, because it's more of a cobbler, or what some might refer to as a "dump cake." (I love that name.) Either way, I made it yesterday, and it was terrible. It was too sweet, for one, but even worse, it was oddly jiggly, almost puddingesque, and the batter separated so that the fruit was bobbing in melted butter, lethargic and forlorn, like tiny buoys in an oil spill. I wasted four cups of blueberries on that sorry mess. FOUR. It was so sad.
However, as I scooped said mess into the compost, I remembered something else, another something I had meant to tell you about. And glory be, as my grandmother would say, this something was even better for a picnic.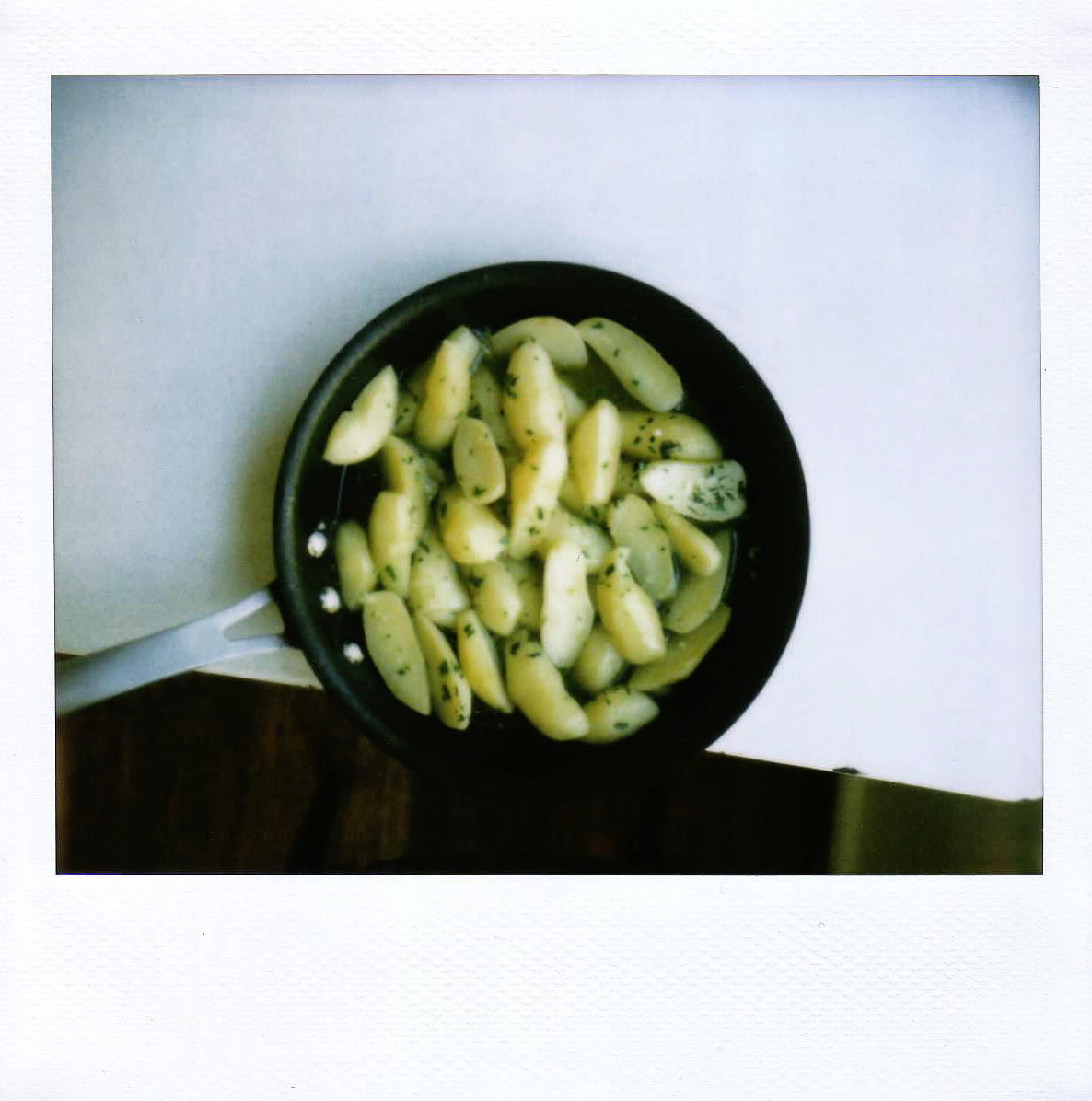 Under ordinary circumstances, I am not much of a potato person. I like them as much as anybody, but to tell you the truth, when it comes to thinking about what to make for dinner, I tend to forget that they exist. But earlier this summer, I fell hard for the Hasselback potato, as you might remember, and it left me feeling sort of soft and susceptible. So when I saw a recipe in Gourmet for fingerling potatoes braised in a skillet and tossed with fresh herbs, I couldn't help but start to daydream a little, and then clip it posthaste.
The principle is simple. You simmer the potatoes, peeled and halved, in a skillet with olive oil, salt, pepper, garlic, and water to cover, and when they feel tender to the prick of a knife, you reduce the liquid to a loose glaze, bang in a generous palmful of herbs, and eat. Thanks to their gentle bath in the salted water and oil, the potatoes get silky and rich and full of flavor – not unlike a regular boiled potato, but better. I ate them warm that first night, with scrambled eggs and blanched green beans tossed in olive oil, and the next day, I ate them cold, right out of the fridge. The third day, on a whim, we threw them in a tote bag and took them to the lawn at Seattle Center, and they were unspeakably good that way, outdoors, on a blanket, eaten at room temperature with a little extra salt. We also had some cheese, crusty bread, yellow wax beans, and spiked lemonade in a water bottle, but I don't think any of those swayed my opinion in the slightest. Not even the lemonade. Scout's honor.
The original recipe calls for finishing them with chives and tarragon, but I opted for chives and parsley instead. Parsley is always classic, right? It's like red lipstick. Anyway, tarragon, I find, has a sneaky way of making things taste absolutely awful. And while we're being honest here, I guess I should also tell you that peeling fingerling potatoes is a royal pain. That doesn't mean that you shouldn't make these, of course, because you should. I'm just saying. Go slow and make a meditation of it, and it can be quite pleasant. Whatever you do, don't try to do it in a hurry. Take it from me: I got a nick in my thumbnail today because of these. But I also got a good excuse for a picnic, so I don't really mind.
Fingerling Potatoes with Chives and Parsley
Adapted from Gourmet, July 2008
These would be delicious with almost anything: roasted chicken (served hot or cold), eggs any style, salmon (served hot or cold), you name it.
1 ½ lb. fingerling potatoes, such as Russian Banana
1 ½ cups water
3 Tbsp. olive oil
1 large garlic clove, pressed
½ tsp. salt
A few grinds of black pepper
3 Tbsp. chopped chives
1 Tbsp. chopped Italian parsley
Peel the potatoes, and halve them lengthwise.
Combine the potatoes, water, olive oil, garlic, salt, and pepper in a nonstick 10-inch skillet.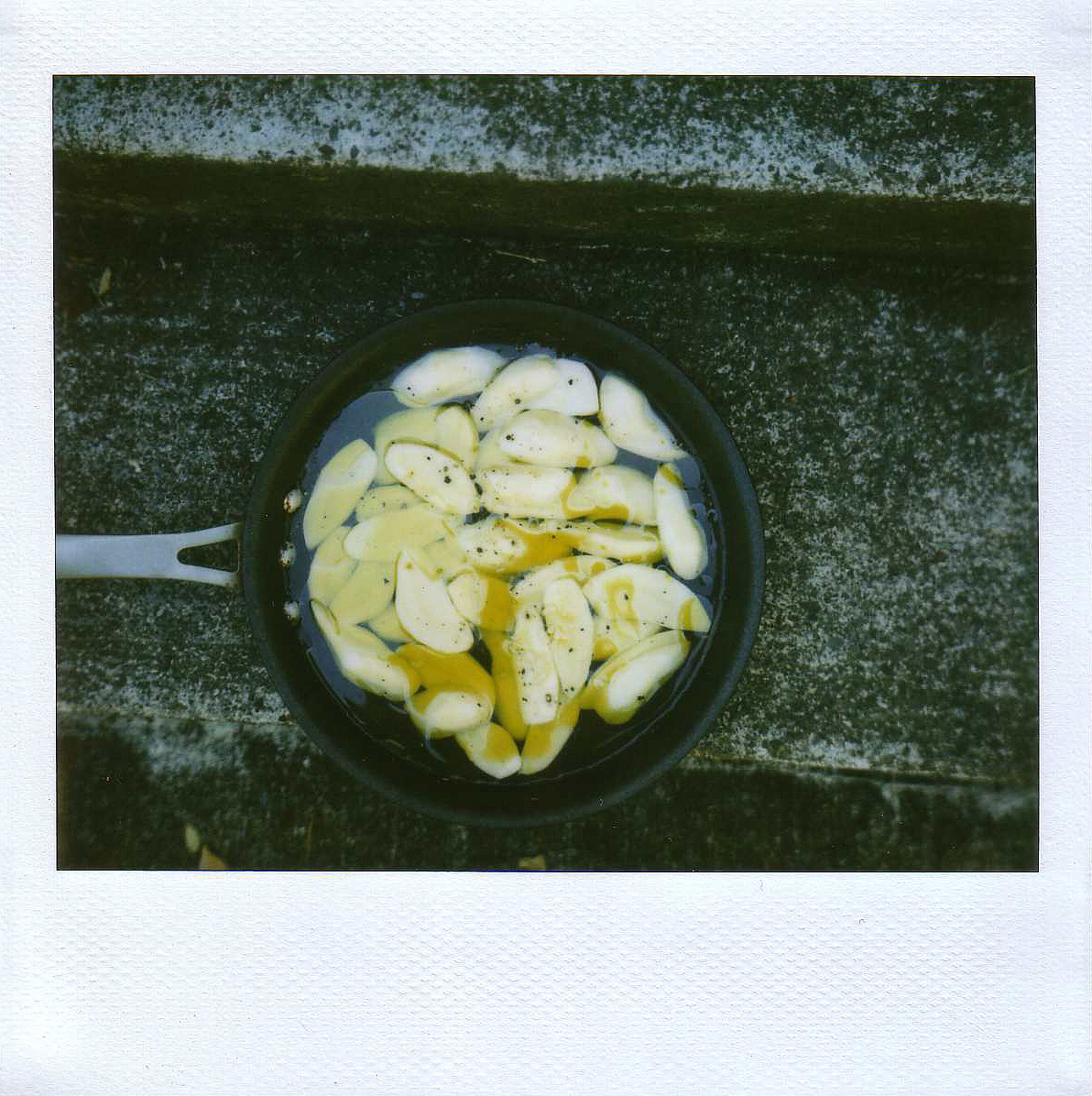 Place the skillet over medium-high heat, and bring to a simmer. Cover, reduce the heat slightly, and continue to simmer briskly, shaking the skillet occasionally, until the potatoes are just tender, about 10 minutes. Remove the lid, and continue to cook until most of the water has evaporated and the potatoes are glazed, about 5 minutes. Stir in the herbs.
Serve hot, warm, or at room temperature, with extra salt for sprinkling.
Yield: about 4 servings