Apparently, I am a little bit fickle. Only three short months ago, almost to the day, I was singing the praises of homemade mayonnaise, and now here I am, about to offer you a recipe for basil aioli made by doctoring a jar of Best Foods. This might be a good time, I think, to call into service my favorite Walt Whitman quote:
Do I contradict myself?
Very well then, I contradict myself,
(I am large, I have eaten a lot of mayonnaise).
I am not usually a quote person, but I find that this one comes in handy in lots of different situations.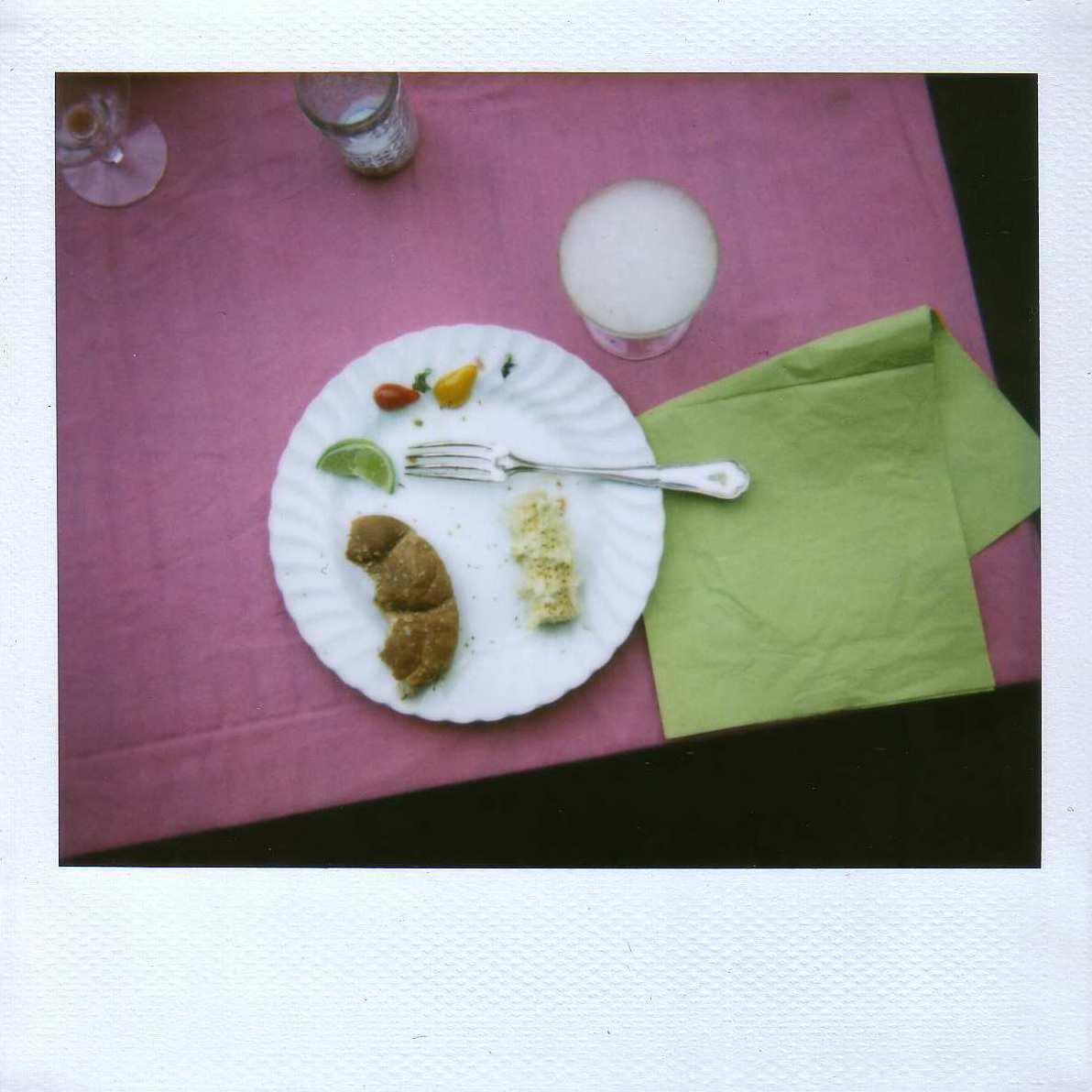 This past Saturday night, our friend Olaiya had a barbeque. The party was ostensibly to celebrate her new backyard – she moved a couple of months ago – and our newly arrived summer weather, but between you and me, I think it was just an excuse for icy drinks and corn on the cob. (Which I really can't fault her for.) We all chipped in and brought six-packs of beer, and I made two batches of fresh mint ice cream, and once the sun went down, the tables were lit with tea lights in old jars. It was 85 degrees outside, and Olaiya wore a foxy little dress, and the night was so pretty that not even a stain on the tablecloth from spilled beer, or strawberry margarita, or whatever it was, could mar it.

Olaiya is a caterer, so she makes these sorts of things look maddeningly easy. For dinner, she made fresh salmon burgers with radishes and red onions, and she covered a platter with sliced tomatoes and slivered basil, and there was an enormous bowl of corn on the cob with butter and lime. For his part, Olaiya's boyfriend John made some excellent margaritas, both regular and the aforementioned strawberry, and though I am a lightweight of almost comical proportions, somehow they didn't even make me tipsy, which pleased me so much that I had to tell everyone how not-tipsy I was, which, in retrospect, probably means that I was tipsy. Either way, it was a gold star party all around. Also, when it came time to play Who Would You Rather, I managed to come up with the following doozy: Johnny Cash, or Joaquin Phoenix as Johnny Cash? (Go ahead and take a minute to think about it. It's tough.)
But the very best part of the evening was one of its smallest details: the basil aioli. It was the unofficial theme of the party – a benevolent sort of stealth weapon, I guess you could say, sneaking its way into everything. While we waited for the grill to heat, it served as a dip for tiny carrots, radishes, snap peas, and potato chips, and as a finishing topknot for deviled eggs. I spread some on the bun for my salmon burger, and it was delicious, too, on a slice of tomato or a bite of corn on the cob. (I even contemplated sneaking some into my bag to bring home, since it was already finding its way into everything, but I decided to be polite.) It was such a simple, subtle touch, but I couldn't help thinking it was something that we all – you, me, everybody – should have in the arsenal.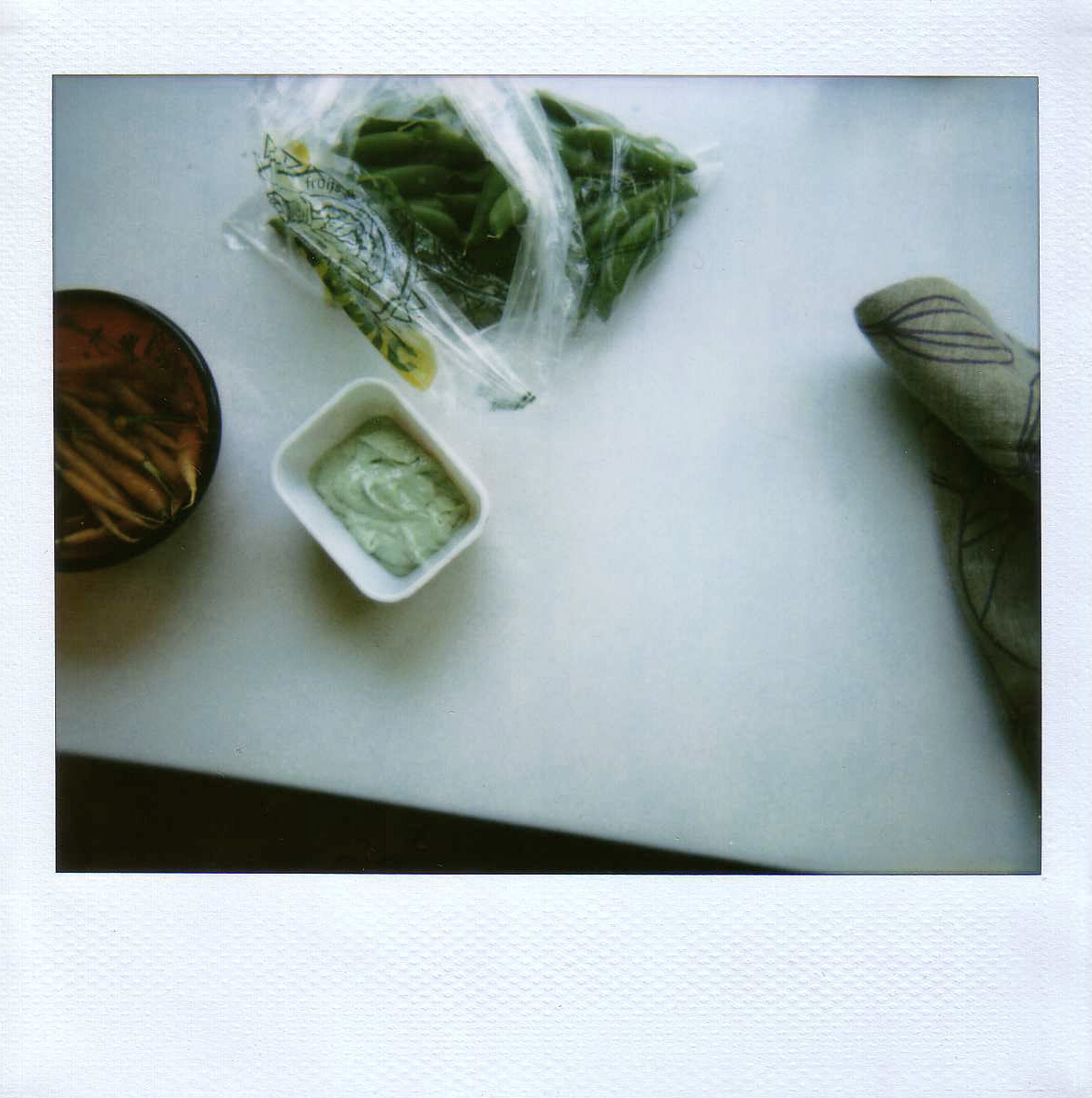 So yesterday, I made Brandon teach me how to make it. He had made a big batch a couple of weeks earlier, for one of Olaiya's catering gigs, and it wasn't too hard to scale down, tasting and tweaking. Essentially, you make a slurry of olive oil, basil leaves, garlic, lemon, and salt – very much like pesto, minus the pine nuts and parmesan – and then stir it into your favorite mayonnaise.
Now, I am very partial to homemade mayonnaise. I like it so much, in fact, that I am inclined argue that it's not even in the same species as store-bought. But sometimes I cannot be bothered. We were short on time this weekend, and our kitchen is currently very hot, so for the sake of instant gratification, and so that we wouldn't kill each other, we used the commercial kind. (Anyway, when you're making flavored mayonnaise, it often isn't worth it to start from scratch, because all those soft, delicate nuances will be covered up anyway. It strikes me that this might be veering dangerously in the direction of Sandra Lee, but I think it's perfectly fair.) Folded together with basil puree, the mayonnaise turned a pale shade of seafoam green, which looked impossibly elegant – almost Martha-esque! next up: topiaries! – on the end of a carrot. And it tasted just as you would imagine: cooling and creamy and, in a word, summery. I'm thinking burgers, here, people, and chicken salads, and grilled salmon, and tomato sandwiches, and BLTs. I'm thinking Fourth of July. I can't wait.
Shortcut Basil Aioli
I used Best Foods – also sold as Hellman's – mayonnaise for this recipe. It's the brand I grew up with, and I think it has great flavor.
2 Tbsp. olive oil
¼ cup packed basil leaves
½ tsp. lemon juice
1 medium garlic clove, pressed
Pinch of salt
½ cup mayonnaise, either homemade or commercial
In the jar of a blender (or a small food processor), combine the olive oil, basil, lemon juice, garlic, and salt. Process until the mixture is smooth like pesto, pausing every now and then to scrape down the side of the blender jar with a small spatula or knife.
Put the mayonnaise in a small bowl. Add the basil mixture, and stir well to mix.
Serve as a dip for raw vegetables, spread onto sandwiches, folded into chicken salad, or dolloped on top of deviled eggs (minus the paprika and hot sauce, preferably).
Note: This recipe doubles very easily. However, don't automatically double the amount of garlic and salt called for here; start with the quantities for a single batch, and then add more to taste.
Yield: a little more than ½ cup