Sometimes I can't believe it's only been five years, or five years and change, since I moved to Seattle. It feels like ages in all the right ways. Every time I come home from somewhere else, every time the plane bump-bumps to a stop at SeaTac, my heart pumps a little harder. I never knew this city could make me so happy. I didn't mean to stay here. I came for graduate school, that's all. But then the big gray clouds sort of nudged their way into my heart, and they must have let loose all kinds of rain in there, because now it's full to bursting. Christmas on the East Coast was a treat, be-bopping around between Manhattan and Long Island and New Jersey, but coming home was even better.

I'm not going to write for long today. I'm still recovering from the five pizzas – FIVE! – we ate during our three days in Manhattan, not to mention the sour gummy stars I got in my Christmas stocking and have been eating obsessively for the past week until yesterday, when, in a last-ditch effort to regain my sanity, I threw the last of the bag away, rescuing my tongue mere moments before the "sour sanding," or whatever it's called, could scour away my last taste bud. Phew.
No, really, I'm not going to write for long today. I just wanted to stop in and tell you about some happy news that's come my way. It's only appropriate, I think, given that it's the beginning of a new year, and who doesn't like happy news on New Year's? (Lord knows I do.)
What I want to share with you is this: that I am now [insert squeal] writing for Bon Appétit. As of the February 2008 issue, I am a monthly columnist for the magazine. My column is called "Cooking Life," and in it, I'll be sharing stories of discovery in my kitchen and beyond – with recipes, of course. (The first recipe is for lamb sausage patties with fresh mint, feta, and garlic.) The column has been in the works since last July – I had my first phone meeting about it only six days before my wedding; it was a teeensy bit of a stressful week – but I didn't want to tell you about it until it was in print, until it felt really-and-truly real. And now, holy cow, it is, and it does. If you're a subscriber, you may already have your February issue. If not, it'll be on newsstands very soon. Either way, I do hope you'll keep an eye out for it. I would never have had the opportunity to do this if it weren't for you, you know – you and your cheers. Really. I mean it. You, you, you.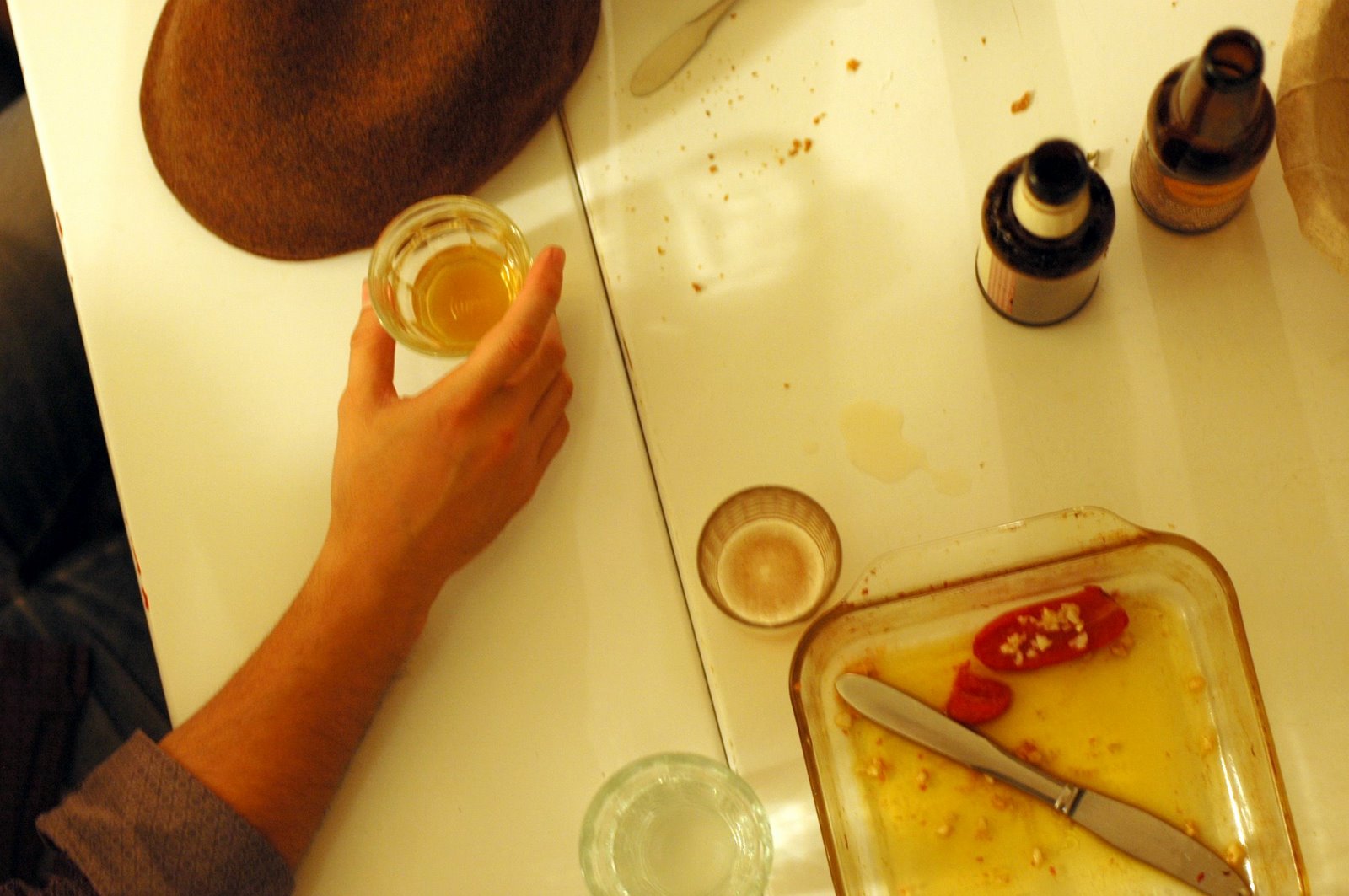 So today, I raise my glass in your direction. I wish you the happiest of New Years, friends. 2007 was an awfully big one around here, and awfully fast too. This year, I want to learn to slow down a little. Doesn't that sound nice? I want to take more walks. I want to sit on the couch and read. I want to drink more beer and listen to more records. I want to know Seattle even better. I've never been one for New Year's resolutions, but walking and sitting and reading and beer and records and Seattle, well, those, yes, I can do.
I hope your 2008 is slow and lovely and everything you want, with all the happiness your heart can hold.