Month:
January 2008
I come to you today to redeem myself.
You really were terribly kind last week about the whole budino debacle. When I gave you canned beans instead, you didn't even throw them at me. You really are angels. If I could, I would send every one of your mothers a note to thank them for raising you so well. But that would take forever, I fear. Heck, I haven't even finished the thank-you notes from our wedding, and the blasted thing was six months ago. (I know, Mom. I know.) So how about we just keep it simple? How about we take a moment to acknowledge, right here and right now, how utterly lovely you are, and then we go share a couple butterscotch pots de crème?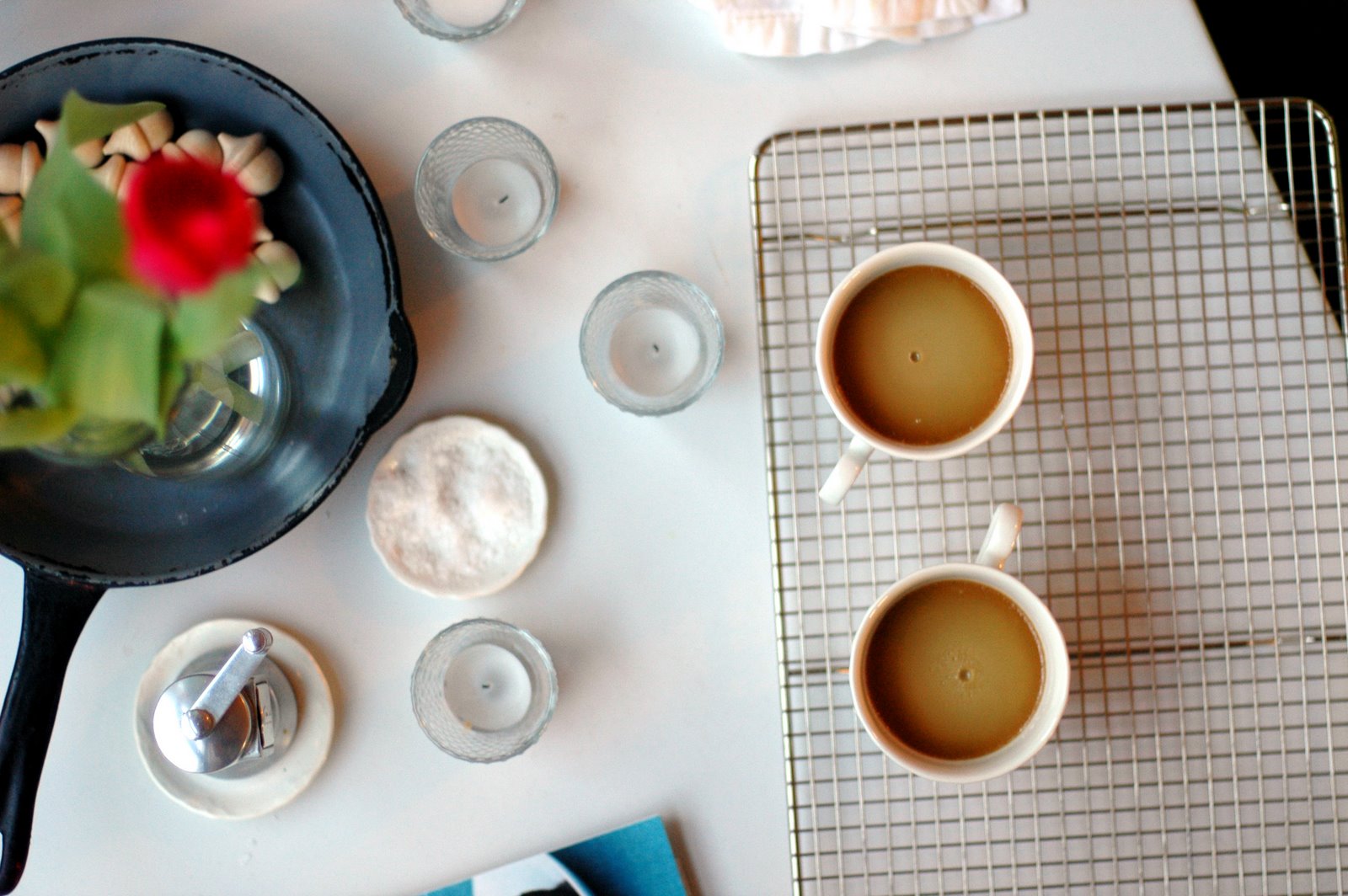 I thought you might like that.
These little gems are my new favorite dessert, hands down. Especially after the disappointment of last week. They're amazing. Like, really, REALLY amazing. Like, "what stinkin' budino?" amazing. Like, tape-the-recipe-to-
your-fridge-and-fondle-it-each-time-you-pass amazing. I've never heard Brandon cuss so much while eating dessert before. He was swearing up and down, scraping the empty cup like a man possessed. They're real pots of glory, they are, real pots of gold.
And to think – I've had the recipe sitting in my files for more than four years. The poor thing must have been lying there, losing all hope, wondering when, oh when, I would take it out and let it shine. Needless to say, now that I've brought it out, I don't intend to ever put it back. Never, ever.

I clipped the recipe from the October 2003 issue of Gourmet magazine, and were it not for my iffy experience with the butterscotch budino, which set me obsessively on the trail of something better, I might have completely forgotten about it. The recipe comes from an article about a restaurant called The Corn Exchange in Rapid City, South Dakota. Its chef, M. J. Adams, sounds like someone I'd like to meet: born in Seattle, trained in New York (where she worked under Edna Lewis, among others), a supporter of farmers' markets and local agriculture, and the mastermind behind one of the best little recipes to cross my countertop in a long time. You know you've stumbled upon something really good when you resent having to share it with anyone – even your husband, the person with whom you're supposed to want to share these sorts of things. I don't know who wrote the rules of marriage, but they obviously never tasted a butterscotch pot de crème.
Of course, the best part of the whole thing is that they're easy. So easy, in fact, that I made them entirely while talking on the phone – and talking, no less, about the yet-to-be-determined title of my book, which is incredibly distracting, to say the least. Thank goodness the method is hard to mess up, as quick and straightforward as can be. You warm some cream in a saucepan with muscovado sugar and salt; then, in a second saucepan, you cook a sugar syrup to brown and bubbly. Then you combine the two, whisk the mixture into a bowl of egg yolks, pour it through a sieve to get rid of any lumps and bumps, and pour it into ramekins. Then you bake them, cool them, and eat them. Ta da!
Cold and and rich and almost hyperbolically creamy, the custard yields under the spoon the way a good down pillow does under your head: with a welcoming, slippery whoosh. The gates to heaven have never opened so easily. Thank you, you're welcome, I'll see you inside.
***
Two quick bits of housekeeping:
– Orangette is a finalist in the
2008 Bloggies
! It's my first time, so I'm seriously tickled. I'm also up against some steep competition. There are
so
many great blogs out there, people. Wow. It's positively humbling. If you would like to vote, please click
here
. My category, Best Food Weblog, is about halfway down the page. Voting closes on Thursday, January 31.
– Lori of the charming – and very inspiring – blog Inspiration Boards interviewed me recently, and she posted the interview yesterday. Her questions are so thoughtful and charming and smart; I absolutely loved where they took me. To read my interview, click here. Thank you, Lori!
***
Butterscotch Pots de Crème
Adapted from M.J. Adams and Gourmet, October 2003
This custard gets its deep, warm flavor from the presence of two special sugars: muscovado and demerara. It may sound fiddly to call for fancy sugars for a simple little custard like this, but trust me: they really seal the deal. They're the axis on which the whole thin spins. And if you live in a moderate- to good-sized town, they should be fairly easy to find. Here in Seattle, I've bought them at gourmet stores like Whole Foods, but this weekend I even saw them at Ballard Market, my neighborhood grocery. I like the brand India Tree.
One more thing: for the water-and-demerara step, be sure to use a light-colored saucepan. If your pan is made of something dark, like this, it will be darn near impossible to see the color of the mixture as it caramelizes.
1 ½ cups heavy cream
6 Tbsp. dark muscovado sugar
¼ tsp. salt
6 Tbsp. water
2 Tbsp. demerara sugar
4 large egg yolks
½ tsp. vanilla extract
Set an oven rack in the middle position, and preheat the oven to 300°F.
In a small heavy saucepan, combine cream, muscovado sugar, and salt. Place over medium heat and bring just to a simmer, stirring until the sugar is dissolved. Remove from the heat.
Meanwhile, combine water and demerara sugar in a medium (2-quart) heavy saucepan over medium heat. Cook, stirring until sugar is dissolved. Continue to cook, stirring occasionally, until browned and bubbly, about 5 minutes. (To gauge the color of the mixture, it may help to tilt the pan a little, so that the liquid pools on one side.) Remove from the heat and carefully add the cream mixture, whisking until combined.
In a large bowl, whisk together egg yolks and vanilla. Add hot cream mixture in a thin stream, whisking constantly. Set a fine-mesh sieve over a 1-quart glass measuring cup, and pour the custard through the sieve. Skim off any foam with a spoon.
Divide the custard among four (4-ounce) ramekins or other oven-safe vessels. (I used teacups, just because they're pretty. Stoneware and porcelain are safe in the oven at this temperature.) Select a baking dish, one large enough to hold the ramekins without any of them touching. (I used a 9" x 13.") Fold a dish towel to line the bottom of the baking dish; this will protect the delicate custards from touching the hot bottom of the pan. Arrange the ramekins in the pan. Seal the top of each ramekin with a piece of aluminum foil to prevent a skin from forming as they bake.
Slide the pan into the oven, and immediately pour hot tap water into the pan to reach halfway up the side of the ramekins. Bake until the custards are set around the edges but still jiggle lightly in the centers when shaken, like firm gelatin, about 40 minutes. (You'll have to move the foil to see this.) Using tongs, transfer the ramekins to a rack. Discard foil tops and cool to room temperature. The custards will continue to set as they cool. Refrigerate for a couple of hours, or until you're ready to serve them.
Serve plain or topped with a dollop of unsweetened whipped cream.
Note: These are best on the first day, but they'll keep, covered with plastic wrap and refrigerated, for up to two days. The texture slowly declines and they develop a thin skin on top, but it certainly didn't stop us from eating them.
Yield: 4 servings