For many people, the contents of my grocery basket could be kind of scary. The other day at the market, for instance, I felt as though I owed the cashier an apology when I sent a bulb of fennel, three celery roots, some kale, and a bag of endive down her conveyor belt. The poor lady hardly knew what to make of them. She sniffed a little, nudged them onto the scale, and looked at me pleadingly. It was a rough moment for both of us. I don't know. Sometimes I think I should start an orphanage for unloved vegetables. My fridge is already halfway there, and anyway, I seem to be destined for it. It just makes me so sad to watch celery roots go spongy on the display shelf, and to see kale swept into the trash can. Heck, if Brandon hadn't come along to distract me, I probably would have become a happier version of Miss Hannigan, an old spinster surrounded by orphan turnips and rutabagas, spending my days in the service of unwanted roots and greens. They need me. And I'm happy to help – you know, minus the spinster part.
I've always been a sucker for the underdog. There were a lot of mean girls in my middle school, so I relate to anything scorned, gawky, or with bad skin. Come winter, that includes a significant part of the produce section. If you've been hanging around here for any length of time, you know well how I feel about Brussels sprouts, say, and cabbage, and cauliflower and fennel – things funky or stinky or strong-tasting, things often disliked. I love them. Give me your poor, your tired, your lumpy and ugly and stubborn! I will give them a home. (Even if it is in my stomach, which is admittedly sort of dark and wet.) This week, I'm hosting a few celery roots. First, I tucked them into a warm pot on the stove, then I gave them a ride in the blender, and now they're resting contentedly in the well of a soup spoon. They're getting lots of love around here.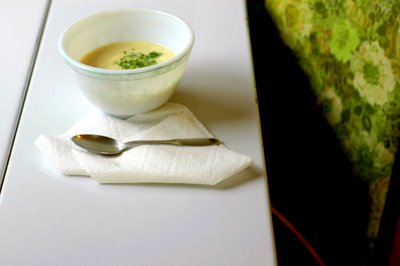 Contrary to what its name might imply, celery root is not the root of common celery, but rather its cousin. Also called celeriac – a word that would make a great insult, I think – celery root suffers from what my mother might call "a bad case of the uglies." It's dirty and gnarly and bumpy, with hairy little roots along its base. Picture a turnip with a terrible skin disease, and you're pretty close. But underneath all that lies a lovely, lovely surprise – a flavor similar to celery, but a little milder, rounder, nutty. It's smooth and dense, a bit like a firm potato, and can be eaten both raw and cooked. The French grate it, toss it with a mayonnaise dressing, and call it céleri rémoulade. Lately, in my house, we've been calling it soup.
I've made this recipe twice in less than five days, and friends, I can tell you, it's a keeper. Inspired by a recipe in the New York Times, it's the perfect antidote to all those early-January afflictions – holiday excess, anemia of the wallet, buffet-table burn-out – and on a particularly sleepy Sunday at home, you could sip it from a mug like cocoa. It's silky, velveteen even, and best of all, it's simple as can be: just aromatics, celery root, and broth, cooked and zizzed and finished with a bit of milk and a smidgen of olive oil. I've been eating it for lunches at work, but it would make a fancy first course for dinner too, or even a full supper in itself, with a hunk of bread and a few slices of cheese. And as my friend Kate so aptly pointed out, it's totally today's "it" color – cream-meets-flax, if you will. For an ugly old thing, celery root cleans up awfully well. If you've got any unloved specimens, please send them my way. Or, you know, see for yourself.
Purée of Celery Root Soup
Inspired by The New York Times, December 20, 2006
Don't let the tough looks of celery root fool you: it's actually quite easy to work with. First, choose a root that's roughly baseball-size and that feels firm and hard – never spongy – and heavy for its size. To prepare it, plunk it in the sink and attack it with your vegetable peeler. The smoother, non-rooty end is easy to peel with a few quick, decisive strokes, and then the root end can be trimmed with a sharp knife. You may lose more of the bulb than you might expect – these little buggers can be craggy, calling for some serious trimming. But once the celery root is ready, you're most of the way there. Before you begin, a few other notes:
– This recipe makes a fairly small batch, so consider doubling it. You won't be sorry.
– The first time I made this, I puréed it in a food processor, and it never really emulsified properly. I have since found that a blender works much, much better. The starchy quality of celery root seems to demand it. So if you've got a blender, use it. [But not an immersion blender – like the food processor, it's better saved for softer, more yielding things.]
– Lastly, the delicate flavor of this soup begs for a clean, mild broth – and preferably one that's homemade. If you've made some good chicken broth lately, by all means, use that. Or, if not, do as I did this past weekend and make a super-quick, super-easy vegetable version. It takes only an hour and change, and it requires almost no attention. Plus, its gentle onion and leek flavors are lovely in the soup.
2 ½ Tbs olive oil, divided
1 small leek, white part only, coarsely chopped
½ medium yellow onion, coarsely chopped
1 stalk celery, coarsely chopped
2 cloves garlic, sliced
1 lb. peeled, chopped celery root (from about 3 baseball-size bulbs)
3 cups mild chicken or vegetable broth, preferably homemade (see below)
½ tsp salt, plus more to taste
4-5 Tbs skim milk
Chopped chervil, for serving (optional)
In a large saucepan over medium heat, warm 2 Tbs olive oil. Add the leek, onion, celery, and garlic, and sauté until softened but not browned, stirring occasionally, about 5 minutes. Add the celery root, broth, and salt, and bring to a boil. Reduce the heat to low, partially cover, and simmer until the celery root is very tender. It should break apart easily when poked with a fork; on my stove, this takes about 35-45 minutes. Remove the soup from the heat.
Using a blender and working in small batches – when working with hot liquids, never fill the blender more than 1/3 full! – purée the soup until very smooth. Add the remaining ½ Tbs oil and the milk, and stir to incorporate. Taste, and adjust seasoning as necessary. Reheat gently until just steaming.
Yield: 4 dainty servings
***
Basic Vegetable Broth
1 ½ Tbs olive oil
1 medium onion, coarsely sliced
1 small leek, white part only, coarsely sliced
½ stalk celery, coarsely sliced
1 carrot, peeled and coarsely sliced
1 large clove garlic, peeled and smashed
8 cups cold water
1 Turkish bay leaf
In a large saucepan, warm the oil over medium heat. Add the onion, leek, celery, carrot, and garlic, and cook, stirring occasionally, until the onion is translucent, about 15 minutes. Add the water and bay leaf, and bring to a boil. Reduce to a simmer and cook, partially covered, until the vegetables are very soft, about 1 hour. Strain the broth through a sieve into a clean bowl or heatproof container, pressing down on the vegetables to extract all their juices. Let cool, uncovered. Refrigerate in a sealed container for up to a week, or freeze for longer keeping.
Yield: About 6 cups, give or take a little