Once upon a time – not so long ago, but it sure feels like it – I lived in a little studio apartment in Paris.* It had a front door that closed only when slammed, a tiny terrace guarded by a garden gnome named Vincent, and an almost-kitchen in an alcove, with a two-burner electric stove, a dorm room refrigerator, no oven, and a microwave that I stood on my tiptoes to reach. It was humble, but it was sweet. And above all, it was in France. People, it could have been Stuart Little's matchbox, for all I cared. To me, that apartment was a petite – Parisienne-size, let's say – piece of paradise. I used the top of my dresser as a de facto countertop and cheerfully cooked my ovenless meals. The foot of my bed made a handy dinner table, where I sat to eat my daily baguette dunked in soup and bowls of ratatouille with runny poached eggs. One entire shelf of my wee fridge was taken up by cheese, wrapped in waxed paper and stinky with promise. I ate it to the televised soundtrack of Les Guignols and PPDA, licking my knife** to get every last nub and smear. Never mind that I had to break myself in half to shave my legs in the pocket-size shower stall. That place was paradise.
Now, this little studio of mine was situated in the eleventh arrondissement, not too far from a particularly good market street called rue Oberkampf. Gently curving up an ever-so-slight slope, the narrow street was lined with shops and stands: a butcher under a red awning, with chickens spinning on a rotisserie outside; a cheese shop here; a cheese shop there; a wine shop; a boulangerie; and a pâtisserie too, its windows lined in puff pastry and marzipan. But my favorite shop on Oberkampf was a greengrocer on a corner, under a kelly awning. Behind boxes of wares stood the shop's keeper, a man in something akin to a doctor's coat, meting out the pick of the day. He was chatty but serious, almost professorial. He made small talk about carrots with his customers. On that first visit, when my turn came, he promptly offered me half an apricot, plump and rosy around the shoulders. Needless to say, I was an easy sell. I'm a sucker for a man who knows his stone fruit, and who genuinely cares about carrots. So I snatched up a dozen apricots and, over the months that followed, came back for eggplant and tomatoes and lettuce, along with mushrooms and soft green pears. And sometime in the winter, perhaps as a reward for my devotion, he pointed me to a wooden crate near the door. Within it lay the cutest, tiniest cauliflower in the whole world. It was the size of my fist, snowy white, with leaves curled shyly around its cheeks. It would be extra sweet, he promised me, and mild and tender. So I took it back to my studio and its stunted little stove – for which the cauliflower seemed to have been destined, anyway – and while I set the table-slash-bed, I steamed it until it melted under my fork. Eaten warm with a mustard vinaigrette, it was nutty and warming and delicious, a small wintry meal for someone living in small quarters.
And to make a long story short, this is exactly what I thought of last week, when I stumbled upon a cache of pint-size cauliflower at the market. They were about a pound each – small by American standards, albeit still rather giant in comparison to their Oberkampf counterpart. I brought home two of them, nubbled and pearly, and set to work in our Seattle kitchen to cook them as I would have done in Paris, had I had an oven or a pastry brush.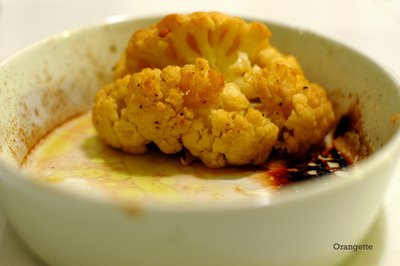 First, I steamed them for a few minutes, so that they just softened. Then I painted them – the whole heads, still intact – with a slurry of olive oil, lemon juice, salt, pepper, and nutmeg, and slipped them into the oven. Tucked under a tent of aluminum foil, the little crucifers went completely relaxed, letting loose their limbs and florets to slump on the floor of the roasting pan. When they yielded to a serving spoon without the slightest squeak or fight, we doused them with vinaigrette and ate them, sweet and silky, on the spot. For a minute there, it was like just like Paris – or better, even, what with all that roasting and relaxing, not to mention a real dinner table.
* Should you wonder what I was doing there, here you go. The pay is puny on first glance, but for only twelve hours a week, it's pretty wonderful. I highly recommend it.
** I know, Mom, I know. I was living dangerously. Please forgive.
Whole Roasted Cauliflower with Mustard Vinaigrette
Adapted from Parisian Home Cooking, by Michael Roberts
Really, is there anything cuter than a short, squatty, lightly burnished head of cauliflower? [The answer, ahem, is no.] Now is the perfect time for this dish: the beginning of cauliflower season, when the heads are small and sweet. And the recipe itself couldn't be easier, not to mention delicious. I like to serve this pretty, rustic dish on the warm side of hot, and with a little boat of vinaigrette on the side, so that each eater can drizzle or douse to their heart's content. I usually use my standard red wine-mustard vinaigrette, but if you like, you can play with different vinegars in your dressing. On the night that the above photograph was taken, we used Banyuls vinegar, and its tart, nutty flavor was a welcome change.
2 small cauliflower, about 1 pound each
3 Tbs good-quality olive oil
2 Tbs fresh lemon juice
1 tsp fine sea salt
A few grinds of black pepper
A pinch of freshly grated nutmeg
This vinaigrette
Preheat the oven to 375 degrees Fahrenheit.
Set a steamer basket inside a large, deep pot, and add water to a depth of ½ to 1 inch – just below the bottom of the steamer. Rinse and trim the cauliflower. Place them in the steamer, cover, and steam for 15-20 minutes. By this point, they should be tender and should have changed in color from a raw, opaque white to a slightly more translucent, yellowy off-white.
Meanwhile, combine the oil, lemon juice, salt, pepper, and nutmeg in a small bowl, whisking to mix well.
When the cauliflower is ready, gently transfer them from the steamer to a medium baking dish or small roasting pan, something just large enough to hold the two heads side by side. Using a pastry brush, paint the cauliflower with the oil mixture. Cover the pan with aluminum foil, and place it in the oven. Roast the cauliflower for 30 minutes, basting every ten minutes. [You should have just enough of the oil mixture for three light bastings in total, including the first one.] Remove the foil, and continue to bake for another 10-20 minutes, until the cauliflower is pale golden and a knife can be easily inserted into its core.
Serve hot or warm, with vinaigrette.
Yield: About 4 servings