I was not an easy child. I was afraid of thunderstorms, and of the vacuum cleaner. My head was so big that I would wind up in tears when my mother tried to wedge it through a turtleneck. I was terrified of needles, so much so that nurses had to sit on me to give me my booster shots. Even sweet, wrinkly E.T. scared the crap out of me, with his weird misshapen head and creepy glowing finger. And on top of all that, I hated bananas. Kids are supposed to love bananas — when all else fails, that, at least, is supposed to be easy. My poor, patient mother did her best. To ease her mind, she once consulted a psychic, who told her that I was a "new soul," that this was my first time on Earth, so quite naturally I was scared — of nearly everything. This didn't explain the turtleneck problem, but still, it was something. Bless you, Mom.
But anyway, new soul, old schmoul: if little seven-year-old me could see what is in my freezer right now, she would shriek in horror. Lurking within its icy depths are no fewer than six ripe bananas: hard, frosty-skinned, dull brown boomerangs, a veritable stockpile of tropical fruit terror. And what's more, I love them. Growing up is really a great thing.
I'm not exactly sure of the chain of events that led to my conversion, but I'm quite certain that it started sometime in my pre-teens, with a banana nut bread made by the mother of my childhood friend Jennifer. Linda is a genius at quick breads, not to mention Christmastime sweet rolls and chocolate cream pies — this last being best, I find, if eaten straight from the fridge when your babysitter isn't looking. Such is Linda's talent that not even I, Scaredy-Cat Supreme, could resist her banana nut bread. It is persuasive, soulful stuff, and should be fed to all children in need of calming.
So today, even though I am still not a big fan of bananas straight up, ooh boy, do I find it easy to tuck away baked goods made from them. Sometimes — don't tell anyone — I buy bananas for no real reason at all, just to bring them home and let them go brown on the countertop. I can't help myself. There is something profoundly reassuring about having a bunch of them at the ready, ripe and speckled and almost stinky. It's like hoarding gold bullion — but the kind that needs to be stashed in the freezer, lest it start to rot. Never mind that I have to stifle my gag reflex every time I open a defrosted one and watch its slug-like contents ooze out; by god, I love baking with bananas. They make baked goods miraculously moist and tender, with a sweet, wholesome fragrance that, I like to imagine, Betty Crocker herself might have worn.
Lately, I've been dumping banana purée into anything that will hold still long enough to let me, from this unusual cake — which, like many sweets, tastes even better frozen — to an old favorite banana bread with chocolate chips and ginger. I find that a girl really cannot have too much banana cake with chocolate ganache, nor can her man eat too many bran muffins scented with the stuff. So great is my love for this once-loathed fruit that last weekend — despite several consecutive weeks of the above sweets — I felt compelled to bake up this delicious beauty.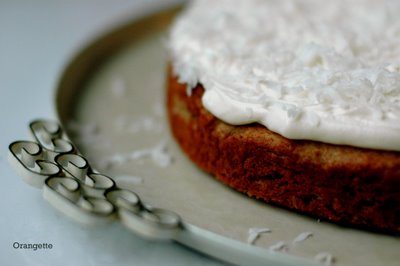 Humble, homey, and crowned with a fallen halo of coconut cream cheese frosting, this baby is a keeper. Its crumb is light and rustic, more coarse than fine, making for a good, unfussy foundation on which to spread a generous layer of frosting — tangy, fluffy, and barely sweet. With a subtle banana flavor and a soft, tender chew, it's the sort of thing that begs to be cut into big slices, and then later into sneaky, stolen slivers. If you're anything like me, you'll also follow that up with a careful licking of the fork — and, ahem, knife. I would dare to venture that even seven-year-old me would have found it sort of tasty — maybe even frighteningly so.
Recipe
Banana Cake with Coconut-Cream Cheese Frosting
Adapted from Gourmet, December 2005
This cake is a cinch to make — perfect for a weeknight dinner with friends or a lazy weekend treat. The original recipe calls for bananas that are "well mashed," but I almost always prefer to purée mine. A little zizz in the blender or food processor makes them smooth, airy, and blissfully free of lumps, and that, in my opinion, makes for a better, more consistent crumb. For this recipe, I found that about 2 medium very ripe bananas yielded ¾ cup purée.
For the cake:
1 stick (4 oz.) unsalted butter, at room temperature
1 ½ cups unbleached all-purpose flour
1 ½ tsp baking powder
½ tsp baking soda
½ tsp salt
¾ cup packed light brown sugar
1 large egg
¾ cup puréed very ripe bananas
¼ cup sour cream
½ tsp pure vanilla extract
For the frosting:
3 oz cream cheese, at room temperature
3 Tbs unsalted butter, at room temperature
1/3 cup confectioners sugar
3 Tbs well-stirred canned cream of coconut (I used Coco Lopez brand); not coconut milk
1 tsp dark rum
1/3 cup sweetened flaked coconut
Place a rack in the middle of the oven, and preheat the oven to 350 degrees Fahrenheit. Lightly butter or spray a 9-inch round cake pan (I used a springform pan), and dust it with flour, shaking out any excess.
In a medium bowl, whisk together the flour, baking powder, baking soda, and salt.
In the bowl of stand mixer, or in a large mixing bowl, beat the butter and brown sugar on high speed until pale and fluffy, stopping to scrape down the sides of the bowl with a rubber spatula as necessary. Add the egg, and beat until well combined. Add the banana purée, sour cream, and vanilla, and beat to combine well. Reduce the speed to low, and add the flour mixture, mixing until just combined. Do not overmix. (I found that it was best to beat in the flour only a little, and to finish mixing it by hand, with a rubber spatula.)
Spread the batter in the prepared cake pan, and bake until the top is pale golden and a toothpick inserted in the center comes out clean, about 20-27 minutes.
Cool the cake in the pan on a rack for 10 minutes. Run a thin knife around the edge of the pan; then invert the rack over the cake and invert the cake onto the rack to cool completely. (Alternatively, if you are using a springform pan, simply remove the sides and leave the cake on the rack to cool.)
While the cake cools, make the frosting. In a medium bowl, beat together the cream cheese and the butter on medium speed until smooth. Reduce the speed to low; then add the confectioners sugar, cream of coconut, and rum. Mix until combined; then increase the speed to high and beat until light and fluffy, about two minutes.
Spread over the top of the thoroughly cooled cake, and sprinkle evenly with coconut.
Yield: About 8 servings, or fewer, if your name is Molly